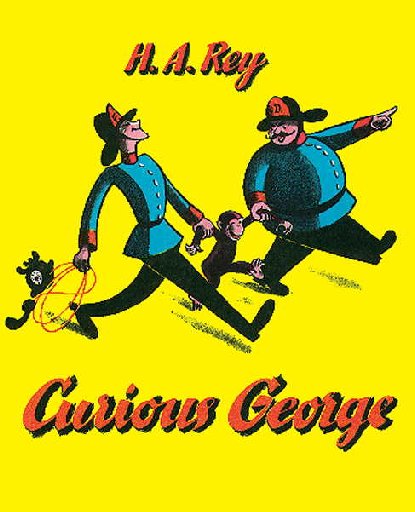 There's a new blog that children's lit readers & Curious George fans will want to explore.  Titled All Things Rey (an homage to the great All Things Thurl website, perhaps?), it features posts devoted to H.A. and Margret Rey.  It launched on Nov. 2 2011 with a post on H.A., at a New Hampshire swimming pool, doing pitch-perfect imitations of animals.  Other posts have focused on the original spelling of "Rey," the Reys' arrival in New York in 1940, and their Greenwich Village apartment.  Ann Mulloy Ashmore, the blog's creator, promises more "fascinating anecdotes and details about" the Reys, derived from her work on them both now and as a staff member of the de Grummond Collection who helped catalog the Reys' papers when they arrived in 1999.
Not incidentally, Ashmore also has published a really good piece on the Reys: "From Elizabite to Spotty: The Reys, Race and Consciousness Raising," in Children's Literature Association Quarterly 35.4 (Winter 2010), pp.357-372.  If you or your university library subscribes to ProjectMuse, you can read the article gratis.
Here's hoping these blog posts become a book!