Courtesy of Mark Newgarden, it's Crockett Johnson advising you to get a check-up so that you don't get cancer. Â Johnson created this 1958 pamphlet for the American Cancer Society, and I strongly suspect that he designed it, too. Â (Clicking on each image will produce a larger version.)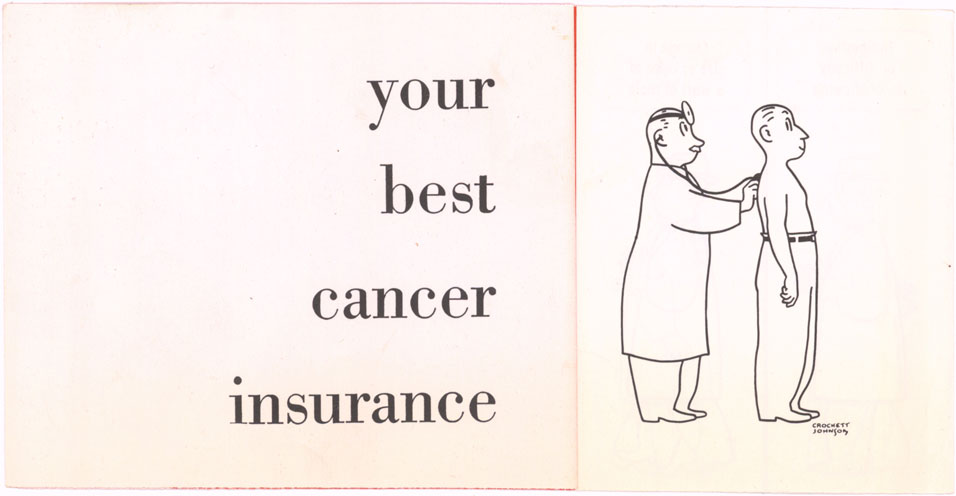 Unfold to the left, and see:

Next, unfold to the right, for:

When you click on the above (for a larger image), you'll see the Crockett Johnson aesthetic at work – a clear line, with small changes from panel to panel (recalling his Little Man with the Eyes in this respect).
When the pamphlet advises, "Know these warning signals may mean cancer," I can't help but think of Crockett Johnson's death from lung cancer, 17 years later. Â Which signals prompted him to go to the doctor in early 1975? Â And, as a lifelong smoker, did he already suspect what was wrong with him?
In my Crockett Johnson and Ruth Krauss: How an Unlikely Couple Found Love, Dodged the FBI, and Transformed Children's Literature (coming this fall), I reproduce a full-page magazine ad Johnson did for the American Cancer Society. Â But I'd never seen this pamphlet until Mark sent it to me. Â Had we time and were there interest, it'd be fun to collect all of Johnson's advertising work and publish it in a small book. Â I doubt there'd be much of a market for such an item, but it's a nice idea to imagine.