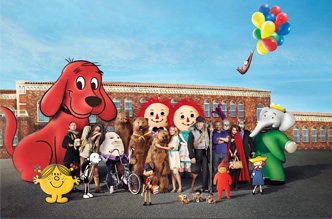 This is fun.  Reading Is Fundamental's new promotional video features a song by the Roots; vocals by  Jack Black, Chris Martin (Coldplay), John Legend, Jim James (My Morning Jacket), Jason Schwartzman, Nate Ruess (vocalist for fun.), Melanie Fiona, Carrie Brownstein (Sleater-Kinney, Wild Flag), Regina Spektor and Consequence; appearances from Pinocchio, Madeline, Greg (the Wimpy Kid), the Three Blind Mice, Humpty Dumpty, Curious George, Little Red Riding Hood, the Big Bad Wolf, and even Captain Ahab on waterskis!  Plus many many more! (Find them all!)
Reading Is Fundamental has more information about the song (and its aims) at bookpeopleunite.org. Â If you take the pledge, you can even download an mp3 of the song!
Hat tip to NPR's Linda Holmes.