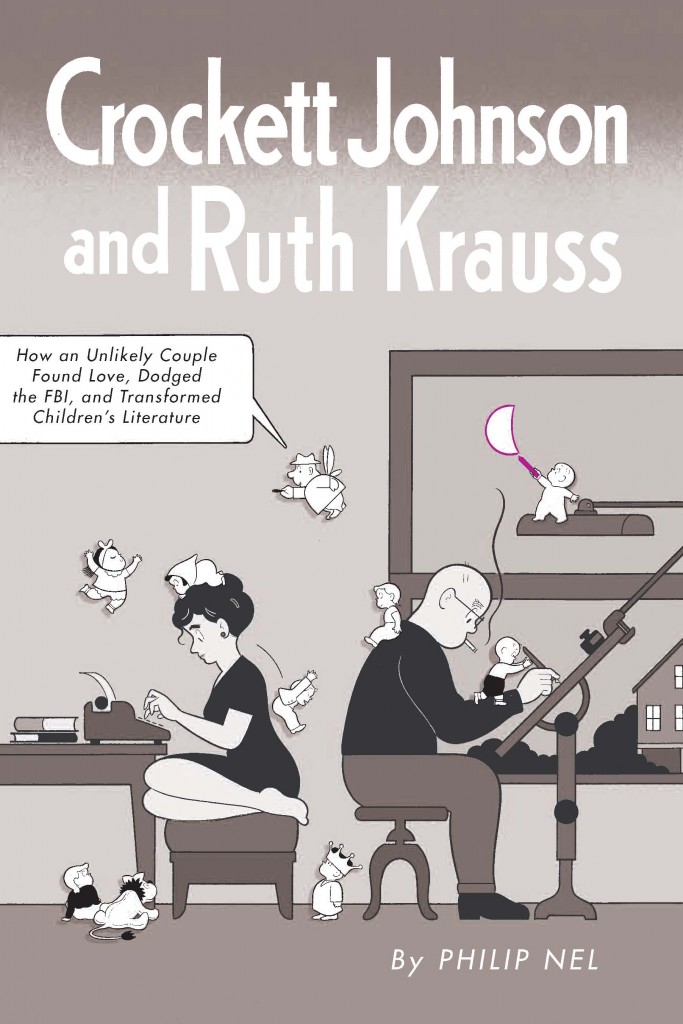 Graphic genius Chris Ware designed the cover for my Crockett Johnson and Ruth Krauss: How an Unlikely Couple Found Love, Dodged the FBI, and Transformed Children's Literature (due this September from the University Press of Mississippi). The front cover is above.  The full, wrap-around cover is below. Click on it for a larger image.  Trust me: you'll really want to see all of the detail. It's beautiful. It's perfect. I've never been happier about one of my book covers. And for those keeping count, there are six previous books (two co-edited), all of which have striking covers. The other designers were no slouches.
But Chris Ware is a genius. And no, I am not overusing that word. But, yes, perhaps we should add a few more words to describe the cover itself. Clever. Detailed. Vivid. Art.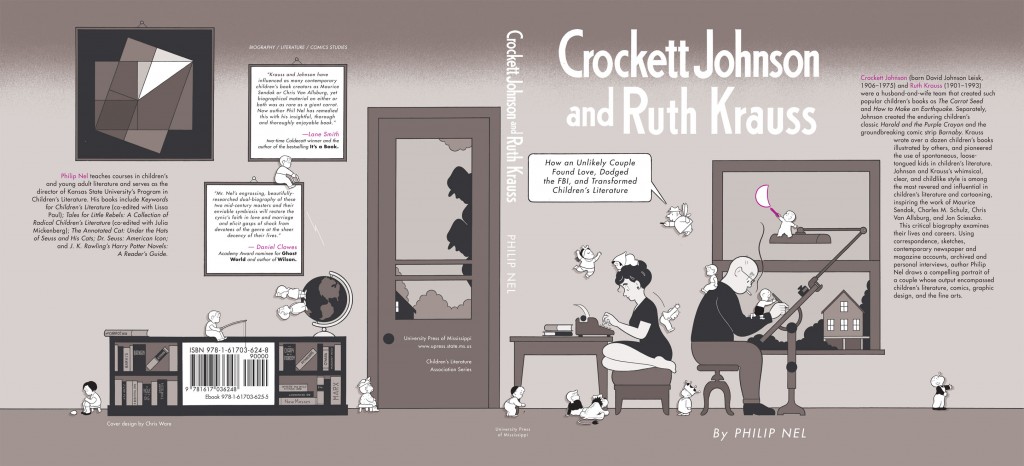 He's done the cover in the style of Crockett Johnson. In the case of the girl dancing above Krauss's typewriter, it's Mary Blair filtered through a Crockett Johnson aesthetic; for the boy sliding own her back, it's Maurice Sendak filtered through Johnson. (The girl is from Krauss's I Can Fly, illustrated by Blair; the boy is from her A Hole is to Dig, illustrated by Sendak.) Finally, Ware transforms all of these styles into something uniquely his own.
Fans of Johnson and Krauss: Are you getting all of the references here? Would you like some help? I could fully annotate this cover, but I wonder if that would detract from the pleasure of exploring it yourself. The academic in me wants to proceed with the annotations, but the art lover wants to stay silent, so that your eyes can linger on Ware's art, looking slowly, experiencing it on its own terms. And… the art lover wins. (No annotations.) Enjoy!
And: Thank you, Chris Ware!