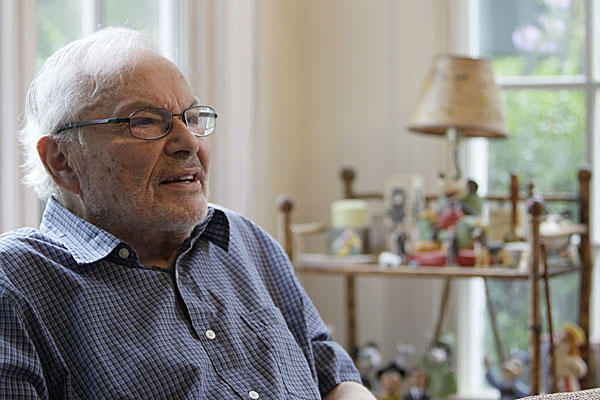 But the wild things cried, "Oh, please don't go–

We'll eat you up–we love you so!"

And Max said, "No!"

–Maurice Sendak, Where the Wild Things Are (1963)
In June 2001, I went to hear Maurice Sendak speak at Yale University. A couple of years earlier, I'd started working on a biography of Crockett Johnson, and I knew they were close. I had written him to see if he would be willing to chat, but, the previous April, he had declined via a letter from his assistant: "Mr. Sendak does not have any useful recollection relating to Ruth and Dave…. He hopes your research yields more valuable results and best wishes!" So, I thought: I need to try again. I'll go, I'll ask him during the Q+A period. When that time came, I was very nervous. He'd already turned me down once. What if he gets angry at me for pestering him? But… I plucked up my courage, and asked.
He looked me in the eyes, and after the briefest pause said Yes. I should talk to him after the Q+A. I did. He wrote his home number down in my notebook, and told me to call.  I did.
I remain astonished at his extraordinary generosity toward me, who (at that time) had published a handful of articles and no books… and yet was going to write a biography. Why even give someone like me the time of day?
This is why. Ruth Krauss and Crockett Johnson – along with their mutual editor, Harper & Brothers' Ursula Nordstrom – were the most important people in shaping his early career. In the early 1950s, he began visiting their Rowayton Connecticut home on the weekends, while working on Krauss's books. They were his "weekend parents" who helped shape him into the great artist he would become. He stayed with them many times during the '50s, illustrating eight of Krauss's books, starting with the groundbreaking A Hole Is to Dig (1952).
So, he was willing to help me. I phoned, we chatted, and then set up a time for a longer conversation later that evening.  At 9pm on June 22nd, I phoned him.  We talked for the next two hours.  The phone call began like this:
Philip Nel: Let's hope the tape works.

Maurice Sendak: Oh, you're taping it?

PN: Yes, if that's alright with you.

MS: Yes, that's fine.  You're going to hear an odd sound now and then which is my putting a colored pencil into my sharpener 'cause I'm going to try and draw as we speak.

PN: OK.

MS: I have to finish a page a day, a layout a day, for the book I'm doing.

PN: What are you doing?

MS: Well, it's a book based on an opera, an opera that I'm going to produce.  I have a little children's theatre which I'm getting rid of, but this is our last thing to do.  It's an opera that was performed in a concentration camp in Prague, there's a very famous concentration camp called Theresienstadt.  It was actually Emperor Tieresias' army encampment right outside the city.  During the war, it became a camp, and it was known as Hitler's favorite camp.  There was a movie made to impress Red Cross and diplomats coming that all that they were hearing about dead Jews, dead gypsies, dead gays was all a lie.  And a film was made showing volleyball and chess and children, part of a children's opera, some brief moments.  And the true fact is that there was an opera composed in the camp.  A young composer named Hans Krasa and his librettist wrote an opera for the children in the camp.  And the opera is called Brundibar, and it's one of the only things we have of Mr. Krasa except for a trio and some songs because he was incinerated when he was about 35 along with the librettist and all the children who performed the opera.

PN: Wow.

MS: We now have the rights to the opera — took us a long time to get it — and Tony Kushner, the playwright

PN: Yeah, Angels in America.

MS: Yeah.  Is one of my very most wonderful friends.  I begged him to take the job of translation because the original English translation is horrible.  The Czech is beautiful, but it's got to be sung in English, so we translated it, and we got people interested in doing it, staging it.  It has been done, but in schools, in community centers.  It's never had a real production.  And so in order to raise the money for it, we agreed we would do a picture book.  So, Tony extrapolated from the libretto into a very gorgeous complex story — the first time he's ever done anything like this.  He's amazing.  He just adapted it, without any fuss or feathers.  Gorgeous, gorgeous funny language.  And I'm doing the picture book because we need the money for the stage production, and Hyperion will pay for a good part of the stage production and the trade is they get the picture book.  And I was very sick for a year and a quarter, and of course I'm terribly late.  So, I'm trying very hard to catch up.

PN: Wow.

MS: And, it's beautiful, beautiful work — a perfect way for me to wind up, actually.  So that is it.

PN: Wow.  I'll be fascinated to see that — the book — when it comes out.

MS: Yeah, the book is evolving because Tony keeps rewriting and I keep rethinking, and we swore we would not make it too dark.  It would be the sweet, little Czech peasant opera.

PN: Well, good luck.

MS: It's hopeless already.  I have Hitler in it, I have Eva Braun in it, I mean I'm just uncontrollable.

PN: It would be difficult to avoid the darkness.

MS: Impossible.  But, really, seriously must to an extent in order to not obscure what these people really set out to do, which was to write a charming piece to amuse the children.  It's just that history beclouds it so much.  It is difficult to do.  It is difficult.  But it's also great fun.  I'm having a wonderful time.

PN: I'm fascinated.  I'll be interested when it comes out to show it to my class.
He asked about my class.  I had just begun teaching Literature for Children at Kansas State University.  "I always wonder how you teach children's literature," he said.  I offered to send him a syllabus.
MS: To me, it's really a great mystery.

PN: Well, I'm new to teaching it.  I've taught it only for a year.  So, I'm pretty close to that sense of mystery.

MS: Well, once the mystery settles deep on you, then you'll know how complex this thing is.  It's always been considered low man on the totem pole, one page in the New York Times, and it's all treated like Peter-Pan-ville.

PN: Right.

MS: It's very tiresome, and it used to irritate me profoundly when I was young and now I just can't afford the energy that goes to being irritated.
After a little more conversation, he started to tell me about Ursula.  And Ruth.  And Dave. (David was Crockett Johnson's real first name, and his friends called him "Dave.")  Maurice was very open, direct, and shared an enormous amount of deeply personal memories with me – tears in his eyes, as he described his visit to Ruth just before she died. I felt like his therapist, mostly listening, asking the occasional question. By the end of the conversation, I felt as if during the course of those two hours we had become old friends. He invited me to visit him in Ridgefield. I accepted.
(I never did manage to get out there, which is something I now very much regret, of course.)
Maurice Sendak became the biography's third central character.  Dave and Ruth are the two co-stars, but Maurice gets third billing – or would, if the book were a film.  Beyond the decade of the 1950s, when he was collaborating with Ruth and staying with them some weekends, he visited in 1963 when he got stuck working on Where the Wild Things Are.  What should he call the three wordless two-page spreads in which Max and the wild things cavort in the forest?  Dave suggested "rumpus."  So, just before the wordless pages start, Sendak has Max say, "Let the wild rumpus start!"  Dave and Ruth were so important to Where the Wild Things Are that Sendak has said, "I feel as though Max was born in Rowayton, and that he was the love child of me, Ruth, and Dave."
Maurice and I collaborated on getting Crockett Johnson's Magic Beach published in 2005, with an afterword by me and a foreword by him. We kept in touch. Generally, I'd write him a letter, and then a few days later, he'd phone me back. It was always astonishing to pick up the phone and hear Maurice's voice on the other end. Or to find his voice on your answering machine. I don't think I ever quite got over the fact that Holy cow, I'm talking with Maurice Sendak. Â That, truly, was "the most wild thing of all!"
In the summer of 2008, I sent both him and Nina Stagakis (who knew Johnson and Krauss very well) an early draft of the manuscript up until the mid-1950s. How was I doing? Anything I might improve? Anything missing? As he recuperated from triple bypass surgery, he read what had become a double biography of both Johnson and Krauss.  On September 10th 2008, he left a message on my office phone.  He said he liked it, it was good work, but he had a few questions. Call him back. I did. He was hesitant to criticize, but I wanted to know. So, he offered his critique: "For me, it was me and Ruth.  And, for you, it was you and Dave."  Ah, I said, so I need to have more Ruth in there.  He said, well, it's your manuscript and you can do what you like.  I said, no, I want there to be a balance between the two.  He said, it's "like a missing color from a palette."
So, after our phone call, I started going back through the manuscript, and creating a map for each chapter that included a one-line summary of each paragraph which I then labeled either "CJ," "RK" or "CJ-RK."  I made the same map for all subsequent chapters, too.  This allowed me to see where the book was unbalanced, and to create a balance, trimming "CJ" sections, expanding "RK" sections.
Maurice was a little out of sorts that September night. In addition to being in recovery, he was also in mourning –Â his partner of 50 years, Dr. Eugene Glynn, had died the year before. And, at the start of our conversation, he alluded to an article about him in that day's New York Times, which he described as "a very odd interview that's very frank." So, he said, "I'm telling you because I may sound odd." Wondering what he was talking about, I looked it up (on-line) as we spoke. That's the article where he at last talks openly about his sexuality. The interviewer asks whether there were anything he had never been asked, and Maurice answers, "Well, that I'm gay." So, I think he may have feeling a little more vulnerable than usual that evening. (I expect that, if I had just told the New York Times a secret I'd been keeping for 80 years, I'd feel vulnerable, too.)
That was the last time we spoke.
He continued to be supportive of the biography, granting permission to use artwork, and sending me a scan of a photo of him in his 20s – I wanted an image of how he looked at the time he met Ruth and Dave. I believe my biography of Johnson and Krauss will mark the photo's first publication, though I'm not sure.  But this was all done through his assistant, Jennifer.
My sense of his final years was that he was devoting the life he had left to his work and to mentoring other artists. So, though he no longer returned my occasional letters by phoning me, I figured: well, if I were in my 80s, I would also claim as much of my time for myself as I could! And: He's been so very generous to me. I can't complain. I could worry about him, though. I did worry about him. Â Whenever he talked to the press, he sounded sad. And he'd sounded sad to me, when last we spoke.
I did write him, and thank him for all he'd done. I was planning to write him again, in a few months' time, sending him a signed copy of the bio. and another thank-you. (Sigh….) Well, at least he got to see page proofs. The publisher sent him those a few months back.
When I heard the news this morning, "No!" was my first reaction. Yes, I knew he was 83, and he's never been in the best of health. (He was sickly as a child, and had his first heart attack just before he turned 39.) Still, I assumed he'd always be there. I assumed I'd get the chance to write to him again.
But it was time for him to board Max's boat and sail away.
Farewell, Maurice.  And thank you.
More on Maurice Sendak (last updated 14 July 2012, 10:15 pm Central Time):
More on Sendak from Nine Kinds of Pie (this blog):