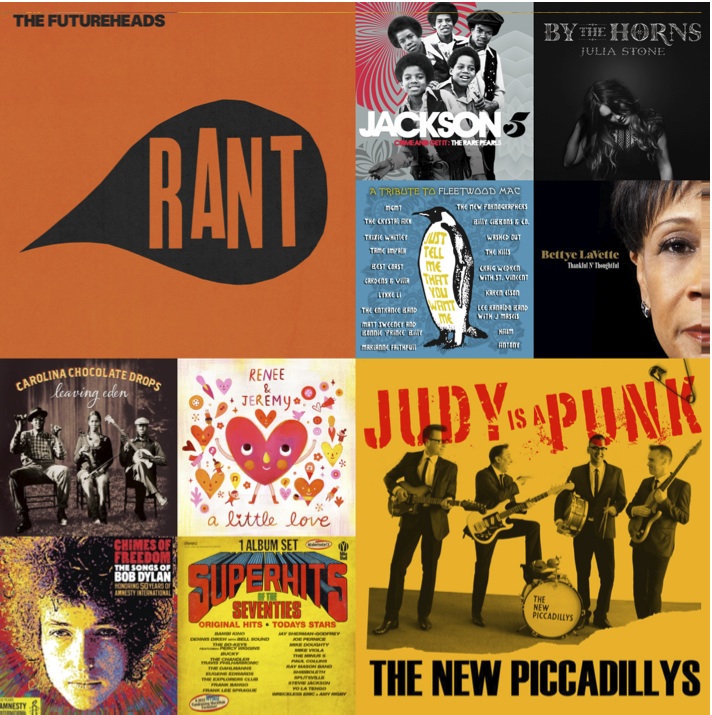 Here are the best covers of 2012! Â Well, they might be. Â I haven't kept up with music as well as I'd like to this year, and so I'm sure I've missed some good ones. Â (I'm sure I can trust you to tell what I've missed, in the comments below.) Â Though I recognize that there is no such thing as a cassette with 22 minutes per side, I'm nonetheless dividing this into the more uptempo side A and a quieter side B.
---
side A
1)Â Acapella The Futureheads (2012) Â  Â  Â  Â  Â  Â 2:28
From the Futureheads' Rant, a cover of Kellis. The album, incidentally, is entirely a capella, which I think earns the Futureheads some bonus points for coolness. Below: after mucking about for a minute, they perform this song live.

2) Judy Is a Punk The New Piccadillys (2012)             1:44
I have no idea who the New Piccadillys are, but this Beatle-esque cover of the Ramones is fantastic. Â The group also created a Beatles-ish video to accompany the song. Â Fun.

3) Feelin' Alright Jackson 5 (1971)             3:13
This is the sole song here that was not recorded this year.  But it's a great cover, and the box set on which it appears was released this year.   Come and Get It: The Rare Pearls features previously unreleased material from the Jackson 5.  Listening to it, I can't help but think that the group could have had even more hits, had these songs been released at the time.  Great stuff.  This is their cover of Traffic.
4) You Be Illin'Â Carolina Chocolate Drops (2012) Â  Â  Â  Â  Â  Â  3:14
From the Carolina Chocolate Drops'Â Leaving Eden, a rootsy cover of the RUN-DMC classic.
5) Time Will Do the Talking Bettye LaVette (2012)             4:05
On her latest, Thankful n' Thoughtful, Bettye LaVette performs a song from Patty Griffin's debut album.  Tough to choose just one cover from this album.  I also considered the album opener, "Everything Is Broken," but I already had a Dylan cover in the second half of the mix.
6) Right Back Where We Started From Chandler Travis Philharmonic (2012)           3:25
It was also tough to choose just one cover from this CD, Superhits of the Seventies: Original Hits, Today's Stars, a 2012 WFMU fundraising exclusive assembled by Michael Shelley.  In addition to the Chandler Travis Philharmonic's merrily ragged cover of the Maxine Nightingale hit, the CD includes Yo La Tengo's cover of Todd Rundgren's "I Saw the Light," the Dahlmanns' cover of ABBA's "Ring Ring," and many other greats.  It's only available to people who gave $75 or more to WFMU's latest fundraising drive.  And you can still get it.  (If you can afford to, I'd recommend giving even more so that you can get more DJ premiums.  WFMU is the greatest freeform station in the nation, and is struggling to bounce back from Sandy.  It's managed to get back on the air, but needs more money this year than it usually does.)
---
side B
7) Bloodbuzz Ohio Julia Stone (2012)           5:11
Lovely cover of the National by Julia Stone, from her album By the Horns.
8) Daydream Believer Renee & Jeremy (2012)            2:25
Beautiful, gentle cover of the Monkees' hit – from Renee & Jeremy's A Little Love.
9) Sweet Dreams (Are Made of This)Â Active Child (2012) Â  Â  Â  Â  Â  Â 3:27
Active Child perform this cover of the Eurythmics' classic at Australia's Triple J radio station. Â Here's a video of the performance:

10) Landslide Antony (2012)            3:31
From A Tribute to Fleetwood Mac, in which Antony, the New Pornographers, Best Coast, MGMT, Lykke Li & others cover Fleetwood Mac songs.
11) Simple Twist of Fate Diana Krall (2012)           3:51
One of many fantastic songs from the 4-CD set Chimes of Freedom: The Songs of Bob Dylan, a benefit album (for Amnesty International) featuring 128 covers of Dylan songs and Dylan himself performing "Chimes of Freedom."
12) Video Games John Mayer (2012)              3:32
An instrumental take on the Lana Del Rey song.  In Mayer's rendition, it sounds like Ennio Morricone's score for a 1960s western, or maybe incidental music for John Sayles' Lone Star.
---
Related link: