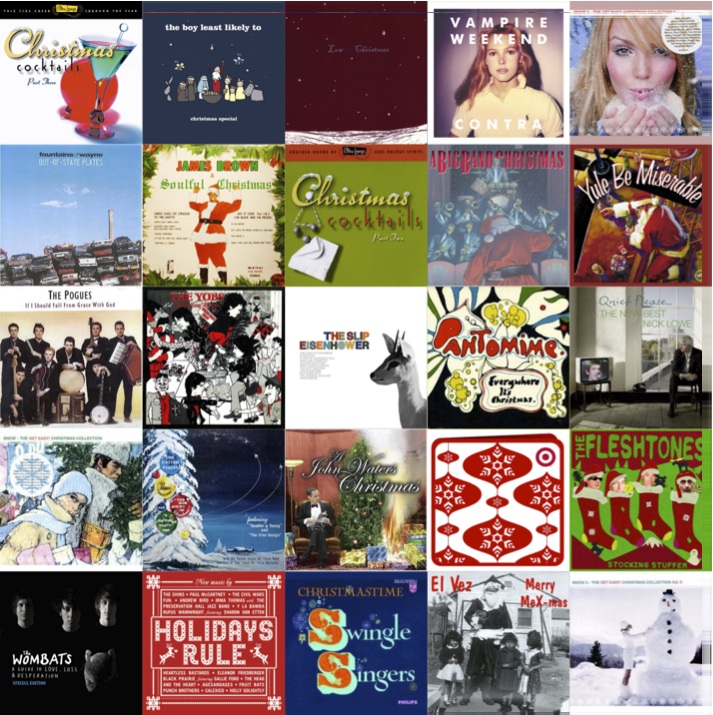 Happy holidays!  A couple of years ago, I posted a mix of "Essential Holiday Tunes."  Here is the sequel to that mix – and, yes, of course these selections are also idiosyncratic.  Unlike the previous mix, I've ventured a little further afield here: that is, I've deliberately veered towards some lesser-known songs.  Like the previous mix, this one is uptempo.  (For those interested in something quieter, I also posted a quieter, more melancholic "Blue Christmas" mix.)  I'm also posting a different song each day (some of which are featured here, and some of which are not) via Twitter, using the hashtag #FavoriteHolidaySongs
1) Now Sound of Christmas Introduction   The Free Design (1969)            0:33
The Free Design were contemporaries of (and had a comparable sound to) the Association, but never had much chart success.  Indeed, one of their songs, "2002 – A Hit Song," pokes fun at their hit-less-ness and at pop music in general.  Only "Kites Are Fun" (the title track from their 1967 debut) cracked the top 40.  But their close harmonies and beautifully arranged orchestral pop influenced many, including Stereolab, whose "The Free Design" is named for the group.  Though they disbanded in 1974, the surviving members of the group – all of whom were siblings – reunited for one final record, Cosmic Peekaboo (2001). The group's leader, Chris Dedrick, died of cancer in 2010.
2) Peanut Brittle Brigade (March)Â  Â Duke Ellington (1960)Â Â Â Â Â Â Â Â Â Â Â  4:38
Duke Ellington's Three Suites includes his version of Tchaikovsky's Nutcracker Suite, from which this track comes.  If this isn't part of your music collection, get the whole album – which also includes Ellington's arrangement of Grieg's Peer Gynt, and Ellington's original music for John Steinbeck's Sweet Thursday.
3) Hurray for Santa Claus   The Fleshtones (2008)            1:58
From the Fleshtones' Stocking Stuffer, this is a cover of Milton Delugg and the Little Eskimos' theme for the science fiction film Santa Claus Conquers the Martians (1964).
4) Santa Claus Got Stuck (in My Chimney)Â  Â Ella Fitzgerald (1950)Â Â Â Â Â Â Â Â Â Â Â  3:07
One of my favorite Ella Fitzgerald holiday tunes (another is on the first Essential Holiday Tunes mix). I wonder, though, is it possible to listen to this song and not think of Freud?
5) (Everybody's Waitin' For) The Man with the Bag   Black Prairie featuring Sallie Ford (2012)            3:35
From the new Holidays Rule compilation, which I like nearly all of.  I particularly like the way this song opens in a minor key – gives it a slightly darker undercurrent.
6) I Want an Alien for Christmas   Fountains of Wayne (2005)            2:19
The masters of power pop give us a catchy tune on Out of State Plates, their double-CD compilation of non-album cuts and outtakes.
7) Rudolph the Red Nosed Reindeer   The Fab Four (2002)            2:03
No, not that Fab Four.  These guys do fantastic Beatles-esque versions of holiday songs.  In this one, you get Rudolph the Red Nosed Reindeer performed in the style of "I Saw Her Standing There."
8) Everywhere It's Christmas   The Beatles (1966)            0:53
This is the real Fab Four, from their 1966 record sent to members of their fan club.
9) Feliz Navidad   El Vez (1994)            2:34
El Vez offers up a rockin' cover of José Feliciano.  From El Vez's Merry MeX-mas.
10) Soulful Christmas   James Brown (1968)            3:09
"James Brown loves you."  From James Brown's Soulful Christmas, which also includes "Santa Claus Go Straight to the Ghetto" and "Let's Make Christmas Mean Something This Year."
11) What Christmas Means to Me   Stevie Wonder (1967)            2:28
From Stevie Wonder's Someday at Christmas, which includes versions of "Silver Bells," "The Little Drummer Boy," and Mel Torme's "The Christmas Song."
12) Mrs. Claus Ain't Got Nothin' on Me   Little Jackie (2010)            2:57
This appeared on The Christmas Gig, a compilation created by Target in 2010.
13) The Merriest   June Christy (1961)            2:08
Christy is perhaps best known for her Something Cool (1954), which in addition to the title track has great performances of "Whee Baby," "You're Making Me Crazy," and "The First Thing You Know, You're in Love."   She performed with Stan Kenton's band in the 1940s, and retired in the mid-1960s… though I don't know why.  It seems to me that she could have had a longer career – along the lines of, say, Peggy Lee.  This song appears on Christy's This Time of Year (1961).
14) Silver Bells   The Yobs (1980)            2:44
A punk shredding of Ray Evans & Jay Livingston's classic. Â From the Yobs' Christmas Album.
15) Winter Wonderland    Peggy Lee (1965)            1:54
Written in 1934 by Felix Bernard (music) & Richard B. Smith (lyrics), "Winter Wonderland" has been recorded in hit versions by over 150 artists, including two hit versions in 1946 – one by Johnny Mercer, and the other by Perry Como.  Ella Fitzgerald has a version on her Ella Wishes You a Swinging Christmas (1960), a great holiday record.  And, yes, many great versions – Chet Baker, Eurythmics, Brian Setzer….  Peggy Lee's recording appears on the compilation Christmas Cocktails, and (I'm sure) on several other compilations.
16) Horchata   Vampire Weekend (2010)            3:27
From Contra, the band's second LP.
17) Little Jack Frost Get Lost   Frankie Carle with Marjorie Hughes, vocal (1947)            2:47
A swingin' little number that deserves to be better known.  Appears on A Big Band Christmas and on other compilations.
18) Santa Claus Is a Black Man   AKIM & the Teddy Vann Production Company (1973)            3:30
An Afro-centric re-casting of "I Saw Mommy Kissing Santa Claus," featuring Teddy Vann's daughter Akim.   This appears on A John Waters Christmas (2004), though without Teddy Vann's permission.  Apparently, Vann sued Waters over it.  Mr. Vann passed away in 2009; I'm not sure about the results of the lawsuit.  I do know that the John Waters Christmas album is currently the only CD on which you can find this song.
19) Happy Christmas Baby   The Boy Least Likely To (2010)            3:31
Appears on the Boy Least Likely To's Christmas Special.
20) Little Drummer Boy   The Soulful Strings (1968)            3:06
"Little Drummer Boy" may be my least favorite Christmas song. I'm including it here because the Soulful Strings have recorded a really great version – the sole recording of this song that's actually listenable.  It surprises and pleases me every time I hear it.
21) Children of December   The Slip (2006)            4:50
From the band's album, Eisnhower, some sympathy for people born in December.
22) Just Like Christmas    Low (1999)            3:08
Here, our mix veers towards the slightly more melancholic – but only slightly.  This song, from Low's Christmas, has an uptempo bounce (and echo-ey Phil-Spector-ish drums) that contrasts nicely with the lyrics: "On our way from Stockholm, / It started to snow. / And you said it was just like Christmas. / But you were wrong. It wasn't like Christmas at all."
23) Is This Christmas? [Radio Edit]Â  Â The Wombats (2008)Â Â Â Â Â Â Â Â Â Â Â  3:38
This appears as a bonus track on the 2008 re-release of the Wombats' first LP, A Guide to Love, Loss & Desperation.  Even more uptempo than the Low song, but with more downbeat lyrics: "Here comes our darkest end. / Christmas is here. / It's about not extending the overdraft / to scrape out what is left / at the end of the year."  The Wombats are one of my favorite contemporary pop groups.  I recommend both of their albums.
24) Fairytale of New York    The Pogues featuring Kirsty MacColl (1988)            4:33
One of the all-time great holiday songs.  Love, conflict, and a little profanity, too.  Dorian Lynskey wrote a great history of the song, which ran in the Guardian last week.  I recommend it.  The piece also embeds an early demo version of the song, which is fascinating.  But go and read the article.  It's well worth your time.
25) Who Took the Merry Out of Christmas?    The Staple Singers (1970)            2:31
"Searching for light, and can't seem to find the right star." A no. 2 pop hit for the Staple Singers, this song originally appeared as a single.  It later appears on The Very Best of the Staple Singers. I have it from the compilation Snow 3 – The Get Easy! Christmas Collection Volume III.
26) (What's So Funny 'Bout) Peace Love and Understanding    Brinsley Schwarz (1974)            3:34
This is the first recording of the song made famous by Elvis Costello. Written and sung by Brinsley Schwarz's vocalist Nick Lowe, the song's message makes it apt for a holiday mix. It's also been a source of lots of royalties for Lowe: Curtis Stigers covered the song for The Bodyguard soundtrack, which sold over 40 million copies.
27) Christmas Medley: Carol of the Bells / Melodies for the Day / O Sanctissimo    The Swingle Singers (1968)            3:11
Ending the mix with a gentle a cappella medley.  The final song on the Swingle Singers' Christmastime.
Related Posts: