When you look at Chris Ware's post-Newtown New Yorker cover, the looks on the parents' faces call to mind the previous month's massacre in Connecticut. But 10 years from now, readers (I hope) will see just a scene of children entering a school as their parents watch intently. In creating the notes for Volume 2 of Crockett Johnson's Barnaby, I'm facing this challenge as I work to help contemporary readers follow the political satire.
Johnson's comic strip was a fantasy, and you can enjoy it without knowing the contemporary scene of 1944 to 1945.  But I'm one of those people who wants to know. In reading Fantagraphics' beautiful Krazy Kat series, I was always a little disappointed when one of Herriman's obscurities lacked an explanation in the book's "Ignatz Debaffler Page."  So, for Fantagraphics' equally beautiful Barnaby series (the first volume of which should be available in March), I'm catering to the reader ­– like me – who wants to turn to the back of the book, and find an explanatory note.
In addition to being topical, Barnaby was also wide-ranging in its allusions. Johnson's characters offer wry commentary on American politics in the 1940s, but also reflect his interests in mathematics, mystery novels, and popular culture. There are many referents that might be obscure even to his readers in 1944 and 1945.  On 28 September 1945, the lettering on a con-artist swami's door reads "SWAMI ESYAYOUISIJA."  I spent some time staring at this before realizing that the swami's surname is "YES" in four languages: Pig Latin (ESYAY), French (OUI), Spanish (SÍ), and German (JA).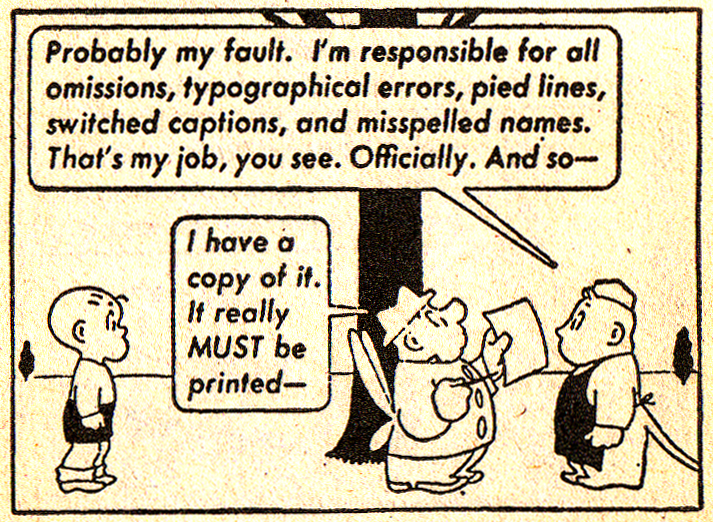 Earlier that same month, Barnaby introduces a printer's devil named "Shrdlu."  He's a friend of Barnaby's fairy godfather, Mr. O'Malley. Why Shrdlu? A linotype machine arranged the letters in order of how frequently they were used. In English, that order is ETAOIN SHRDLU. On the machine, the first column (reading downward) was ETAOIN, and the second was SHRDLU. Thus, as the OED explains, "ETAOIN SHRDLU" are "The letters set by running a finger down the first two vertical banks of keys on the left of the keyboard of a Linotype machine, used as a temporary marking slug but sometimes printed by mistake; any badly blundered sequence of type." So, Shrdlu is the ideal name for a newspaper employee who, as he explains on 4 September, is "responsible for all omissions, typographical errors, pied lines, switched captions and misspelled names."
On 28 March 1944, O'Malley says he's a devotee of Minsky's brand of humor. Who? He's referring to the comics employed by the Minsky Brothers, who were more famous for their risqué burlesque shows. Johnson's also making an in-joke: one Minsky comedian, Jimmy Savo, provided some inspiration for the character of Mr. O'Malley.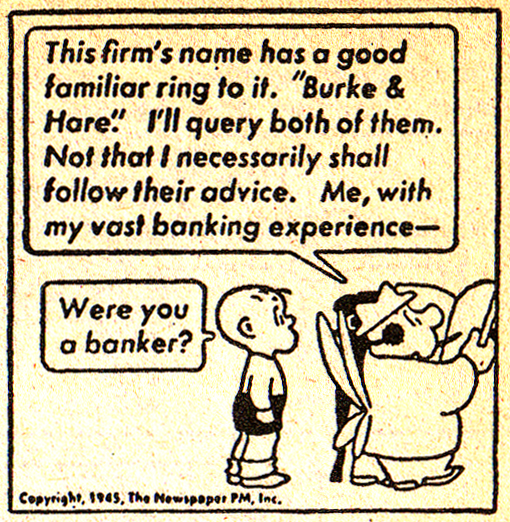 Near the beginning of his career as a Wall Street financier, Barnaby's fairy godfather decides to phone a brokerage firm. So, he checks the phone book, and says "This firm's name has a familiar ring to it. 'Burke & Hare.'" The name may be familiar, but it's not the kind of familiarity one associates with a reputable firm. It recalls the infamous Burke and Hare Murders of 1828. Over the course of 10 months in Edinburgh, Scotland, William Burke (1792-1829) and William Hare (1792-?) murdered 16 people, and sold the corpses to Dr. Robert Knox, who needed cadavers for his anatomy lectures.
Even though you don't require these notes to enjoy the strip, a thorough editor (that's me!) provides them… for the few readers who (like me!) want to know.
Barnaby Volume 2: 1944-1945 should be out in early 2014, and Barnaby Volume 1: 1942-1943 is due in March. I expect to receive an advance copy in the next week or two.
Note: All Barnaby images are from the Del Rey paperbacks (1985-1986). For the Fantagraphics books, expect higher-quality images and paper.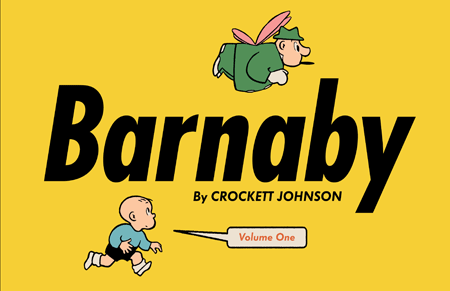 Coming in March, from Fantagraphics: Barnaby Volume 1: 1942-1943, co-edited by Philip Nel and Eric Reynolds. Design by Daniel Clowes. Introduction by Chris Ware. Essays by Jeet Heer and Dorothy Parker. Biographical Afterword and Notes by Philip Nel. You can pre-order it now.