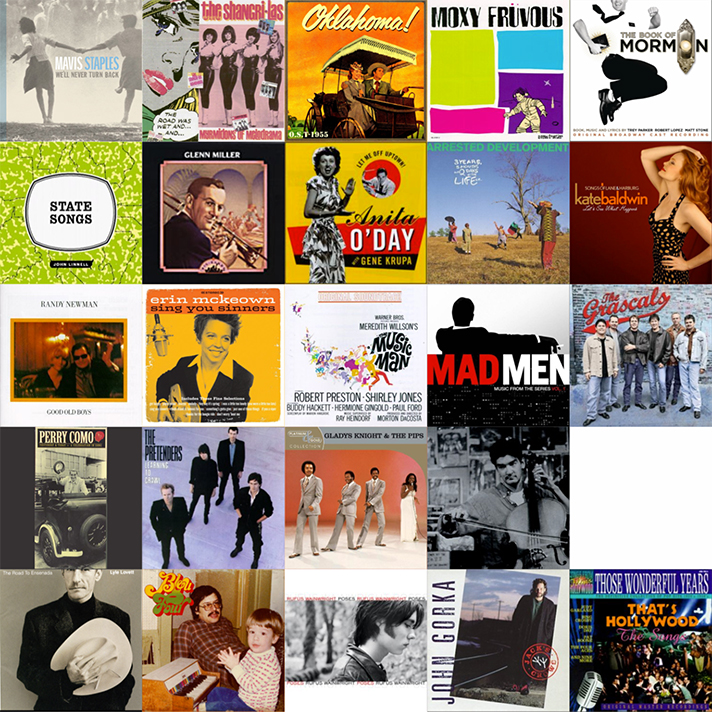 Looking for a mix that has one song for each of the 50 U.S. states?  This isn't it.  Nor are any of these official state songs. (Or, at least, I don't think they are.)
Instead, this mix has 24 songs (one each for 23 states, plus one for DC), and some of them refer to multiple states. I'm well aware that many states are missing, and that I've skipped some obvious songs – Public Enemy's "By the Time I Get to Arizona," the B-52s' "Private Idaho," Lynyrd Skynyrd's "Sweet Home Alabama," to name but three.  Similarly, one could make several mixes worth of songs devoted to New York alone, but I've stuck to one song per state.  Finally, I've limited the length to only what would fit on a single CD.
So here's one hour and nineteen minutes of music that references U.S. states. Some songs celebrate, others criticize, and still others merely allude to the state in question. Enjoy!
1) Rhode Island Is Famous for You  Erin McKeown (2006)      2:46
Written by Howard Dietz and Arthur Schwartz for the musical Inside U.S.A. (1948), this song gained popular attention via Blossom Dearie's 1960 recording. McKeown's appears on her delightful album of covers, Sing You Sinners. Though I've included it for Rhode Island, it references 20 other states: Arizona, Georgia, Maine, Nebraska, Kansas, Kentucky, New Jersey, Louisiana, Montana, Idaho, Missouri, Colorado, Nevada, Pennsylvania, West Virginia, Tennessee, Wyoming, New Hampshire, Minnesota, Dakota (it doesn't specify whether North or South).
2) I Like the Likes of You  Kate Baldwin (2009)      2:02
Composed by E. Y. Harburg and Vernon Duke for the Ziegfeld Follies of 1944, it only references Connecticut (and, more briefly, the Grand Canyon). I've always loved the way the song's language evokes the giddiness of falling in love, and even finds the time to skewer love-song clichés (in the spoken section). And Kate Baldwin's delivery is perfect.
3) B.O.S.T.O.N.  Bleu (2010)      3:48
This is here for Massachusetts (my home state), but it also name checks Wisconsin (Green Bay), Virginia, and California (L.A.).  Catchy power-pop celebration of Boston. I also included it in my "For Boston" mix, back in April.
4) Maine  John Linnell (1999)      2:07
I stole this mix's title from John Linnell's State Songs, the EP on which "Maine" appears.  If this sounds a bit like a They Might Be Giants song, that's because Linnell is half of TMBGs.
5) Manhattan  Ella Fitzgerald & Buddy Bregman Orchestra (1956)      2:49
Composed by Richard Rodgers and Lorenz Hart for Garrick Gaieties (1925), this song takes you on a tour through New York's best-known borough. Because there are so many songs about New York, it was challenging to choose just one song for this state. "Harlem Shuffle," "42nd Street," "Marching Bands of Manhattan," "Boy from New York City," "Theme from New York, New York," "Take the A Train" are but a few others that were in the running.
6) I'm From New Jersey  John Gorka (1991)      3:08
On this mix, some songs celebrate and others criticize – except for this one, which does a little of both.  It appears on Gorka's Jack's Crows. Bonus: it also references Texas and Ohio.
7) Pennsylvania 6-5000 Â Glenn Miller (1940)Â Â Â Â Â  3:14
I like that this song doesn't really say anything at all about Pennsylvania. It's just a telephone exchange. The absurdity appeals to me. Also in the running for this state were Standard Fare's "Philadelphia" and Bruce Springsteen's "Streets of Philadelphia."
8) Delaware  Perry Como (1959)      2:19
Yes, the entire song is silly puns on state names. Believe it or not, this was a no. 22 pop hit in March of 1960.  In case you're keeping track, the other states in this song are New Jersey, California, Hawaii, Mississippi, Minnesota, Oregon, Alaska, Texas, Wisconsin, Nebraska, Arkansas, Tennessee, Florida, and Missouri.
9) Washington, D.C. Â The Magnetic Fields (1999)Â Â Â Â Â  1:54
The nation's capitol –Â which has no representation at the federal level –Â here gets celebrated with a rousing cheer and a snare drum. From 69 Love Songs.
10) Just a Little Bit South of North Carolina  Anita O'Day with Gene Krupa (1941)      2:43
I don't know anything about the songwriters on this one. They're identified as S. Skylar, A. Shaftel, B. Cannon. What else have they written? The song appears on Let Me Off Uptown!: Anita O'Day with Gene Krupa.
11) My City Was Gone  Pretenders (1982)      5:25
"I went back to Ohio, but my city was gone," sings Chrissie Hynde, the composer of this song. It appears on the Pretenders' classic record, Learning to Crawl. Â Below, the 1995 incarnation of the group performs the song … in Ohio.
12) Michigan Militia  Moxy Früvous (1997)      3:18
The late, great Canadian quartet (active in the 1990s) satirizes a right-wing American paramilitary group which, according to Wikipedia, lasted from 1994 to 2000, and then was re-formed in 2009. I'm not sure what relationship the current Michigan Militia has to the one portrayed in this song. The song appears on Moxy Früvous's Go to the Moon.  Below, a live performance from a 1998 telethon:
13) Down in Mississippi  Mavis Staples (2007)      4:58
Yes, that is Ladysmith Black Mambazo on backing vocals. A powerful song from one of the greatest albums ever recorded: We'll Never Turn Back. It's one of my desert island discs. Staples' voice, Ry Cooder's clean production, and many great musicians (including Cooder himself). Â Below, a live performance from 2008:
14) Tennessee  Arrested Development (1992)      4:33
Written by Speech (who also is doing the main rap here), "Tennessee" was a top-10 single from the group's successful debut album (which also featured "People Everyday" and "Mr. Wendal"). The song also references Georgia –Â in particular, Holly Springs, and Peachtree (a Street in Atlanta). Â Below, the video:
15) Midnight Train to Georgia  Gladys Knight & The Pips (1973)      4:40
Another popular hit (number 1 on the pop charts), but from twenty years earlier. One of the few songs to be the subject of a Doonesbury strip: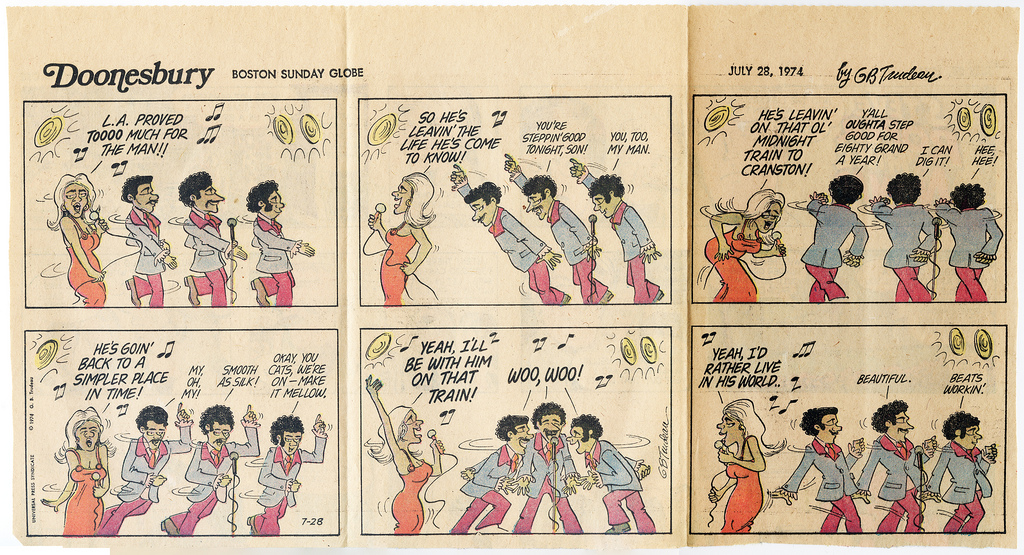 16) The Train from Kansas City  The Shangri-Las (1965)      3:21
Written by Jeff Barry and Ellie Greenwich, this song is on the mix to represent Missouri. There is also a smaller Kansas City in Kansas, but the larger, better-known city is in Missouri.
17) On the Atchison, Topeka and Santa Fe  Judy Garland (1946)      3:10
Written by Johnny Mercer and Harry Warren for the musical film The Harvey Girls, this song is here for Kansas (Atchison, Topeka), though I suppose you could add in New Mexico (Santa Fe).
18) Iowa Stubborn  Ensemble (1962)      2:00
"See you at the picnic. You can eat your fill of all the food you bring yourself." Meredith Willson's salute to his home state of Iowa, as performed in the opening minutes of The Music Man – one of the truly great musicals.  In addition to many memorable tunes, it's just saturated with language. The lead role (Professor Harold Hill) has to be one of the most challenging in all of musical theatre.  Here's Robert Preston, giving his definitive rendition in the 1962 film:
19) Oklahoma (Finale)Â  Gordon MacRae, Charlotte Greenwood, James Whitmore, Shirley Jones & Jay Flippen (1955)Â Â Â Â Â  3:08
From the musical (stage, 1943; film, 1955) by Richard Rogers and Oscar Hammerstein.
20) That's Right (You're Not From Texas)Â Lyle Lovett (1996)Â Â Â Â Â  4:55
"But Texas wants you anyway." From Lovett's The Road to Ensenada.  Below, an early live version (from Austin City Limits, in the early 1990s):
21) Louisiana 1927Â  Randy Newman (1974)Â Â Â Â Â  2:58
From Newman's Good Old Boys.
22) Sal Tlay Ka Siti  Nikki M. James (2011)      3:42
A (sort-of) tribute to Utah, from Trey Parker and Matt Stone's The Book of Mormon.
23) Viva Las Vegas  The Grascals with Dolly Parton (2009)      3:15
Originally performed by Elvis Presley in the 1964 film of the same name, this song (written by Mort Shuman and Doc Pomus) here gets a lively country treatment. Indeed, I like this version better than Elvis's original.
24) California  Rufus Wainwright (2001)      3:24
"You're such a wonder that I think I'll stay in bed."  From Wainwright's Poses.  Another state for which there are many songs we might use.  I like this one because it's interested in the idea of California, but it's also somewhat bemused by it.