"The object of power is power."

— O'Brien, in George Orwell's 1984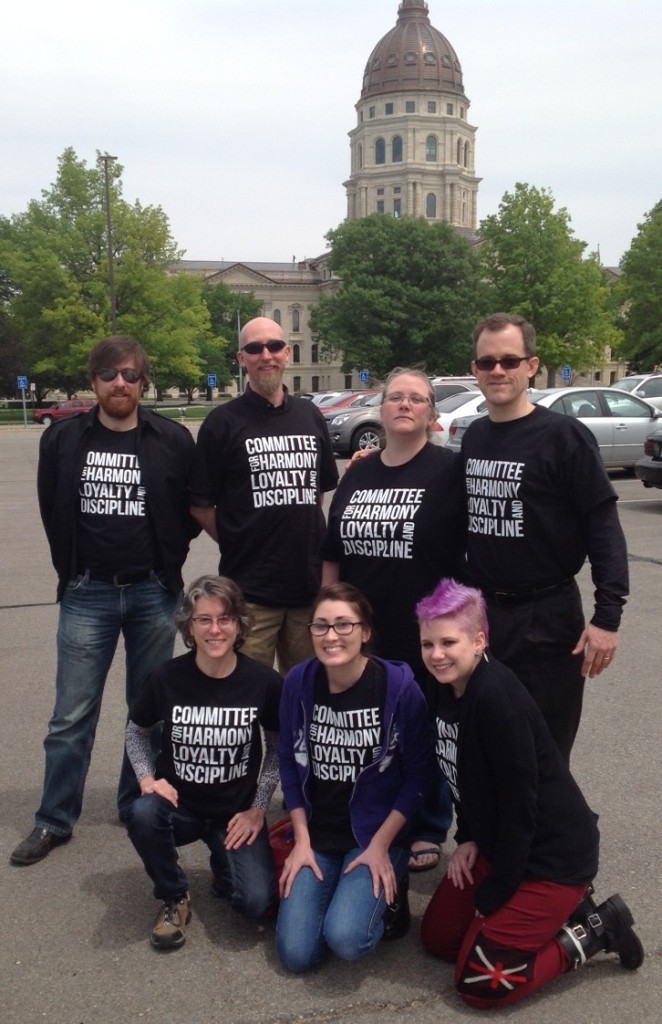 To support the basic right to freedom of speech and to stand up for academic freedom, faculty, staff, and students from Kansas universities attended today's Kansas Board of Regents meeting in Topeka, Kansas. The room was packed: standing room only.  The Board of Regents were cheerful, chummy, and completely indifferent to the rights of those whom they allegedly represent. They rescinded our rights to freedom of speech, but they did it with a smile. Fred Logan told us that the Regents respect us, and passed a policy that does not respect academic freedom.
He is a canny politician, and I could see him going places. I mean that both as a compliment to him and as a caution to the people of Kansas. In other words, I am being both sarcastic and completely sincere. Not only does Mr. Logan have the ability to say (with apparent sincerity) words like "respect" without actually meaning them, but the very first thing he did upon entering the room was come up and introduce himself to me. (I was seated in the front row.)
Fred Logan [smiling]: Philip Nel?  Fred Logan.

I stand up. We shake hands.

Logan: It's nice to meet you.

Me: It's interesting to meet you.

Logan: I've read what you've written about me, and I've looked at your website.  Don DeLillo?

Me: Yes.

Logan: I read Falling Man, and I was thinking about reading White Noise next. Good choice?

Me: Yes. White Noise is a great choice. That's the one to read.  [Pause.]  So, are you really going to go through with this policy? Or —

Logan: [Smiling, makes non-committal sound, walks away, waves, and takes his place at the Regents' Desk of Governance.]
Hence, my first tweet:
Met @ksregents chair Fred Logan. Says he's about to read DeLillo's White Noise: fan of "continuing mass appeal of fascist tyranny"?#ksspeech

— Philip Nel (@philnel) May 14, 2014
And then, the meeting got underway.  
sro @ regents meeting 4 social media policy #ksleg #ksregents pic.twitter.com/ZgrRdsi0fU — Scott Rothschild (@ljwrothschild) May 14, 2014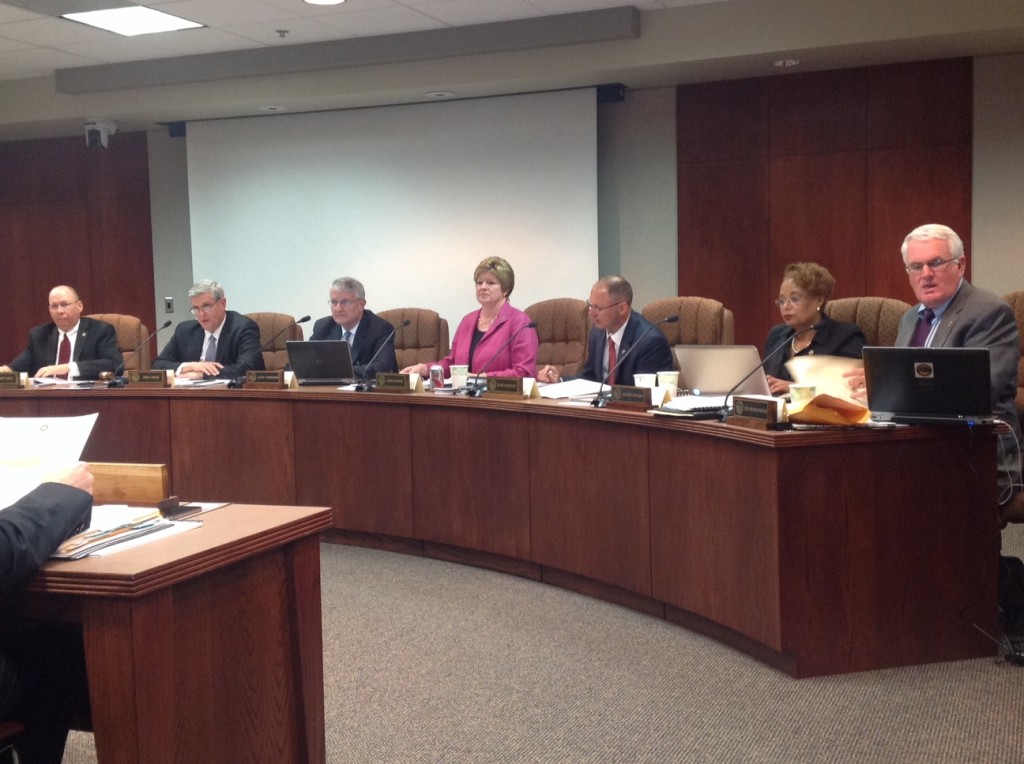 Regents' Chair Fred Logan said of the revised social media policy, "I want to thank the members of the workgroup who worked on this. I in particular want to recognize the co-chairs of the group. They did spectacular work." He added, "I also want to welcome and thank all the members of the faculty for coming."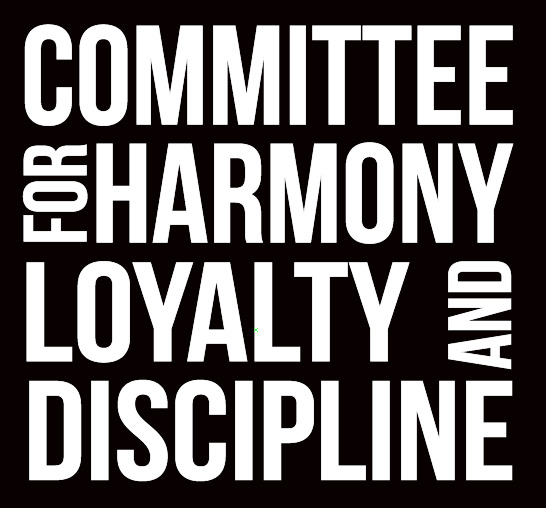 That was just one of many examples where Mr. Logan said one thing, but the actions of the Regents conveyed a rather different message. The revised policy retains all punitive parts. You can still be fired for a broad array of vaguely defined speech, such as uttering something "contrary to the best interests of the employer."  Presumably, a blog post (like this one) that is critical of the Kansas Board of Regents might be included in this restriction.  You can also be fired for speech that "impairs discipline by superiors or harmony among co-workers, has a detrimental impact on close working relationships for which personal loyalty and confidence are necessary."  This particular language, of course, inspired our "Committee for Harmony, Loyalty, and Discipline" t-shirts. How would one go about measuring the harmonious content of speech? How might we determine whether speech is disloyal?  And as for impairing discipline, if I were to write that the Kansas Board of Regents have brought shame to the state of Kansas, and that all of them should resign effective immediately, is that a fireable offense?
Because they have done precisely that. In addition to all the negative national publicity this has already received, here's a story from National Public Radio, this evening.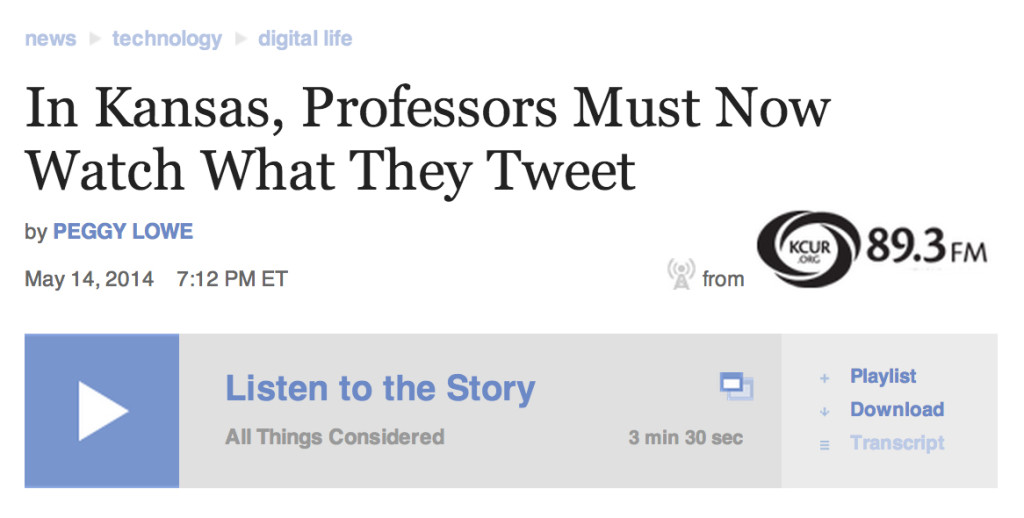 Kansas is already known for being anti-science (evolution? just a theory!). Now, Kansas is known for its opposition to freedom of speech. If you're trying to attract top faculty to Kansas universities, you have your work cut out for you. When Fred Logan got to the social media policy, Emporia State University's Sheryl Lidzy read — on behalf of the Kansas Council of Faculty Senate Presidents — a great defense of freedom of speech. It included such gems as this:
we fear that the most important point continues to be ignored. That point is this: a university system cannot properly function when external groups are allowed to influence university personnel decisions whenever they find certain speech to be objectionable. Because the punitive aspects of this policy create precisely this "heckler's veto" scenario for controversial speech, we must once again respectfully request that the Board reconsider its determination that the disciplinary aspects of this policy are necessary and desirable.
As Prof. Lidzy read, Regents looked on, with — as my colleague Christina Hauck observed — expressions of "boredom and distaste" for the Faculty Senate Presidents.

Lidzy continued:
there are certain rights and responsibilities that are non-negotiable. However expedient it may seem at the time to surrender these cornerstones of the academic mission, there are certain principles that cannot be bargained away, because once they are conceded, the integrity of the entire enterprise is compromised. The freedom to speak without fear of reprisal is perhaps the ultimate example of a principle with which we are not at liberty to experiment and this is why we continue to oppose the punitive aspects of this policy.
The Kansas Board of Regents were unmoved. And yet Fred Logan said, "We have the utmost respect for faculty."
Logan: "We have the utmost respect for faculty." How does he manage to talk out of both sides of his face? Magic? Hypocrisy? #ksspeech — Philip Nel (@philnel) May 14, 2014
I found these sort of responses fascinating. Throughout this process, the Board's attitude towards faculty has been condescending, patronizing, even hostile. The policy itself establishes new ways to fire people, based on very broadly defined objectionable speech. However, Regent Logan says, "We have the utmost respect for faculty." The vast gap between word and deed is truly breathtaking. This is why I think that Mr. Logan may have a bright future in Kansas politics. Directly after Professor Lidzy's statement, Logan got up, and rushed over to give her an award for her service, which — he said — the Board very much appreciated.  Again, he is thanking her, even while he completely disregards what she has said.
Spectacle of Board giving certificates of appreciation to people denouncing their leadership. — Jonathan Dresner (@jondresner) May 14, 2014
He was practically jumping out of his seat to tell Lidzey she'd be getting framed congratulations for her service. pic.twitter.com/OwQr1esJ1o

— John Hoopes (@jwhoopes2) May 14, 2014
At the meeting we also learned that the Moody's downgrade of Kansas's credit rating (thanks to Governor Brownback and the legislature's fiscal recklessness) will result in higher borrowing rates for Kansas universities. As my colleague Don Hedrick pointed out after the meeting, the Kansas Board of Regents' actions also downgrades the rating of Kansas universities.

Logan: policy "strongest & most explicit statement on academic freedom that appears anywhere in our policy manual." #ksspeech #doublespeak — Philip Nel (@philnel) May 14, 2014
The Regents passed their punitive social media policy. Of the policy, Fred Logan said, "This will be the strongest and most explicit statement on academic freedom that appears anywhere in our policy manual." While it is true that the Regents did adopt the workgroup's recommendations on language affirming academic freedom, it is also true that the Regents retained the original language eviscerating academic freedom. So, if this is their "strongest and most explicit statement on academic freedom," that's hardly a cause for rejoicing.
Chair reiterating process, claims statement of academic freedom is strongest statement in any #KSRegents document. Not a high bar to clear. — Jonathan Dresner (@jondresner) May 14, 2014
With smiles, conviviality, and bland affirmations of freedom of speech, the Kansas Board of Regents adopted a policy that tells faculty and staff: watch what you say. Of course, Kansas is merely part of a trend of cracking down on freedom of speech. South Carolina's legislature has punished the College of Charleston for assigning a book, and installed a white supremacist as their new president. A dean at the University of Saskatchewan was just fired for speaking his mind. So, the Kansas Board of Regents are not unusual. They are normal. And they are the future. Indeed, to paraphrase George Orwell, if you want a picture of the future, imagine sensible shoes stamping on a human face—forever.1
Left @ksregents mtg, talked to media. Live-tweeting over. But the struggle continues! #ksspeech — Philip Nel (@philnel) May 14, 2014
——
1. The actual line from Orwell's 1984 is "If you want a picture of the future, imagine a boot stamping on a human face—forever." But the Kansas Board of Regents tends to wear sensible shoes, and not boots.
---
Update, 10:30 pm, 15 May 2014
in response to Nena Beckley's comment below, I've added (in the comments) a link to the revised policy.  I'm also adding that information here:
Here's some media coverage (updated 9:00 am, 16 May 2014):