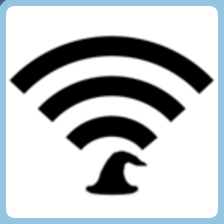 Attention Harry Potter Fans! While you await Harry Potter and the Cursed Child (script to be published July 31), check out The Setup Wizard, the "Daily Accounts of a Muggle I.T. Guy working at Hogwarts." Its premise is that, at Hogwarts, "students and staff alike have finally caved and demanded that their cell phones work on school grounds." The muggle they hire, Jonathan Dart, having "learned through the grapevine that other magical schools are planning on making the same jump," decides to write a blog in the hope that his "experiences can help other outsiders down the road."
This offers him many opportunities to venture into unexplored areas of the Potterverse and consider one of its curious absences – muggle technology. Here's a sample post:
Have you ever tried to set up wifi under a lake? The damn Slytherin kids almost refused to even let me into their common room until I explained to them what Spotify is and how, with the magical power of the internet, they can stream all the emo music their little hearts could ever desire.
And here's one more:
If my "improper" spelling of the word 'color' hasn't cued you in, I am originally from the other side of the pond from Hogwarts. Let me tell you, you cannot find a decent cup of coffee anywhere in Hogsmeade. I'm cool with tea, but sometimes a man needs a taste of what singlehandedly got him through his early 20s.

Luckily, I was able to work a Keurig into the budget this month. The Headmaster asked what the device was for and I insisted that it was a flux relay needed to reverse the polarity of the neutron flow and maintain the balance of the force of the server's matrix capacity. Long story short he thinks I'm a technical genius and I have a cup of hazelnut flavored happiness.
To get a sense of the full narrative, I recommend reading the series in order.