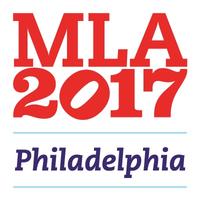 In January, before the kleptocracy,
In Philly, mourning an ailing democracy,
Find comfort, anxiety, knowledge, and despair!
(When academics gather, these tend to be there.)
January fifth through eighth, at the MLA,
We'll meet and think. We'll eat and drink. What do you say?
Ahem. Here are all the sessions on children's literature and/or comics/graphic novels at the 2017 MLA in Philadelphia. What do I mean by "all"? Â Well, I did not count sessions with a single paper on comics/graphic novels. To be included here, at least 50% of the session must be devoted to children's/YA literature, comics/graphic novels, or cultures of childhood more generally. Â If I wasn't sure, I erred on the side of inclusion.
Note: Clicking on the session number will take you directly to the MLA's on-line program, which is my source for all of this information.
---
9. Reimagining Adolescence: Where Are We Going, Where Have We Been?
Subject:
Keywords:
---
27. Getting Religion: Children's Literature as Sacred Text
---
189. Reading and Seeing Modernism and Graphic Narrative: Form, Medium, Aesthetics
---
210. Graphic Narratives
---
244. Remediating Boundaries between Children's Print and Digital Media
---
281. "Leap Tall Buildings in a Single Bound": Psychoanalysis, Comics, and Architecture
---
282. "I Die Daily": Police Brutality, Black Bodies, and the Force of Children's Literature
---
298. Race, Science, Speculation
---
353. What Next? Adventures in Episodic and Serial Form
---
475. Graphic Style and Big Data
---
524. The Life of the Child's Mind: Rethinking Education and Intellect in Literature for Young People
---
539. Adoption in Contemporary Drama and Performance
---
564. Border Conflicts: Migration, Refugees, and Diaspora in Children's Literature
---
581. Alien Lines: Science Fiction Comics
---
594. Narratives of Childhood
---
646. Placing Gender in the Graphic Novel
---
650. Invisible Made Visible: Comics and Mental Illness
---
663. Barely Legal: Erotic Innocence at Nineteen
676. Cash Bar Arranged by the Forum GS Comics and Graphic Narratives
---
783. The Nonhuman Turn in Nineteenth- and Twentieth-Century British Children's Literature