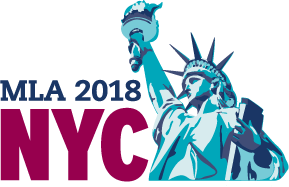 It is time again to gather 'round
in fluorescent rooms, adjust the sound
("can you hear me?"), smile, and present
to all four or fifty-seven
who found the right room, the right day.
Coffee! Insecurity! MLA!
January 3rd through 7th is the Modern Language Association's annual conference, held this year (2018) in New York City. (The year's Presidential Theme is "States of Insecurity.")Â  As I do each year, I'm posting here all panels devoted to children's literature, young adult literature, and comics/graphic novels. There will be many other panels of interest, I'm sure. So, do peruse the program for full details. And if I've omitted a panel on any of these subjects, please let me know and I will add it ASAP.
---
---
---
298:Â 

4H: History, Hamilton, and Hip-Hop in High School
---
Children's and Young Adult Literature Forum: Business Meeting
Friday, January 05, 2018, 01:45 PM – 03:00 PM. Sheraton New York Times Square: Madison 4
The open meeting will begin shortly after Session 298 is completed. The assigned room for the business meeting is snug, but we will try to accommodate everyone who attends. One of the orders of business will be the selection of sessions to be sponsored by the Forum for next year's MLA Conference in Chicago. It would be helpful for individuals who would like to propose a session to provide a short handout to be distributed during the business meeting. The proposed sessions handouts should include: 1. A working title 2. A short (at least a paragraph) description and 3. The name of a current MLA members willing to chair the session.
Individuals unable to attend this year's MLA conference, or unable to attend the Forum's business meeting, can still submit topics for sessions for the 2019 MLA Conference in Chicago.  Those proposals should be in the same format as the handouts for proposed sessions. The requirements are noted above. Session proposals for those unable to attend the business meeting should be submitted by email to Jan Susina (jcsusina@ilstu.edu) by December 21.
---
---
---