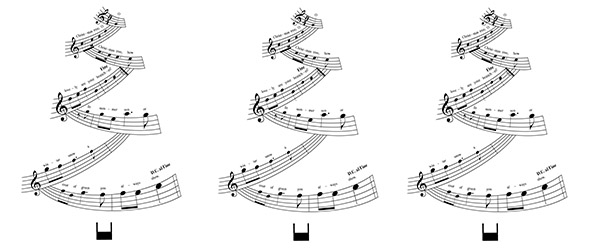 Merry Christmas! Happy Holidays! Just for you (yes, you!), here are some musical selections – in many genres. The mixes' themes cover a range of moods, and the songs themselves are in many varieties.
---
Countdown to Christmas
An eclectic, mostly peppy mix – it winds down a bit at the end. Many genres: jazz, punk, big band, rock, R&B, and Rankin-Bass animated Christmas specials. Some songs you'll recognize, and others you won't. All are favorites of mine.
---
Cool Yule
Primarily swing, lounge, big band. Mostly from the 30s, 40s, 50s, but a few from the 60s, and a few from even later – the Swan Dive and Squirrel Nut Zippers tracks. Featuring Louis Armstrong, Bing Crosby, Ella Fitzgerald, Peggy Lee, the Andrews Sisters, Duke Ellington, Billie Holiday, Fats Waller, and many others.
---
A Very Jazzy Christmas
This one is all instrumental jazz. And by jazz, I mean real jazz. There is no Kenny G. on this playlist. Instead, you'll find Charlie Parker, John Coltrane, Bill Evans, Duke Ellington, Vince Guaraldi, Oscar Peterson, Dexter Gordon, Earl Hines, Coleman Hawkins, Stanley Jordan, and many others.
---
1980s Christmas
Christmas songs from the 1980s! Kurtis Blow, U2, Prince, Ramones, RUN-DMC, Wham, Squeeze, Bruce Springsteen, Hall & Oates, Madonna, Pretenders, Siouxsie and the Banshees, John Denver and the Muppets, and more! Yes, I'm counting the Springsteen as 1980s: I know it was recorded in 1975, but its first commercial release was 1981.
---
Blue Christmas
Melancholic holiday music. John Prine, the Pilgrim Travelers, Hem, Shawn Colvin, Gregory Porter, Mark Kozelek, Aimee Mann, Lyle Lovett, Bruce Cockburn, Regina Spektor, Madeleine Peyroux and k.d. lang, and others.
---
Thank God It Isn't Christmas Every Day
Unusual holiday selections named for a Mitch Benn song not available on Spotify. If you enjoy slightly off-beat and/or weird Christmas music, then this is for you.
---
Rockin' Through the Holidays: Classic Christmas Mix
This is a version of a mix that I gave my sister some years ago. Of all that is represented here, this includes the highest percentage of Christmas Songs That You Will Recognize – if you're from the U.S., at any rate.
---
Duke Ellington's The Nutcracker Suite
This is not a mix. It's Duke Ellington and Billy Strayhorn's arrangement of Tchaikovsky, recorded in 1960. And it's fantastic, of course. (I've included "Sugar Rum Cherry" on the Jazz mix and "Peanut Brittle Brigade" on both Countdown to Christmas and Cool Yule.)
---
Merry Christmas from Sesame Street
Also not a mix. It's the classic Sesame Street Christmas album from 1975! As Kermit would say, yaaaaaay!
---
Finally, to encourage singing, may I present someone who should really not be recording himself singing? That's right – it's me, in December 2016, singing. So, now you can feel much better about your own singing voice.
---
image source (for musical-staff trees at top of blog post): "Free Finale Holiday Music," The Finale Blog, 9 Dec. 2014.
Enjoy the holidays!