One side effect of writing The Purple Crayon and A Hole to Dig: Crockett Johnson and Ruth Krauss (forthcoming, 2012) is that I could write pages on how Johnson's Harold and the Purple Crayon (1955) has influenced subsequent artists and writers – and, for that matter, on Harold's antecedents.  (The list of works discussed in the "metafiction" post covers some of each.)  Today, I'm focusing just on comics and cartoons.  (Click on each for a larger image.)

Paul Trap's Thata Baby (12 Sept. 2010) offers an homage to Harold, Keith Haring, and Bil Keane's Family Circus.  It's also the immediate inspiration for this post.  I'd not heard of either Trap or his comic until it appeared in yesterday's Kansas City Star.  I like the strip and hope to see more from him.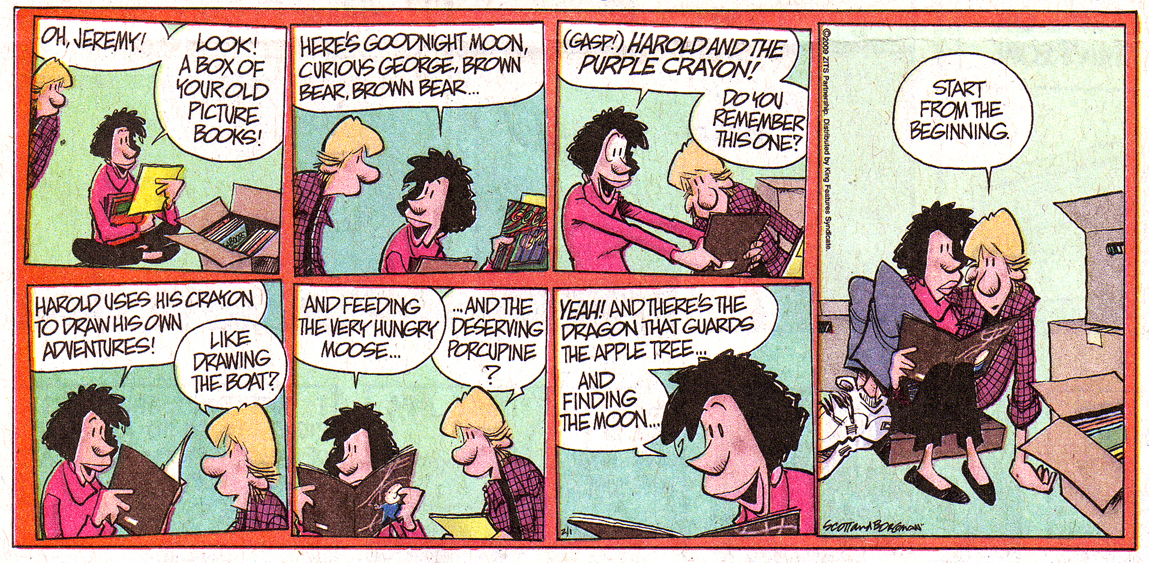 In this February 2009 Zits Sunday comic strip, Jerry Scott and Jim Borgman offer their own tribute.  Rather than celebrate a child's creativity (as Trap does in his strip), Scott and Borgman position Harold as a book that erases any boundaries between adulthood and childhood.  Though Jeremy Duncan usually displays a teen-ager's reluctance to hang out with his parents, he in the final panel becomes a child waiting for storytime. His gangly adolescent body rests in his mother's lap, she holds the book in her hands, and he says, "Start from the beginning."

The opening panel of this November 2007 Baby Blues – Jerry Scott's other strip (drawn by Rick Kirkman) – offers a visual homage to the current editions of Harold and the Purple Crayon (Harold's jumper is blue, not white).  Mostly, though, tales by Johnson, Grimm, Dr. Seuss, Maurice Sendak, Bill Martin Jr. and Eric Carle, all serve as an occasion for Zoe to mock her brother Hammie.  Though a funny strip, it's more focused on its gag than on Johnson's work.  (And, hey, why not?  It is comic, after all….)
A recent (May 2010) episode of The Simpsons did more than offer a visual homage.
Embracing Harold's creative spirit, it had our purple-crayon-wielding hero draw the opening Simpsons-sit-on-couch sequence. Â After he finishes, Homer asks Harold to draw him a beer.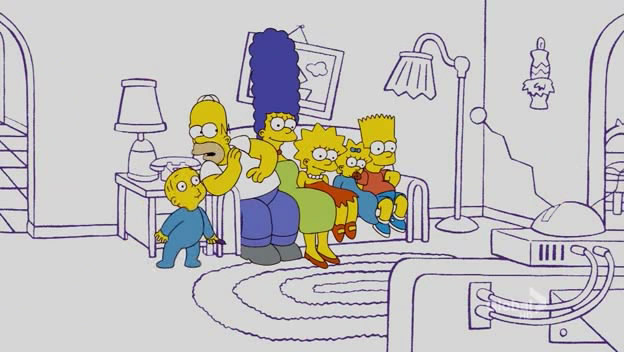 But the best purple-crayon-influenced comic is definitely Kevin Cannon's Blotchmen.  A mash-up of William Carlos Williams' "This is just to say," Moore and Gibbons' Watchmen, Sendak's Where the Wild Things Are, and (of course) Harold and the Purple Crayon, Blotchmen is more than the sum of its influences.  Here are pages 9 and 10, both of which feature Harold battling Rorschach: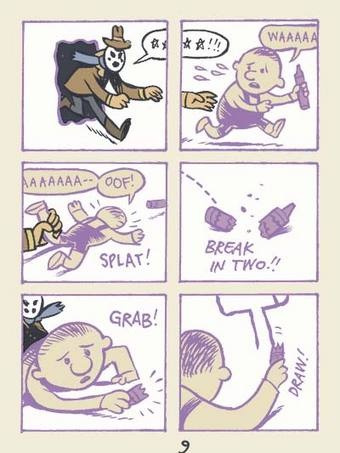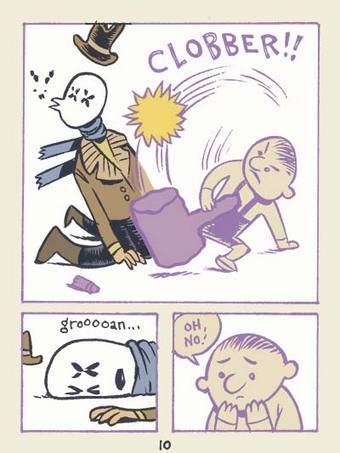 So. Â There's some of the legacy of the purple crayon. Â What comics, comic strips or cartoons have I missed?
(I'll get to picture books and other media in a later post….)