With thanks to the Children's and Adolescent Literature Community (ChALC) for organizing the event, we held a Mock Caldecott at the Manhattan Public Library this afternoon. And, yes, of course, we weren't able to get all of the books we wanted to look at – so, there are quite likely candidates we didn't get to evaluate. Here are the ones chosen by our group (composed of undergraduates, graduate students, children's lit faculty, and members of the community).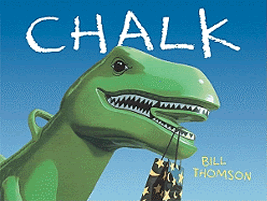 1. Bill Thompson's Chalk
This wordless tale of chalk drawings coming to life owes a debt to Crockett Johnson's Harold and the Purple Crayon in its concept, but Chris Van Allsburg in its rendering and its mood. Thompson's odd angles of vision on events, unusual sources of light, and expressive faces put one strongly in mind of Van Allsburg.
And, for our honor books, we chose: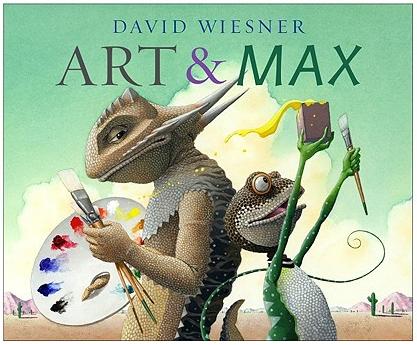 2. David Wiesner's Art and Max
Wiesner keeps finding new ways to write metafiction. This one cleverly riffs on pontilism, pop art, and wire sculpture… all while two lizards experiment with paint. Like his The Three Pigs or Tuesday (two earlier Caldecott-winners), the book must be experienced to be understood.
3. Mac Barnett's Oh No! (or How My Science Project Destroyed the World), illustrated by Dan Santat
Dynamic, clever, and strongly influenced by both anime and comics, this humorous tale derives much pleasure from extending its protagonist's imagination into her world – the permeable boundary between the fantasy of a runaway science project and ordinary city life makes us at first think her dream is true, but later wonder… and all the while enjoy.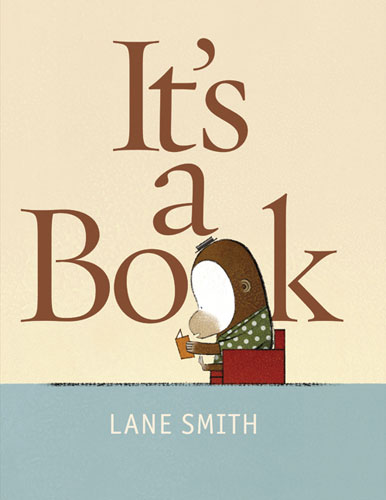 Here are a few that didn't make the cut but that I really liked.
Lane Smith's It's a Book, on which I've elaborated in an earlier post, should have been a finalist, but got disqualified for having too "adult" humor. While I concede that there are some "adult" jokes, its silent-comedy storytelling is certainly for all ages – and thus unlike the funny The Boss Baby, a tale by Marla Frazee, which (to my mind) depends more heavily on some knowledge of the working world to get the jokes. Frazee's book would be great for new parents, but Smith's works better both for adults and for children who love to read.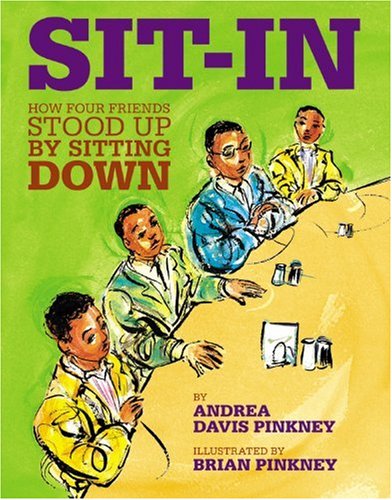 Andrea Davis Pinkney and Brian Pinkney's Sit-In: How Four Friends Stood Up by Sitting Down is a well-designed, dynamic rendering of the lunch-counter sit-ins of the early 1960s. The poetic text and the verve of the illustrations makes this tale very exciting. It's hard to compress a complex historical event into a picture-book, but this succeeds very well.
Oliver Jeffers' The Heart and the Bottle is a brilliantly rendered allegory of loss and then, ultimately, rediscovering the sense of curiosity that makes living fun. It made our top 5, but I'd like to see it ranked even higher. Brilliant use of space, well-paced story, evocative images. Readers should also check out Jeffers' earlier books Lost and Found and The Incredible Book Eating Boy.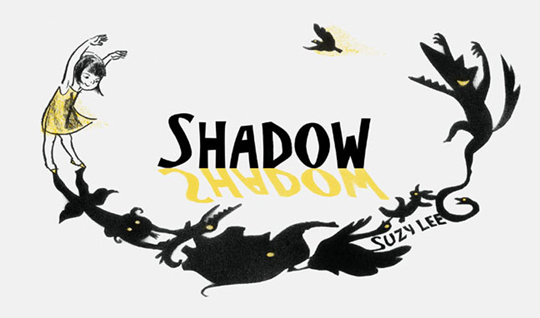 Suzy Lee's Shadow is another favorite for me this year. You open it with the spine at the top, so that the fold is in the middle of your reading experience, dividing the upper half (a basement) from the lower half (a shadow). The shadow transforms ordinary objects into an adventure. Rewards re-reading.
What are your favorite picture books from 2010? And which do you think will win the Caldecott Medal this year?