Born 107 years ago today in Springfield Mass., Theodor Seuss Geisel had an extraordinarily prolific career. Â Most people know him for the 44 books he wrote and illustrated under the name "Dr. Seuss." Â But that's only part of his career. Â He wrote another 13 books under the name "Theo. LeSieg," one book as "Rosetta Stone," and then there are books co-authored, books published posthumously, and books illustrated by others. Â And those are only the books. Â He did so much more!
So, in honor of his birthday, here are three other "thinks" that Seuss thought.
1. Gerald McBoing-Boing.  Featuring Dr. Seuss's verse and the animation skills of Bill Melendéz (who would later work on the animated Peanuts specials), United Productions of America released Gerald McBoing-Boing in 1950.  The film would win an Academy Award for Best Animated Short.  The studio would go on to produce a few McBoing-Boing sequels and the Mr. Magoo cartoons.

2. The 5,000 Fingers of Dr. T. Seuss's live-action musical, released in 1953, features notable performances by Tommy Rettig (later Jeff on TV's Lassie) and Hans Conried.  For more info., you might take a look at this earlier blog post.  Below, a happily campy musical number featuring Mr. Conried as Dr. T.


3. Advertising, and lots of it. Before he was a children's writer, Seuss was an ad-man. Â Even after he started writing for children (his first children's book was published in 1937), he still made his living in advertising. Â The success of his 13th children's book, The Cat in the Hat (1957), would change all that. Â After the publication of The Cat, he was able to devote himself to writing for children full-time. Â For more on Seuss's ads, you might take a look at this earlier blog post.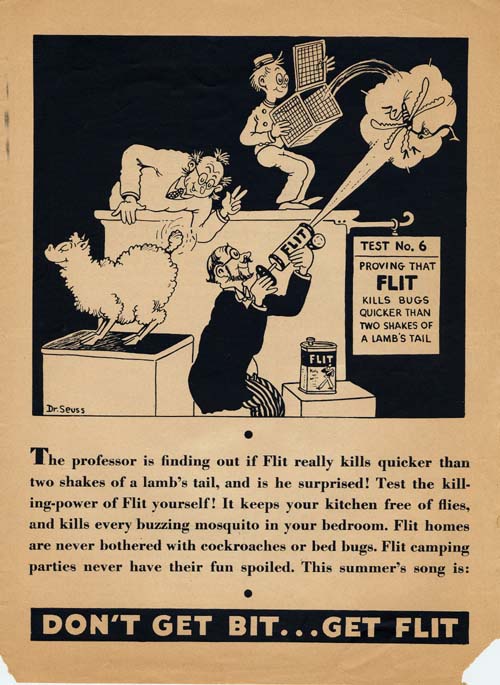 And there are so many other areas we could explore – political cartoons, to name one example.  His paintings and other illustration work, to name two more.  But I'll wrap things up in the next few sentences, and offer some suggestions where – in addition to the links throughout this post – you might go to learn more.  Depending on your threshold for flashy web design, you could check out Random House's Seussville website: it features my biography of Seuss, along with abundant animation and sound effects (I suggest you mute your computer's volume before clicking on either of the links in this sentence).  For a more complete biography, though, do turn to the primary source for what I wrote for Random House: Judith and Neil Morgan's Dr. Seuss & Mr. Geisel (1995). Indeed, if you read only one secondary source on Dr. Seuss, that's the book to read.
Oh, and happy Read Across America Day!