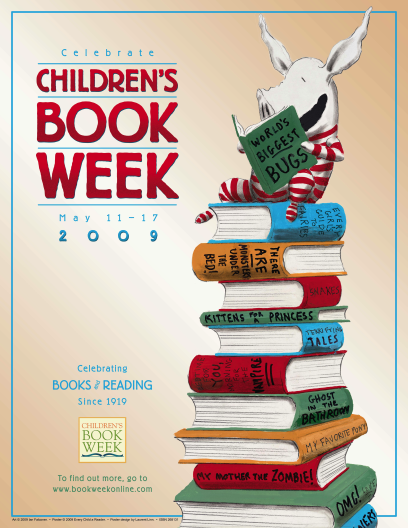 I'm thinking, in particular, about how to find the good new ones, from among the many thousands of children's books that appear each year. Â This is a question I'm often asked, but it's a question of particular interest to my Literature for Children classes right now, since their third paper requires them to find a "new" book (published in the last ten years) that's different than the childhood favorite they've already written about. Â So, here are some tips for them – and for all of you.
Awards. Â Some good books win awards.
But plenty of good books do not win awards. Â So, you need to look elsewhere, too – and not only at the runners-up for these awards.
Mock Caldecott. Â All around the U.S. each fall, local libraries hold Mock Caldecott Awards, in which they bring in that year's crop of U.S. picture books, invite anyone who's interested to peruse them and vote on their favorites. Â Here are the results for the one we did at the Manhattan (Kansas) public library this past fall (2010).
Your local public library. Â See what's new in the Children's Section, Young Adult section, Graphic Novels section. Â Often, the new works are on display. Â If you have more specific questions, you might consult the children's librarian or librarians. Â Children's librarians keep abreast of what's new and nifty.
Children's Literature blogs. Â It will not surprise you to learn that many of these are run by librarians.
And, yes, there are many other excellent blogs. Â Do feel free to recommend your favorites below.
Bookstores. Â Preferably, independent children's bookstores. Â But, really, any bookstore. Â Just go to the children's section and look at the books. Â You don't have to buy anything. Â Make notes on the books you like, and seek them at your local library, or perhaps return and buy them at a later date.
CHILD_LIT listserv, maintained by Michael Joseph (Rare Books Librarian, Rutgers). Â Members of the listserv include librarians, teachers (from grade school to university), graduate students (and a few undergraduates), authors, illustrators, and anyone with an interest in children's literature.
Stay curious. Â Wherever you go, keep your eyes and ears open for good books. Â Read publications devoted to children's literature, like The Horn Book, and Kirkus Reviews of children's books. Â Talk with children's book fans of all ages.
If you have other tips to add, please post in the comments below. Â Thank you!
Image credit: poster for Children's Book Week 2009 created by Ian Falconer.