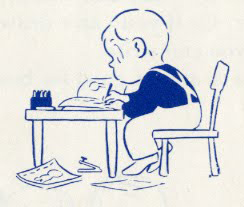 If the Drying-Paint Watchers' Association has a website, they're about to face some competition! I'm publishing more cuts from the biography of Crockett Johnson and Ruth Krauss (due out from UP Mississippi next year). Â Today, we'll look at some of the notes I've omitted. Â I've also been making cuts to the body of the manuscript, but – as I think I may make more than one pass through this – I'll save those for another day.
From Chapter 4, I've cut this note:
No death certificate for Crockett Johnson's father exists. The October 1924 phone book and subsequent ones list Mary Leisk (Dave's mother), but not David Leisk (his father), suggesting that she had become head of household. However, the 1925 state census reports that on June 1, 1925, David Leisk is 58 and head of household. That he would have already been 59 may not be significant: Not wanting to talk to everyone in the building, a census-taker would talk to whomever answered the front door, and that person might be guessing. On the other hand, Else (Dave's sister) recalls her father passing away at age 60, suggesting a date later in 1925.
That gives you a sense of the vagaries of biographical research, and the range of sources one must consult – state census, phone book, sister of Dave Leisk (Crockett Johnson).  By the way, the insight into census-taking comes from George Miller, librarian at the excellent Queens Public Library.  Its Long Island History Division played a vital role in constructing Dave's (Crockett Johnson's) childhood.  Since its funding is currently being threatened, you might sign this petition in support of it.  Sign petitions in support of your local libraries, too.
Here's another note omitted from the same chapter:
Despite many assertions that he played professional football, there is no record of David Leisk or Crockett Johnson in David S. Neft, Richard M. Cohen and Rick Korch's The Football Encyclopedia: The Complete History of Professional Football from 1892 to the Present (1994).
Just about every biographical profile of Crockett Johnson indicates that he played professional football, but I can find no trace of him in any history of the sport. Â My educated guess is that he played semi-pro ball in the mid-1920s (a guess I do include in the book).
Another example of ridiculously exhaustive research, cut from Chapter 7:
This directory, which is "Corrected to March 1, 1941" (p. 42) lists Ruth at this address.  The 1941 phone book lists Dave at this address.  These publications claim 1940 as their marriage year: "Crockett Johnson," Third Book of Junior Authors, ed. Doris De Montreville and Donna Hill (New York: H.W. Wilson Co., 1972). Gale Publications also place the marriage in 1940: Major Authors and Illustrators for Children and Young Adults (Detroit: Gale Research, 1993), p. 1436; "Leisk, David Johnson 1906-," Something About the Author (Detroit: Gale Research, Inc., 1971), Vol. 1., ed. Anne Commire, p. 141; "Leisk, David (Johnson)," Something About the Author (Detroit: Gale Research, Inc. , Vol. 30, ed. Anne Commire, p. 141. Two sources place their marriage in the year they met (1939): "'A Hole Is to Dig? Harold Should Know" (New Haven Register, 12 July 1959, p. 2) says that they "have been married for 20 years"; "Johnson, Crockett 1906-" (Current Biography 1943, p. 347) says, "In 1939 he was married to Ruth Krauss." Another source places their marriage in 1941: "Wife of Barnaby's Creator Is Baltimore Authoress," Baltimore Sun, c. 1 Oct. 1944.  Other source for this paragraph: New York office of FBI, 11 May 1951, FBI file for David Johnson Leisk.
Who the heck cares? Â Well, yeah. Â All that documentation is there to indicate that when Ruth moved in with Dave (Crockett), they considered themselves married – even though they didn't officially get married until 1943. Â When did she move in with him? Â 1940 is the most likely date.
And here's a note cut from Chapter 23, notable mostly because it's to Dave's good friend Ad Reinhardt, arranging for Ad to come up from New York to Connecticut, and see his (Dave's) paintings:
In his 27 Feb. 1966 letter to Ad, Dave writes, "You will know right off whether I ought to try to set up something at this point.  So I am grateful for your offer of appraisal and I am happy to impose on you.  Will you pick your day and mealtime?  Only the next two Sundays are bad days, and these only because Ruth wants to go to bed at sundown to face early Monday dates in town.  Tuesday, March 1, she will be in town to see her English agent and will stay over night to catch a Cafe Cino show that is using some of her stuff; I may go with her (I don't particularly want to) but if either of these days are best for you I will stay home, happily.  Every other early date in the calendar is free of complication."
When Dave took up abstract painting, he contacted his old friend, … the preeminent abstract expressionist in America. Â And, of course, I do include this story – just not the extended footnote with the long quotation from the letter.
See? Â If those drying-paint watchers want to compete with this level of excitement, they certainly have their work cut out for them.
Gluttons for punishment may enjoy other entries in the Interminable Editing of The Purple Crayon and a Hole to Dig: The Lives of Crockett Johnson and Ruth Krauss: