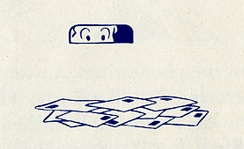 The manuscript is still going to be cut further, but – as it currently stands – here are the first and final sentences of the book.
First sentence (from the Introduction):
When a stranger knocked on Crockett Johnson's front door one mild Friday in August 1950, he was not expecting was a visit from the FBI.
Final sentence (from the Epilogue):
There, they will find a very special house, where holes are to dig, walls are a canvas, and people are artists, drawing paths that take them anywhere they want to go.
Is that too much of a "tease"?  Yes?  Well, OK,… here's a tiny bit more.  Each chapter begins with an epigraph from a work by Crockett Johnson or Ruth Krauss.  Here's the first one (from the Introduction):
            "Few stories are completely perfect," said the lion.

            "That's true," said Ellen, leaving the playroom. "And otherwise it's a wonderful story. Thank you for telling it to me."

– Crockett Johnson, The Lion's Own Story (1963)
So, yes, technically, the first sentence is really "'Few stories are completely perfect,' said the lion."  And, if we're going to be truly precise, then I expect the last words of the book will probably come from the index.  Since the task of creating the index will not occur until after the book has been typeset, I'm not sure yet what the final entry will be, but my current guess is "Zolotow, Charlotte."
And now, some actual news about the book:
Very grateful to everyone who has suggested alternate titles.  I've sent my leading contenders to my editor.  Should other promising suggestions come in, I will of course call his attention to them.  When we decide on the title, I will announce the winner on the blog.  Thanks to everyone who has participated!
Things are moving at last.  I submitted the completed manuscript at the end of 2010.  I revised it many times, with each revision turned back by the press as insufficient.  Some issues were stylistic, while others concerned length (I cut 23,000 words).  I submitted the vastly improved final version on June 16, 2011.  As of this past Friday (August 26), I learned that it is now going to the copyeditor, who – in addition to copyediting – will help trim the manuscript further.  Earlier this month, I received an epic Author's Questionnaire: I turned in all 25 pages of it today.  Also last week, I received (form the press) the sorts of queries that signal a project moving into the next phase.  I'd mislabeled a couple of images; three other images were at scanned at too low a resolution (and so I'm working on getting hi-res ones); there were a few questions about permissions (now resolved); and so on.
The above is good news, but it also means that the publication date will not be April 2012 (as I'd initially reported), nor June 2012 (as I'd next reported).  Expect the book no sooner than August or September of 2012.  Thank you for your continued patience!
And thanks to everyone who has helped!  The Acknowledgements lists literally hundreds of people, some of whom are no longer with us.  Thank you to all!
Should you have the stamina, you might wish to peruse the abundance of other posts tagged…