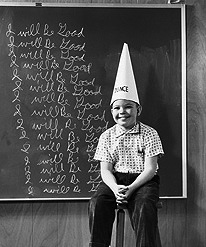 The critic who touts his ignorance as a virtue should not have a job as a critic. Â Any "news" publication that employs such a person in this capacity is shirking its responsibility to provide well-informed discourse.
So, then. Â Why would Time magazine or the New York Times employ Joel Stein?
In his "Adults Should Read Adult Books," Mr. Stein writes,
The only thing more embarrassing than catching a guy on the plane looking at pornography on his computer is seeing a guy on the plane reading "The Hunger Games." Or a Twilight book. Or Harry Potter. The only time I'm O.K. with an adult holding a children's book is if he's moving his mouth as he reads.
Stein defends his position by admitting that he has not read the works he disparages:
I have no idea what "The Hunger Games" is like. Maybe there are complicated shades of good and evil in each character. Maybe there are Pynchonesque turns of phrase. Maybe it delves into issues of identity, self-justification and anomie that would make David Foster Wallace proud. I don't know because it's a book for kids. I'll read "The Hunger Games" when I finish the previous 3,000 years of fiction written for adults.
And so readers of the Times are left to wonder: why publish the words of a man who has not done his homework?  Is merely showing up now all that's required to get an "A"?  If I received a paper as poorly argued as this, I would give it a poor grade.  However, having read Mr. Stein's piece, I wonder if, in future, I should instead suggest that the student submit the paper to the Times' "Room for Debate" section.
The New York Times' motto used to be "All The News That's Fit to Print." Â Reading Mr Stein's piece, one wonders if the paper has changed its motto to "Anything That Fits in Print." Or perhaps it simply holds its "Room for Debate" writers to a lower standard.
It's worth having a debate about the aesthetic merits of literary works of all genres and for all age groups. Let's talk about Suzanne Collins, Thomas Pynchon, Dr. Seuss, J. K. Rowling, Philip Pullman, Virginia Woolf, Charles M. Schulz, Maurice Sendak, Herman Melville, Margaret Wise Brown, Art Spiegelman, Toni Morrison, M.T. Anderson, George Herriman, Shaun Tan, and Langston Hughes. Â We should embrace arguments about taste and literary merit. Â These are important conversations to have. Â We are unlikely to arrive at a consensus on a canon of "great works," but we can come to a better understanding of the mercurial standards of taste, and our own relationship to those standards.
However, an intelligent conversation requires that we, first, read the works under discussion. Given that Joel Stein fails to meet even so basic a standard as this, his continued employment as a professional journalist is baffling. So, New York Times and Time: surely, you can do better than this?
_____________
To give credit where it's due, this brief post takes its inspiration from a conversation today on Jane Yolen's Facebook page, where Kevin Andrew Murphy wrote: "But the sin of Stein and [Ginia] Bellafante is not that they wrote scathing reviews, but that they wrote scathing reviews preening in their own ignorance and claiming it as a virtue."
Image from "Who's wearing the dunce cap? This girl" at LovelyGirls.