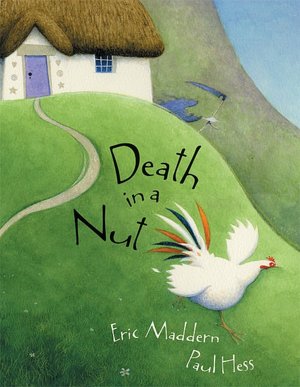 Maurice Sendak, Leo Dillon, Ellen Levine, Jean Craighead George, Peter D. Sieruta.  During this past month, children's literature has become a relentless parade of death.  Or so it seems.
This feeling could just be a function of age. The older we get, the more deaths we witness. The older we get, the more these deaths remind us of our own mortality. Indeed, the longer we live, our sole certainty is the deaths of many more people we know.
Perhaps deaths of writers-for-children hit us with more force because we do not associate childhood with death, even though children die every day – from malnutrition, disease, violence, toxins, abuse, neglect. Or perhaps their deaths strike us so powerfully because children's writers are a link to our own half-remembered childhoods, and the naïve certainty that we need not worry about death because it will surely spare those we love. In this sense, the death of a favorite childhood author can be like the death of a parent. It is not the same experience, of course, but does instill a sense of loss and bring a reminder that our own journeys through time will end abruptly.
Mostly, though, I think Philip Pullman is right. We live most of our lives denying our own deaths, keeping a safe distance from the fact that life is temporary.  When, in The Amber Spyglass, Will and Lyra enter the first town of the dead, a man named Peter explains, "everyone has a death. It goes everywhere with 'em, all their life long, right close by": "the moment you're born, your death comes into the world with you, and it's your death that takes you out" (260).  This is news to Lyra and Will, who soon learn that they need their deaths to guide them to the land of the dead. As a grandmother's death tells them, "I have heard of people like you, who keep their deaths at bay. You don't like them, and out of courtesy they stay out of sight. But they're not far off. Whenever you turn your head, your deaths dodge behind you. They can hide in a teacup. Or in a dewdrop. Or in a breath of wind" (264).  He (as is true of dæmons in the novel, death tends to be a different sex from its person) says that he and "old Magda… live together in kindness and friendship," and advises Lyra and Will that his approach is better: "That's the answer, that's it, that's what you've got to do, say welcome, make friends, be kind, invite your deaths to come close to you" (264).
As we move into June (and if other friends, relatives, and people we admire manage to retain their health), maybe we'll resume ignoring death. For a little while, anyway. Or perhaps we'll consider the possibility of making friends with our mortality. Come what may, we'll certainly keep turning to children's books –Â for comfort, hard truths, escape, wisdom, pleasure, mourning, faith, love. Literature sustains us. Art sustains us.
In Wolf Erlbruch's Duck, Death and the Tulip (2011), Duck befriends death.  At the very end of the book, she dies. Death carries her to the river, and, placing a tulip on her chest, "laid her gently on the water and nudged her on her way."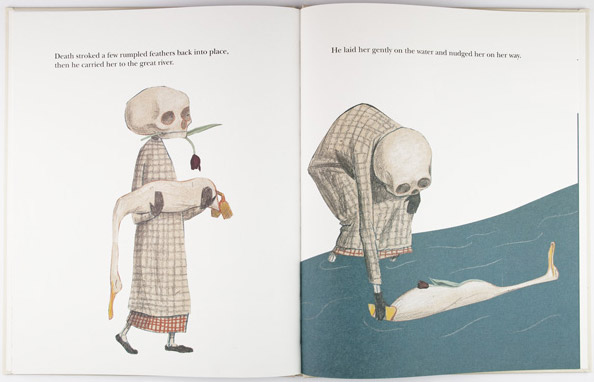 The book concludes:
For a long time he watched her.

When she was lost to sight, he was almost a little moved.

"But that's life," thought Death.
---
A few good picture books about death:
John Burningham, Granpa (1984)
Tomie de Paola, Nana Upstairs & Nana Downstairs (1973)
Wolf Erlbruch, Duck, Death and the Tulip (2011), Catherine Chidgey's translation of Ente, Tod und Tulpe (2007)
Eric Maddern, Death in a Nut, illustrated by Paul Hess (2005)
Mo Willems, City Dog, Country Frog, illustrated by Jon J. Muth (2010)
Related posts on Nine Kinds of Pie (this blog):