Meet the Niblings, a new blog consortium (found on both Facebook and Twitter), representing Seven Impossible Things Before Breakfast (Julie Danielson, a.k.a. Jules), A Fuse #8 Production (Betsy Bird), Nine Kinds of Pie (yours truly), and 100 Scope Notes (Travis Jonker). We considered calling ourselves "100 Notes on Why 7 8 9," but, happily, the group liked my suggestion of "The Niblings."
Our goal with this group is to share – in one convenient location – links from our blogs, as well as other interesting links related to the field of children's literature. Instead of us sharing links to our respective blogs on four separate pages, consider this (the Facebook page or Twitter feed) a one-stop resource center for information on children's literature. This was initially Jules' idea, 'cause she isn't happy unless she's collaborating with others, and she has immense respect for these three other blogs. And she couldn't pass up the fun numerology in these four blog titles.
"The Niblings" comes from Tove Jansson's Moomin series:Â 
"Do you like educational games?" Hodgkins asked cautiously.
"I love them!" said the Nibling.
I sat down and didn't know what to say.

– Tove Jannson, final chapter of Moominpappa's Memoirs (1968, revision of The Exploits of Moominpappa, 1950), translated by Thomas Warburton, p. 147
Why this name for our group?
Tove Jansson's Niblings love educational games and are, of course, often hungry. And we four children's-lit bloggers have a comparably rapacious curiosity.
It is the nature of blogs to take small bites of things. Niblings like to gnaw on things, too. (Niblings also chew off noses they think are too long. We vow not to do this.)
"Niblings" is a term for nieces or nephews and thus offers an additional link to young readers.
The word evokes other literary groups, such as the Inklings (C.S. Lewis, J.R.R. Tolkien, et al), as well as Fanny Burney's 1779 play The Witlings (which satirizes the literary world).
It's slightly absurd, rather like Monty Python, Moxy Fruvous, Boing Boing (the blog), or A Fuse #8 Production (Betsy's blog).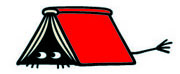 We hope you enjoy our group. The cover image/logo was created by the great Megan Montague Cash and is © 2013 The Niblings (Betsy Bird, Julie Danielson, Travis Jonker, Philip Nel).