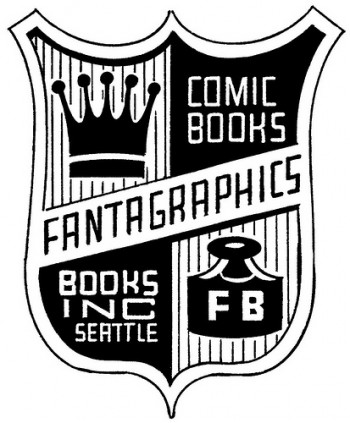 This past week, Fantagraphics launched a $150,000 Kickstarter campaign to fund its Spring 2014 season. The sudden death, in June, of co-founder Kim Thompson had an economic impact on the independent publisher: 13 books he was to translate or edit had to be postponed or delayed, creating a drain on the company's cash flow. The great news is that, only five days later, the Kickstarter has raised over $130,000 from 2,000 different backers.
The less great news is that, here and there, some people are wondering aloud why the greatest comics publisher out there should need to turn to Kickstarter. Hasn't publishing the Complete Peanuts, or getting a distribution deal with Norton made Fantagraphics sufficiently flush?  How is the company being managed that it should need to launch a Kickstarter campaign?
While it's wise to ask about management (there are better and worse ways for a publisher to manage risk), I worry that these questions reinforce the false assumption that capitalism rewards every well-managed company and punishes the poorly managed ones. Good management definitely improves a publisher's odds for success, but all business ventures (and especially ones, like Fantagraphics, that lack a parent corporation) are susceptible to the whims of the marketplace: you have flush years, and lean ones, and you hope that the flush years will allow you to weather the lean ones.
Markets reward the popular, not the virtuous (unless it happens also to be popular). A business can carefully manage its finances and aggressively promote a book, yet still find itself with a product that doesn't sell. Just as commercial success does not confer moral worth, nor does commercial failure denote moral shortcomings.
I must disclose here that I am a Fantagraphics editor – co-editor, really. Associate Publisher Eric Reynolds and I are co-editing the five-volume series of Crockett Johnson's Barnaby.  So, I can't claim impartiality.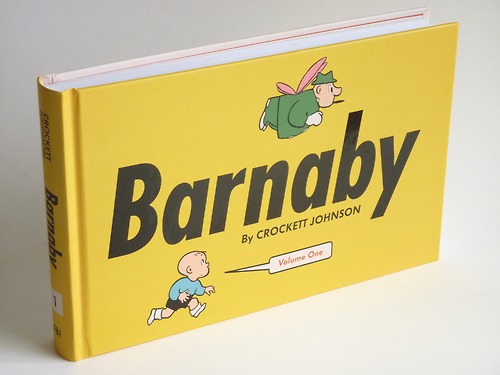 But I can claim experience. I'm author or co-editor of eight books, and have worked with both academic and commercial publishers. I have also written nearly as many failed book proposals as I have successful ones. Hard work and careful planning sometimes yield rewards, and sometimes does not. Because I am an academic, I (fortunately!) do no have to make a living off of the books I write or edit. But publishers like Fantagraphics do have to turn a profit.
And they are a great publisher to work with. Their attention to design is phenomenal. To echo book design of the 1940s, Dan Clowes hand-drew the eight boxes on the back cover of Barnaby Volume One. Today, design software would make these boxes look perfect; in the '40s (when Johnson was writing Barnaby), hand-ruled lines made them look just slightly imperfect. Details like this, or setting the text in Futura (the typeface Johnson used for Barnaby), give the book its Crockett-Johnson-in-the-1940s aesthetic.  And that's just one example of the kind of attention Fantagraphics lavishes on its projects.  They make beautiful books because they care deeply about making beautiful books, and they have nearly 40 years of experience doing it.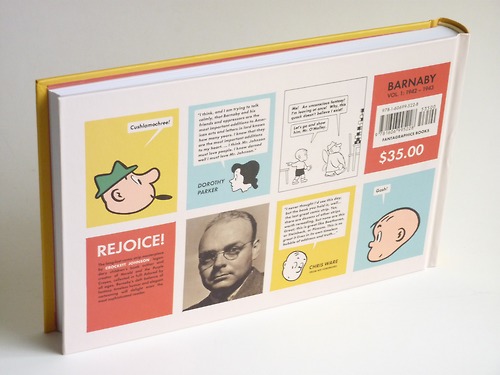 If any publisher deserves to be rewarded with commercial success, it's Fantagraphics. However, since capitalism is an economic system and not a moral one, there's Kickstarter. While it's not the solution to all of publishing's challenges, Kickstarter does allow a publisher's supporters to make moral decisions with their capital. Those who have funds to donate can vote their conscience, sustaining the health of a publisher committed to the art of comics.
Unless we as a society decide (for example) that public funding for the arts should be a priority, Kickstarter is one way we can help support worthy artistic ventures. Crowdsourcing is not a necessary evil. It's a necessary good.