"I think a lot of people choose their professions out of fear….. But I've found that the opposite is true. If you choose something you love, you can become a master of it."

– Kadir Nelson, Kansas State University, 12 Apr. 2014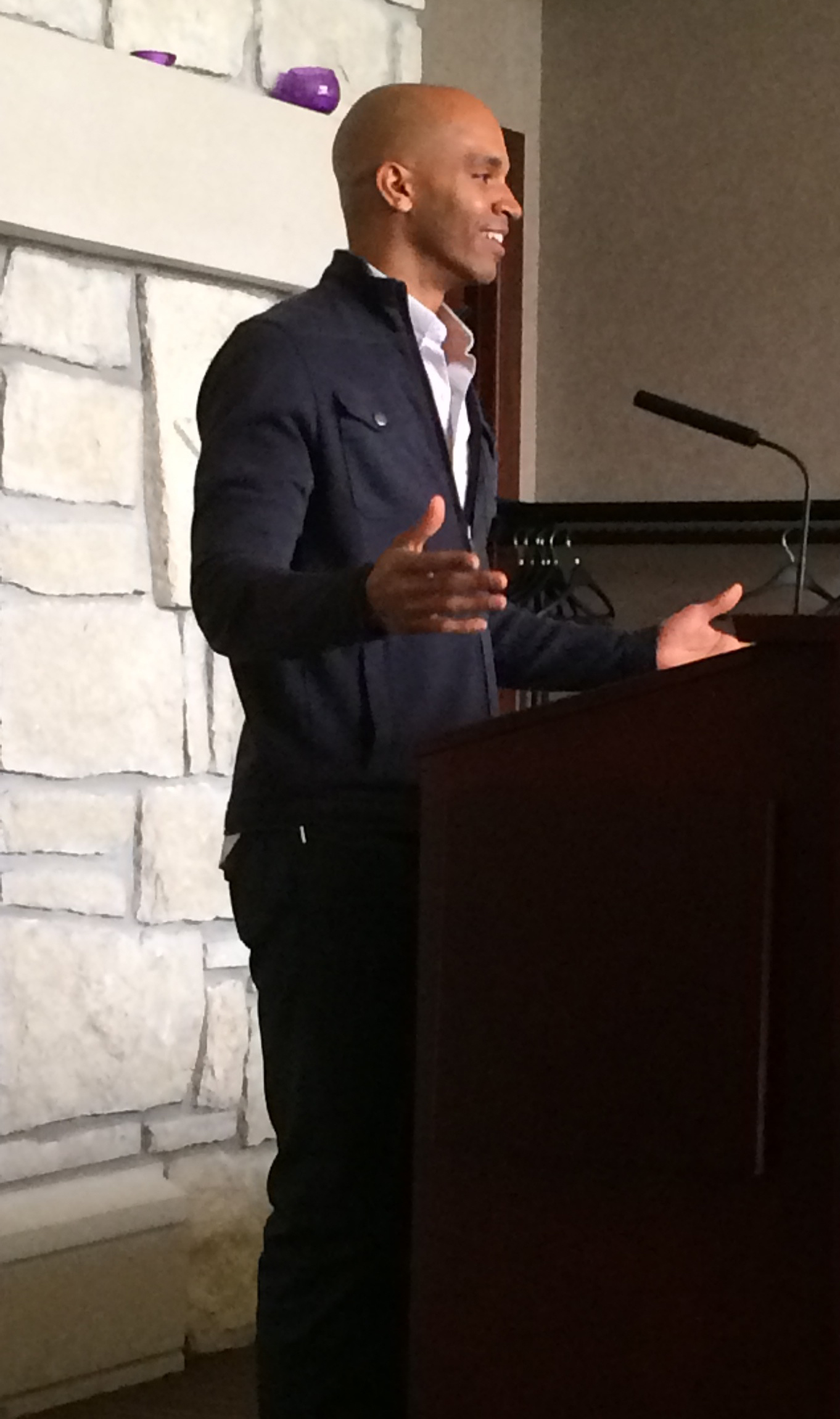 As an admirer of Kadir Nelson's work, I was thrilled to meet him and to hear him speak today.  So, let me start by saying this: if you've an interest in art, portraiture, children's literature, invite Kadir Nelson to speak.  You won't be disappointed. Not all artists (poets, novelists, etc.) are good at talking about their work.  But Nelson is.
Working without notes and with many illustrations, he took us on a journey from a three-year-old Kadir trying to draw a self-portrait, right up to the inspiration for his latest book, Baby Bear (2014). Happily, Nelson's mother saved his artwork, offering glimpses of the artist as a child, and then young man. He was always drawing. And, as he noted, "As I grew older, I began to improve because I was drawing every day." Nelson's dedication to his craft offers further evidence for Malcolm Gladwell's "10,000 hours" rule — i.e., that you have to work at something for 10,000 hours to become proficient at it.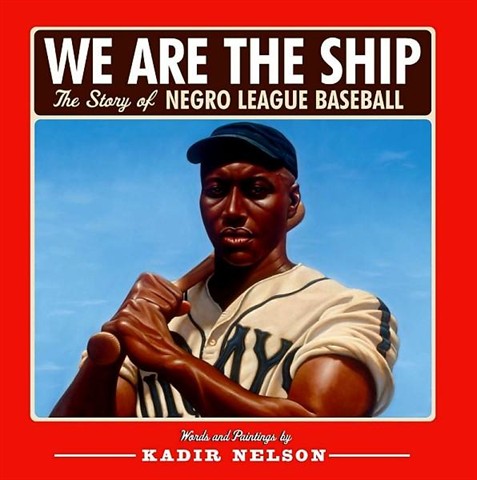 Versatile, prolific and immensely talented, he's had an extraordinary career so far. Since you're reading this on my blog, you probably know him as the award-winning creator of many children's books: Ellington Is Not a Street (2004), Moses: When Harriet Tubman Led Her People to Freedom (2006), Henry's Freedom Box: A Story from the Underground Railroad (2007), We Are the Ship: The Story of Negro League Baseball (2008), Heart and Soul: The Story of America and African Americans (2011), Nelson Mandela (2013), or – his latest – Baby Bear (2014).
But you may not know that Nelson's art also appears on U.S. postage stamps, magazine covers, album covers – including the latest Drake album. Indeed, he also may be the only children's author to count Drake, Spike Lee, Will Smith and the late Michael Jackson among his fans.  Indeed, his art not only hangs in galleries, but is in the private collections of Shaquille O'Neal, Venus Williams, Sharon Stone, and Stephen Spielberg.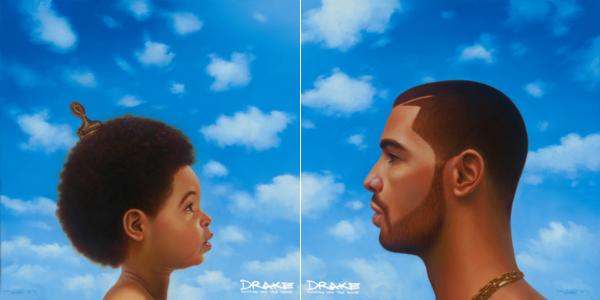 As he told us today, his first job after graduating from the Pratt Institute was designing storyboards to help Debbie Allen pitch Amistad to Stephen Spielberg. While that may suggest that Nelson lives a charmed existence, it's actually an example of him following his effort, and pursuing opportunities – because you never know where your business card will land, which person you meet may lead to a job. Addressing any students who might not be taking full advantage of their education (tempted away from their studies by the relatively unstructured time of college), he said, "I would urge you to not waste your time, to be purposeful in what you're doing. Because you never know how that's going to impact your life."
He realized early on that he would only be happy if he pursued his love for creating art. Initially, Nelson thought he would study architecture. He'd heard all about "starving artists," he said, and "I'm allergic to starving." A career as an architect seemed a better bet.  However, he soon discovered that his heart wasn't in it. Even though he was at Pratt on an architecture scholarship (and would have to give it up if he changed his subject of study), he decided to switch his major from architecture to painting. He knew, he said, "even if I had to starve, I would be happy."  As he observed, "I think a lot of people choose their professions out of fear…. But I've found that the opposite is true. If you choose something you love, you can become a master of it."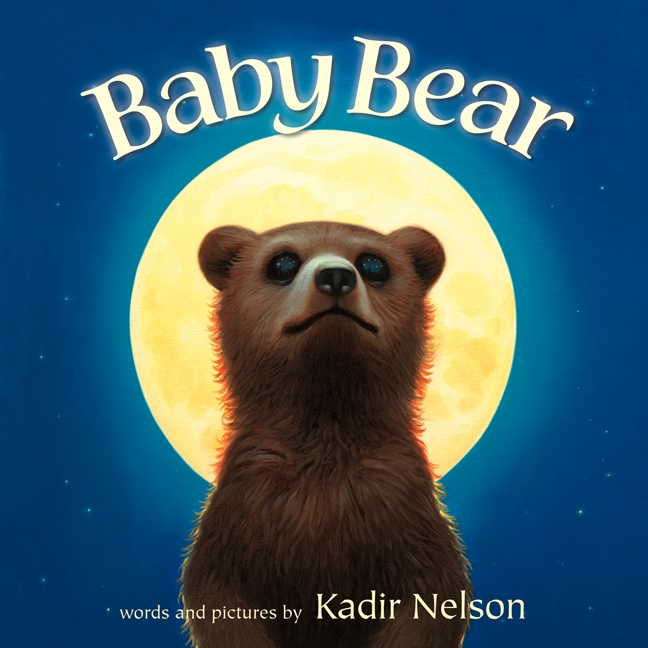 Most of his work has been devoted to telling the African American story. "Not only is that my story, but it's a good story — it's very juicy," he said – adding, wryly, "There's a lot of drama." But his latest book pursues a philosophical strain that echoes the moments of advice he offered today. I had read Baby Bear as a tale about a child (represented as a bear) finding his way home, gently being guided in the right direction by the other animals. However, Nelson explained, the bear's search for home is more a metaphor "for finding your own true, authentic self." In this sense (and this is my observation), the book is more Crockett Johnson's The Emperor's Gifts (1965) than Martin Waddell and Barbara Firth's Let's Go Home, Little Bear (1995).
But, of course, the best children's books operate on multiple levels. The philosophical resonances may elude my niece (who will be getting her very own signed copy of the book!), but the journey resonates with readers of all ages. Nelson's narrative art keeps us turning the pages. The vivid paintings draw us in, make us feel, make us think. And then we come back to the book and read it again.
Thanks to Kansas State University's Children's and Adolescent Literature Community (ChaLC) for organizing this, to all the sponsors for funding it, and to Kadir Nelson for coming!