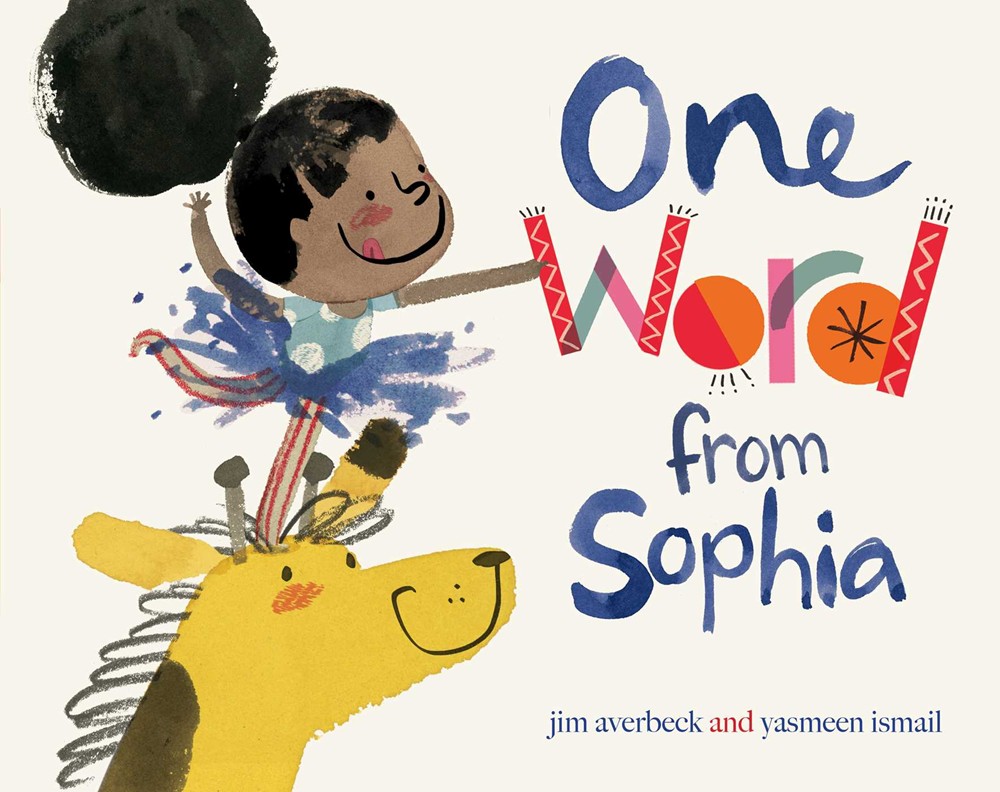 Jim Averbeck and Yasmeen Ismail's One Word from Sophia (2015) was published this month. Here are for reasons you should get (buy, borrow, barter) the book for the young people in your life –Â or for yourself. (Grown-ups can read children's books, too, you know.)
It's funny. Sophia wants a giraffe for her birthday. So, of course, the four adults in her life – Mother, Father, Uncle Conrad, and Grand-mamá – need to be convinced. A clever child, Sophia crafts four pleas, each tailored to the specific adult. To her mother, a judge, Sophia offers some legal arguments, including "In the last fifty years, no giraffes have been recalled for defective parts, and new models have a particularly strong safety record." To her father, a businessman, she explains that giraffes "are a good source of manure, which can be sold at a profit to garden centers and activists. In short, people will pay me for poop." Yasmeen Ismail's exuberant watercolor-and-colored-pencil illustrations show both Sophia's sincerity and the absurdity of her aspirations – but never mock her big dreams.
The book loves language. A running joke – spoiler alert – is each adult's claim that Sophia's argument goes on too long. Averbeck has each character deliver this verdict with a different word ("verbose," "effusive," "loquacious"), which the book defines in the main text and in a little glossary on the inside back cover. Also, Averbeck subtly adjusts the language so that it echoes that of the formal proposal (for Sophia) and of the specific career (for the adult). For Uncle Conrad, a politician, "Sophia polled the other members of the household" – actually her stuffed animals, Mr. Bun, Tiger Eye, Pony Boy, Snakey Poo, and Ted – so that she can report that "Four out of five respondents are in favor of giraffes." Her mother (the judge) renders "her decision" by saying "I will have to rule against a giraffe at this time." Juxtaposed with Ismail's expressive characters in a bright domestic setting, the workplace language is gently amusing.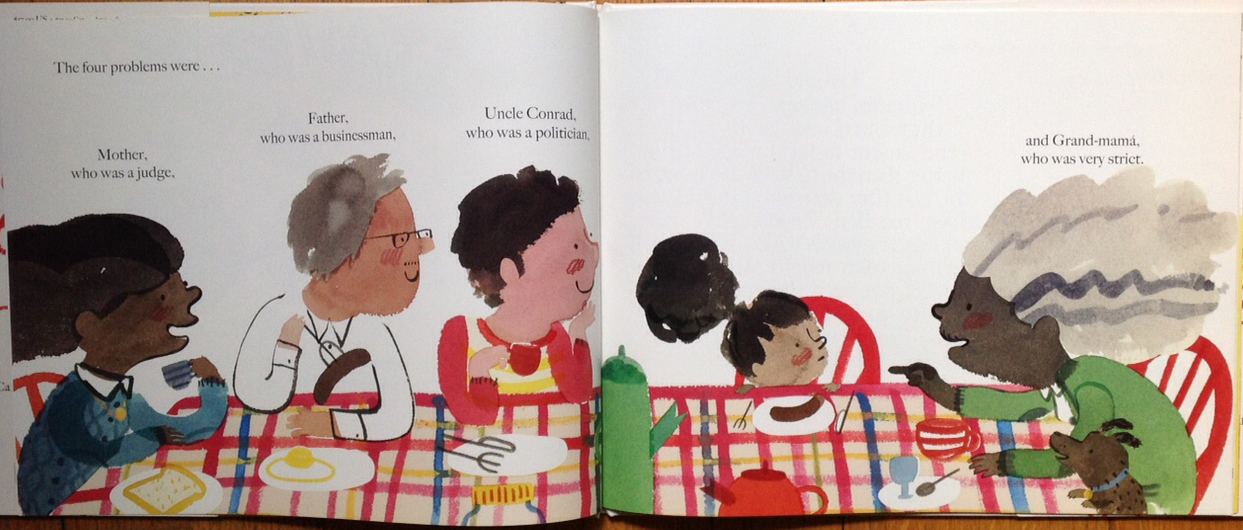 Incidental diversity. There are far too few books like Ezra Jack Keats' The Snowy Day – or, what I like to call "incidental diversity." What I mean by this is that the character's race is incidental to the story. One Word from Sophia is a great example of incidental diversity. Indeed, as my friend Michelle Martin pointed out to me, the family could either be mixed-race or a black family with a range of skin tones. This ambiguity is an additional strength (how many picture books show mixed-race families?). In an interview with Jules Danielson, Averbeck described his response to seeing Ismail's art for the first time: "I was surprised by the multi-racial cast, because it wasn't evident in the line sketches. But I was also completely delighted, since I actually believe that #WeNeedDiverseBooks. Plus, the multi-racial family in the book reflects my own family, to whom I've dedicated One Word from Sophia. I wondered how Yasmeen knew that."
Sophia is smart and determined. This –Â in addition to the aforementioned three reasons –Â is why One Word from Sophia will soon be in Emily's Library. I want my niece to have plenty of books featuring smart, ambitious, admirable female characters. The fact that the book has a sense of humor is also welcome – since Emily has a sense of humor, too.
It has already been endorsed by three of the Niblings! For all I know, Betsy, Minh, and Mitali may also like it. I haven't asked them. But both Travis and Jules have written about it: Travis lists it first in his "Ten to Note" for the Summer of 2015. Jules both interviewed the book's creators and posted some of Ismail's art and sketches on her blog. And now,… I've devoted a blog post to the book as well. It's one of my favorites for 2015. (Another favorite is Rowboat Watkins' Rude Cakes, to which I've devoted a separate post.)
A generous tip of the hat to Michelle Martin for introducing me to this book.