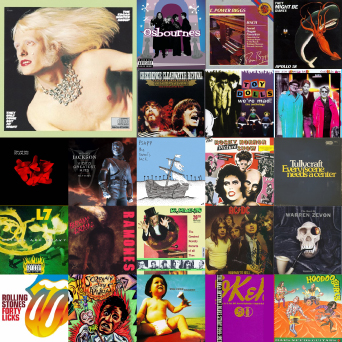 Welcome to the first of seven Halloween mixes. Â Yes, you heard me correctly: seven. Â I'll be posting one per week until the week of October 25th, when three mixes will appear. Â This first mix includes a lot of the songs you'd expect, with a few you might not. Â Enjoy!
1. Â  Â  Bach's Toccata from Toccata & Fugue, BWV 565 (D minor) E. Power Biggs (1960) Â  Â  Â 2:29
From Bach: Great Organ Favorites, as recorded by E. Power Biggs (1906-1977).
2. Â  Â  Monster Mash Bobby "Boris" Pickett & The Crypt-Kickers (1962) Â  Â  Â 3:14
This was the biggest hit for Bobby "Boris" Picket (1938-2007), featuring his vocal impersonations of Boris Karloff and Bela Lugosi. Â In addition to being a #1 hit single and selling millions of copies, it's probably the pop song most associated with Halloween. Â Below, a clip of Pickett lip-synching to his hit, sometime in the mid-1960s.

3. Â  Â  The Time Warp Riff Raff, Columbia, Magenta, Narrator, & the Transylvanians (1975) Â  Â  Â 3:20
From the film of The Rocky Horror Picture Show, featuring the vocal talents of Richard O'Brien (Riff Raff), Nell Campbell (Columbia), Patricia Quinn (Magenta), Charles Gray (Narrator), and others. In the video below, you'll also see Susan Sarandon (Janet) and Barry Bostwick (Brad).

4.     Thriller Michael Jackson (1982)      5:58
Accompanied by Vincent Price's monologue, the title track from one of the biggest-selling albums of all-time. Â If you grew up in the 1980s, you'll remember the videos. Â Heck, even if you didn't grow up then, you might know them: "Beat It," "Billie Jean," and of course… "Thriller."

5.     Werewolves of London Warren Zevon (1978)      3:27
The late Mr. Zevon's biggest hit — actually, I think it was his only hit. Â A great song, and a much better use of the music from Lynyrd Skynyrd's "Sweet Home Alabama." Â First appeared on the album Excitable Boy.
6.     I Put a Spell on You Screamin' Jay Hawkins (1956)      2:31
Here's a clip of Hawkins hamming it up, dressed in a cape, carrying a skull in one hand, and with a… is that a bone or a bleached white mustache below his nose there? Â No idea.

7.     Bad Moon Rising Creedence Clearwater Revival (1969)      2:20
A #2 hit for CCR, "Bad Moon Rising" appeared first as a single, and then on the album Green River (as well as on several greatest hits collections).
8.     I Feel So Good (I Must Be Dead) Maurice King & His Wolverines with Ruby Jackson (vocals)            2:55
From 1949 or 1950, this track appears on The OKeh Rhythm and Blues Story 1949-1957.
9.     People Who Died Jim Carroll (1980)      4:59
From Catholic Boy, his first best-known record, comes the best-known single by the late punk poet Jim Carroll (1949-2009)
10.  Pretend We're Dead L7  (1992)      3:55
"What's up with what's going down?" Â Produced by Butch Vig (producer of Nirvana, & member of Garbage), L7's Bricks Are Heavy was also the band's best-selling record, featuring L7's best-known single — "Pretend We're Dead."
11.  Highway to Hell AC/DC (1979)      3:28
From the band's final album featuring lead vocalist Bon Scott (1946-1980), this song has one of the catchiest guitar riffs in the AC/DC canon… or in any band's canon, for that matter.
12.  Crazy Train Ozzy Osbourne (1980)      4:50
Featuring the late great Randy Rhoads (1956-1982) on lead guitar, Blizzard of Ozz launched Osbourne's solo career — thanks in no small part to this song, one of Ozzy's biggest hits. Â The recording you hear here is not quite the original version, but it's as close as you can get these days. Â When the bass player and drummer sued Ozzy for unpaid royalties on this song, he had others re-record their parts and all subsequent copies of the song feature the more recently recorded bass and drums. Â The vocals and Rhoads' guitar are, of course, the originals.
13.  Frankenstein Edgar Winter Group (1972)      4:47
A #1 hit in 1973 (and the group's biggest hit), "Frankenstein" appears on They Only Come Out at Night and on countless hit collections, soundtracks, etc.
14.  Pet Sematary (Single Version) Ramones (1989)      3:30
Yes, I know that the word "Cemetery" is misspelled, but that's the way the Ramones spell it. Â And they spell it that way because it's the theme song to the film based on Stephen King's novel Pet Semetary, a movie I recall seeing in a movie theatre in Rochester, New York, in 1989. Â All I really remember about the movie is that Fred Gwynne is in it, living in a rural area on a road where eighteen-wheelers pass by at very high speeds, and that someone is struck by one of these eighteen-wheelers. Â 'Cause, see, there's also this cemetery where you can bury the dead, and then they come back to life again… only not quite like they were before….
15.  The Devil Went Down to Scunthorpe Toy Dolls (1997)      3:28
Sure, you know the Charlie Daniels Band's hit, "The Devil Went Down to Georgia." Â But have you heard the Toy Dolls' version? Â No? Â Well,… enjoy!
16.  Sympathy for the Devil The Rolling Stones (1968)      6:19
… in which Mick Jagger sings from the point of view of the Devil. Â The song opens side A of the Stones' record Beggars Banquet.
17.  Hayride to Hell Hoodoo Gurus (1985)      3:17
A great Australian band, the Hoodoo Gurus gained a following on U.S. college rock radio in the 1980s. Â Mars Needs Guitars! (which includes this song) is a great rock-n-roll record — which, back in the day, I bought on cassette. Â The album also includes the better-known songs "Bittersweet" and "Poison Pen."
18.  The Monster Song Psapp (2008)      3:28
From Psapp's fourth full-length album, The Camel's Back.
19.  Turn Around They Might Be Giants (1992)      2:53
If asked to name a favorite band, They Might Be Giants would be my answer. Â This song comes from Apollo 18, the group's fourth album — though, then, they were not so much a group as a duo. Â On their next album, the pair that had (on its first record) mocked itself as a "Rhythm Section Want Ad" added a full backing band.
20.  Lullaby The Cure (1989)      4:10
From the band's pop-goth epic, Disintegration. Â If I remember correctly, "Lullaby" was actually the first single off of the record. Â Or perhaps it was "Fascination Street"? Â Well, whichever it was, the album's big hit was "Love Song." Â But this song's a good one, too.

21.  If You Take Away the Make-Up (Then The Vampires They Will Die) Tullycraft (2007)      1:43
From Every Scene Needs a Center, the band's last and (as of this writing) latest album.
22.  Walking with a Ghost Tegan and Sara (2004)      2:30
From So Jealous, Tegan and Sara's fourth album.