The responses to yesterday's "Commonplace Book" post prompts me to list here ten favorite lines from children's literature. (And please see yesterday's post for quotations from Crockett Johnson and Dr. Seuss, and yesterday's comments for great lines from E. B. White and Louis Sachar.)
To get very far he was going to need a lot of books. B is for Books. He could find plenty of big words in a pile of big books. He was ready for anything.
– Crockett Johnson, Harold's ABC (1963)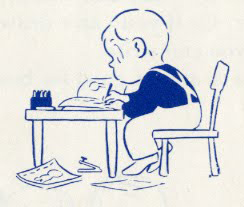 You can write books about anything. For instance, fruits. The first page could be a banana and the second page could be an orange and the third could be cherries, and like that. If you can't write yet, you could just draw. Then the book could be especially for someone who can't read yet.
– Ruth Krauss, "How to write a book," in How to Make an Earthquake (1954), illustrated by Crockett Johnson, p. 27.
'The time has come,' the Walrus said,
'To talk of many things:
Of shoes – and ships – and sealing wax –
Of cabbages – and kings.
And why the sea is boiling hot –
And whether pigs have wings.'
– Lewis Carroll, chapter 4 of Through the Looking-Glass and what Alice found there (1871)
We like our toys.
We take CARE of our TOYS.
We do not want our toys to become broken.
We want to keep our toys for along time.
Cousin Stinky has come over to play.
"Where are your toys?" he asks.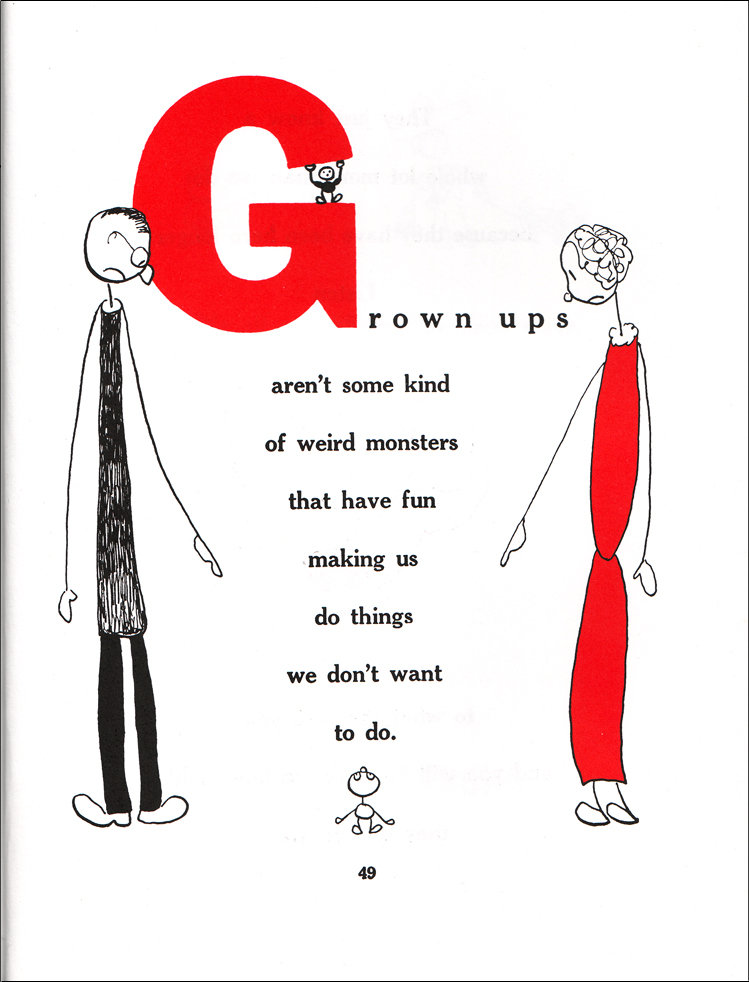 "What is 'TOYS'?" we ask.
"We do not know what that word means."
– Lane Smith, The Happy Hocky Family (1993)
Grown ups aren't some kind of weird monsters that have fun making us do things we don't want to do. They just know a whole lot more than we do because they have been here longer.
– Munro Leaf, How to Behave and Why (1946)
You must never feel badly about making mistakes, as long as you take the trouble to learn from them. For you often learn more by being wrong for the right reasons than you do by being right for the wrong reasons.
– The Princess of Pure Reason, in Norton Juster, The Phantom Tollbooth (1961), p. 233
"Do you like educational games?" Hodgkins asked cautiously.
"I love them!" said the Nibling.
I sat down and didn't know what to say.
– Tove Jannson, Moominpappa's Memoirs, translated by Thomas Warburton (1968), p. 147
Hodges is considered by many to be the finest pastry chef in the city.
Too bad his duck is so crazy.
– Tim Egan, Friday Night at Hodges' Café (1994)
For we pay a price for everything we get or take in this world; and although ambitions are well worth having, they are not to be cheaply won, but exact their dues of work and self-denial, anxiety and discouragement.
– L.M. Montgomery, Anne of Green Gables (1908), Chapter 36
The Scarecrow was now the ruler of the Emerald City, and although he was not a Wizard the people were proud of him. "For," they said, "there is not another city in all the world that is ruled by a stuffed man." And, as far as they knew, they were quite right.
– L. Frank Baum, The Wonderful Wizard of Oz (1900)
Yes, that last one was in honor of today's midterm elections here in the U.S. And, of course, one could add many more quotations to this list. Among those who ought to be represented here are: Francesca Lia Block, Dr. Seuss, Terry Pratchett, Neil Gaiman, Langston Hughes, Florence Parry Heide, J.K. Rowling, and the list goes on and on! Do feel free to add your own below.