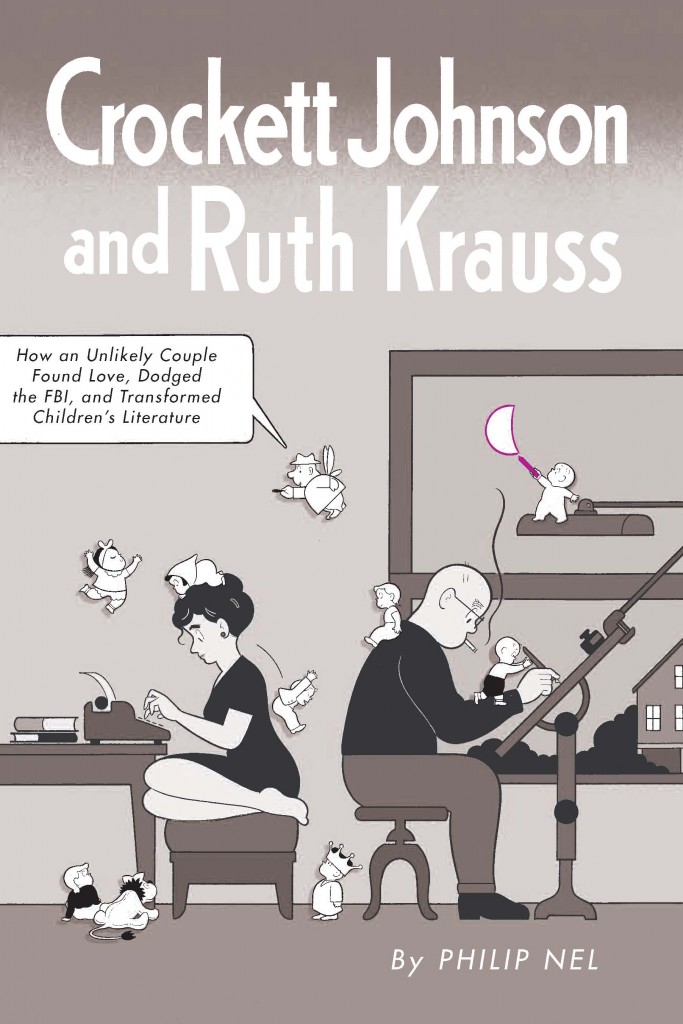 Here is a mix to celebrate the publication of my new biography, Crockett Johnson and Ruth Krauss: How an Unlikely Couple Found Love, Dodged the FBI, and Transformed Children's Literature (2012).  Its official publication date is today (Sept. 1st), though it's actually been available for a few weeks now. Given my own interest in music, it's curious that I know relatively little about the musical tastes of Johnson and Krauss. So, while this mix does include some music they liked, it's organized more by themes – each of which can be explored more fully in my book.
1)     Take the "A" Train  Duke Ellington (1941)      2:56
Crockett Johnson listened to Duke Ellington, and so did Mr. O'Malley. In response to a strip in which Barnaby's Fairy Godfather enjoys an Ellington record, the composer himself wrote to PM (the newspaper where Barnaby first appeared) to express his admiration for the strip. Johnson owned the LP set The Duke.
2)     The 59th Street Bridge Song (Feelin' Groovy)  Simon & Garfunkel (1966)            1:43
Johnson was born in 1906 at 444 East 58th Street, a block south of where the 59th Street Bridge was under construction. Though this song (like many on this mix) was released long after his childhood, Simon's lyric makes me think of the imaginative, dreaming boy who became Crockett Johnson.
3)     Baltimore Fire  Charlie Poole (1929)      3:12
In February 1904, the Great Baltimore Fire destroyed more than 1500 buildings in the city's downtown business district. Ruth (who turned 3 that year) and her family were far enough north to escape the flames, but memories of the blaze stayed with her. She had a life-long fear of house fires, and kept her manuscripts in the freezer (as a precaution).
4)     Violin  They Might Be Giants (2002)      2:27
When she was growing up, Krauss played the violin. She was a creative player, but not exactly an accomplished one. Her avant-garde poetry (from later in her career) makes me think that she might have enjoyed this song's Dadaist sense of humor.
5)     If I Had a Boat  Lyle Lovett (1987)      3:09
The sense of humor and associative logic of "If I Had a Boat" might also appeal to Krauss; the other reason for its inclusion is Johnson's love of sailing.
6)     I Sing I Swim  Seabear (2007)      3:40
Krauss enjoyed swimming. Johnson sometimes joined her. The bio. includes a photo of the two of them, in bathing suits, on a beach –Â perhaps just before a swim?
7)     Did You See Jackie Robinson Hit That Ball?  Buddy Johnson (1952)      2:18
Both Ruth and Dave (Johnson's given name, and the one his friends used) supported civil rights for African-Americans. Johnson, a sports fan, joined the End Jim Crow in Baseball Committee in 1945. In 1947, Jackie Robinson joined the Brooklyn Dodgers, becoming the first black player in the American Major Leagues.
8)     A Cup of Coffee and a Cigarette  Jerry Irby (1947); intro. by Bob Dylan (2006)            3:26
Both Ruth and Dave drank coffee, and he smoked.
9)     Coffee in the Morning (Kisses in the Night)  The Boswell Sisters (1933)            2:57
He probably needed the coffee a bit more than she did: he was nocturnal, often working until sunrise, going to bed, and then getting up for breakfast at lunchtime.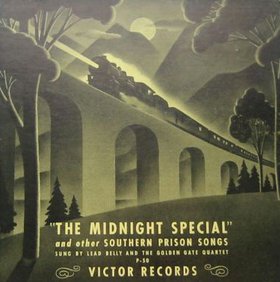 10)  The Midnight Special  Leadbelly and The Golden Gate Jubilee Quartet (1940)      3:08
Johnson and Krauss had the LP set, "The Midnight Special" and other Southern Prison Songs, performed by Leadbelly and the Golden Gate Jubilee Quartet.
11)  Talking Union  The Almanac Singers (1941)      3:06
An active supporter of labor unions, Johnson would likely have known this song.
12)  The House I Live In  The Ravens (1949)      3:04
An anthem of the Popular Front (and a hit single for Frank Sinatra in 1945), "The House I Live In" was certainly known by Johnson and Krauss. It was written by Earl Robinson and Lewis Allan (pseudonym of Abel Meeropol) – Meeropol/Allen was a leftist better remembered today for writing the anti-lynching song, "Strange Fruit," which Billie Holiday began performing (and first recorded) in 1939. Though I have found no evidence of it, I would not be surprised if Johnson knew Meeropol: they shared a political outlook, and moved in some of the same New York circles.
13)  Homegrown Tomatoes  Guy Clark (1983)      2:59
Barnaby isn't the only one who had a Victory Garden. Johnson did, too. After moving to Connecticut in the early 1940s, he enjoyed gardening. By the 1950s he began to favor other pursuits.
14)  Mr. O'Malley and Barnaby  Frank Morgan & Norma Jean Nilsson (1945)            0:07
This, the first of several adaptations of Barnaby, appeared on the 12 June 1945 Frank Morgan Show.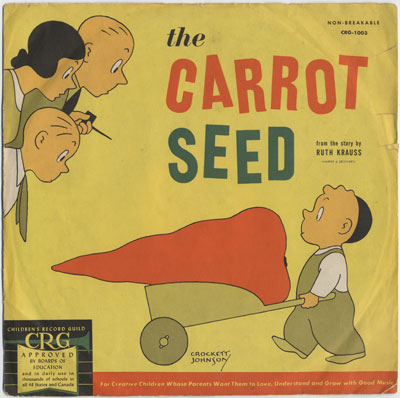 15)  The Carrot Seed  Norman Rose (1950)      5:36
The classic adaptation of Ruth Krauss's 1945 picture book (with art and design by Crockett Johnson).
16)  You Be You and I'll Be Me  The Free Design (1969)      2:42
The Free Design's song title seems too close to Ruth Krauss and Maurice Sendak's I'll Be You and You Be Me (1954) to be a coincidence, but it of course may well be just that.
17)  What a Dog / He's a Tramp  Peggy Lee & Oliver Wallace (1955)      2:25
Johnson loved his dogs, and was quite content to let them be their doggy selves.
18) Dog  Bob Dorough (1966)      3:27
19) Onomatopoeia  Todd Rundgren (1978)      1:35
Krauss had a great ear for the sound of words, something you see (and hear) both in her books based on the spontaneous utterances of children and in her later verse.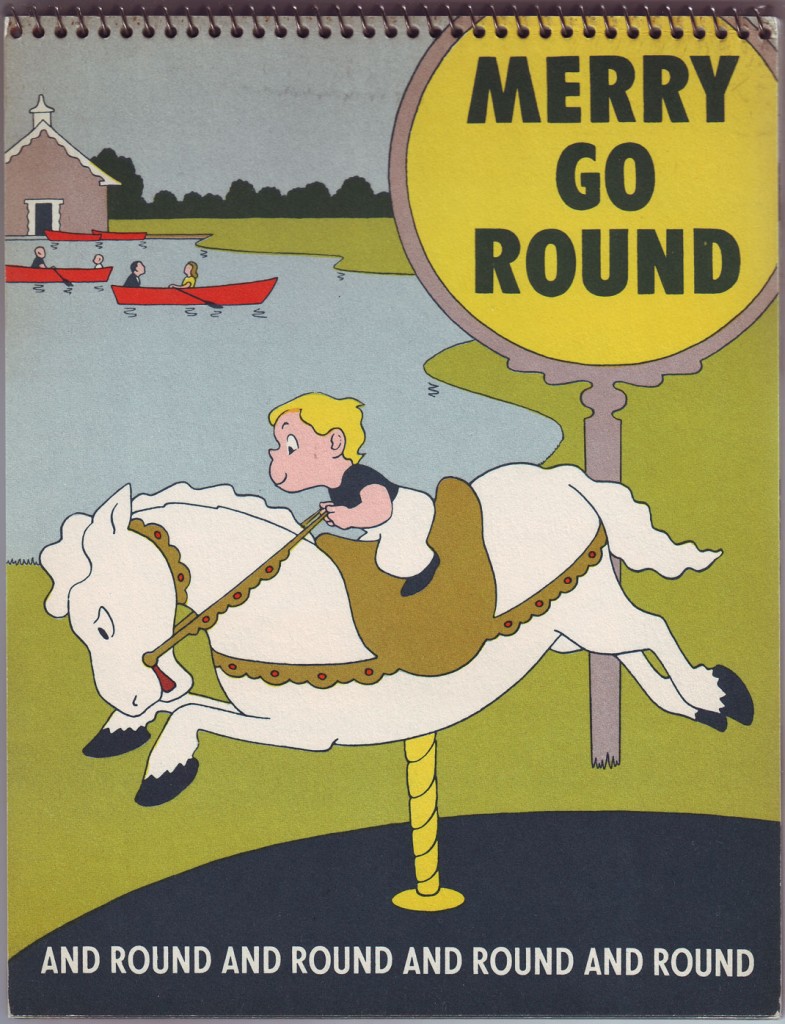 20)  Carousel (La valse à mille temps)  Elly Stone, Wolfgang Knittel (1968)            3:30
Johnson and Krauss owned the LP Jacques Brel Is Alive and Well and Living in Paris, on which this song appears. I expect it was more her choice than his. I've also included the song in tribute to Johnson's least-known (and most experimental) book, Merry Go Round.
21)  Get Happy  Art Tatum (1940)      2:46
Mr. O'Malley wasn't the only one who enjoyed boogie-woogie piano. Johnson liked it, too. He owned the LP Decca Presents Art Tatum, which includes this song.  "Happy" also has a nice resonance with The Happy Day (1949), Krauss's collaboration with Marc Simont.
22)  Comic Strip  Serge Gainsbourg (1968)      2:12
I don't have a recording of "Mr. O'Malley's March," and so instead here is a playful tribute to the comic strip medium.
23)  Pies for the Public  Zoë Lewis (1998)      4:57
"So he laid out a nice simple picnic lunch. There was nothing but pie. But there were all nine kinds of pie that Harold liked best."
24)  The Books I Like to Read  Frances England (2006)      2:13
This tribute to picture books begins with Where the Wild Things Are (written by Johnson and Krauss's friend) and name-checks Harold and the Purple Crayon.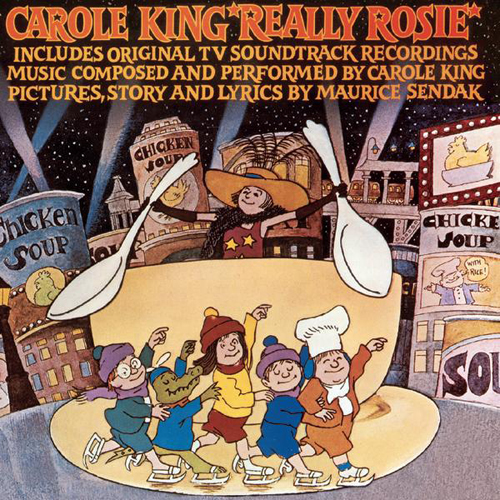 25)  Alligators All Around  Carole King (1975)      1:54
In recognition of how important Maurice Sendak is to the biography, here is a song based on his book of the same name.
26)Â  Wake Up (Where The Wild Things Are version)Â  Arcade Fire (2009)Â Â Â Â Â  1:39
It's impossible to stress enough Maurice's role in this – both in their lives, and in mine. I wish I could thank him once more.
27)  Neverending Math Equation  Sun Kil Moon (2005)      2:53
During the last decade of his life, Johnson painted tributes to great mathematical theorems and even worked out a couple theorems of his own.
28)  Garden of Your Mind  melodysheep feat. Mr. Rogers (2011)      3:07
The works of Johnson and Krauss inspire us to think and to imagine.