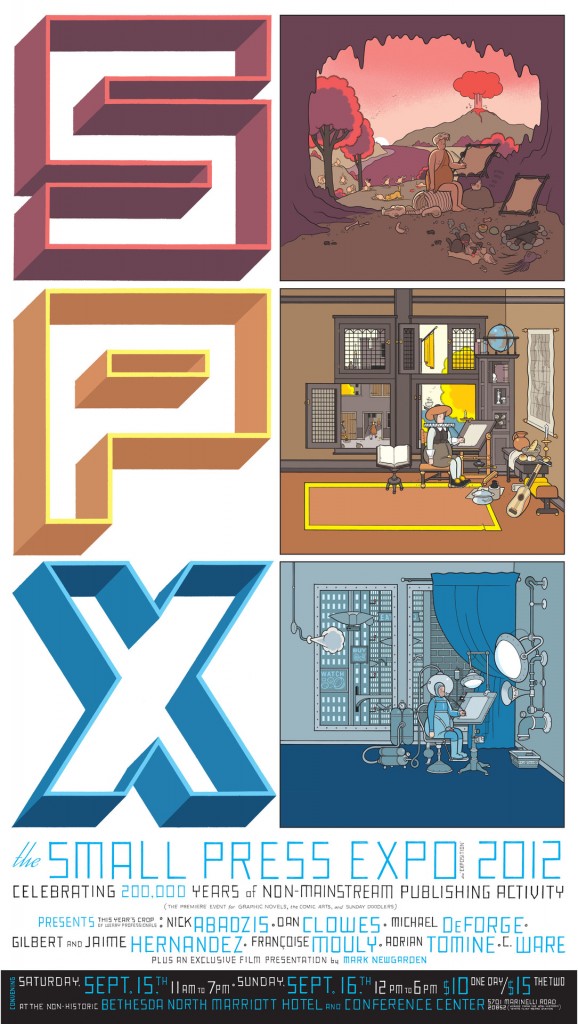 Do you like comics? Any chance you'll be in the vicinity of Bethesda, MD this weekend?  If so, then come to the Small Press Expo!  On Saturday the 15th, you can hear Daniel Clowes, Mark Newgarden, Chris Ware, Eric Reynolds, & me talk about Crockett Johnson's Barnaby.  Here's the panel description:
Crockett Johnson's Barnaby and the American Clear Line School

12:00 pm |Â White Flint Auditorium

In a canny mix of fantasy and satire, amplified by the clean minimalism of Crockett Johnson's line, Barnaby (1942-1952) expanded our sense of what comics can do. Though it never had a mass following, this tale of a five-year-old boy and his endearing con-artist of a fairy godfather influenced many. To mark the launch of The Complete Barnaby,Dan Clowes, Mark Newgarden, Chris Ware, and the book's two co-editors – Fantagraphics' Eric Reynolds and Crockett Johnson biographer Philip Nel – discuss the wit, the art, and the genius of Barnaby.
Later that day, I'm chairing a panel on "Comics as Children's Literature," featuring Françoise Mouly, Renée French, and Brian Ralph:
Comics as Children's Literature
5:00 pm |Â White Flint Auditorium

Comics' fraught historical legacy as children's literature and children's comics' status as an expanding category of contemporary publishing will be discussed by cartoonist and picture book author Renée French; Françoise Mouly, founder of the TOON Books imprint and co-editor of The TOON Treasury of Classic Children's Comics; Mark Newgarden, co-author of the "Bow-Wow" children's comics and picture book series; and Brian Ralph, author of the all-ages graphic novel Cave-In. Children's literature scholar Philip Nel will lead the conversation.
I'm honored to be in such august company.
But there's more! Â Perhaps you would like to buy a 20″ x 39″ print of Chris Ware's beautiful cover for my biography of Crockett Johnson and Ruth Krauss?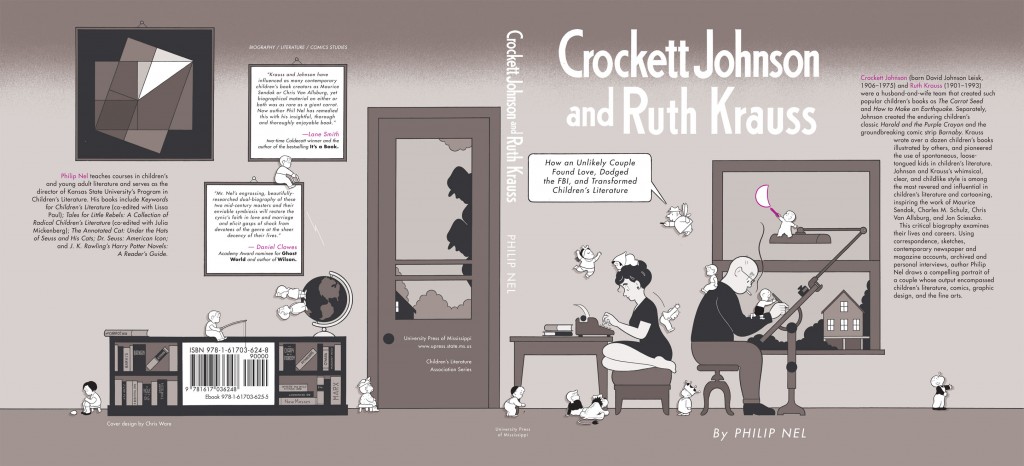 I will be selling prints specially designed by Mr. Ware.  (He's removed all of the text except the title and my name.)  Find me at the Fantagraphics booth (tables W40-44), where we'll also be selling (and I'll be signing) copies of the biography itself:
Saturday, September 15, 1:00 – 2:00 PM Â  Â Daniel Clowes // Philip Nel
Sunday, September 16, 2:00 – 3:00 PM    Philip Nel // Rich Tommaso
Both items will be available while supplies last. Â You can see a full signing schedule on Fantagraphics' website.
There's much more. Â Artists Gilbert & Jamie Hernandez, Paul Karasik, Adrian Tomine,… plus a full panel each devoted to Ware & to Clowes, footage of cartoonists screened by Mark Newgarden,… comics scholars David Ball, Sara Duke, Ken Parille,… and, oh, go read the conference schedule.
Hope to see you there!
(And… here ends my commercial announcement.)