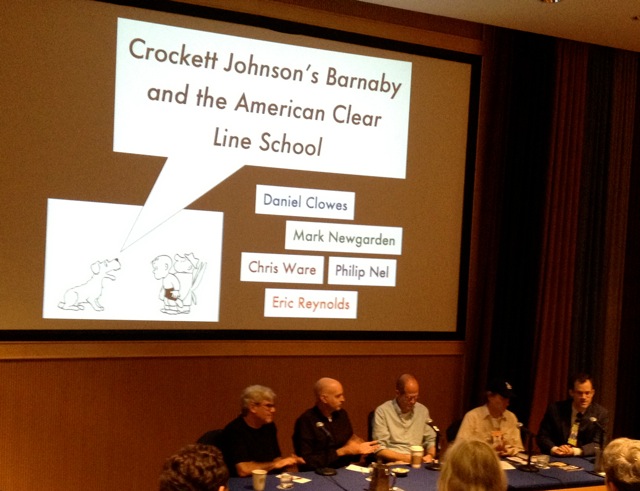 It's hard to put into words what it means to spend over a dozen years on a book, and then be able to talk about it with smart, talented people whose work I admire.  Saturday's panel at the Small Press Expo – featuring Daniel Clowes, Mark Newgarden, Chris Ware, Eric Reynolds, and myself – was exactly that.  Titled "Crockett Johnson's Barnaby and the American Clear Line School," the panel aimed (among other things) to spread the word about Fantagraphics' Complete Barnaby: Eric and I are co-editing, Dan is designing, Chris wrote an intro for Volume 1.  Since that book isn't out yet (currently expecting a February '13 pub date), it also enabled me to draw upon my dozen years of research for Crockett Johnson and Ruth Krauss: How an Unlikely Couple Found Love, Dodged the FBI, and Transformed Children's Literature (which is just out, and features a cover by Chris).
For 50 minutes, we had an illuminating conversation about Crockett Johnson, Barnaby, and how comics work.  Few people understand comics as well as Mark, Dan, and Chris do.  If you've ever heard Chris Ware speak or read an interview with him, you'll know that he is one of a very few comics creators who can articulate, clearly & with precision, how particular comics work – and do this all without notes, speaking in what sound like perfectly punctuated paragraphs.  He was just as sharp, the following day, on the Building Stories conversation between him and Dave Ball.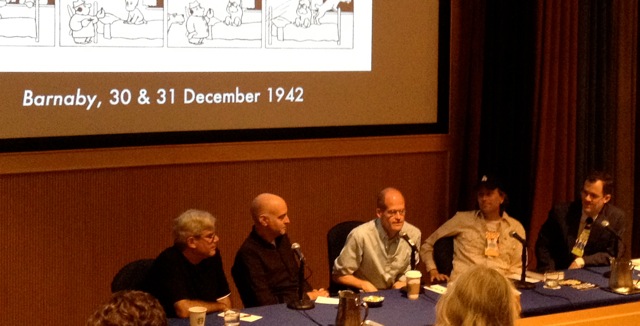 It's also fascinating to me that three quite different cartoonists are drawn to Barnaby. With the exception of Ice Haven (my favorite Clowes book, incidentally), Daniel Clowes' works have the fewest visual similarities to Johnson's style. Chris Ware's precise line recalls Johnson's, though he favors more detailed pages than Johnson does. Mark Newgarden's line is thicker and looser than Johnson's, though his aesthetic is closer to Johnson's succinct minimalism.  What all four share in common is a sharpness, a precision that gives their work a vital presence on the page.  All four understand the visual grammar of cartoons; they are fluent in the language of images.
Commercially, SPX was a success, also. Fantagraphics kindly sold copies of my biography (we sold all of them), and set up signings for me at their booth – the first of which found me sitting next to Dan.  Chris very generously signed the prints of his cover, for my Johnson-Krauss bio., and I sold about a dozen of those, too.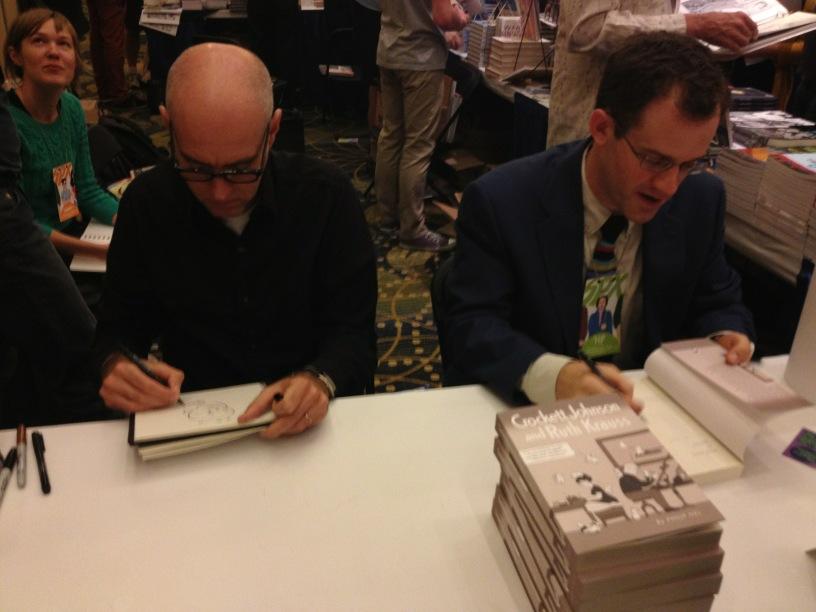 But, for me, what made it special was getting to hang out with so many great artists, writers, editors, & scholars. I never thought I'd find myself at dinner with Dan Clowes, Chris Ware, Charles Burns, Adrian Tomine, and Françoise Mouly. When I told Mike Deforge (an up-and-coming comics creator who was also at that dinner) that I felt like I'd been invited to the grown-ups' table and wondered how the heck I got there, he admitted that he felt the same way.  So, a hearty thanks to Alvin Buenaventura for inviting us! (On that note, check out Daniel Clowes: Modern Cartoonist, edited by Alvin & with an essay by Chris.)
There are many other highlights – hanging out with Mark N. & Megan Montague Cash, getting to show them original Barnaby strips at the Smithsonian, meeting fellow Crockett Johnson fans, other comics scholars, seeing Warren Bernard's astonishing personal collection of comics (at his house), discovering a group of comics artists engaged in an ongoing alphabet project, and so much more.  And the Barnaby panel was a career highlight.
Thanks again to Dan, Mark, Chris, and Eric for making it happen.  Thanks to Bill Kartalopoulos for including us in his great program.  And thanks to everyone I met for a fantastic SPX.
Photos by Paul Karasik (top two) and Alvin Buenaventura (lower one). Thanks, fellas! Â Enjoyed seeing you, too!