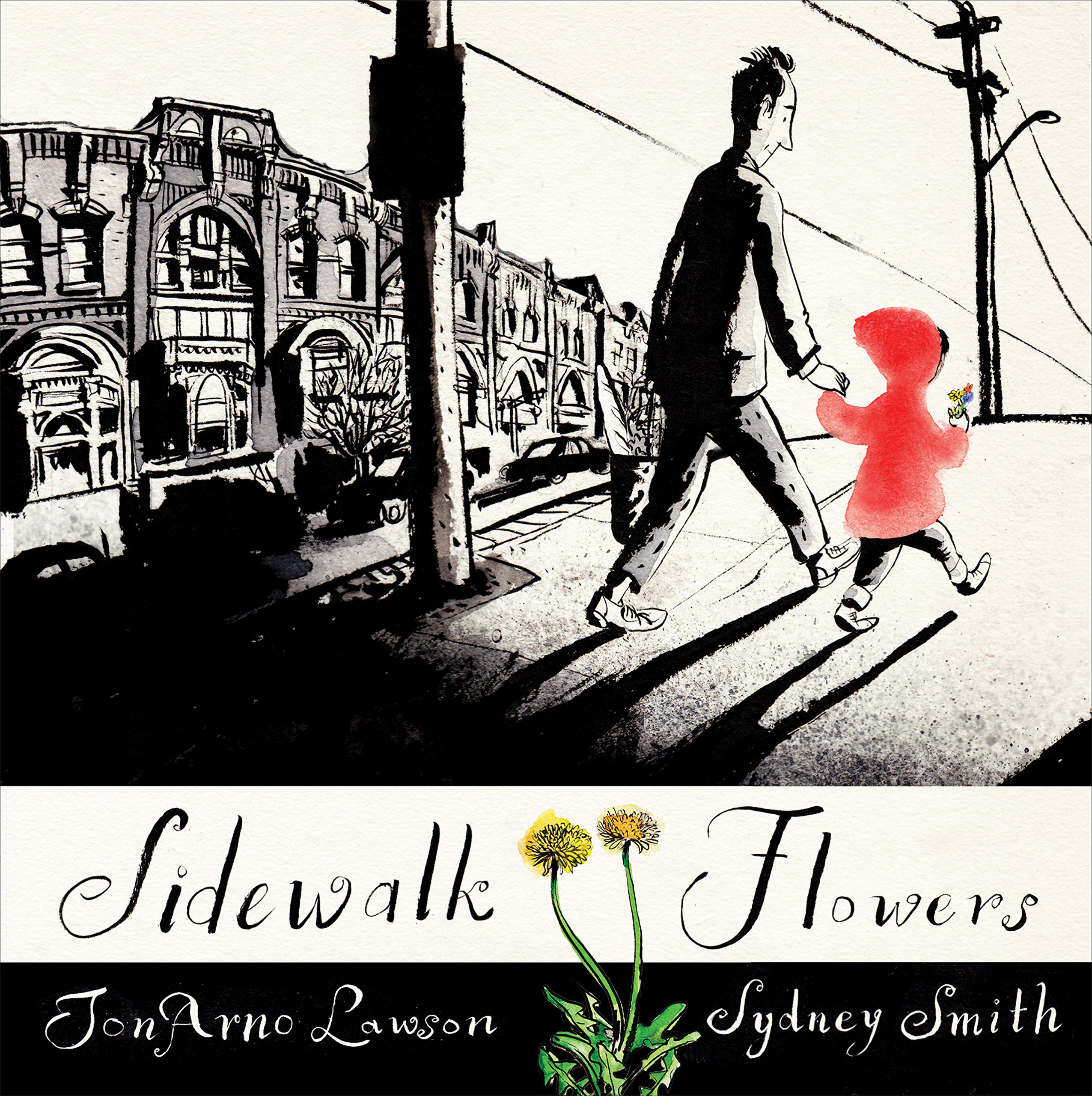 This picture book is a wordless poem, written by a poet yet rendered by an artist. If that description sounds like one of the philosophical questions posed by JonArno Lawson's poems ("can you remember / how you thought / before you / learned to talk?"), it should. Lawson conceived the book, and Sydney Smith drew it. Or perhaps I should say: Lawson had the vision, and Smith put it on the page.
Sidewalk Flowers' protagonist, her red hoodie calling to mind Ezra Jack Keats' Peter, is the book's poet, open to the experience of the world, able to see her surroundings more fully than her preoccupied father. Her openness to her environs also recalls the protagonist of The Snowy Day (1962): both children walk through their respective neighborhoods, finding beauty in the everyday, moments of connection, and quiet insights that their busy elders tend to miss. She is the poet because of her capacity –Â if I may borrow Lawson's description of his own poetic process –Â "to make unexpected discoveries" (Inside Out 29).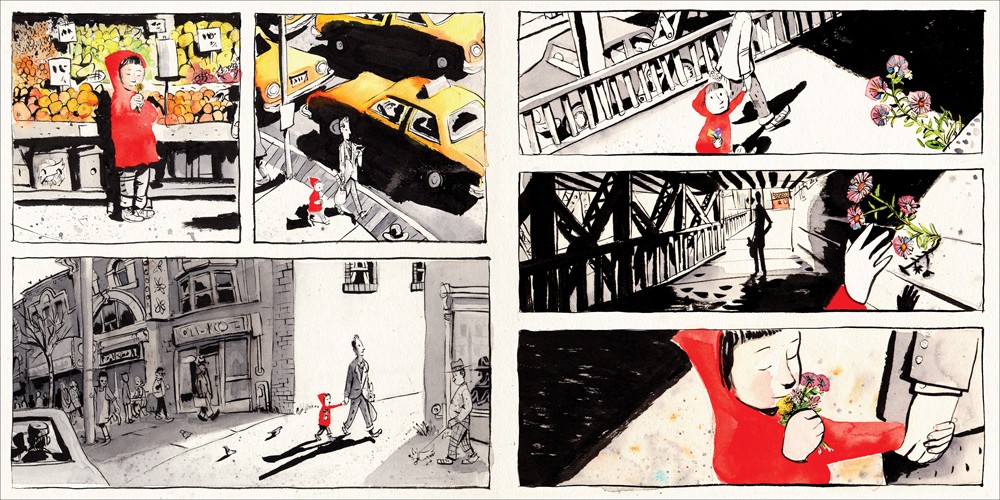 She discovers the flowers that most grown-ups would dismiss as weeds. She gathers them from between the gaps in the paving stones, the slim circle round the base of the signpost, anywhere that a persistent plant has found those "chinks in the dark" (to quote Roethke) and burst into bloom. Her ability (in the book's first half) to perceive the radiance of these neglected flowers yields (in the second half) to an even greater capacity to share that beauty with others. Instead of hoarding her bouquet, she gives flowers to people (a man sleeping on a park bench) and animals (a small dead bird) until, upon arriving home, she has a just enough flowers to give some to her mother and two siblings.
It's a poetic picture book, in its attentiveness to what us non-poets overlook, and to the deeper meaning of small gestures. Sidewalk Flowers is also a perfect example of why a poem is a perfect analogue for a great picture book. As Maurice Sendak once observed, the picture book is "a complicated poetic form that requires absolute concentration and control" (Caldecott & Co. 186). It does. As works like Sidewalk Flowers demonstrate, the picture book can also convey –Â to quote another poem of Lawson's – the idea that "The truth may be simple / But its impact is complicated" (Think Again 21).
---
 Works Cited
Keats, Ezra Jack. The Snowy Day. New York: Viking, 1962.
Lawson, JonArno. "Tickle Tackle Botticelli." Black Stars in a Night Sky. Toronto: Peldar Press, 2006. 116.
Lawson, JonArno. "What I Saw." Think Again. Illus. by Julie Morstad. Toronto: Kids Can Press, 2010.
Lawson, JonArno, ed. Inside Out: Children's Poets Discuss Their Work. London: Walker Books, 2008.
Lawson, JonArno and Sydney Smith. Sidewalk Flowers. Toronto and Berkeley: Groundwood Books, 2015.
Roethke, Theodore. "Root Cellar." The Lost Son and Other Poems. Garden City, NY: Doubleday & Co., 1948.
Sendak, Maurice. Caldecott & Co.: Notes on Books & Pictures. 1988. Noonday Press, 1990.
---
More about Sidewalk Flowers and its creators