If you missed this book launch today, please do check it out!
On-hand was MIT Prof. Marah Gubar (children's literature scholar extraordinaire), Gregory Maguire (author of Wicked), Brian Selznick (author of The Invention of Hugo Cabret), and of course Golan Moskowitz himself. It's a pretty big deal to gather such a constellation of luminaries for a book launch, and they did not disappoint.
As readers of the blog already know, Maurice Sendak was – is! – one of the greatest artists for children, and indeed one of the greatest artists, period.  Because he came of age at a time when being gay was regarded as shameful (and, indeed, could result in persecution, violence, jail), he kept his sexuality hidden for most of his life – 50 years of which he shared with his partner, Dr. Eugene Glynn.  Moskowitz's Wild Visionary: Maurice Sendak in Queer Jewish Context is the first work to look at how this key aspect of his identity shaped his artistic sensibility. When I say "hidden," I should say that people who knew him, knew. But his sexuality wasn't in any press account of his life until the 2000s. There are two passing references (a single sentence in each case) in 2003 and 2006, and then a much more direct discussion in 2008 in the New York Times.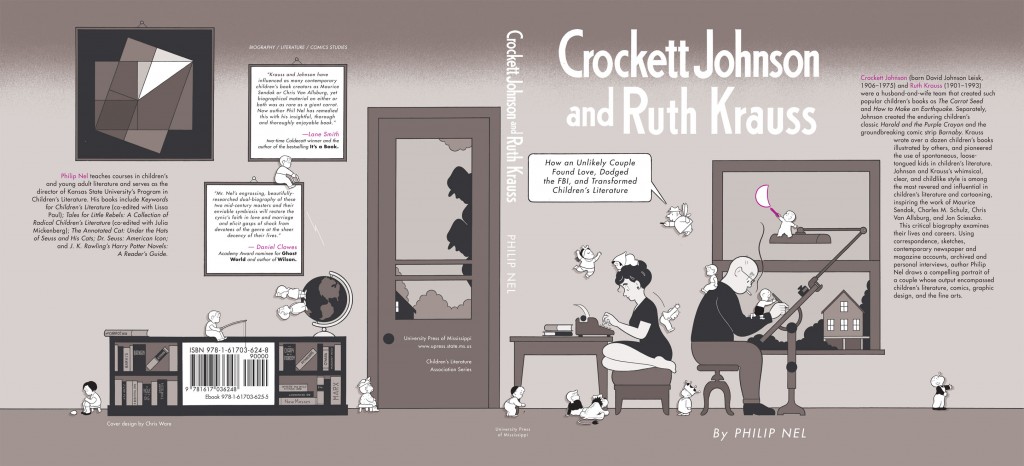 On a personal note, I got to know Sendak a bit when I was writing a biography of his two mentors, Crockett Johnson and Ruth Krauss – two children's writers who were also husband and wife. On this blog, I even did some thinking-in-public about how or whether to address Sendak's sexuality in my biography. (Thanks to the sage advice of Robin Bernstein and others, I did address it – and that of other gay writers Johnson and Krauss knew.)  As it so happened, on the September day in 2008 that Sendak publicly came out to the New York Times, he also phoned me –  to offer feedback on my (then) book-in-progress. I had sent him the manuscript of the biography, which was then complete up to 1955 (the year of Harold and the Purple Crayon). Before Sendak offered that feedback, he mentioned that he'd just had a "cardiac operation," and added "I don't know if you read the Times this morning, but I'm on the Arts page in a very odd interview that's very frank, and I'm telling you because I may sound odd." I had not read the Times yet.
I wish I had then read the Times piece, because in our conversations we had never discussed his sexuality. He was very frank in his recollections of spending his weekends with Ruth and Dave (Crockett Johnson's given name was David, and friends knew him as Dave). Indeed, Sendak was very frank about everything – but not that. As he told the Times' Patricia Cohen in that interview, "I just didn't think it was anybody's business…. All I wanted was to be straight so my parents could be happy. They never, never, never knew."
I haven't yet finished Golan Moskowitz's book, but I very much like what I've read so far, and encourage you to go out and read it! Meanwhile, check out the conversation above!
Related (on this blog unless otherwise indicated)
Maurice Sendak's Will (10 June 2015)
A Very Special House (30 Sept. 2014)
Sendak on Sendak (9 July 2013)
Annotating My Brother's Book: Some initial thoughts on Sendak's use of Blake's pictorial language. A guest post by Mark Crosby (9 March 2013)
Tributes to Maurice Sendak: Visual Artists Respond (11 May 2012). Artists respond to Sendak's passing.
The King of the Wild Things Is Dead. Long Live the King. Maurice Sendak (1928-2012). (The Comics Journal, 10 May 2012). My obituary for Sendak.
The Most Wild Thing of All: Maurice Sendak, 1928-2012 (9 May 2012). My tribute to Sendak on his passing, including an excerpt from my interview with him. That interview would later be published in Conversations with Maurice Sendak, edited by Pete Kunze (UP Mississippi, 2016)
Eat, drink, and be merry (8 Oct. 2011). My review of Sendak's Bumble-Ardy.
In or Out?: Crockett Johnson, Ruth Krauss, Sexuality, Biography (17 Feb. 2011). Great discussion (read the comments) on whether to include Sendak's sexuality – I followed the excellent advice and did so.
and see other posts tagged Maurice Sendak!