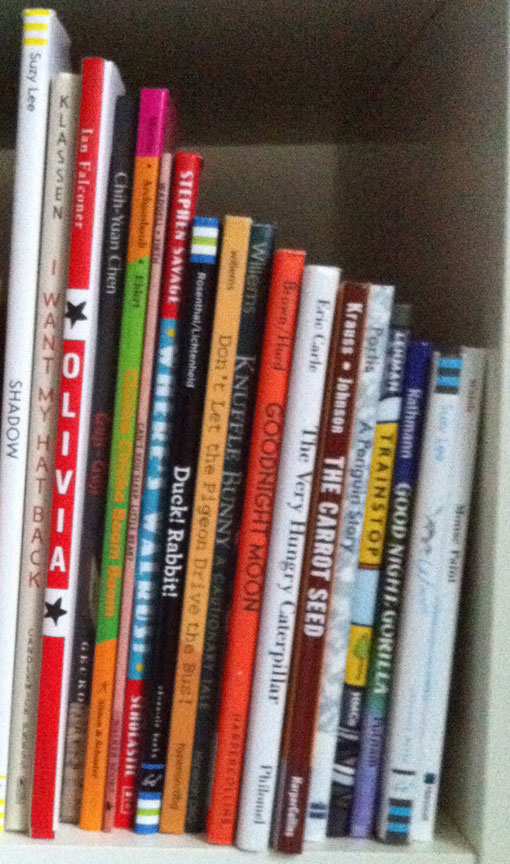 As mentioned in Emily's Library, Part 1, one reason for including these is that they're multi-lingual, but another is that they're compelling works of narrative art. They highlight art's centrality to the picture book itself. To restate what I noted in yesterday's post, art is so central to the picture book that, as part of his final revision process, Shaun Tan removes all of the words (to make sure that the pictures carry the story) and then restores just enough words.
Suzy Lee, Wave (2008)
Wordless tale of a girl, at the beach, facing off with the waves. Her movements and facial expressions tell you all you need to know. One of the New York Times' Best Illustrated Books of that year. Lee is one of my favorite contemporary illustrators.
Suzy Lee, Shadow (2010)
A near-wordless picture book. You open it with the spine at the top, so that the fold is in the middle of your reading experience, dividing the upper half (a basement) from the lower half (a shadow). The shadow transforms ordinary objects into an adventure.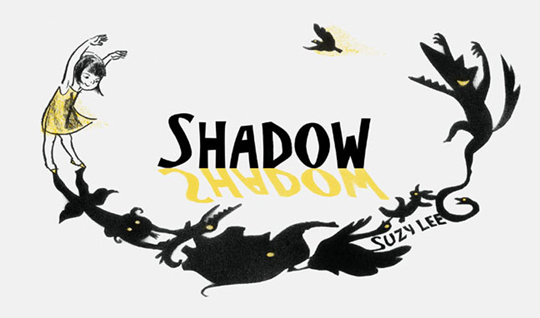 Barbara Lehman, The Red Book (2004)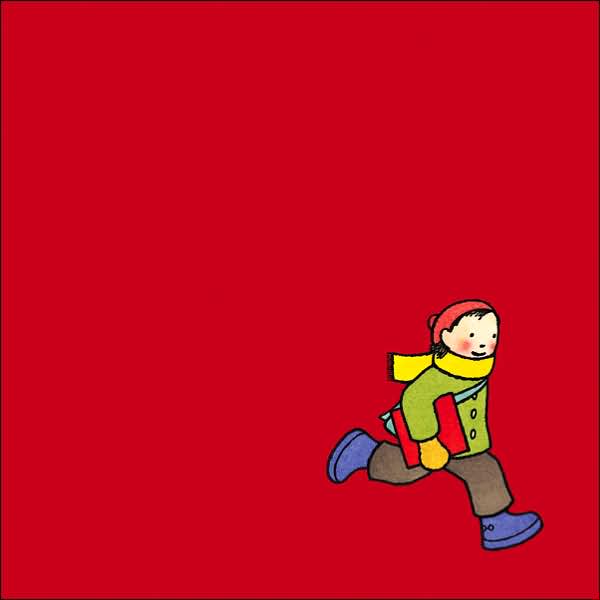 Probably Lehman's best-known work, this wordless tale is about friends, books, and the unexpected. You can't go wrong with a Barbara Lehman book. This one won a Caldecott Honor.
Barbara Lehman, Trainstop (2008)
Another lovely wordless tale from Lehman. It appeals to that sense one has (or I had, when I was a child, and still retain) that, when the train doors open, you might step out into… anywhere. I need to write a full-length blog post on Lehman. Her work ranks among the best contemporary children's books – and, indeed, children's books in general.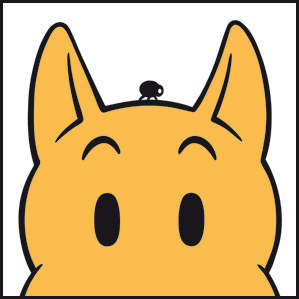 Mark Newgarden and Megan Montague Cash, Bow-Wow Bugs a Bug (2007)
As Lane Smith says, "What an odd, sweet, surreal and hilarous adventure from Newgarden and Cash. It's what Crockett Johnson, Ernie Bushmiller and Rod Serling might have come up with if they shared a bench at the doggie park. I love it!" See also my longer blog post on Newgarden and Cash's Bow-Wow books, and the board books listed with Emily's Library, Part 1.
Stephen Savage, Where's Walrus? (2011)
A comic tale of a walrus on the run, combining the find-the-character game of Where's Waldo? with a playful narrative and plenty of joie de vivre. Savage's design recalls posters from the 1930s, and the work of Richard McGuire (whose work will make an appearance in a future "Emily's Library" post).
There are other great wordless books, of course. These are just the ones I've sent so far.
Looking for other great children's books? Try these blogs:
Related posts on Nine Kinds of Pie: