Occasionally, publishers and authors send me children's books. When time and interest coincide (alas, too infrequently), I review them and post my reviews here. More often, I write reviews of books I've bought. I do not review children's-book-related tie-ins. I view such products with some skepticism, and have written critically about merchandising that targets children.
But I really like the Moomin products that Chronicle Books sent me – sent each of us Niblings, in fact – to congratulate us on the launch of our new blogging group. They're adorable. Tasteful. Nicely produced. And, yes, they're an appropriate gift for a group of bloggers who have named themselves after a minor character in Tove Jansson's Moomin books.
If you do not know the Moomin books, you will want to read this post before reading further.  Take your time.  I'll wait.
Back? Well, to continue: I find myself puzzled at why I feel more comfortable admiring my new Moomin notecards than I would, say, a package of Bertie Bott's Every Flavour Beans. Why does it feel "OK" to blog about these Moomin goodies but not the latest Potter merchandise?
One could argue that it's because Moomin marketing is less ubiquitous than Harry Potter marketing. There may be something to that argument, but the Moomins are hardly obscure.  Sure, people in the U.S. are less Moomin-literate than the rest of the world, but Jansson's characters are globally recognized. There are books, animated cartoons, stores of merchandise, and even an amusement park (in their creator's native Finland). So, I don't think it's just fetishizing a pop cultural obscurity. Moomins are world famous.
Nostalgia, then? As Julie Sinn Cassidy argues in "Transporting Nostalgia: Little Golden Books as Souvenirs of Childhood" (2008), the Little Golden Books "function as snapshots, souvenirs, or relics of an imagined ideal of childhood," and are often marketed to adult readers as such (148). While nostalgia also underwrites Moomins' marketability, I never read Jansson's books when I was a child. I first read them in my mid-20s. My wife grew up on them, and – as my scholarly interests shifted to children's literature – she introduced me to the Moomin stories.  So, for me at least, childhood nostalgia falls short as an explanation.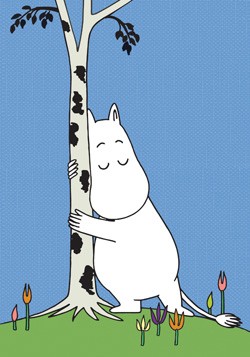 To say that these items have been tastefully made moves us into highly subjective aesthetic areas, but the designers have created products with an aesthetic that closely matches Tove Jansson's.  I'm sure that good design is one reason for their appeal, but it feels insufficient.
The answer comes, as it often does, from Henry Jenkins. My relationship to Jansson's Moomin characters is that of what he calls the "aca-fan," a "hybrid creature which is part fan and part academic." I simply like the Moomin characters and stories. They make me happy, in the way that the Mills Brothers' recording of "Funiculi Funicula" does, or Crockett Johnson's Harold and the Purple Crayon does. And Chronicle Books' Moomin products are kinda cool.  If you're a Moomin fan, you'll probably enjoy these, too.
Related posts (on this blog):