Laurie Penny calls Steubenville's "rape culture's Abu Ghraib moment." As she says, "The pictures from Steubenville don't just show a girl being raped. They show that rape being condoned, encouraged, celebrated."  In calling it the "Abu Ghraib moment" for rape culture, Penny says, "It's the moment when America and the world are being forced, despite ourselves, to confront the real human horror of the rapes and sexual assaults that take place in their thousands every day in our communities."
I hope she's right. I hope people do confront it. To create a change in a culture that condones rape, we need more than hope. We need to act. Here's what educators might do.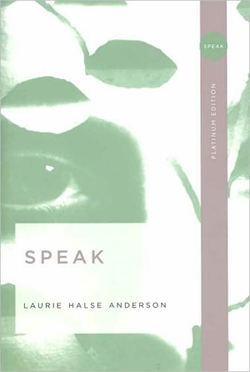 1. Teach Laurie Halse Anderson's Speak or other young adult novels that address rape and its aftermath.  (I know there are other novels that would fit the bill, but this is the one I always teach.)  And teach these books to high school students.
Anderson's Speak is a sensitive, thoughtful examination of rape and its aftermath. It also has many moments of dark humor: The book's protagonist, Melinda Sordino, has an incisive wit. It's hard to imagine a teenage male (or, really, anyone) reading this book and continuing to think that rape is somehow "OK." That said, I realize that it's a lot to expect a single book to change rape culture.  So, we should also…
2. Debunk myths about rape. When I teach Speak, I always tell my students the following, often framed by the comment that they probably already know this. But, post-Steubenville, I realize I cannot take that knowledge for granted. Indeed, just last week, a local weekly in Manhattan Kansas (where I live and work) published some breathtaking stupidity on the subject of rape.
So, then, here is what I do. I ask them to define rape, and we debunk the myths.
I ask: Define rape.  What is it?
rape myth: the person fails to say "no," and so silence means "yes"; or "no" may mean "yes" if it's said in a certain way…
rape: In fact, no means no.  Rape is sexual intercourse with someone without that person's consent.  If you have sexual intercourse with someone and you do not have their consent, that's rape. Two very good examples from the novel: Melinda remembering the party, back in August (133-36); Melinda imagining receiving counsel from Oprah et al (164).
rape myth: that men are at the mercy of their sexual drives and therefore rape when they are overly frustrated or when the opportunity arises.  That's false.
rape is a crime of power, not of desire.  Rapists often speak not of their sexual arousal or attraction to their victims, but of their desire to hurt or dominate them.
rape myth: Rapes occur on dark deserted streets between strangers.
rape: In fact, a majority of rapists and victims know each other.  Rapes often occur in the home.  Many women experience date rape or acquaintance rape.  In other words, you're more likely to be raped by someone you know.
Or, as Mallory Ortberg writes in response to CNN's (truly bizarre) representation of the rapists as victims, "For readers interested in learning more about how not to be labeled as registered sex offenders, a good first step is not to rape unconscious women, no matter how good your grades are. Regardless of the strength of your GPA (weighted or unweighted), if you commit rape, there is a possibility you may someday be convicted of a sex crime."
3. "Feminist" is not a dirty word. If you support equal pay for equal work, if you think women deserve equal treatment under the law, if you believe women deserve the right to vote, then congratulations! You're a feminist! So. Stop apologizing for being a feminist. Stop using the phrase "I'm not a feminist, but…." And when someone uses a phrase like "feminazi," call that person out. Feminism offers a critique of the power relations between the genders, and argues that there should be a balance of power. This is a good thing. It's not fascist. It points out that women are human beings –Â a basic fact which the Steubenville rapists evidently did not know. Their lack of knowledge has now landed them both in jail.
4. Teach Women's Studies in high school. As punk-rock legend Henry Rollins writes in response to this case, we should "Put women's studies in high school the curriculum from war heroes to politicians, writers, speakers, activists, revolutionaries and let young people understand that women have been kicking ass in high threat conditions for ages and they are worthy of respect." He also suggests that high schools teach sex ed, and explain to students what rape is and is not.
I read the other day of a college administrator saying that Women's Studies should be cut because it doesn't help students get jobs. I've no empirical evidence that his claim is true (and neither did he), but consider this: Women's Studies can help keep you out of jail. It can make you a better human being. A sense of human decency and lack of a criminal record would be welcome in many places of work.
5. Teach books – fiction, non-fiction – with smart, interesting, strong, three-dimensional female protagonists, and books with thoughtful, considerate male protagonists.  This is by no means an exhaustive list, but it is at least a start.
Children's Picture Books and Graphic Novels
Ludwig Bemelmans, Madeline (1939)
Virginia Lee Burton, Katy and the Big Snow (1943). Yes, I realize that the protagonist is a snowplow, but she's a she and a hero.
Ian Falconer, Olivia (2000) and its sequels.
Florence Parry Heide, Princess Hyacinth: The Surprising Tale of a Girl Who Floated, illus. Lane Smith (2009)
Ellen Jackson, Cinder Edna, illus. Kevin O'Malley (1994)
Crockett Johnson, Harold and the Purple Crayon (1955)
Munro Leaf, The Story of Ferdinand (1936)
Suzy Lee, Wave (2008)
Suzy Lee, Shadow (2010)
Robert Munsch, The Paper Bag Princess, illus. Michael Martchenko (1980)
Luke Pearson, Hilda and the Midnight Giant (2012)
Antoinette Portis, A Penguin Story (2009)
Antonio Ramirez and Domi, Napi (2004), Napi Goes to the Mountain (2006), and Napi Makes a Village (2010)
Faith Ringgold, Tar Beach (1991)
Chris Van Allsburg, Queen of the Falls (2011)
Bernard Waber, Ira Sleeps Over (1972)
Mo Willems, Knuffle Bunny (2004), Knuffle Bunny, Too (2007), Knuffle Bunny Free (2010).
Jay Williams, Philbert the Fearful, illus. Ib Ohlsson (1966)
Jay Williams, The Practical Princess, illus. Friso Henstra (1969)
Jeanette Winter, Wangari's Trees of Peace (2008)
Children's Novels and Graphic Novels
Joan Aiken, The Wolves of Willoughby Chase (1962)
Ruby Bridges, Through My Eyes (1999)
Beverly Cleary, the Ramona books (1955-1999)
Roald Dahl, Matilda (1988)
Barry Deutsch, Hereville: How Mirka Got Her Sword (2010)
Louise Fitzhugh, Harriet the Spy (1964)
Neil Gaiman, Coraline (2002)
Virginia Hamilton, Zeely (1967)
Michael Hoeye, the Hermux Tantamoq series: Time Stops for No Mouse (1999), The Sands of Time (2001), No Time Like Show Time (2004), Time to Smell the Roses (2007)
Polly Horvath, The Canning Season (2003)
Diane Wynne Jones, Howl's Moving Castle (1986)
Hilary McKay, the Casson Family series: Saffy's Angel (2001), Indigo's Star (2003), Permanent Rose (2005), Caddy Ever After (2006), Forever Rose (2007).
Linda Sue Park, Project Mulberry (2005).
Katherine Patterson, The Great Gilly Hopkins (1978).
Sara Pennypacker, Sparrow Girl (2009).
Tor Seidler, The Wainscott Weasel (1993). Seidler's male characters tend to be introspective, & thoughtful.
Siena Cherson Siegel, To Dance: A Ballerina's Graphic Novel, artwork by Mark Siegel (2006)
Maurice Sendak, The Sign on Rosie's Door (1960)
Roderick Townley, The Great Good Thing (2001)
Jean Webster, Daddy Long-Legs (1912)
Vera B. Williams, Amber Was Brave, Essie Was Smart (2001)
Young Adult Novels and Graphic Novels
Louisa May Alcott, Little Women (1868-1869)
Laurie Halse Anderson, Speak (1999)
Avi, The True Confessions of Charlotte Doyle (1990)
Lynda Barry, One! Hundred! Demons! (2002).  A graphic novel.
Kristin Cashore, Graceling (2008), Fire (2009), Bitterblue (2012)
Suzanne Collins, The Hunger Games (2008)
John Green, The Fault in Our Stars (2012)
James Kennedy, The Order of Odd-Fish (2008)
Astrid Lindgren, Pippi Longstocking (1957)
Linda Medley, Castle Waiting (2000).  A graphic novel, repr. with an intro by Jane Yolen (2006).
L. M. Montgomery, Anne of Green Gables (1908) and its sequels.
Terry Pratchett, the Tiffany Aching books: The Wee Free Men (2003), A Hat Full of Sky (2004), Wintersmith (2006), I Shall Wear Midnight (2010).
Philip Pullman, The Golden Compass (1995), The Subtle Knife (1998), The Amber Spyglass (2000). Lyra is a great character, but so is Will.
Meg Rosoff, How I Live Now (2004)
Sara Ryan, Empress of the World (2001)
Marjane Satrapi, Persepolis (2003).  A graphic novel.
Dodie Smith, I Capture the Castle (1948)
Virginia Euwer Wolff, True Believer (2002)
Jacqueline Woodson, The House You Pass on the Way (1997)
Jane Yolen, Briar Rose (1992)
Anthologies:
Marlo Thomas and friends, Free to Be You and Me (1974)
Jack Zipes, ed., Don't Bet on the Prince (1986)
As I say, this list is not exhaustive – it's just a starting point.  So, you should feel free to add other recommended titles in the comments section below.
6. Rape culture is a massive social problem. Changing it requires action at all levels of government, and all levels of education. If your senator or representative voted against reauthorizing the Violence Against Women Act, publicize the fact that they are part of the problem. For example, in the state of Kansas, Senator Pat Roberts, Representative Tim Huelskamp, and Representative Mike Pompeo all voted against the Violence Against Women Act. We might phone their offices and ask them: Why do you support violence against women? Why do you enable rape culture? How often do you beat your wife? Why do you think spousal abuse should be encouraged?
Courtesy of Mother Jones, here is a list of the senators and representatives who voted against reauthorizing the act. All Democrats voted for it – except for Texas Democrat Rubén Hinojosa, who abstained. All Republicans voted against reauthorizing the Violence Against Women Act – except for six, who abstained from voting.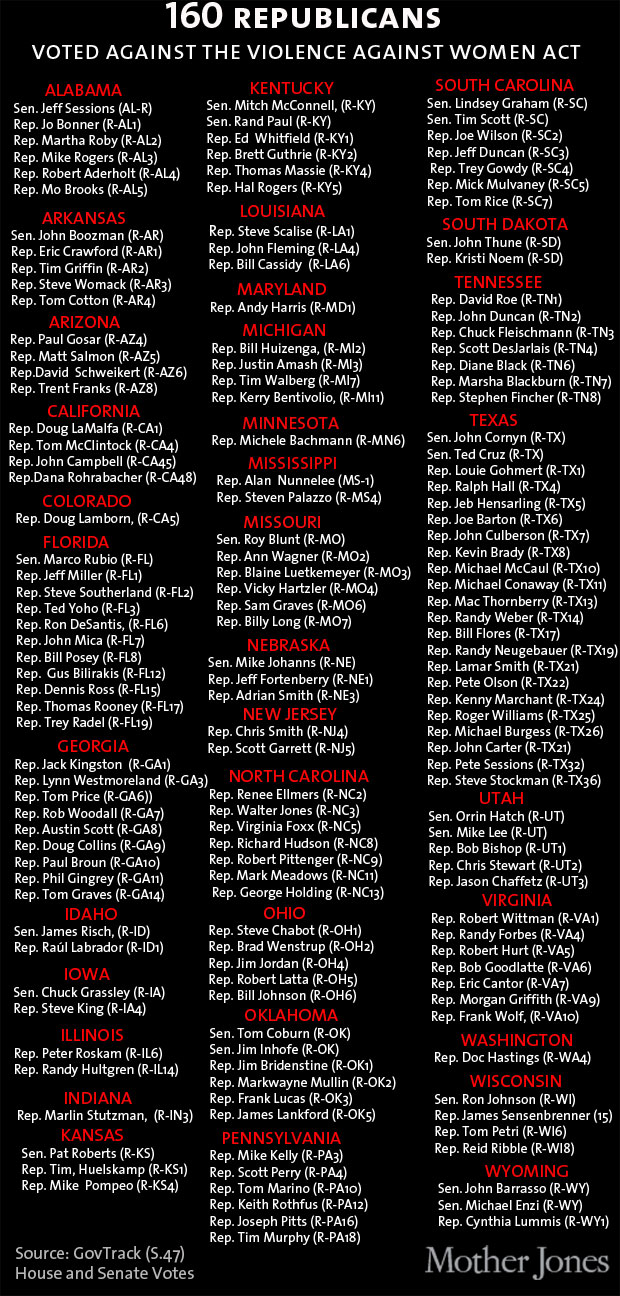 Here is a full list of every representative who voted against this legislation, with links to contact information:Â http://www.opencongress.org/vote/2013/h/55
7. RAINN (Rape, Abuse, & Incest National Network) has two ways you can get involved.  1) Donate to the #Speak4RAINN campaign, which helps rape survivors get the help they need. 2) Students can enter the "How Speak Spoke to Me" Contest. The prize? A visit to your class from Laurie Halse Anderson herself.
[Added point no. 7 & the above video on 5 April 2013.]
Related links:
Related content on this blog (Nine Kinds of Pie):