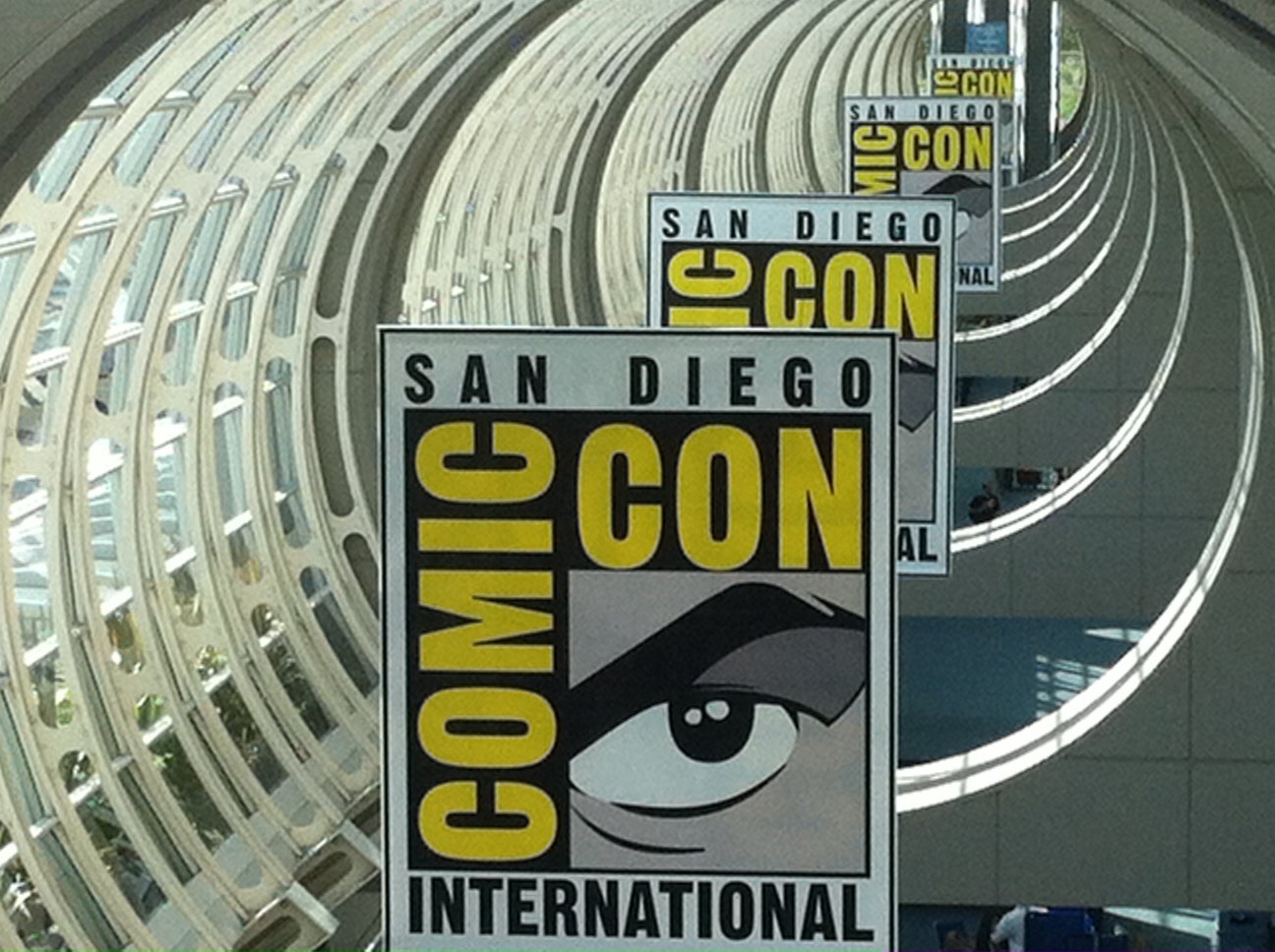 Reflections and notes from the second day….
Rise and Run
I began the day with a run along North Harbor. On one side, there is the bay, tall ships, yachts, seagulls flying overhead, or … 6-foot-tall fences with barbed wire at the top. On the other side, dozens of homeless men. Some sleep on the benches, but some benches have metal bars dividing them into thirds, preventing people from lying on them. So, some homeless men sleep on the ground. Still others are rising, beginning their morning rituals, folding the tarp under which they have slept, preparing for a day on the street. Beyond them, the glorious, indifferent city of San Diego. (Indifference to the ill-housed and ill-fed is not unique to this city, course; it's merely another example of America's current policy of punishing the needy.)
Into the Breach
"Haven't been in a crowd like this since I went to see the Who"

– Weird Al Yankovic, "Another One Rides the Bus"
Then, at Café 222, breakfast with Karin, Charles, his son, and Gina Gagliano (of First Second Books). And on to Comic-Con! Entering the Exhibitors Hall near Lego, Lucasfilm, and Hasbro … was a mistake. As we learned later, many Con-goers were gathering for free merchandise. It wasn't a 1979 Who concert, but we were shoulder-to-shoulder and at times unable to move. When we made it to the comics publishers, we regained space and mobility. (Whew!)
Is There Anybody Out There?
Jen Vaughn, Jacq Cohen, Kristy Valenti, and everyone at Fantagraphics were wonderful.  But… few people came to the signing. Thanks to Perry Ostrin, Charles Hatfield, and Karen Green for visiting, and even buying a book! Fun to chat with Paul Hornschemeier, Jacq, and a few others.  And, I'll be there again Saturday 9-10 and Sunday 2-4.  Don't be shy!
(Photo at right by Mich Hatfield.)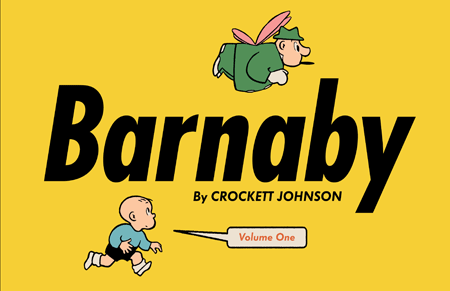 Look at Me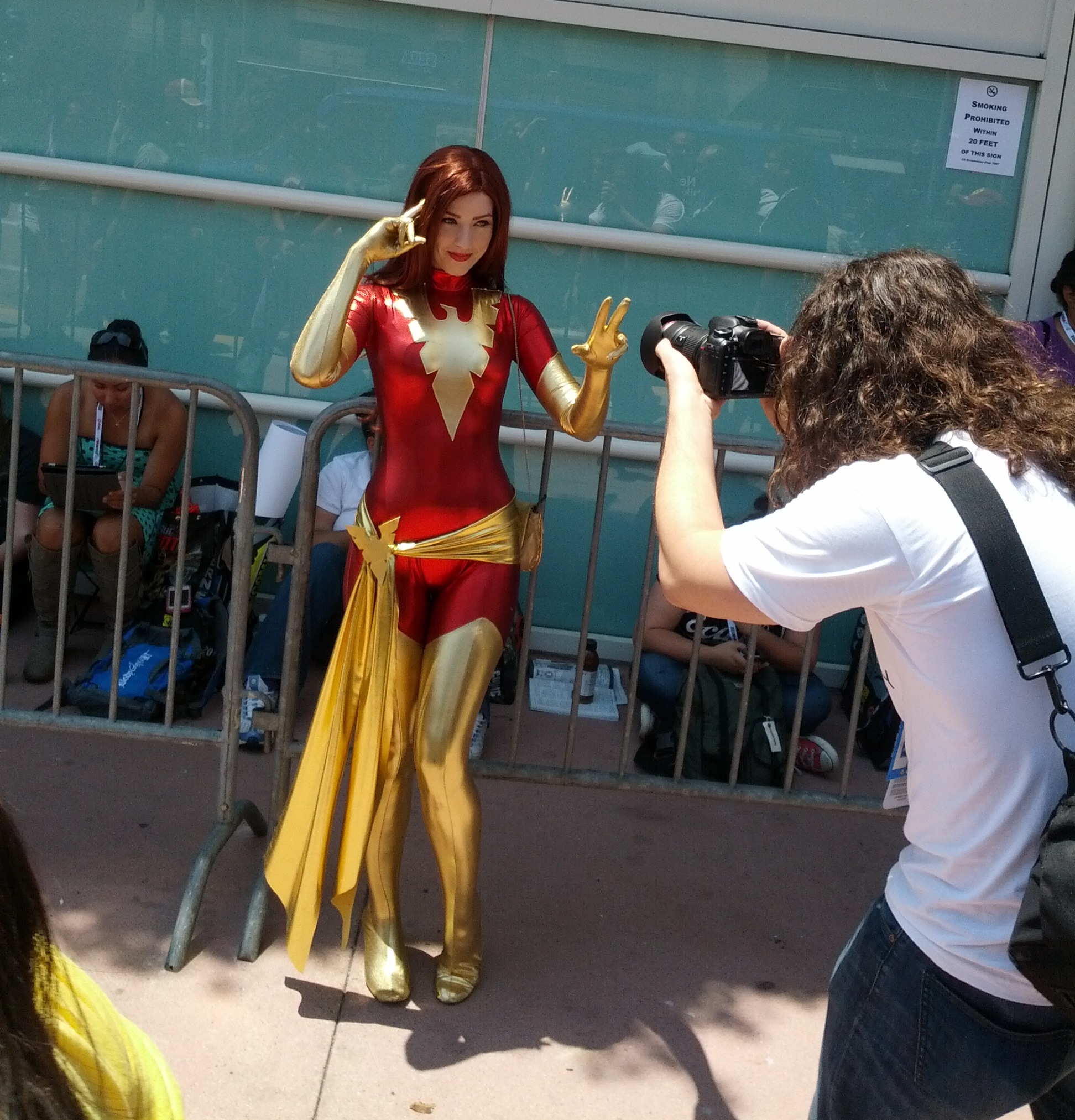 I was struck by how cos-play puts the body on display. The costumes invite us to look, whether they are form-fitting Spandex, gigantic robots, or the Tardis. Costumed Comic-Con-goers stop and pose for photographers, amateur or professional (though mostly amateur). They pose in the manner of their character, or interact with another character. They get into character. They smile. Or scowl. You might interpret them as colluding in their own objectification. Or perhaps they're using their bodies to interpellate viewers. Whether the costume disempowers or empowers, it's hard not to look.
The photo above is by Ben Towle. My impulse to photograph costumed people frequently collided with my worry that photographing costumed people would be voyeuristic,… despite the fact that costumed people seemed happy to be photographed (and, as you can see above, create excellent costumes!).
Gene Deitch
Animation historian Jerry Beck and film critic Leonard Maltin interviewed Gene Deitch. As Beck introduced Deitch as a legend, Deitch quipped, "If you get old enough, you get to be a legend."  Recalling his days at UPA (working as an assistant to UPA co-founder John Hubley), Deitch dispelled myths about UPA's "house style." He said,
UPA was trying to prove that any art could be animated. It just had to be the right art. … What the essence of UPA was was that they didn't have a house style. … They didn't have a standard – until they came up with Mr. Magoo, and then they got locked in to that.
He added, "At UPA, when we adapted a book, we went right to the style of the creator. … And that was what we did at Weston Woods, too." (Deitch animated classic children's books for Weston Woods, including Harold's Fairy Tale, A Picture for Harold's Room, and Where the Wild Things Are.)
Deitch discussed his cartoon Nudnik. "My grandmother was always referring to people in disdain as a nudnik, and I always though it was a sort of a no-nothing," he said. But he had the definition of the word wrong. He shouldn't have called the character "nudnik." Leonard Maltin offers "A schlemiel," and Deitch responds, "A schlemiel is what he should have been called." He later learned that "the word 'nudnik' in Yiddish means 'a bore.'"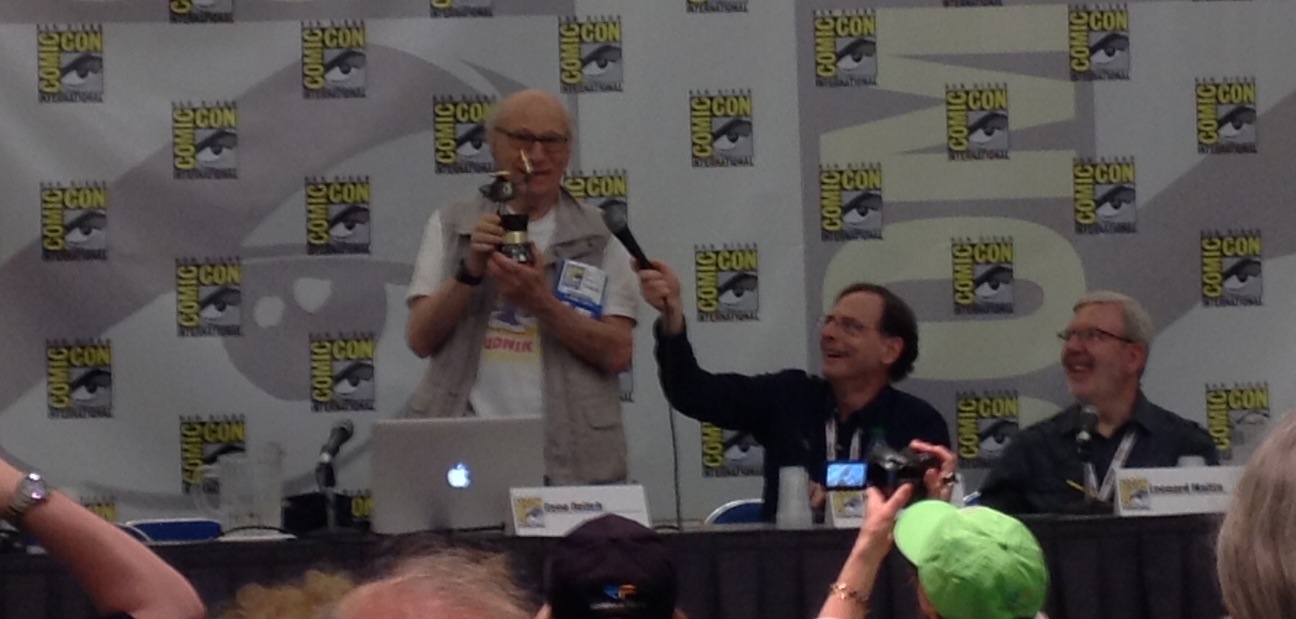 Other quotations:
"We never meant anything that much. We just filled out the program."

–Â Deitch on what studios thought of animators

"The whole idea was the animation was so rotten you had to have a big orchestra."

– Deitch on Terrytoons, prior to his time there.

"John Hubley only used a few words now and then, when I was his protégé. But he said the important thing is to know what is about…. Even a simple-minded cartoon, it has to say something."

"I was imitating Saul Steinberg, and Jim Flora, and a lot of other great graphic artists. And other people are now imitating me. And that's the way it goes."

– Deitch responding to Beck's observation that he influenced Ralph Bakshi, who in turn influenced John Kricfalusi
The line to nowhere
Thinking that a 45-minute wait in the long, snaking line would get us to the Sherlock panel in room 20, we got in line. 45 minutes later, we decided to stay in line because the next event in room 20 would be The X-Files 20th-anniversary reunion, featuring both David Duchovny and Gillian Anderson. After nearly two hours in line, we realized… no. We'd never get there in time. Stepping out of line and seeing how many more zigs and zags were ahead of us, we realized we were right.
The moral of our story: You can either go to one Big Media Event, or you can attend Comic-Con. The latter is the better way to go.
Tom Gauld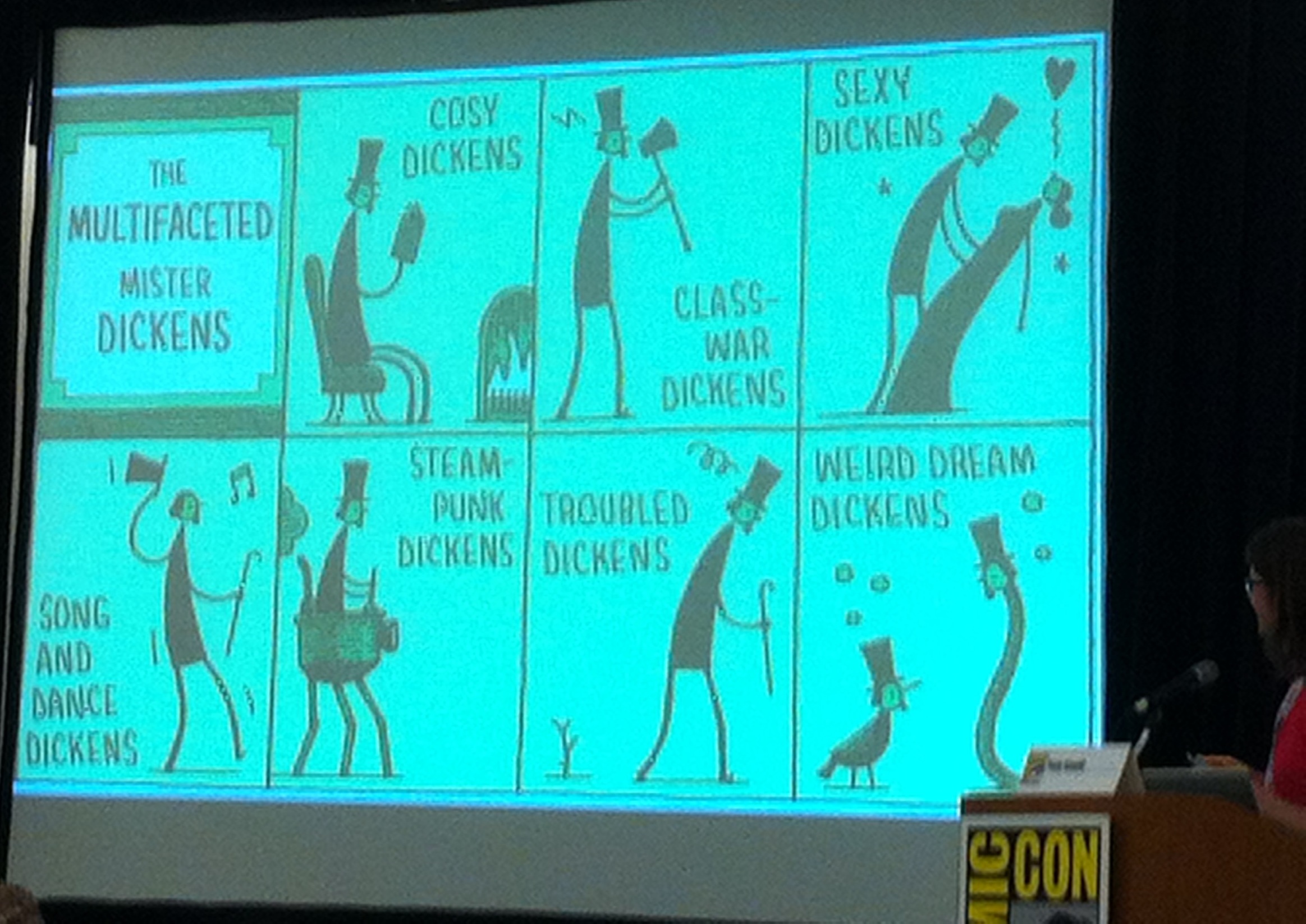 Tom Gauld, who creates cartoons for both The Guardian and The New York Times, does brilliant, Gorey-esque work. Not surprisingly, he acknowledges Gorey as a major influence. Only caught the second half of this panel, but I'm definitely going to buy his books tomorrow.
Jeff Smith
Smith arrived few minutes late because of a Make-a-Wish Foundation request. He then did a reading from Rasl and talked about some of the technology that informs the project.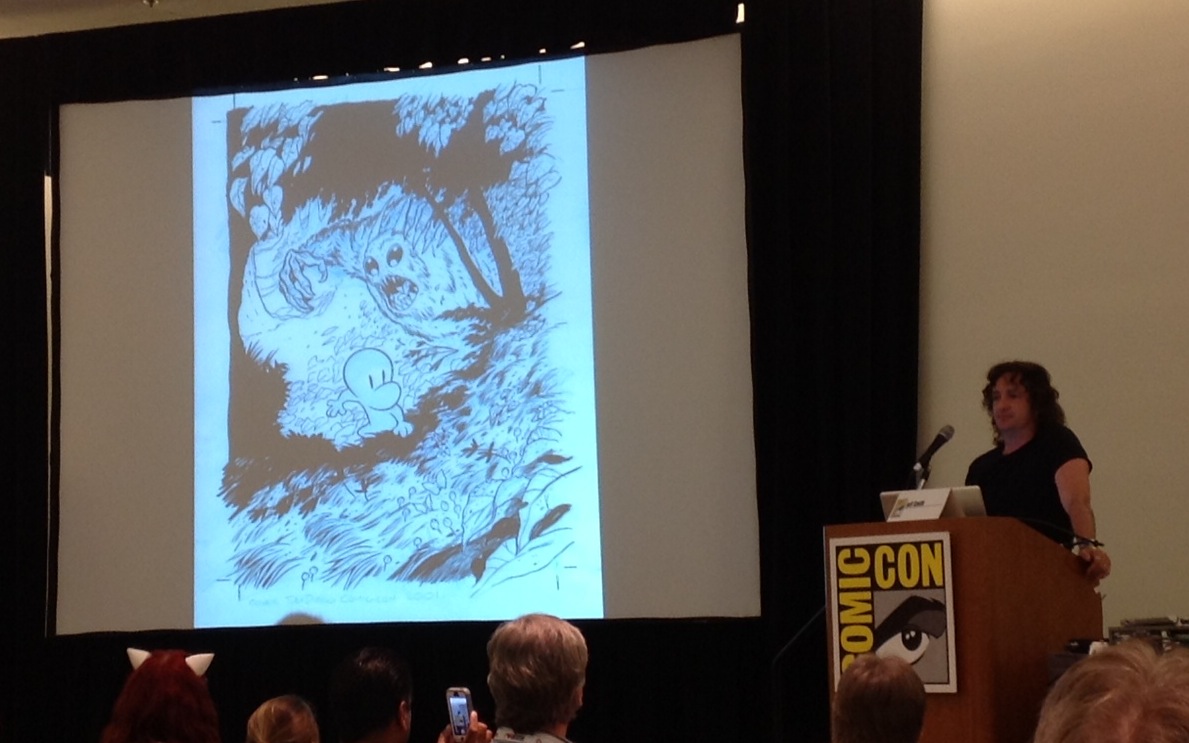 Some Bone news.  First, IDW is going to do an artist's edition of The Great Cow Race with bonus material. Second, Smith mentioned, "I am talking with Scholastic talking about new Bone projects, and they will be all 100% me.  They're not sequels, but they're still going to be kind of fun."
In November, Jeff Smith is starting a new webcomic. Â It's called Tuki. It's "a lot more like Bone than like Rasl," he says. Â It's set 2 million years ago, in Africa. Â It's the story of Tuki, the first human to leave Africa.
In response to a young questioner, he tells the story (which you can read elsewhere) of making up Bone cousins, when he was a kid. Â Then, he read JRR Tolkien and other fantasy, and Moebius' Heavy Metal. Smith said, "I thought it would be fun to take American cartoon characters and put them in a European fantasy."
Thanks to the Scholastic editions of Bone, he gets lots of fan mail. The two things that get drawn the most by kids are: (1) Gran'ma Ben's house on fire, and (2) the Dragon coming to the rescue.
Question: What artists are out there right now who you're into?
Jeff Smith answers, "My friend Paul Pope. … I think Paul's grasp of the dynamics of comics are about as good as anyone I've seen since Kirby. And I'm not exaggerating." He adds, "I'm a huge fan of Kate Beaton, the Canadian cartoonist who does 'Hark, a Vagrant.'"  And he likes: Faith Erin Hicks, Ed Piskor, Eleanor Davis, Jim Rugg, Jeffrey Brown.
More quotations from Jeff Smith…:
On Bone:
"I wanted to use the funny animal comic, but I wasn't writing a children's book…. It only later became a children's book when children started to read it…. It was the schoolteachers and the children who turned Bone into a kids' book."
On Tuki:
"With Tuki, I want to back to the idea of something that could be in the newspaper, on Sunday morning."
On Rasl:
"Blade Runner, the movie, was a big influence on Rasl."
On being Guest Editor for this year's Best American Comics:
"The 9-year-old in me loved it. My job is to read the hell out of these comics…. I went to the store, and I bought some cookies, and milk. Â And I went back home and sat on the floor all day and read comics. Â The next day, I just drank bourbon."
Wonder Women: On Paper and Off
After dinner with Ben Towle and the Hatfields, we went out to the Women's Museum of California for "Wonder Women: On Paper and Off," at which Trina Robbins, Ramona Fradon, and Mary Fleener –Â all pioneering women in their field – shared their experiences of working in the comic industry.
Though a defunct microphone and plane traffic overhead made hearing a bit challenging, it was well worth venturing away from Comic-Con for this event.
A few words on our panelists:
Trina Robins' final and definitive history of women cartoonists –Â Pretty in Ink – will appear in the fall. Her collection makes up the bulk of the exhibit, which runs through September 1st. Â If you're in the area, check it out!
Ramona Fradon has worked for DC since 1951. She worked on Aquaman, and co-created Metamorpho. She worked on Superfriends, Plastic Man. Â She also spent 15 years drawing Brenda Starr, 1980-1995.
Mary Fleener started doing comics in 1984, inspired by an article Matt Groening wrote on mini-comics. If you don't know her Life of The Party, check it out –Â autobiographical comics that are both formally challenging and engaging.
The panel was all Q+A. It began with Trina Robbins correcting a misperception about women and comics. Rose O'Neil, Grace Drayton – the very early women cartoonists –Â did wonderfully and were very famous. At that time, Robbins said, nobody thought this was a male profession. That belief came later, after the Second World War. Â During the war, while the men were off fighting, more women were drawing for comic books than ever before. Â After the war, the men returned, and the women were simply not re-hired. Â That continued through the 1960s. As a result, she observed, subject matter in the 1950s and 1960s also wasn't very interesting to female readers:Â "Women were not interested in men with sharp chins and big muscles beating each other up."
Fleener noted that the Hernandez Brothers got a lot of women into comics because Love & Rockets had a predominantly female cast of characters.  Love & Rockets inspired Fleener. And then the underground comics in the 1980s were more autobiographical, offered a woman's point of view.
Fradon, one of the few women working in comics in the 1950s and 1960s and 1970s, described her experience: "All the time I was working in comics drawing superheroes I was having daily identity crises. I just didn't identify. I didn't like violence. The angles you had to draw were so extreme."  She got into comics because she was a good artist. Her husband, an aspiring New Yorker cartoonist encouraged her to pursue comics.  So, she did, and made a respectable living at it.
All panelists said much more of interest, but since I need to get to bed (it's 1:30 am as I write this sentence), I'll offer a few quotations from them.
"Occasionally DC and Marvel want to do comics with a social conscience so they can say 'We're not all bad.'"

–Â Trina Robbins, on writing the "domestic violence" issue of Wonder Woman

"They were these boring guys in ugly costumes and short hair."

– Trina Robbins, on why she didn't like superheroes

"The thing I didn't like about superheroes is that you couldn't tell one from another without the costumes."

– Ramona Fradon

"The message in Marvel comics is radiation is good for you."

–Â Trina Robbins, on the many Marvel superheroes get their powers from radiation

"So many layers to the characters — that's what I really like about his women."

– Mary Fleener on Gilbert Hernandez' Love & Rockets

"She gains weight the way a woman really gains weight. Â She gains it in the hip, she gains it in the butt. Not in the breasts."

–Trina Robbins on how Jaime Hernandez draws women

 "In the years I was drawing Brenda many women said she was an inspiration. Some women who were journalists said they went into journalism because she was an inspiration."

– Ramona Fradon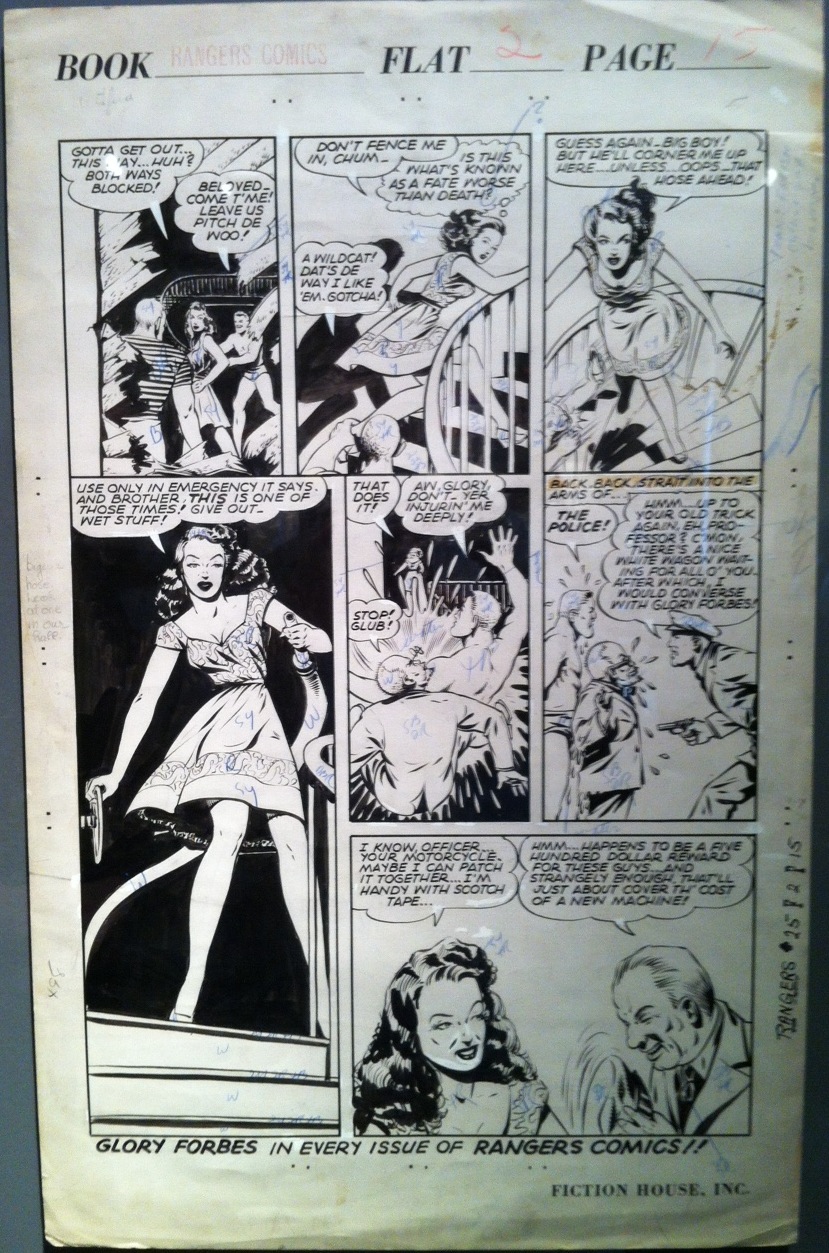 Above: Glory Forbes by Fran Hopper (mid-1940s).
That's all for now. Â Tune in again tomorrow!
The rest of my 2013 Comic-Con coverage: