And now, a few notes from day 3 of Comic-Con 2013.
A Simple Repast, Coming This Fall
Jerry Griswold invited me for breakfast at the Broken Yolk, which (we discovered) had been leased by the TruTV television show (Impractical) Jokers. As we sat at the table, we noticed that a laminated advertisement fully covered the table's surface. Then, a smiling young woman employed by the network stopped by to hand out an advertisement disguised as comic book. She also invited us to flick a spinner on a plastic wheel, to win a prize. I did and won a sturdy keychain bearing the name of the network. So did Jerry. For those who are interested, the television program seems to involve four white men getting into mischief. Alleged hilarity ensues.
Brought to You By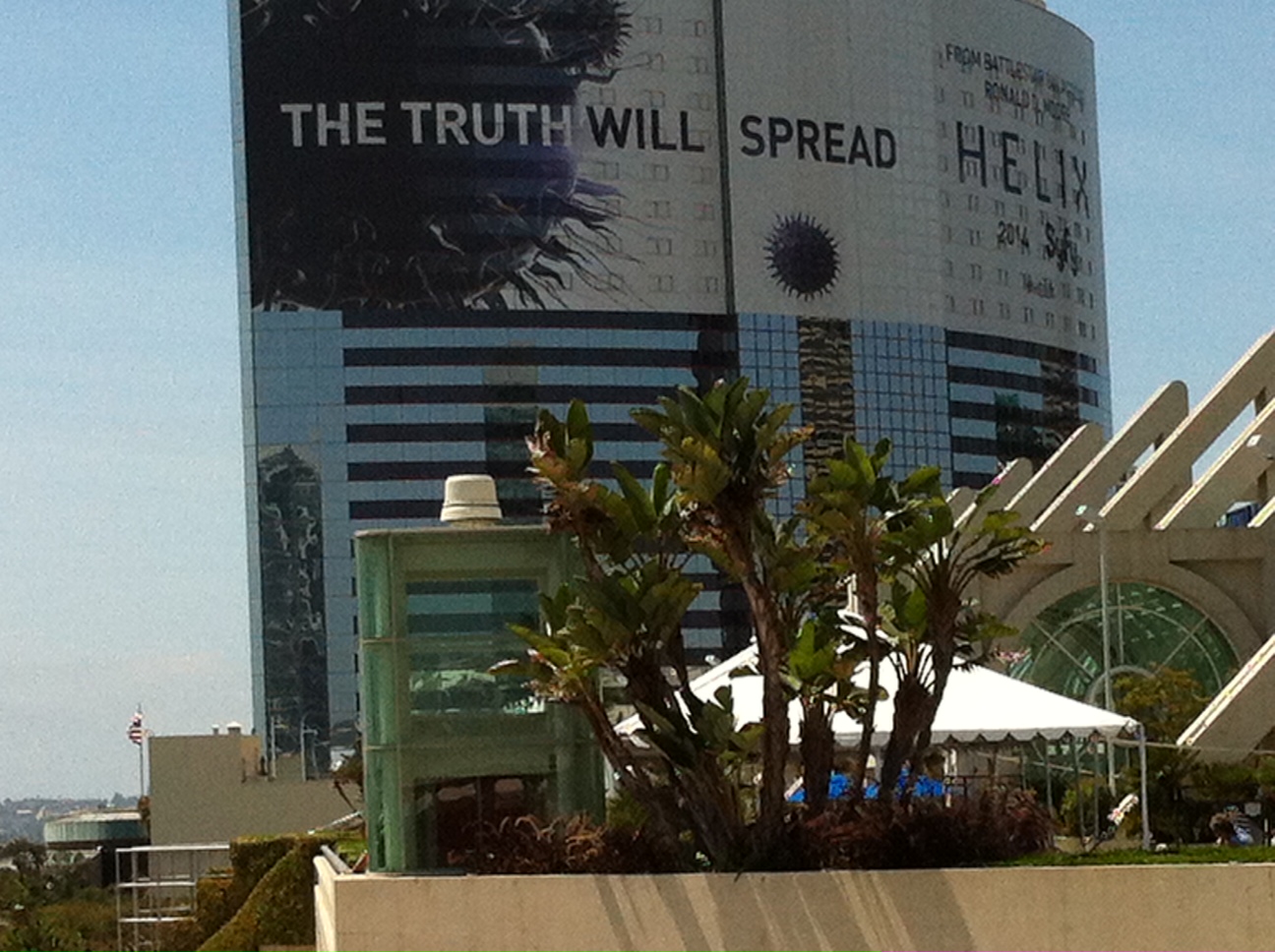 Advertising covers every available surface at the Con itself. The sides of buildings, the sides of buses, the sides and backs of bicycle taxis, the sides of people. To be at the Con is to be immersed in glossy appeals from the entertainment industrial complex. Not that anyone expected otherwise.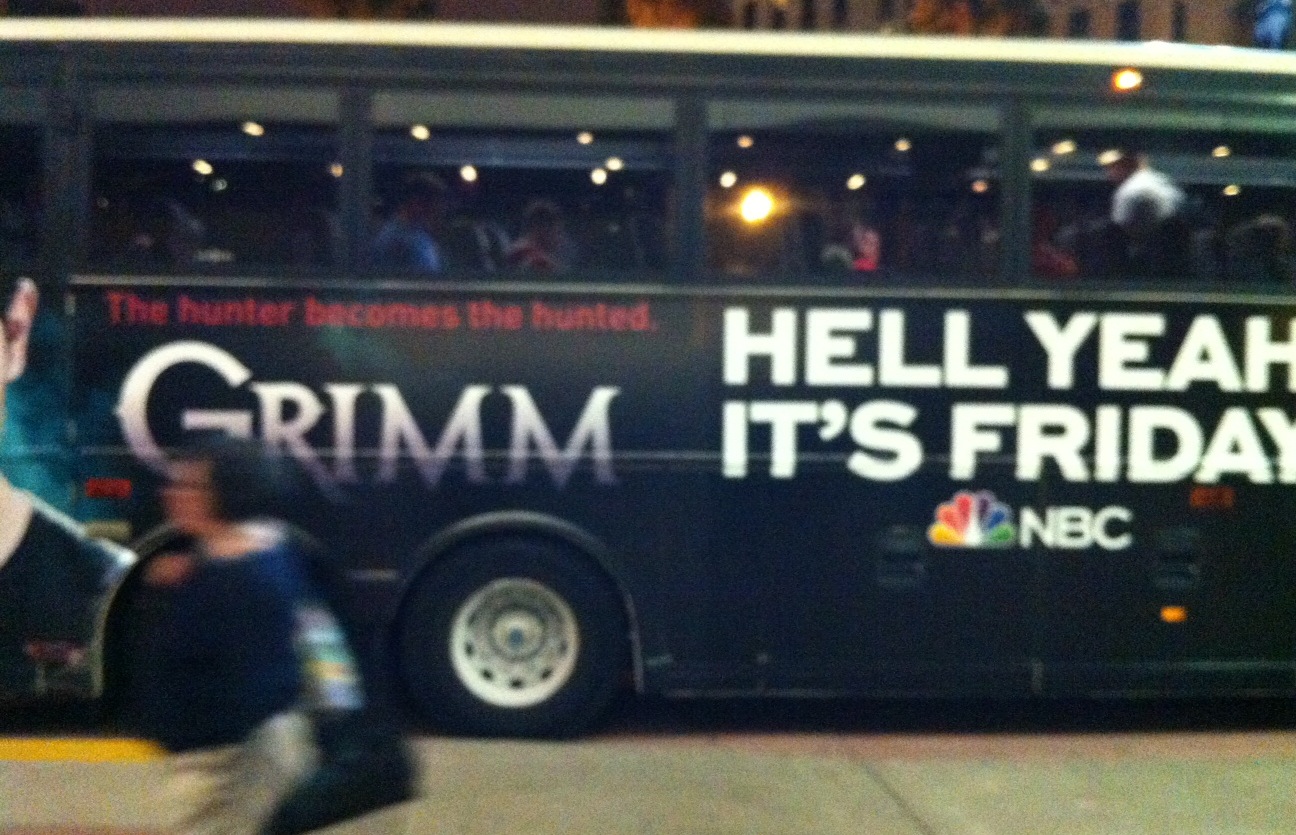 Juxtaposed Images vs. Juxtaposed Text and Images: Smackdown!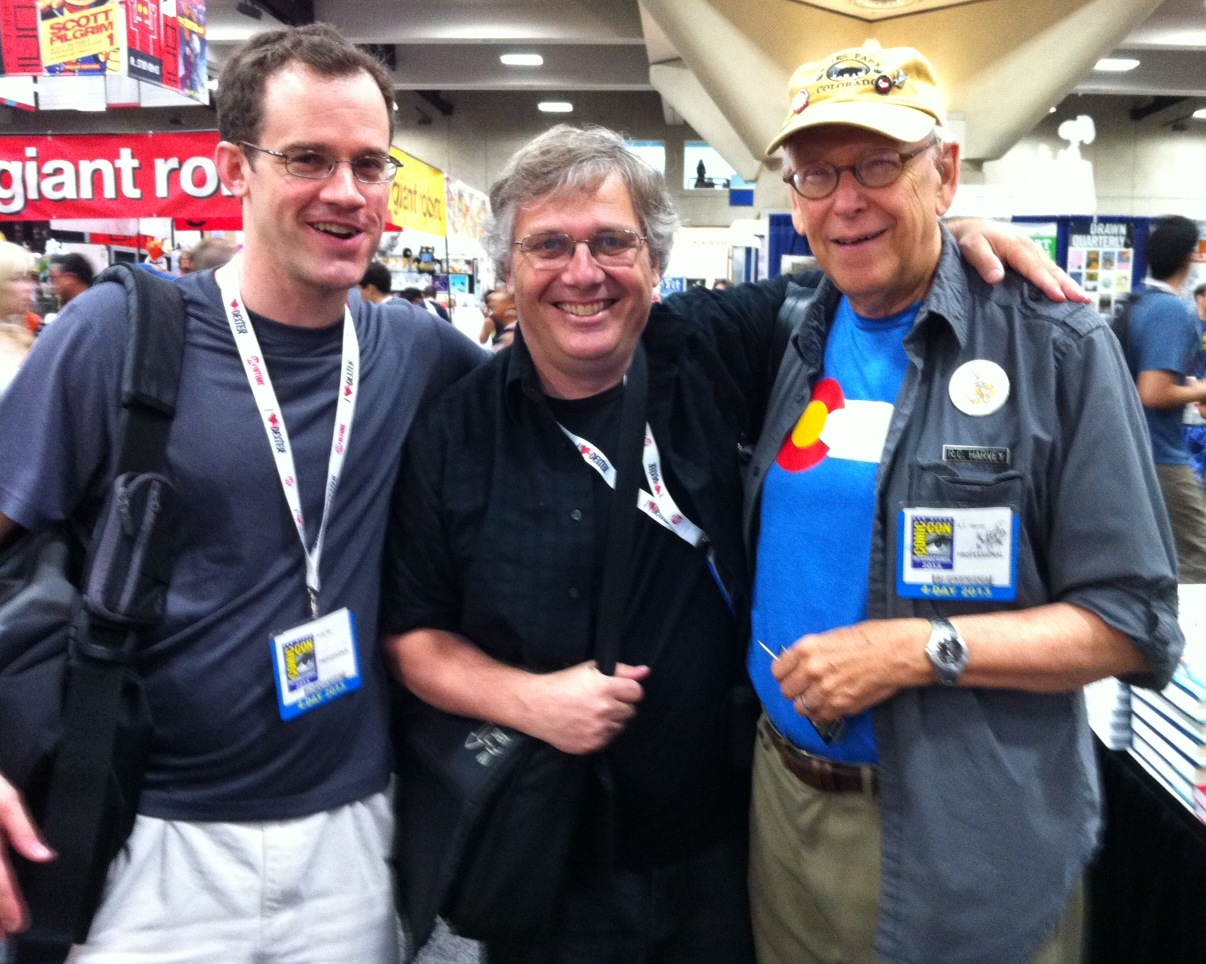 While loitering at the Fantagraphics booth, I met R.C. (Bob) Harvey, whose work I've read and admired for years.  Then, Scott McCloud strolled up to chat.  Haven't seen him in, oh, 5 years at least. Great to see him again. As if on cue, these two theorists of comics – with opposing views on how comics work – began a friendly debate. As my students (and, really, all people who are serious about comics) know, Scott McCloud, following Will Eisner, defines comics as "Juxtaposed pictorial and other images in deliberate sequence." For Harvey, however, the key juxtaposition is between text and images.
Here is a slightly sketchy, inaccurate recreation of our conversation:
Harvey: Have I convinced you yet that text are part of comics?

McCloud: Isn't text a kind of image?

Harvey: When a definition gets too broad, it loses meaning.

McCloud [not taking the bait]: That can happen, true.

Me: There should be a panel –Â at a future SPX? at a future Comic-Con? –Â with both of you, Mark Newgarden and Paul Karasik – debating how comics work.

McCloud: And Dylan Horrocks. Have you read his "Inventing Comics"?

Me: No. Where would I find it?

McCloud: It appeared in The Comics Journal. I think he also has it on his website. It's a very eloquent, smart take-down of me and Understanding Comics.

Me: Thanks.  I'll check it out.
Gauld = Wry, Topical Gorey
Scott, Karin and I walked over to the Drawn & Quarterly booth, to say hello to Tom Gauld.  I wanted to tell him how much I enjoyed his presentation, and buy a few books – his, the new Spiegelman anthology, more Moomin comics….  But back to Gauld. Later in the afternoon, I read You're All Just Jealous of My Jetpack, and I think many of my fellow English professors (or, simply, anyone who is a great reader) would enjoy these cartoons.  Rendered with Gorey-esque style and humor, they're more topical and wry than Gorey. Though some have dark undercurrents, Gauld's comedy creates a brighter mood. I laugh out loud at these more often than I do at Gorey's work. The comic below is actually one of the less topical collected in the book, but it's definitely a keeper.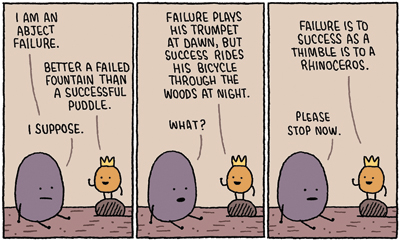 Here Comes Snoopy
I also got to meet Snoopy. (That's him, on the right.)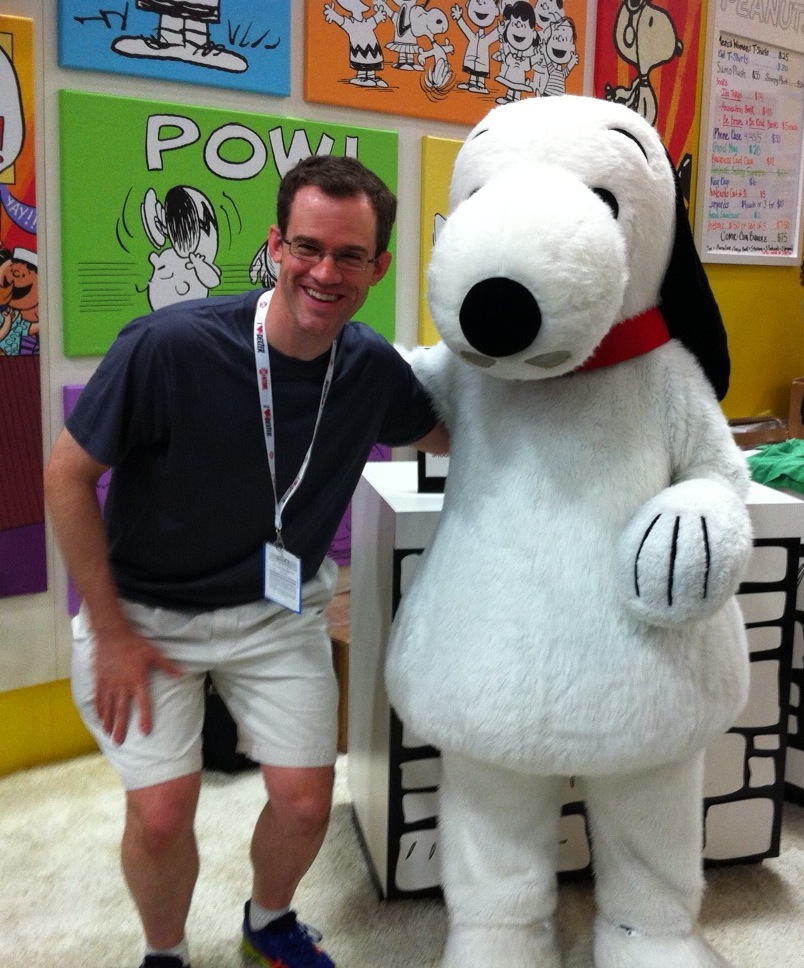 My first choice would have been a photo with Charlie Brown, but I understand that he is currently in traction, following an unfortunate, annual kicked-and-missed-football accident.
Drawing Stories: What's New in YA Graphic Novels
Panel featuring: Vera Brosgol (Anya's Ghost), Gris Grimly (Frankenstein), Faith Erin Hicks (Nothing Can Possibly Go Wrong), Hope Larson (Who Is AC?, Madeline L'Engle's A Wrinkle in Time), Paul Pope (Battling Boy)
Moderator Scott Robins asked: What did you read as a teen-ager?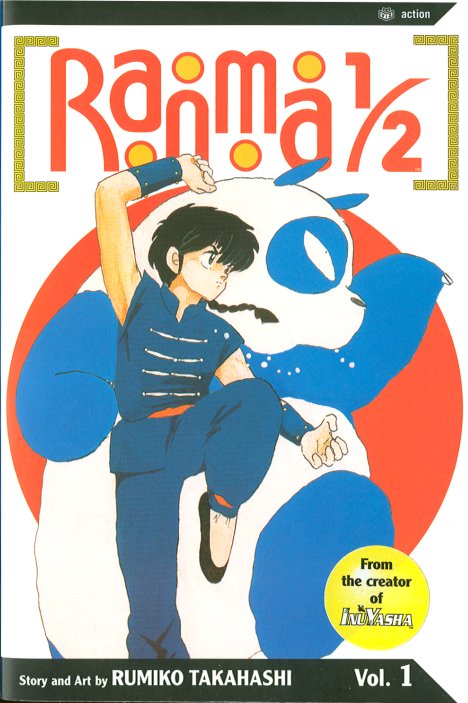 Vera Brosgol read Sailor Moon and Pokemon. She got really into manga. Â Sheoved Rumiko Takahashi's Ranma 1/2 and Hiroaki Samura's Blade of the Immortal.
Gris Grimly responded, "I wasn't allowed to read comics, but as a kid I would read New Mutants and hide it.  I'd stick it in my backpack between schoolbooks and stuff.  I was really into horror even though I wasn't allowed to read horror."  He also admitted that his books are really more children's books than comics, but that he had always really wanted to draw comics.  As a result, he said, "My books stand out in the children's book sections because they look like comics."
Faith Erin Hicks answered, "I am Canadian, and as all good Canadian children do, I grew up reading Tintin and Asterix…. But when I hit my teenage years, I didn't really have access to comics. Â There was one comic book store, but it was terrifying…. I had no access to comic books that were appropriate for a 15-year-old to read." Â She added, "I started making comics because I wanted to make the sort of comics that I wanted to read." Â Getting back to the question, she admitted, "As a teen-ager, I mostly read prose." She mostly read science fiction.
Paul Pope said, "I read what ever I could find, but the stuff that I lvoed was Dune. I read Heavy Metal magazine. Â I loved Carl Barks. Â I read Moby-Dick." These comments made me see immediately why he and Jeff Smith –Â who recommended Pope's work yesterday –Â would be friends.
Hope Larson told us, "I was kind of an anime and manga nerd in high school. Â So, Ranma 1/2. And then I got into indie comics — Dan Clowes, that sort of thing."
Scott Robins asked: How many of you on the panel are readers of YA fiction? Â If so, does that play a role in your work?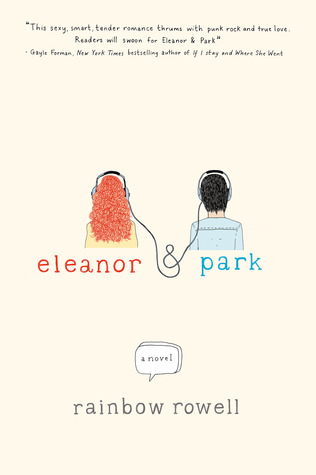 Faith Erin Hicks responded immediately: "I'm a big reader of YA. I read one on the plane." That book was Rainbow Rowell's Eleanor & Park. She wants to see more YA comics. She would like to see books like Alexie's Absolutely True Diary of a Part-Time Indian in comics.
Others admitted that they don't read much YA. Hope Larson responded, "Lately, I don't have as much time to read. I read YA, but I read my friends' books."  Paul Pope said that "Once you start working, you go … down into a trench. All I look at right now is Moebius and Kirby.  I feel like you can do two things. You can either read everything or nothing.  I'm reading nothing."  Gris Grimly admitted that most of his influences come from children's literature of over 100 years ago – Alice's Adventures in Wonderland and The Wonderful Wizard of Oz.
In a discussion of why teens read, Paul Pope said that when you're a teenager, "You read to enhance your experience." Teen-agers, he said, are trying to understand their experience, see possible futures. I thought that an insightful comment.
In a discussion of the future of the YA graphic novel, Paul Pope had an explanation for why there are currently so few: "You have to have two disciplines down, a writer and an artist, to do YA graphic novels. And that's 20 years to become each."  Though (as she admitted) the author of an adaptation herself, Hope Larson said, "What I would hope about YA comics is that I'd like to see more original fiction and less adaptations."
In response to an audience member's question on making comics more female-friendly, Faith Erin Hicks said, "Not all girls need to have large bosoms" –Â which inspired much applause from the audience. Paul Pope agreed: "Comics have been dominated by the male gaze."
One interesting question that no one really had an answer for is what makes a YA comic book a YA comic book. Gris Grimly wasn't sure. Faith Erin Hicks said "Because they're about teenagers." But, as Ben Towle pointed out in a question, teen-agers often read books about adults. So, not an easy question to answer.
In response to why adolescents read what they do, Paul Pope said: "They trust stories to tell them the truth. Â You cannot lie to children in books."
Humor in Graphic Novels

On this panel, Andrew Farago, Jeffrey Brown, Tom Gauld, Lisa Hanawalt, Ellen Forney discussed –Â you guessed it –Â humor in graphic novels.
They began by discussing how they got into writing humorous comics.
Jeffrey Brown noted that humor "lets you deal with sometimes serious subjects, but there's this distance that the humor gives you that grants you a different perspective"
Tom Gauld: "I wanted to be a deep dark soul who was tormented, but I just wasn't. … And I've found that through that humor, you can still have a depth…."
Lisa Hanawalt: "It was a way of interacting with other people if I was shy"
Ellen Forney: "I think having a sense of humor is a great way of coping with life."
Lisa Hanawalt: "Sometimes the funniest things are the saddest things."
Tom Gauld: "A lot of humor comes from things failing…. For something to be funny, you need that balance — funny and sadness, and awkwardness."
Next, Andrew Farago (our moderator) switched to background in cartooning, asking "What led you here today?"
Jeffrey Brown: "About 15 years ago, I started writing autobiographical comics. And I focused on the most awkward things. I was trying to show how stupid I was."
Tom Gauld: "The thing I do — the weekly thing for the Guardian — and so every week, I think that the joke is like a little machine that I'd like to make work. And it's not really about anything else other than itself. Â Whereas in a longer work, the joke is in service to the story. The joke comes out of the situation. It can't be funny all the time."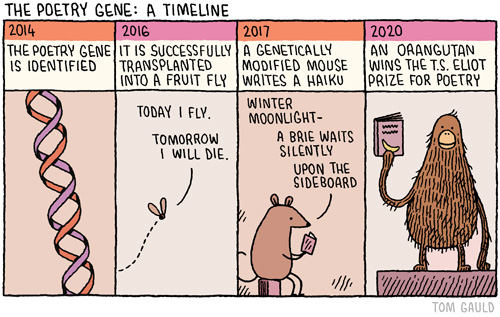 Lisa Hanawalt: "Comics are the most efficient way for me to take whatever I've been experiencing in my life"
Ellen Forney: "Telling — especially retelling — something that was intense or awkward is a way of owning it, controlling it."
Andrew Farago observed, "Every time I've done a panel with humor as a topic, it's always become about misery"
Tom Gauld added that there's the idea that "'Happiness writes white' because when it's happy there's nothing to say"
Tom Gauld noted that people think that writing cartoons must be fun. He acknowledged that, when you get the idea, it's great. "On either side of that moment, I get a kind of brain smile. But the rest of the time, it's just a man sitting alone in a room."
Asked where they draw inspiration from, the cartoonists answered….
Tom Gauld: "My work's abstracted from the world. It's not really autobiographical."
Lisa Hanawalt: "I take a lot of notes"
Ellen Forney: "just observations from the day"
Next question: Are long-form versus short-form radically different processes for you?
"A really short comic can be a bit like writing a haiku, because everything really matters" replies Tom Gauld, who admits he "likes the constraints." Gauld also explained how he helps people get the joke. He's always thinking, he says, "Someone who hasn't been on this thinking journey that I've been on, how can I leave little markers for them that will lead them to this hilarious conclusion?"
A Tribute to Kim Thompson of Fanagraphics Books

Fantagraphics publishers (and partners of the late Kim Thompson) Eric Reynolds and Gary Groth joined Diana Schutz (of Dark Horse), and Gilbert Hernandez and Jaime Hernandez (whose Love & Rockets is published by Fantagraphics) to remember Kim Thompson.
As Gary Groth noted at the start of the panel, to learn more about Kim, everyone should take a look at the triubutes to Kim on the Fantagraphics website (I think he means The Comics Journal website, because that's where I found them).
Recalling being hired (at Fantagraphics) by Kim, Diana Schutz noted that there were a lot of other women who Kim had reached out to. "Back in the '80s, there were not a lot of other women who were interested in comics. In a lot of ways, we were ignored. So, it was a great honor to be asked to contribute."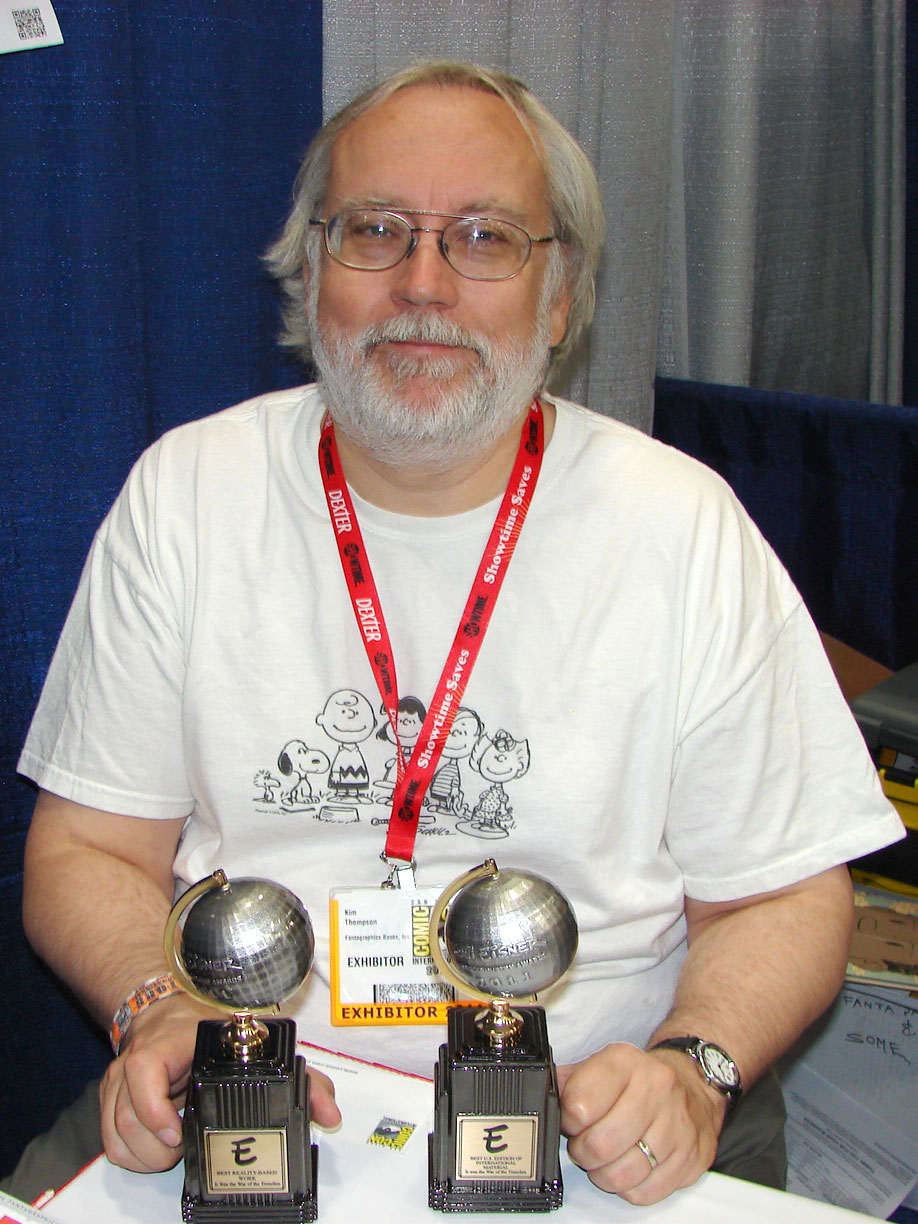 Jaime Hernandez saw Kim as something of an enigma. Imagining saying hello to Kim, he said, "Sometimes it was just "Hey, Kim," and then Kim's reply would be "Hey." And that would be the end of the reaction. Then, Jaime said, "In the Comics Journal, there'd be this review attacking Frank Miller, and I'd wonder: is that the same Kim?"  Recalling that article, (Kim Thompson's review of Frank Miller's Ronan), Gary Groth said that when he and Kim Thompson were out with Harlan Ellison, Ellison took exception to Kim's review.  Gary argued back, vigorously defending Kim's review.  Kim, however, said nothing.  He preferred to argue on the page.
"He was part French bohemian, part comic book nerd, part American punk"

–Eric Reynolds
When he wanted something, Kim would be more outgoing. Affecting Yogi Bear's voice, Gilbert Hernandez demonstrated: "Heyy, Diana! I'm coming to California!" He explained that Kim "had a way of trying to talk like Yogi Bear when he was trying to get something."
I found especially interesting the list of novelists Kim Thompson liked (according to Gary and Eric):
Cormac McCarthy
Douglas Adams
P.G. Wodehouse
Terry Pratchett
"Fantagraphics publishes the best comics that are currently available, but Kim's tastes were wider."

–Â Diana Schutz
Eisners: It's an Honor Just to Be Nominated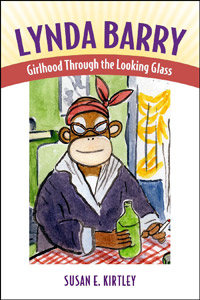 Congratulations to Susan Kirtley on winning the Eisner for best Educational/Academic Work, for her Lynda Barry: Girlhood Through the Looking Glass – and for being the sole Eisner winner seated at our table.  She was so very happy.  Very cool.
For the record, since half of my book was devoted to a non-cartoonist (Ruth Krauss), I thought it an odd fit with the rest of the nominees –Â and the least likely to win. That said, I am an optimist and so was nervous… just in case. The moment Susan won, I relaxed. Whew! I didn't have to get on stage and speechify. But, just in case, I had mentally prepared a few words. Here's what I would have said:
When I began this project, back in the waning days of President Clinton's second term, I never thought it would be nominated for such an award –Â much less be in the august company of my fellow nominees. There are many people to thank, but I'll restrict myself to four. Thanks to Chris Ware for creating the best cover any of my books has ever had or will have. Thanks to Crockett Johnson and Ruth Krauss, who –Â though I never met them –Â became two of my closest friends. Finally, thanks to Karin Westman, who for a dozen years shared her spouse with this book.
Since I couldn't say that there, I'm saying it here.
The big winner of the night was (no surprise!) Chris Ware, who – if my count is correct – won 5 of the 6 Awards for which he was nominated. Chip Kidd (Ware's friend and editor) accepted them on his behalf, and performed his role with élan (and a bit of camp).
Oh, and there were a fair few celebrity award presenters: Edward James Olmos, Sergio Aragones, Neil Gaiman, James Marsters. (It is possible that Sergio Aragones is not a celebrity beyond the comics world, but any reader of MAD magazine would know who he is!)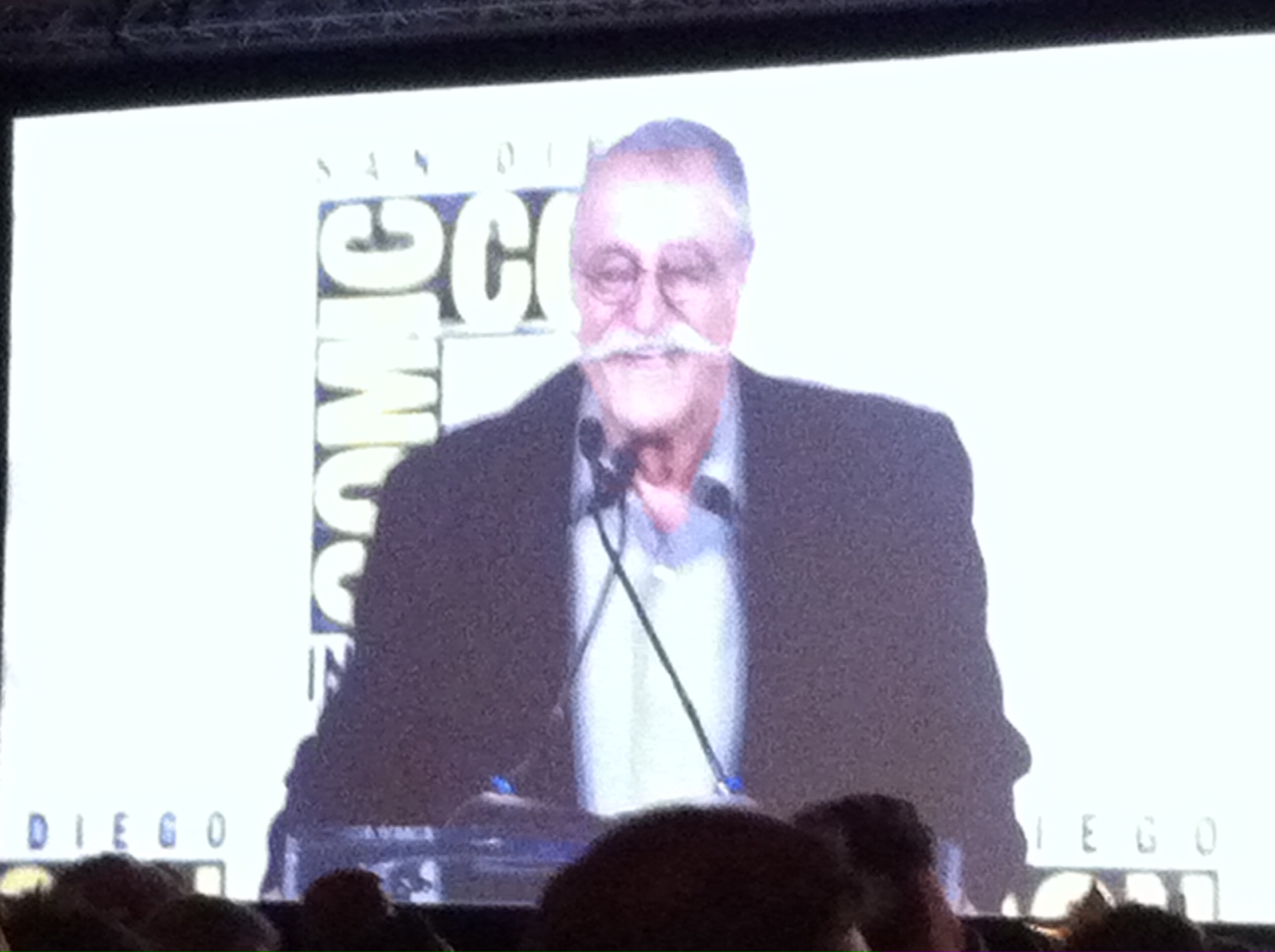 And as part of a bit Neil Gaiman and Jonathan Ross were doing, Chip Kidd kissed Neil Gaiman. On the mouth.

And… that about wrapped things up for this year's Eisner Awards.
I've never been nominated for such an award before, and am unlikely to be nominated again. I think I have a better understanding of those televised awards ceremonies now. The anticipation (and nerves) until your category's done. And then, following the deflation, an ability to focus more broadly on what's going on in the room, even as –Â lacking the former anxiety –Â fatigue begins to set in. The Eisners ran for oh, over 3 hours. I don't remember exactly how long. But this is why other awards shows play the "please get off the stage" music (the Eisners do not). Important to keep the show moving.
We didn't linger afterward. Ben Towle and I congratulated each other on losing an Eisner Award, and then 'twas time for a pleasant walk back to the hotel to write this up.
Coming Saturday morning at 9 am, another signing at Fantagraphics (booth 1718). Barnaby Volume One! The Johnson-Krauss bio.! The Chris Ware poster for the bio!  If you're at Comic-Con, stop by!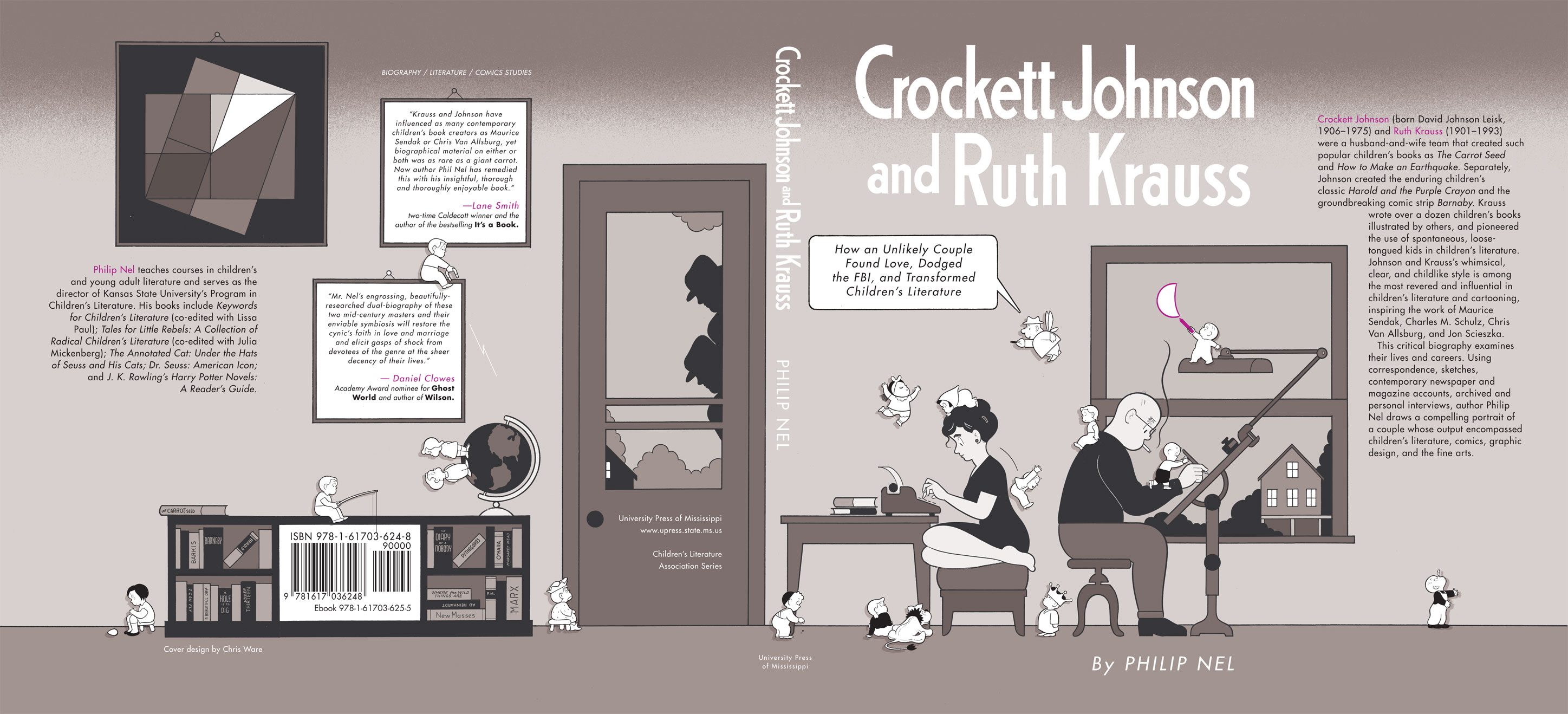 The rest of my 2013 Comic-Con coverage: