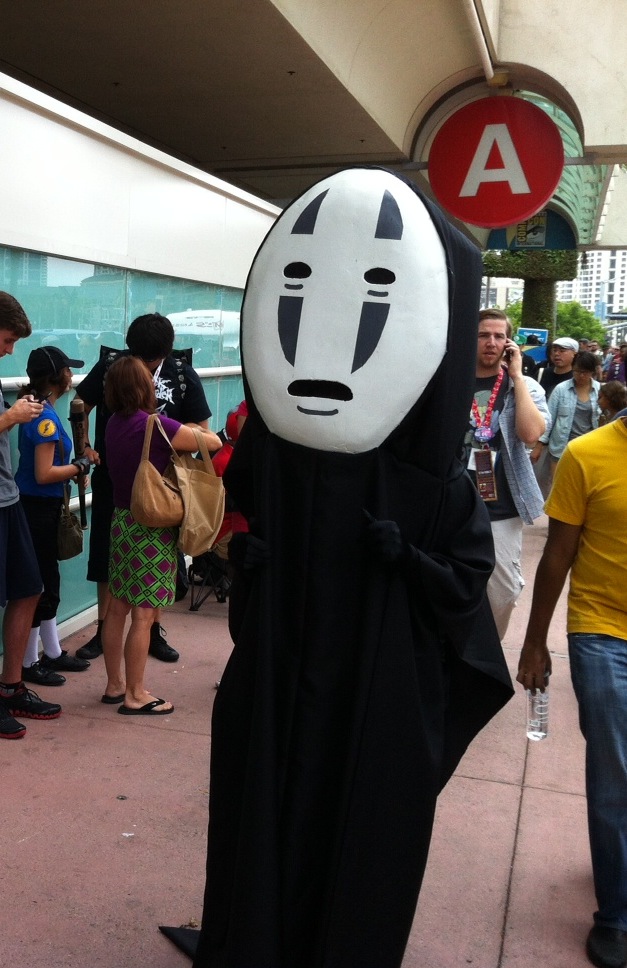 Welcome to the final day of my admittedly idiosyncratic coverage of the 2013 Comic-Con in San Diego. As on previous days, I've given each event or topic a heading so that you can find whatever interests you and then skip the rest.
Getting Into Character
You could spend all of your time here photographing people in their costumes. Some of the people in their costumes seem to come primarily to be photographed. People ask them, they agree, and then they stop and pose. And lots of people take photos. I can't imagine that these folks make it to many panels.
But they do such an incredible job with their costumes. Truly impressive, and such a wide array of characters –Â from comics, movies, TV shows, video games, even some from children's literature. (I saw a Thing One and Thing Two today.)Â  Here are a few cos-players that I've photographed during the past few days.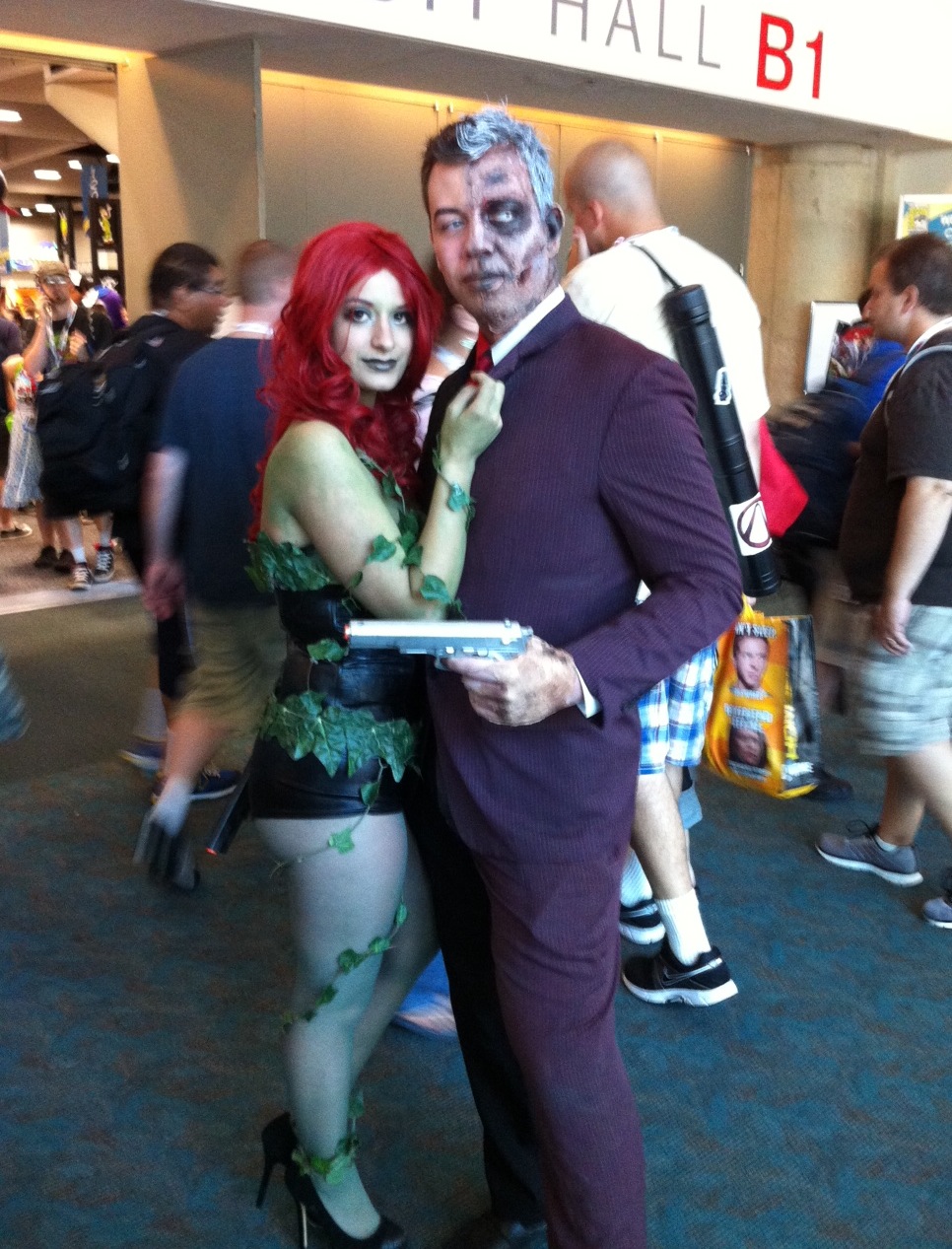 Poison Ivy and Two-Face.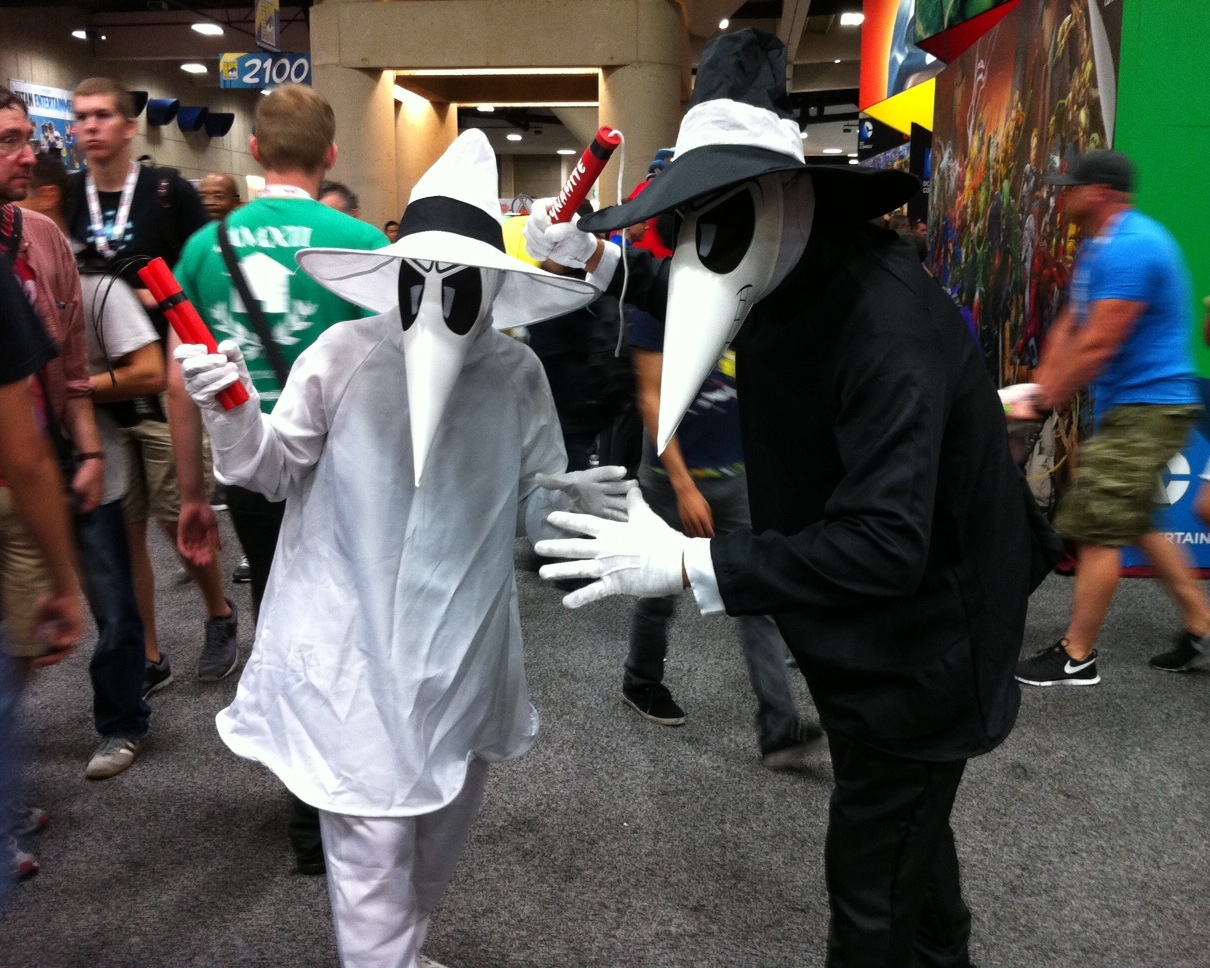 Spy vs. Spy.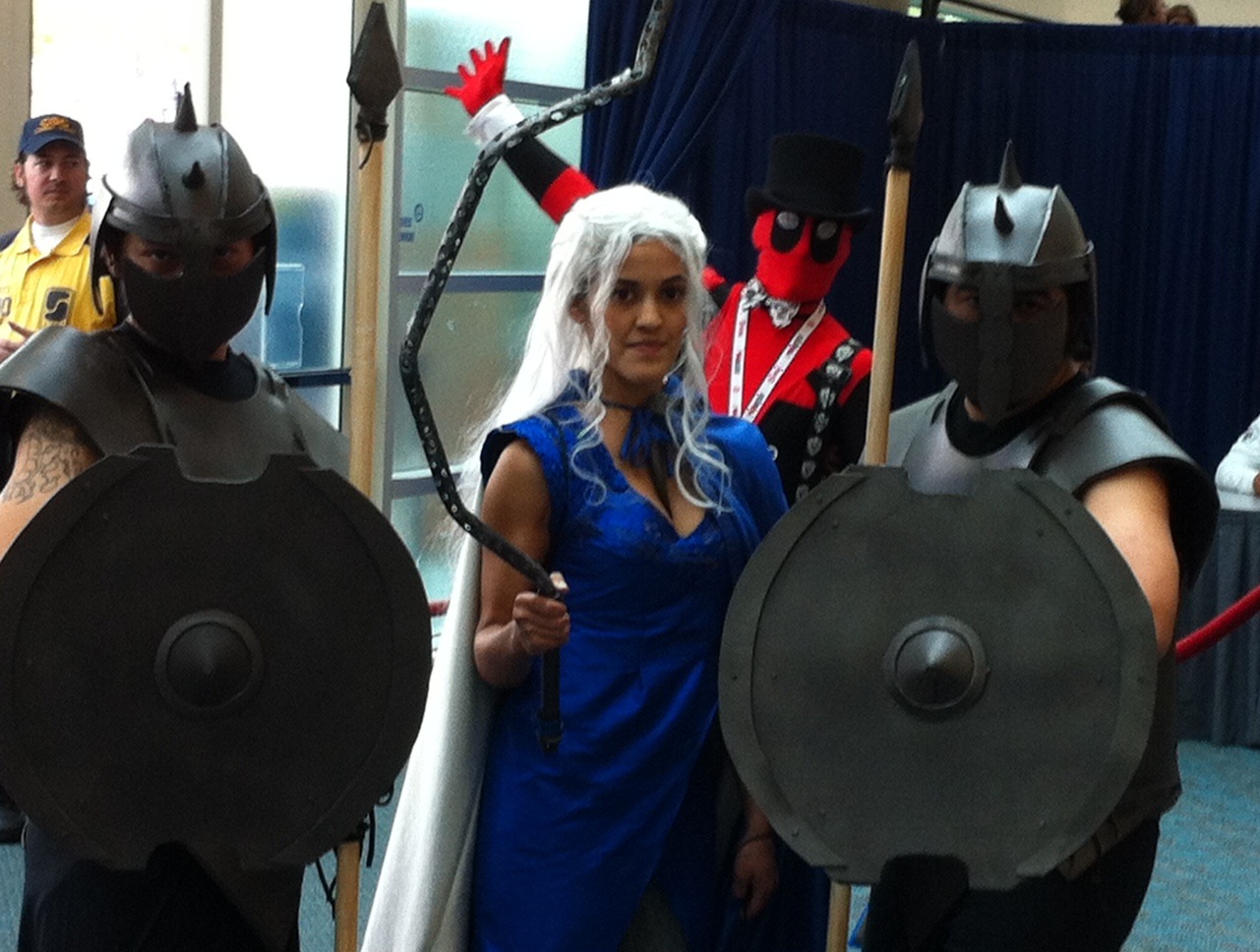 One cos-player photobombs other cos-players.
Funky Winkerbean's 40th+ Anniversary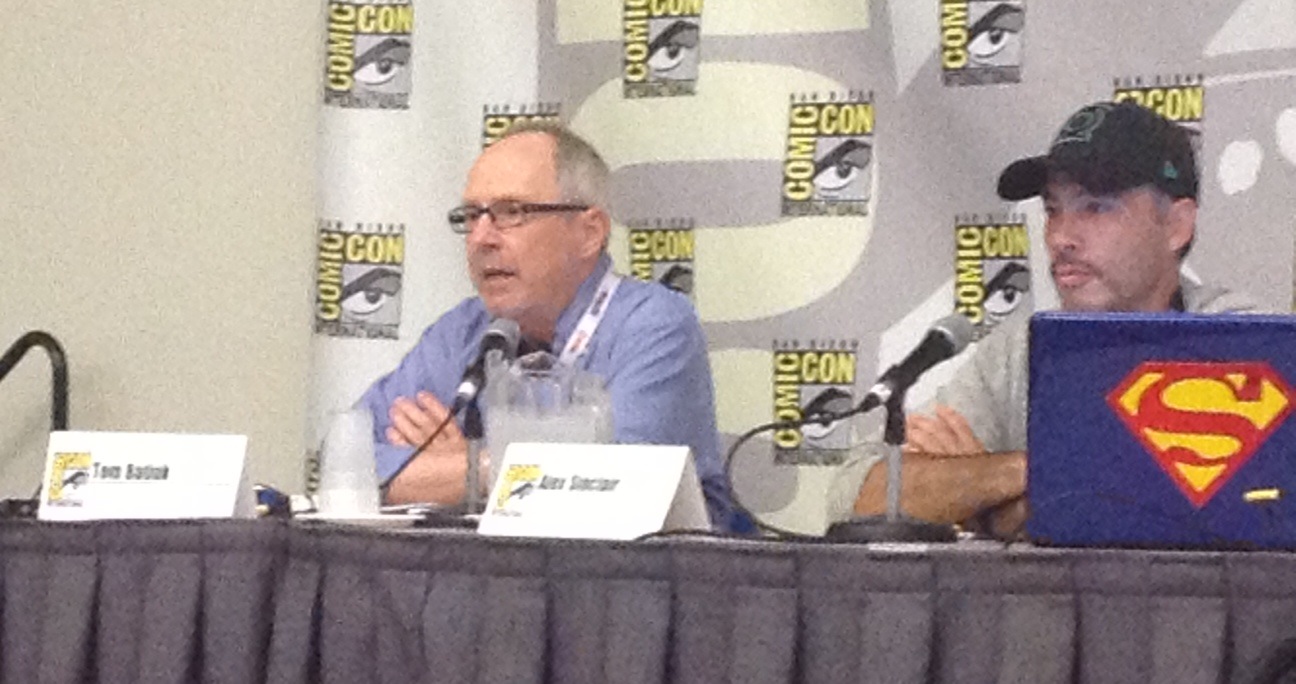 Featuring Tom Batiuk (creator of Funky Winkerbean), and Alex Sinclair (who has done coloring for Funky and for a lot of other comics), this panel marked the 41st year of Funky Winkerbean.
Tom Batiuk has a wry sense of humor, and solid comic timing. Describing Phantom Empire (starring Gene Autry) – an over-the-top combination of western, science fiction, and musical – he said it "viewed genre as an inconvenience."  He's also fond of one-liners like "So, I got up early one morning at the crack of noon."
Batiuk recalled reading comics – or having his father read the comics to him – in the 3rd grade.  He started drawing them not long after. As he said, "I got my first comic book, and learned that there was a party going on inside."
A couple of choice quotations from Tom Batiuk:
"I've spent the last 40 years in a room by myself. I'm lucky. I'm a fortunate person. I like spending all day in a room by myself."

"People often ask me how to get into comics. The first thing I say is don't have a plan B. And the second thing is try to get a room on the sunny side of the hospital."
Alex Sinclair talks about coloring the story of Lisa's cancer, and how in coloring these Funky Winkerbean strips he did the opposite of what he did in comic books. Instead of bright colors, he went for realistic coloring.
The strips about Lisa's cancer –Â displayed on the screen –Â were so very moving that you could hear the audience sniffling (me, too). The strips' tone makes them so effective. They leaven the sadness with humor, but they do so with a light touch, offering a smile in the darkness rather than a laugh.
Two more quotations, in which Tom Batiuk addresses the sometimes serious subject matter of Funky Winkerbean:
"I still get emails: 'I really love your strip, especially the early funny ones.'"

"I don't owe people a funny strip each day…. But what I am obligated to do is give you the best work I could possibly give you every time."
Faith Erin Hicks in Conversation with Jeff Smith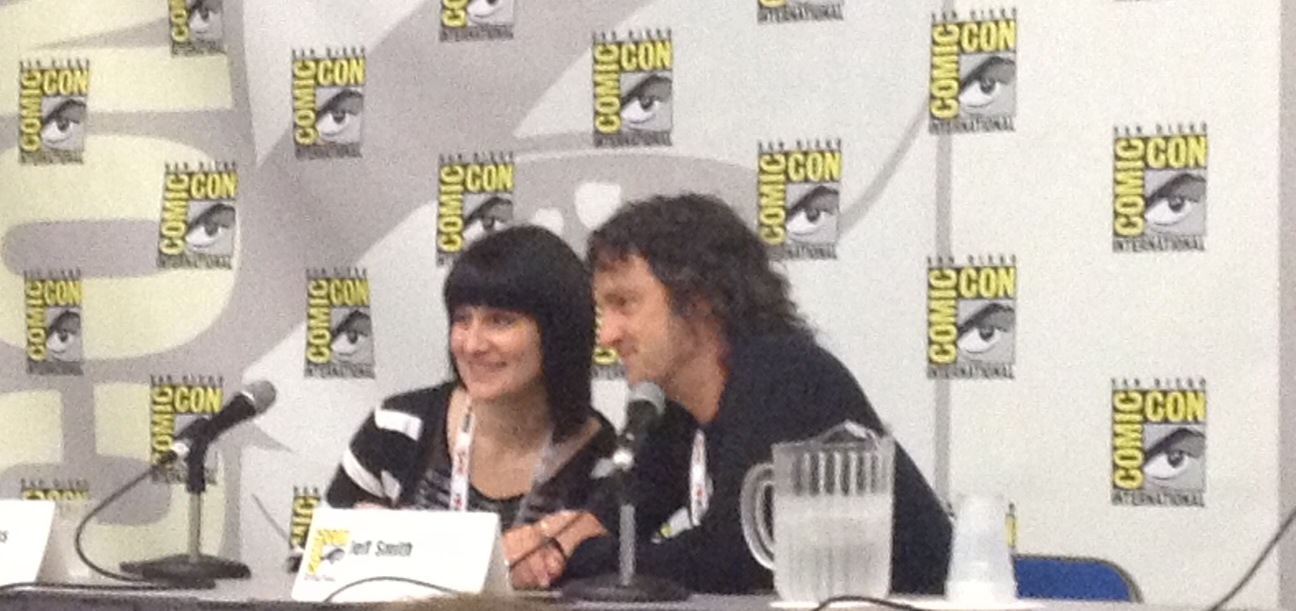 Though he was the rock star on this panel, Jeff Smith kept the focus on Faith Erin Hicks. In addition to being a great cartoonist, Smith is also a great moderator/interviewer.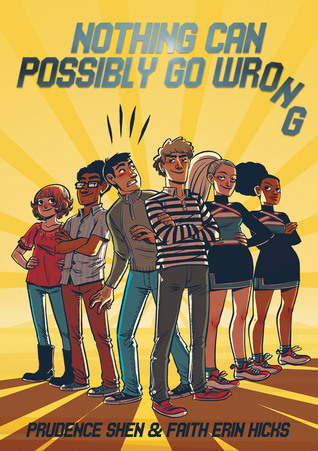 This conference introduced me to Faith Erin Hicks' work, and I'm now a fan. I bought two of her books while here: The Adventures of Superhero Girl and Nothing Can Possibly Go Wrong (adapted from Prudence Shen's novel). I'll definitely be buying more, and – I expect – teaching her work in my Literature for Adolescents class. (See also her comments on the "Drawing Stories: What's New in YA Graphic Novels" panel from my Friday, July 19 Comic-Con report).  OK, now on to the panel itself.
Hicks told us, "I was a teenage wanna-be reader of comics, but there were no comics for me." And so, "I literally started making comics because I wanted Buffy the Vampire Slayer in comic-strip form." Her early comics, she says, were Buffy knock-offs.
Faith Erin Hicks: I've made over 2200 pages of comics.

Jeff Smith: Wow. Nice.

Faith Erin Hicks: And I'd say over half of them are not terribly good.
Hicks was so happy to be interviewed by Jeff Smith. As she said, "I've been having the most amazing time at this Comic-Con…. I've met all my artistic heroes.  Getting to sit here and talk with you [Jeff Smith]. … I got to meet the creators of Avatar: The Last Airbender, and got to talk with them. … And just this morning, my editor introduced me to Joss Whedon."  Things are going well for her.
But they haven't always gone well. She recalled being here at a Comic-Con some years back, and not having enough money to buy meals… and so seeking food at various receptions. She moved to Halifax in 2005 for a job in animation, but that company let her go in 2008. At that time, she wondered whether to look for another job in animation or make comics her full-time (instead of part time) vocation. She chose the latter and has been very happy.
Faith Erin Hicks: I now get to make my living making comics.

Jeff Smith: You quit your day job.

Faith Erin Hicks: My day job quit me.
Smith and Hicks talked about the increase of women in the comics business. Smith observed, "When Vijaya [Iyer, Smith's wife and business partner] and I came here in 1993, the women's restroom was like a palace. There was no one else in there. It was just her and Vampira."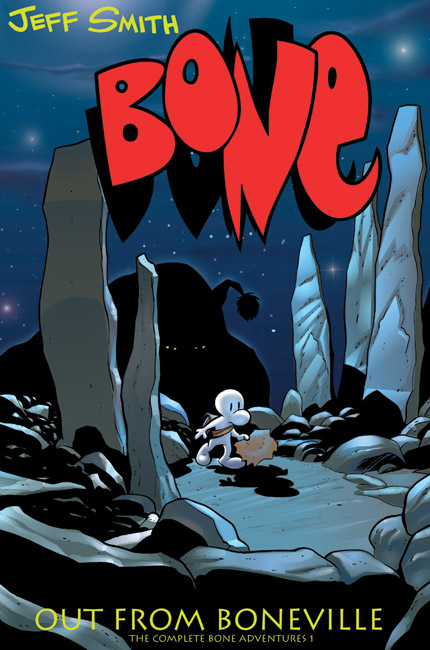 Faith Erin Hicks big influences – the first comics that really spoke to her – were Jeff Smith's Bone, and Naoki Urasawa's work. She tells us that "Manga didn't have an impact on my style. … But it had an impact on my pacing." She noted that the pacing in Smith's work is also like that of manga. He said that he'd heard that, but never read manga until recently, and then, sensing that the conversation had veered toward him, Smith – great moderator and kind person that he is –interrupted himself. "I don't want to talk about me," he said, and then steered the conversation back to Hicks.
Discussing future possible projects, Hicks told us, "My most rejected pitch [is] about an office that is a waystation for dead people." Â She added, "It's been rejected everywhere."
"It's the very first comic I've done that has no supernatural bent to it."

– Faith Erin Hicks on Nothing Can Possibly Go Wrong (her latest book, 2013).
Faith Erin Hicks starts each day with a run because first priority of cartoonist is to take care of yourself. Â She then works 12 hours a day (taking a break fo make supper, see the boyfriend), 6 days a week. She takes Saturdays off … unless deadlines demand that she works Saturday.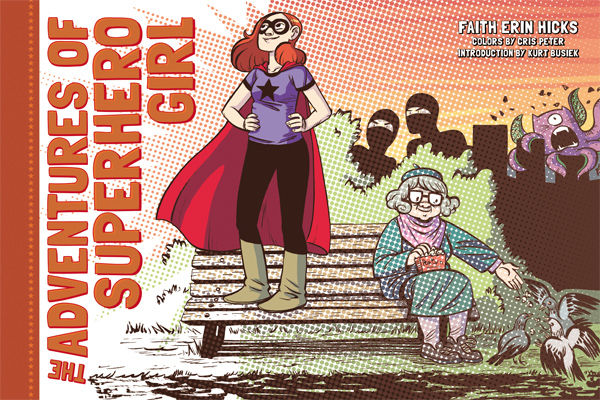 I asked whether there'd be more Adventures of Superhero Girl, and she said that she'd like to do more but wasn't sure where she'd find the time. I completely understand. The more your career gets going, the harder it is to commit to anything not already under contract.
In response to another audience member's question, Hicks told us that Demonology 101 will never be published in book form because she feels it's not good enough – she's just not comfortable selling it. But, she said, it will always be available on-line.
Jeff Smith can relate to that. People ask him to publish the Bone strip he did ("a sort of proto-Bone"), but he says no: "The drawing is terrible, the jokes are terrible."
Hicks also recalls her comic strip, Font Management, which she did for her college newspaper. She also speaks of it with disdain. (The joke in the strip's title concerns how to use typefaces to make your essay seem longer.)
"It looked like a guy in a big rubber batsuit fighting a villain on a train. It looked too real."

– Jeff Smith on the Chris Nolan Batman films, and why he skipped the last one
Some recent work Faith Erin Hicks recommends:
David Aja's Hawkeye
Sienkiewicz's New Mutants
"'I am going to make superhero comics for me.' I think that's my whole career."

– Faith Erin Hicks
Audience member asks, "Do you have a dream project?"
Jeff Smith (answering for her): It's a way-station for dead people.

Faith Erin Hicks (joking): Iron Man! I really want to do Iron Man!

Faith Erin Hicks (serious): I would really like to something longer – 3 books, maybe. … I'd like to do something in a historical fantasy setting.

"Once comics become your life, you have to make decisions on what you spend your time on."

– Faith Erin Hicks on why she's no longer a gamer
I was struck during this panel and others by how much comics work can be like academic work. Choose the projects that interest you. Since you sit most of the day, make sure you exercise. You'll work long, long hours (including weekends), but the work will be interesting. Both careers are very self-directed, with all the benefits and perils implied by that. The main difference is that us professors don't need to make a living from our books, whereas comics artists do. But we're similar in that we also do other work (in addition to our books) to make ends meet.
Gene Deitch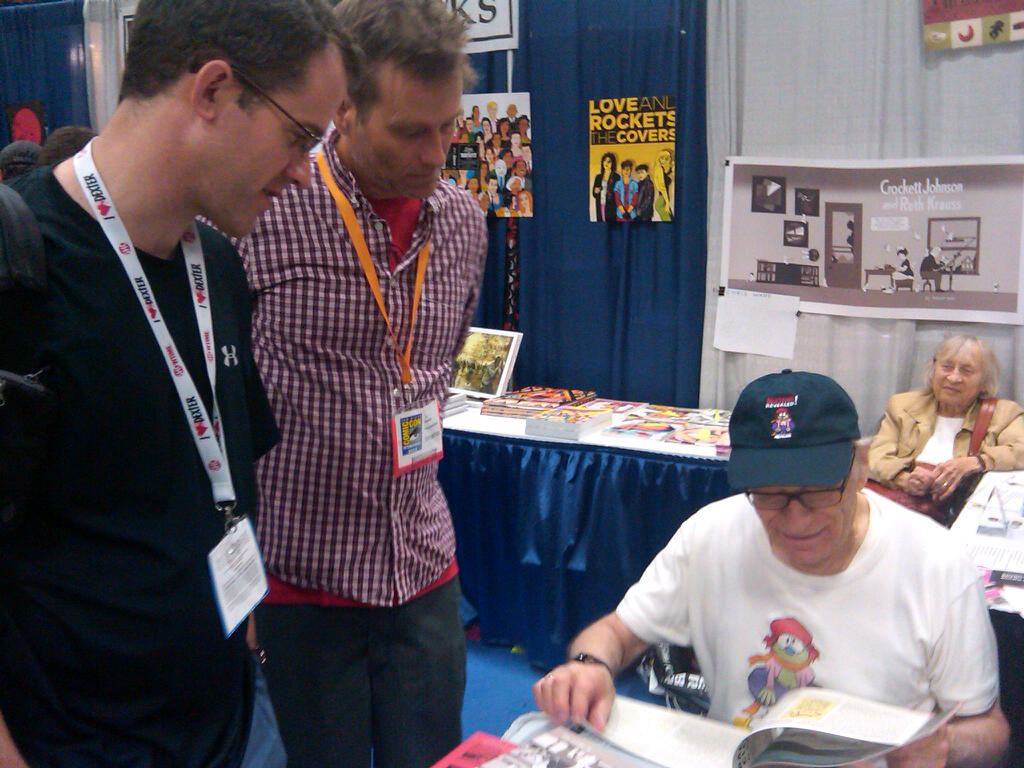 Stopped by the Fantagraphics booth to have a proper chat with animation/cartooning legend Gene Deitch. I introduced myself after his panel on Thursday, and thanked him for his help on the bio. of Johnson and Krauss. But I didn't get the sense that he remembered our correspondence. So, Eric Reynolds and I chatted with him a bit. Eric re-introduced me: "This is Crockett Johnson's biographer." We showed him the new Barnaby book and my bio.
Deitch recounted the story (which you can find in his essay, "The Picture Book Animated," and in my bio.) about animating A Picture for Harold's Room. That story granted me a lot of insight into how complex Johnson's Harold books actually are. Each Harold book is essentially one large drawing. To animate it, Deitch couldn't add a tiny piece of the picture in each new frame because, if he did so, the line would look jerky. So, they drew Harold's entire picture first, and then filmed Harold erasing that (with his crayon). When you run the film forwards, it looks like he's drawing the picture. Also challenging for Deitch is that the film has no cuts. It's one continuous animated film.
I bought Nudnik (the DVD and the book), and Cat on a Hot Thin Groove (collection of Deitch's cartoons for the record industry).
Paul Hornschemeier draws Crockett Johnson
From 2 to 4 pm, I hung out at the Fantagraphics booth with Paul Hornschemeier – our signing was again at the same time. Not long after we sat down, Paul began sketching a portrait of Crockett Johnson, using the photo on the back cover of Barnaby Volume One.  Remarkably, he did this sketch while talking with other people and posted it to his Tumblr during our signing.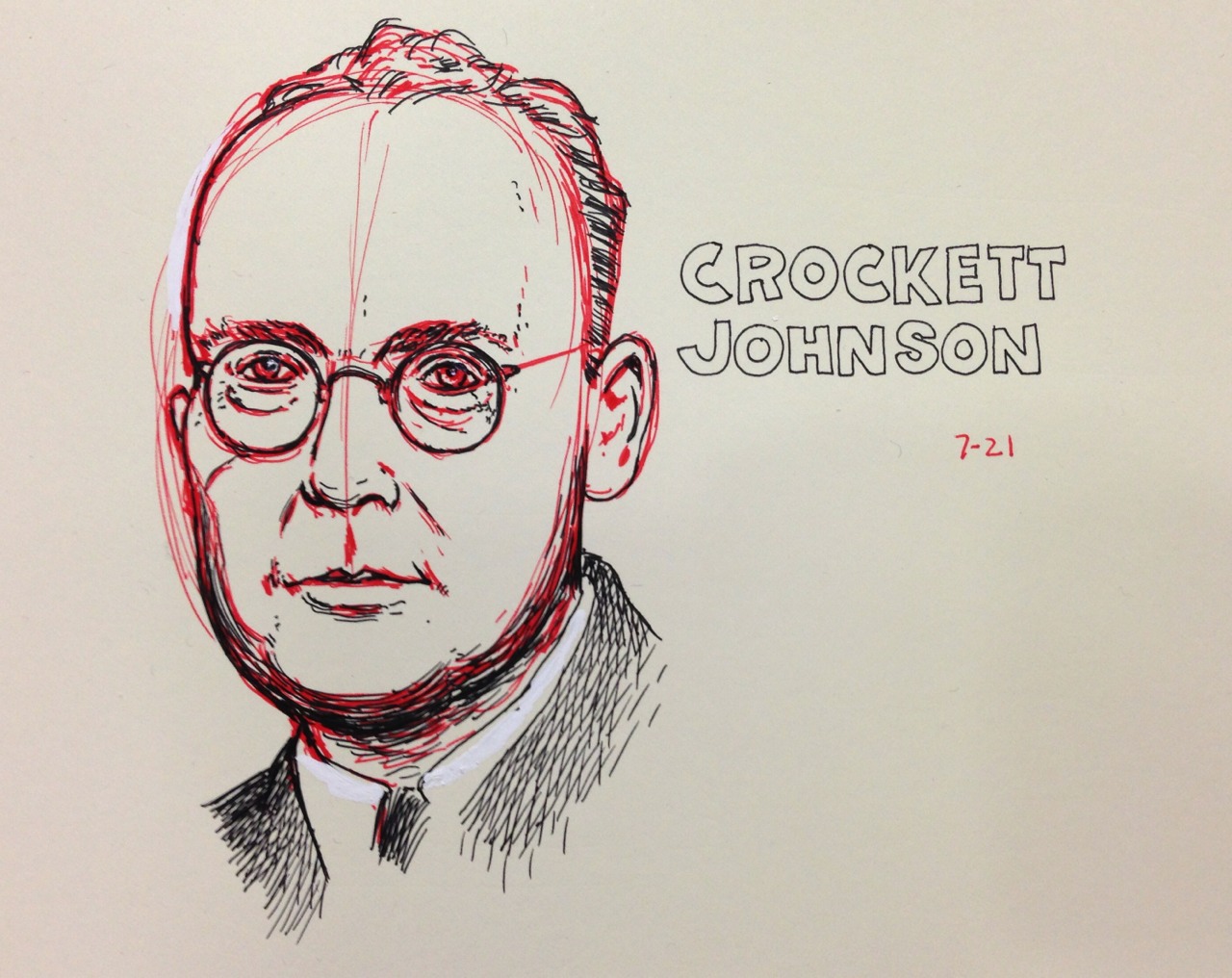 This is the third cartoonist's portrait of Crockett Johnson. In addition to Johnson's self-portrait, there's Chris Ware's (on the cover of my bio.).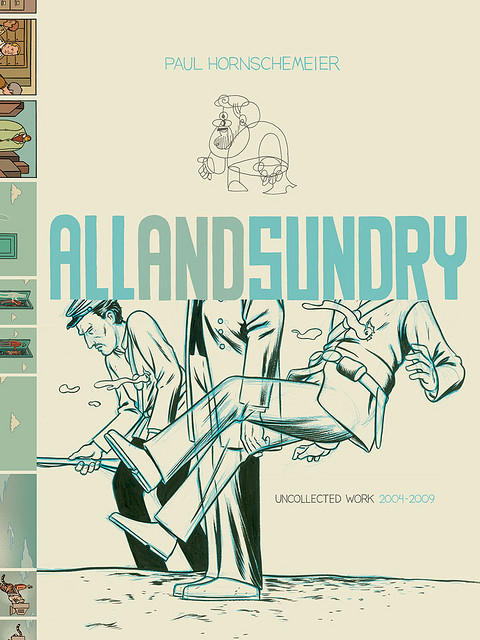 Paul is a versatile artist, as his latest collection, All and Sundry, shows. Since our signing wasn't exactly mobbed, I spent some time reading his All and Sundry and The Three Paradoxes. I bought The Three Paradoxes solely because it was easier to transport (a smaller book). Both are well-drawn and thought-provoking, and I'll be ordering the other from Fantagraphics when I get back.
By "wasn't exactly mobbed" I mean, of course, that very few people came. A former classmate stopped by with her husband, and bought Barnaby.  A few other folks came buy and bought books. There is some good news: when I left (less than an hour before the exhibition hall closed), Fantagraphics had sold all but one copy of Barnaby Volume One.
Paul Pope & Gene Luen Yang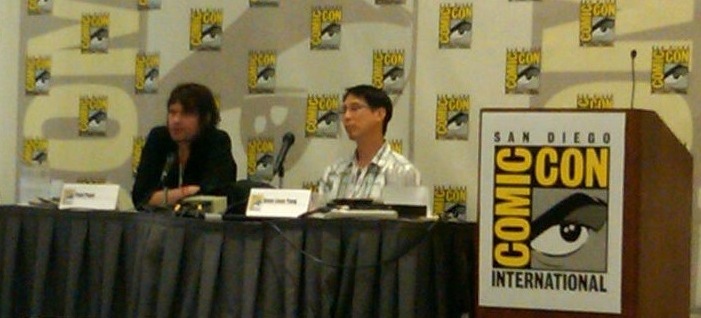 I missed most of this because I was down in the exhibit hall, signing books (well, a few books, anyway). And… for the few minutes that I was there, I didn't take notes.
So, about all I can tell you is this. Paul Pope listens to Beethoven while writing – Beethoven's Third Symphony is his favorite. Depending on the kind of work he's doing (inking, say), he also listens to heavy metal.  Gene Yang can't listen to music while he's working.  As an '80s child, he did admit to a fondness for Men Without Hats.
And this: An audience member asked Yang whether he would write something more autobiographical, exploring the complexities of Asian identity. (Yang himself has one parent from Taiwan and one from China.) He said that's a possibility. He noted that he's married to a Korean, and that though they're both "Asian Americans," identities are of course much more complex.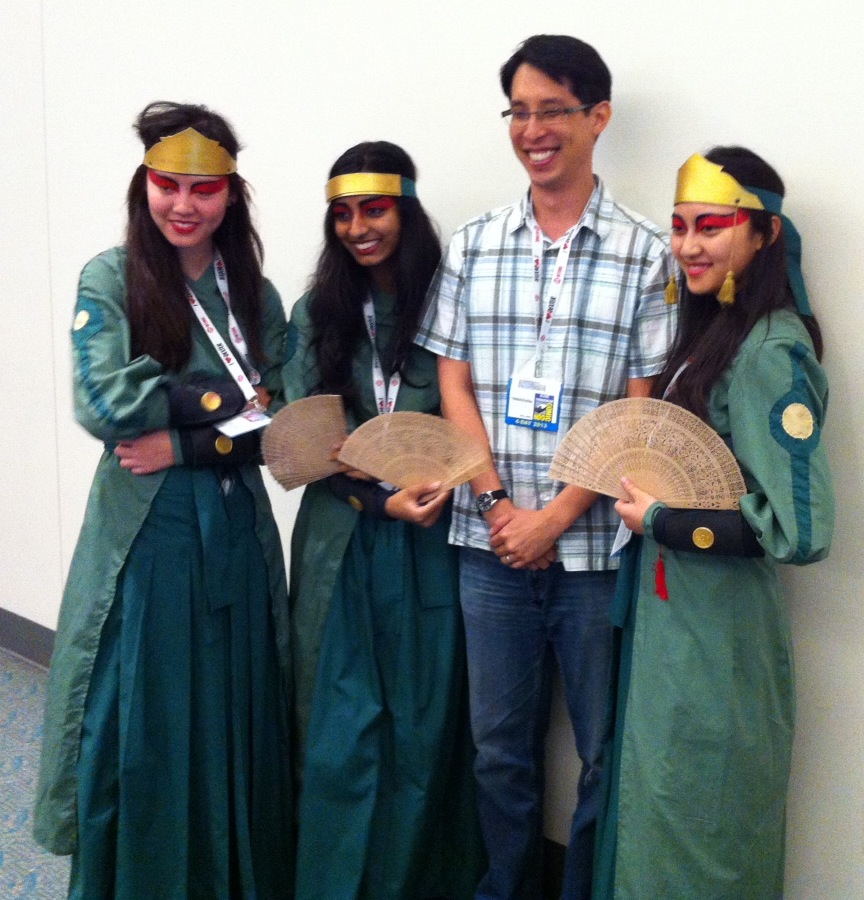 After the panel, Gene Yang poses with the Kyoshi Warriors.
Books (and one DVD)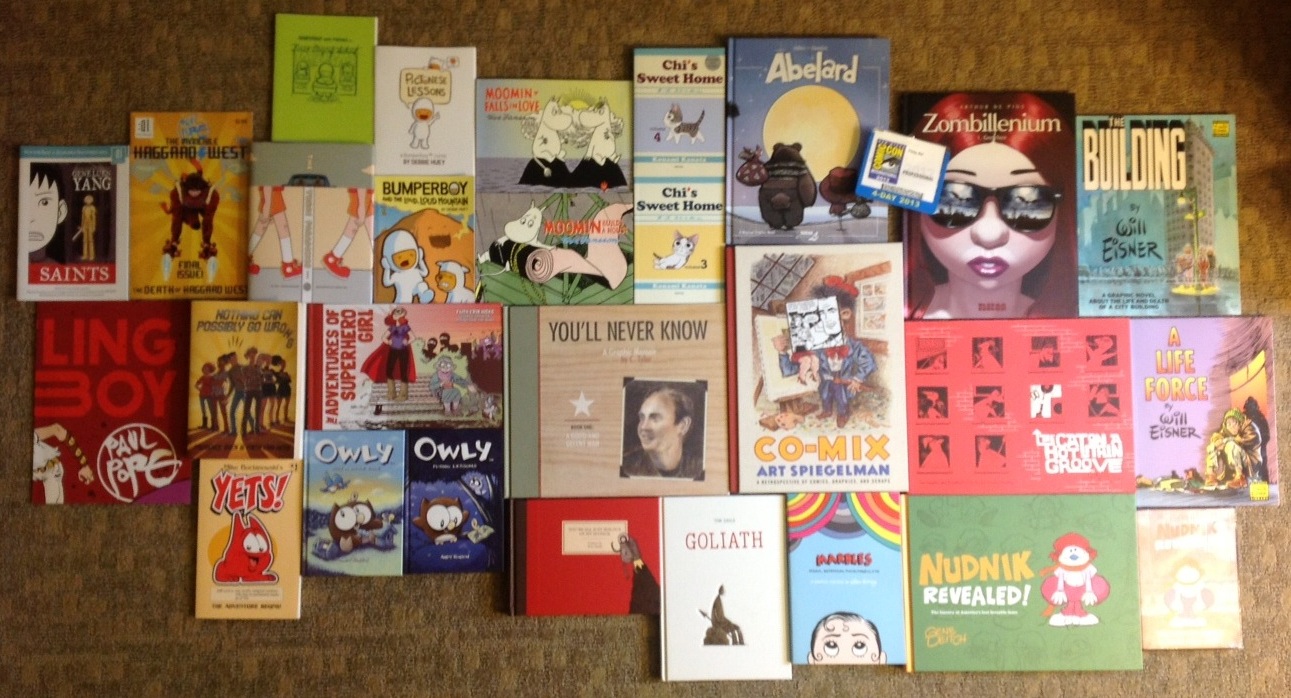 Books arrayed on floor of hotel room.
Now to carry them all home, because it wouldn't be a proper Comic-Con if you didn't damage your back, now would it?
Note: The Owly ones are for my niece Emily (I already have copies, albeit not autographed ones!)
My Favorite Tweet from Comic-Con 2013
one of the odder discoveries for many comic-con weekend is that phil nel isn't the 78 year old whitebearded man many expected

– Tom Spurgeon (@comicsreporter) July 22, 2013
The Future Belongs to Crowds
"The future belongs to crowds"

– Don DeLillo, Mao II (1991)
I have never seen any conference as massive as this one. I have never seen a book/media exhibit as vast as this one. And the crowds! As far as I can tell, about 130,000 people attended this year's Comic-Con.
After being at the Con for a few days, you grow accustomed to seeing people in costume. Last night on the way to dinner (blocks away from the Con), I saw Spider-Man crossing the street. No one even blinked.
I learned a great deal from the panels, all of which were really interesting. Not a dud in the bunch. I've also learned to avoid the big media events. Unless I get a press pass that lets me jump the line (I assume a press pass would let one do this?), I will in future be sticking to sessions about comics/graphic novels. No point in standing around for hours to see movie stars –Â those events are covered by the press. You can read about them on-line, afterwards.
I'm not sure when I'll return, but –Â to quote Gonzo, at the end of The Muppet Movie – "I'm going to go back there someday." Heck, if there's time, I may even dress up like Mr. O'Malley (Barnaby's fairy godfather). Who wants to dress up as Barnaby & come with me?

The rest of my 2013 Comic-Con coverage: