And now the song that you've all been waiting for since I began the "Plague Songs" series in March of 2020 – a song that, despite your eagerness to hear my rendition, you have not requested. Not even once! With thanks for your patience, here's the song made famous by Maurice Chevalier, back in 1930 –
Uh, no. Not "You Brought a New Kind of Love to Me." Here's a hint for you: this one's from Playboy of Paris!
Well, true, "My Ideal" was the big hit from that film, and even became a jazz standard. But I'm thinking of the other, less popular tune from Playboy of Paris: "It's a Great Life (If You Don't Weaken)"!
With lyrics by Leo Robin and music by Richard A. Whiting and Newell Chase (the same team who wrote "My Ideal"), "It's a Great Life (If You Don't Weaken)" is (undeservedly!) the least well-known of all the songs I've done for this series. But it's a jaunty ditty about mortality! What's not to like? Here's a clip of Chevalier performing it in Playboy of Paris.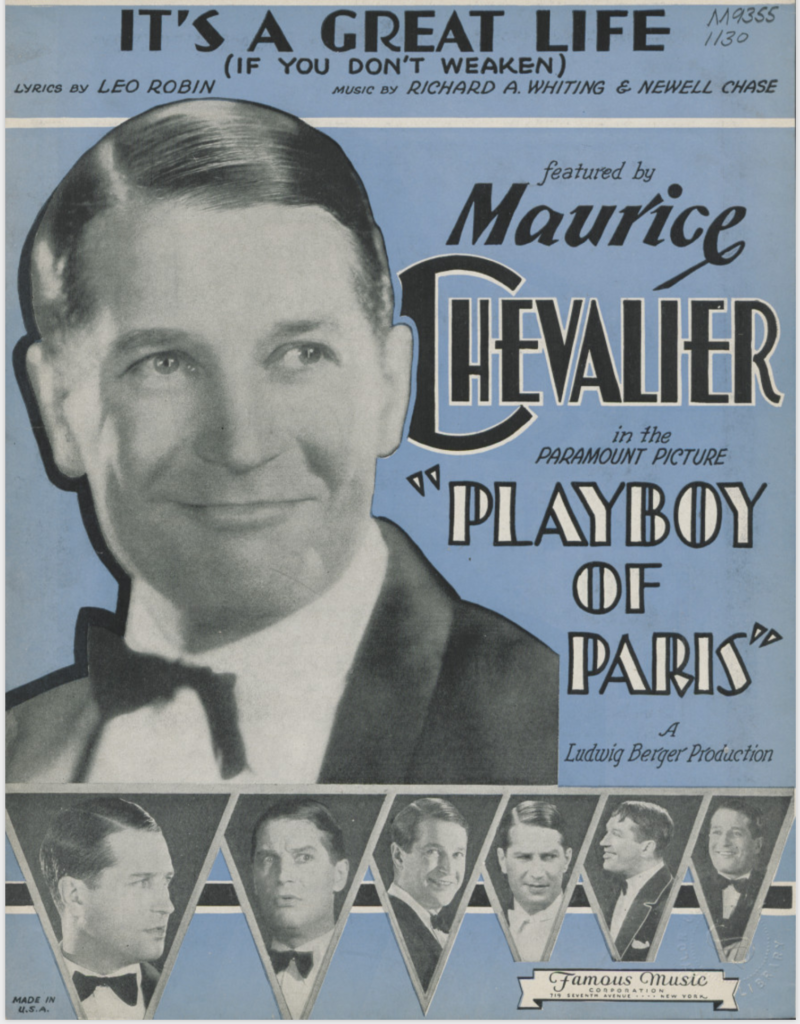 In that final couplet, the sheet music (available on-line, courtesy of Baylor University) offers singers the option of using "heck" or "hell." Since "what the (heck/hell)" directly follows "oh, well," the rhyme invokes the word "hell" whether you use "hell" or not. I suspect that's why George Olsen's cover changes the entire couplet to "if you do give in, / ain't no sin." Chevalier and all other recordings from the period use "heck" or self-censor: the Jack Hylton recording uses only the "h" – "oh, well / what the h…." The only version (that I know of) to use "hell" is a 2003 version by the Beau Hunks Saxophone Soctette.
And, yes, the above playlist includes all versions on Spotify. There are a few more recordings… but not on Spotify. Or none that I could find, anyway. It's a tricky song to search for.
As some of you will have noticed, this song's title is similar to (and possibly the inspiration for) Faron Young's "It's a Great Life If You Don't Weaken" (1959) – which is an entirely different song, both musically and lyrically. There's also the Tragically Hip's classic "It's a Good Life If You Don't Weaken" (2002), and Seth's graphic novel It's a Good Life, If You Don't Weaken (1996). This song precedes all of them.
I don't know why the Robin-Whiting-Chase composition isn't better known. True, it has some archaic language: "What's the use? A man's a goose to work himself into a lather" and "What's the use to raise the deuce whenever clouds begin to gather!" But it has a chipper, early Cole-Porter quality to it. I love the contrast between the lyrics' dark implications (hey, we all weaken eventually) and the buoyant tune.
I realize that the song's relative obscurity means that very few people will read this post or click through to hear the recording. But I've wanted to record a version since the early days of the pandemic. And so I have.
Hope you've enjoyed it! And, hey, as the song says, "If you don't lose heart, the hardest part is the first hundred years."

Also, of course, sing the songs that keep you from weakening! (Don't let Mr. Gloom biff you!) The playlist below offers many tunes that (sometimes only tangentially) intersect with our plague era. But turn to the music that enlivens you the most.
---
Plague Songs
What Is Your COVID-19 Routine? & related