And now, my final daily report from the 2014 Comic-Con!  (Earlier reports: Sat., Fri., Thurs., & Weds.)  Today, Trina Robbins, Paul Pope, Dav Pilkey, Rachel Renée Russell, and some Outlander photos (by special request)!
---
Chatting with Trina Robbins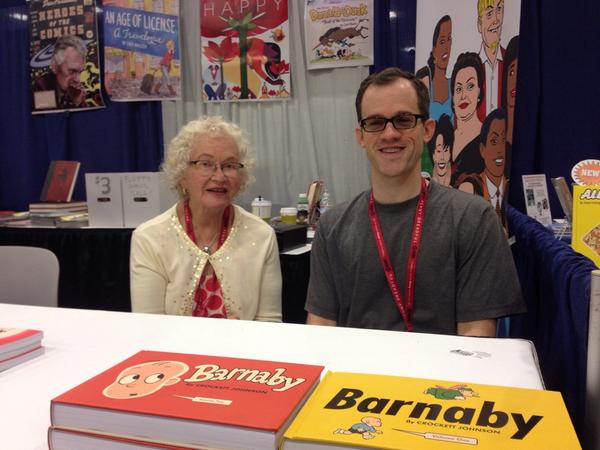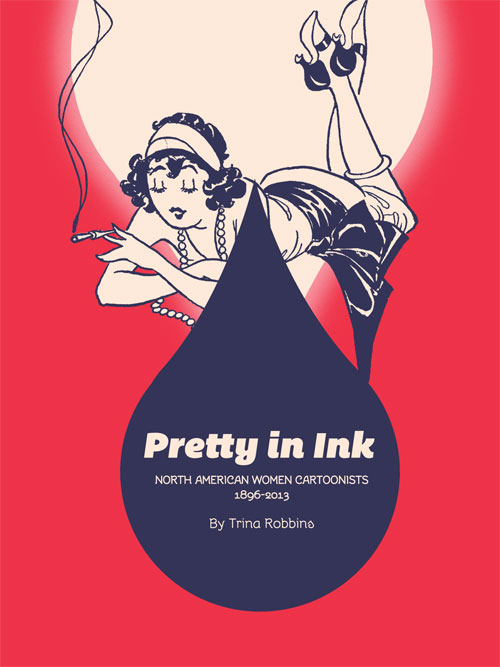 For this morning's signing, I was with Trina Robbins, who – I am pleased to report – sold all copies of her latest book, Pretty in Ink. Â (I bought a copy myself, on Thursday.) Â Had a good chat with her about the memoir she's writing:Â Sex, Drugs, Rock 'n' Roll, and Comics. We mostly talked about the rock 'n' roll part. Â In the '60s in San Francisco, she and her (now ex-) husband knew lots of musicians: Donovan, Mama Cass, David Crosby, & others. Â I don't want to spoil the book by divulging details here, but she's led an interesting life. Â (I knew about some of the comics part, but none of the rock 'n' roll part.) Â So, look for that book in… I'm guessing… a couple of years or so?
---
Middle-Grade Readers

Left to right: Moderator David Mariotte, Rachel Renee Russell (The Dork Diaries), E. J. Altbacker (Shark Wars), Brandon Mull (Sky Raiders), Paul Pope (Battling Boy, The Rise of Aurora West), P. Craig Russell (The Graveyard Book graphic novel), Pseudonymous Bosch (The Secret Series, Bad Magic), and Dav Pilkey (Captain Underpants).
I arrived at this session late because, well, it's impossible to conclude your signing in the exhibit hall at 11 and then suddenly materialize in a panel session also at 11. I walk briskly, but I cannot levitate over the crowds of people. (Maybe if I'd dressed as a costumed superhero,…?)
The moderator asked about using other media in conjunction with the print books. Rachel Renee Russell noted that her main character has a blog. E. J. Altbacker's series has an app where player would need to know first few books in order to play it successfully.  P. Craig Russell (who adapted The Graveyard Book as a graphic novel) said that "a graphic novel also brings in more readers, and is sometimes as long as the novel itself."  The two-volume Graveyard Book is one such work. Pseudonymous Bosch said that he wrote his first novel via the postal service – though I didn't quite understand what he meant. I assume he mailed the manuscript in that way? Or maybe I misheard? (I've not read his Secret Series). But, he said "kids now expect a much more interactive experience with their reading material." When he was a kid, "it would not have occurred to him to write to the author."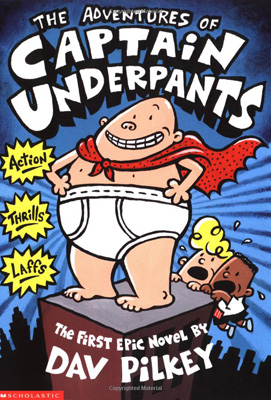 The moderator ended his questions early, and moved to audience questions.
First questioner (to Dav Pilkey): Captain Underpants Cosplay: wonderful or kinda scary?
Dav Pilkey: Definitely scary. Â There's a motion picture that's going to be made of Captain Underpants. Â I was afriad it would be live action, but it's going to be animated by DreamWorks Animation.
Most of the rest of the questions were from young readers.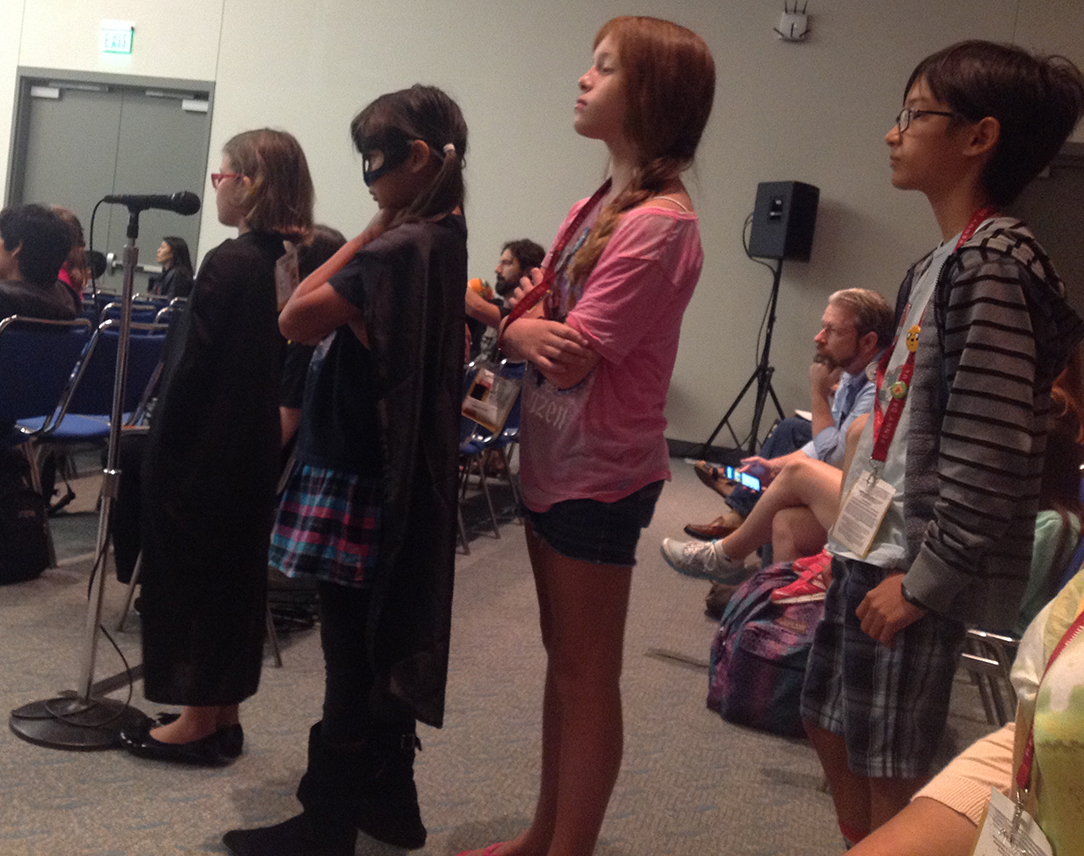 Young reader (to Dav Pilkey): Did you have a mean principal? Â Did it inspire you?
Dav Pilkey: Mr. Krupps was inspired by a mean principal. Â I had a mean principal. He was verbally abusive, and physically abusive. I told my mom about him – though not the physically abusive part. Â She used to say "everything happens for a reason. Â Maybe something good will come out of it." Â She had no idea….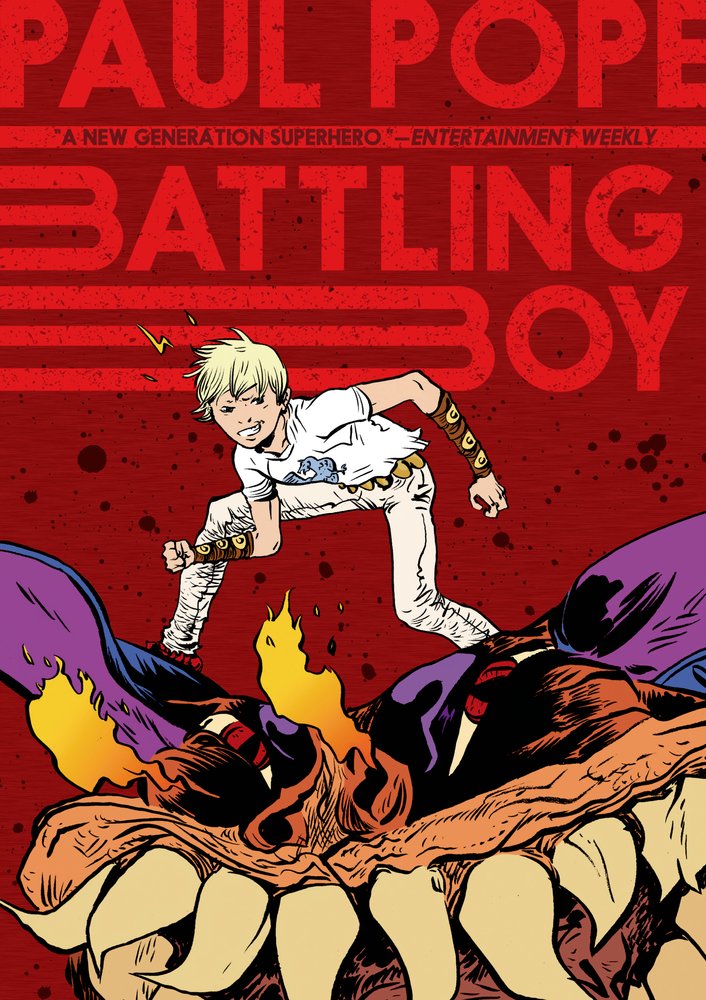 Another young reader: Is it hard to write books for young readers?
Paul Pope: You have to maintain a connection to your innocence. You have to write for yourself as a 12-year-old.
Pseudonymous Bosch: It helps if you stopped maturing at age 12.
Rachel Renée Russell: I'm always worried whether people will like it.
Paul Pope: When I was writing violent scenes, I thought "I'm going to write this for the 12-year-old editor in my head." No blood, no gore. But I worked it out in my head. There were no rules.
Young reader #3 (to Paul Pope): how did you get the idea for Battling Boy?
Paul: Most of my books were for adults. But my nephews wanted to see my work. I realized that most of the comics I was reading — those comics weren't written with young people in mind. Â I just felt like there weren't good books for kids of your age group, so they don't keep having going back to Batman, who is 75 years old, or Spiderman.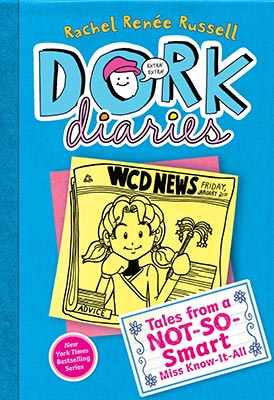 Young reader #4 (to Rachel Renee Russell): What inspired you to write the Dork Diaries?
Rachel Renee Russell: My two daughters were so dorky. I felt sorry for them. Kids picked on them. They were bullied. They didn't get invited to birthday parties. They had a really hard time. But they grew up to be really smart, intelligent young ladies. So, dorks rule!
As the conversation turns to bullying, Brandon Mull says that the bullied are often "good nice people. Good nice people in middle school have a hard time."
Paul Pope says, "I don't want to give advice to young people. But you do not want to look back on your teenage years as your best years. You want to look back on those as your worst years."
Young reader #5:Â Is Pseudonymous Bosch your real name?
Pseudonymous Bosch: Pseudonymous is an old family name. Bosch, however, I named after my toaster.
Young reader #6: What do you do for fun?
Rachel Renee Russell: I read other middle-grade readers.
Brandon Mull: Narnia turned me into a reader…. Harry Potter taught me that you could write a young protagonist and make it fun for young and old readers.
Paul Pope: I like to read artists' journals. There's a very different way you processed your life, then. You weren't expected to interact via social media…. I like to talk to people.
Adult question #2: When you see fan art or kid art of your characters, I wonder if you could have a conversation about that….
Paul Pope: It's cool…. There is kind of a rite of passage where you see people dressed as your characters because it means they really love the characters. It's very humbling…. It's fun to branch out and maybe not make any money, but reach an audience who has been under-served by comics.
Young reader #7 (to Brandon Mull): When you're writing books with magic, do you have to worry about maybe magic solving it all?
Brandon Mull: [Laughs] That's such a good question! You should become a writer! … If the magic can solve everything, then nothing matters…. So, we try to put limits on what the magic can do. Think about the consequences. Sort of like, 100 years ago, a good science fiction writer might think that we'll have cars. Â But a great science fiction writer might think that we'll have traffic jams.
And… that's the only panel I attended on Sunday. Â Had to catch flights home!
---
Outlander: Photos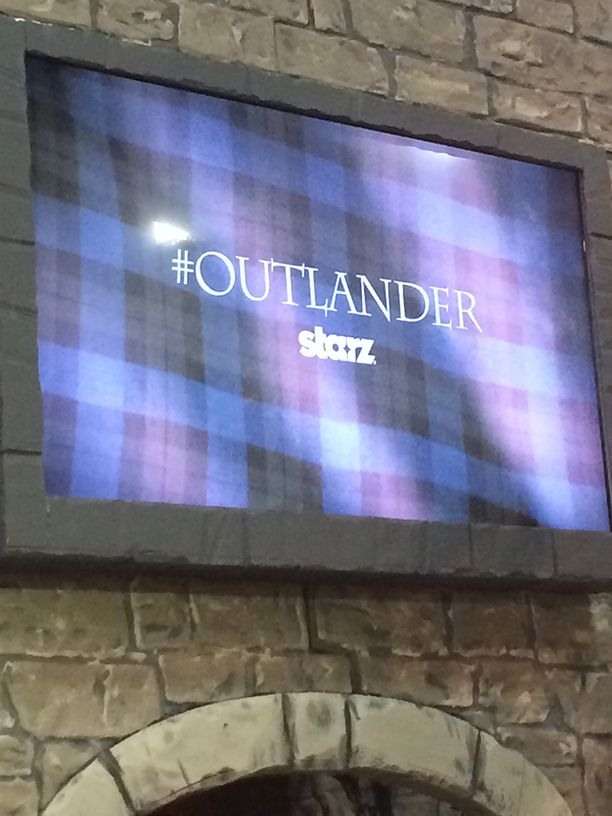 Starz is making a TV show of Diana Gabaldon's Outlander series.
To promote the new television program, its sponsors had a great big castle with video clips mounted on the sides. One could walk through the edifice, too. (I didn't.) However, I was asked to post photos; so, I am.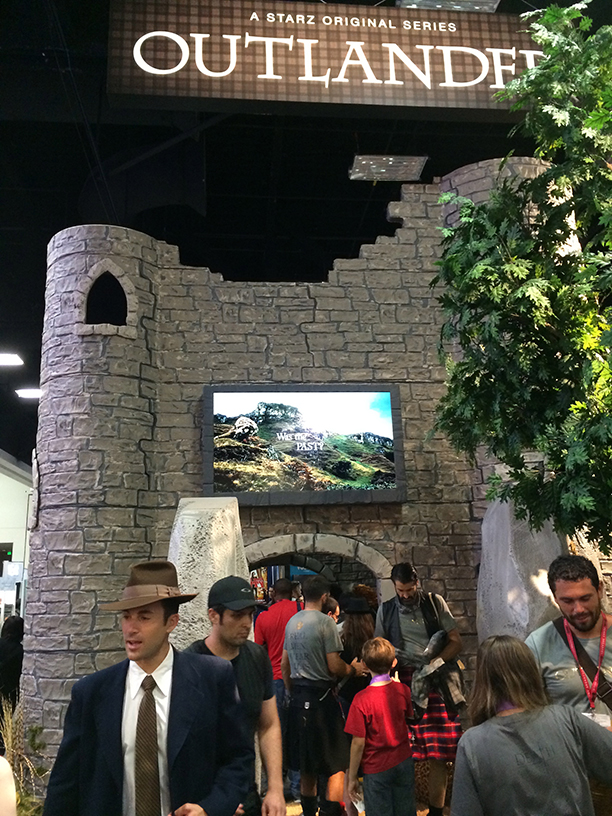 There was even an entire panel devoted to (promoting) the new series. It's already on YouTube.
Here is another photo showing a front view of the ersatz castle-thingy.
There were also people (employed by the promoters of Outlander)Â parading through the streets, hollering. Karin took this photo: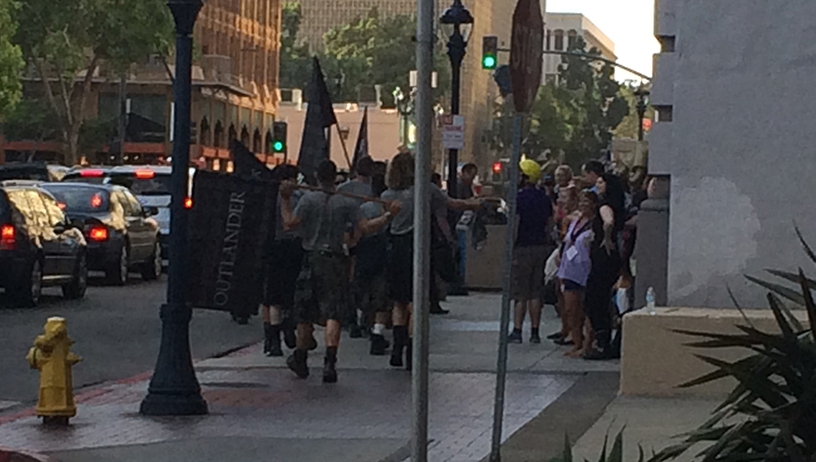 ---
Comics!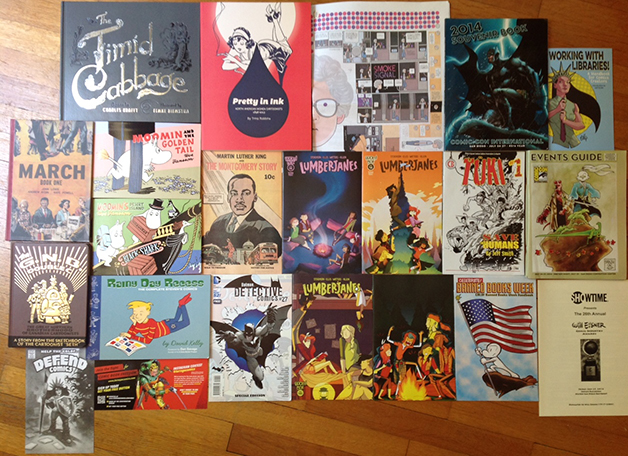 ---
Three final thoughts…
Of the conferences I attend, Comic-Con is the one where I am the most anonymous. The down side, of course, is that my "signings" are, er, rather sparsely attended. The up side (or sides?)Â is that it's great to wander about anonymously. Â You can easily disappear into the crowd (and the crowds here are huge!). I like being able to disappear.
Should I attend a future Comic-Con, I'd like to chair or participate in a panel, probably on one of the "Comic Arts Conference" sessions (this is the academic wing of Comic-Con), though would be glad to appear in other ways. (This is my second Comic-Con, and both times I was attending as an Eisner nominee.)
I remain open to the idea of cosplay. If I'd had the time, I would have gotten together a Mr. O'Malley costume for this year. Two reasons. First, I think it would be a fun way to promote the Barnaby books. Second, I think it would be hilarious to dress up as a character (O'Malley) whom virtually no one at Comic-Con would recognize. When I spoke of donning the costume of Barnaby's Fairy Godfather, Eric Reynolds joked, "People would think you were dressed as Seth!" To which I replied: "Yeah, and they'd be asking: Why does Seth now have wings?" (For those unfamiliar with Barnaby or the artist, both wear a 1940s hat and overcoat. O'Malley even wears spats.)
| | |
| --- | --- |
| | |
---
Comic-Con 2014: