And… my third report from Comic-Con!  (A little later than I'd planned because I didn't get back from the Eisners until around 11 that night… and I've gotta sleep, too, ya know!)
Strange Currencies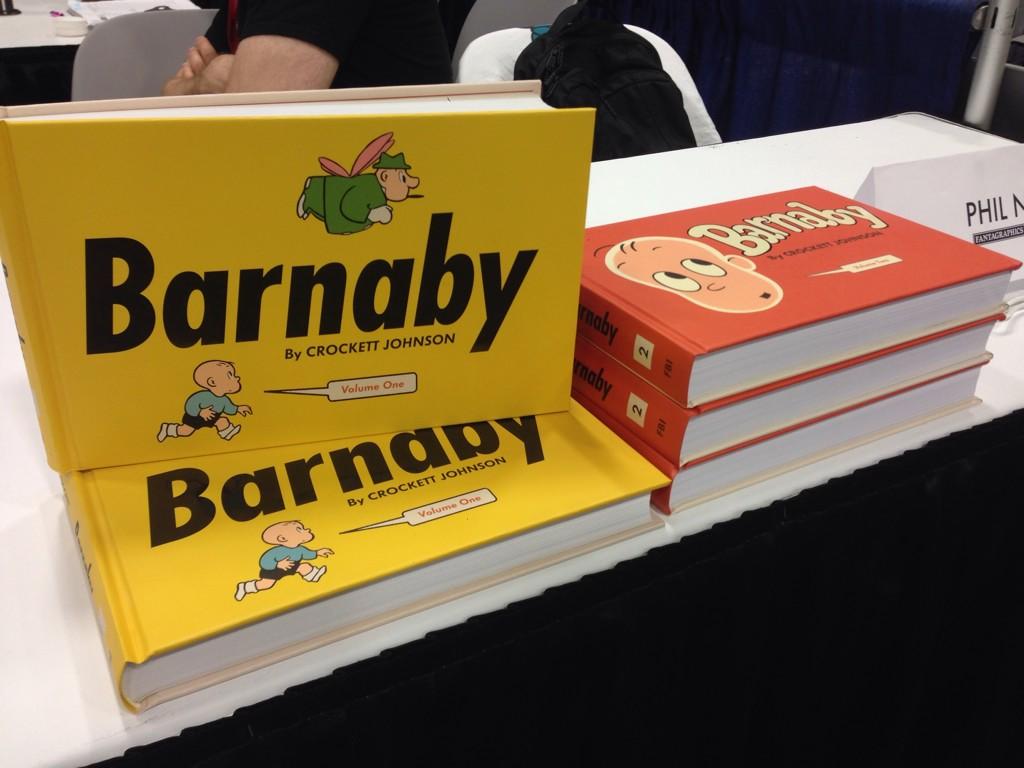 While doing my morning "signing" at the Fantagraphics display, I had an interesting conversation with a woman passing by the booth (her name escapes me, though I believe that I have met her before).  We were talking about the crazy-long lines of fans, queueing up to get free goodies or cheap(er) limited-edition items.  I expressed my bafflement at the long line of folks waiting for a free Lego figurine (I assume) on Wednesday evening. She said, yes, they'll have a limited-edition Lego figurine, and people will then sell that on eBay for $80.  Some people even take pre-orders.  She told me that last year, her son bought a special-edition something (I forget what) for $300, turned around and sold it for $600.
As the half-dozen homeless people I pass on my way to and from Comic-Con remind me, it's hard to get by in America.  I'm not sure how much these Comic-Con entrepreneurs depend upon this income, and it certainly doesn't appeal to me as a vocation / avocation. But, well, these folks have found a way to shave off a little from the entertainment industrial complex.  And that's something, isn't it?
---
Program Line Crossing
From the "signing," it was off to the Eisner panel! Almost. Got held up during a program line crossing. For the panels with masses of people lining up to get in, the lines snake up and down, around the building, and on and on. Â So,… when they finally get to enter, that's a long line of traffic. Comic-Con volunteers act as traffic cops, and ask us to wait while the maddening crowds pass us by.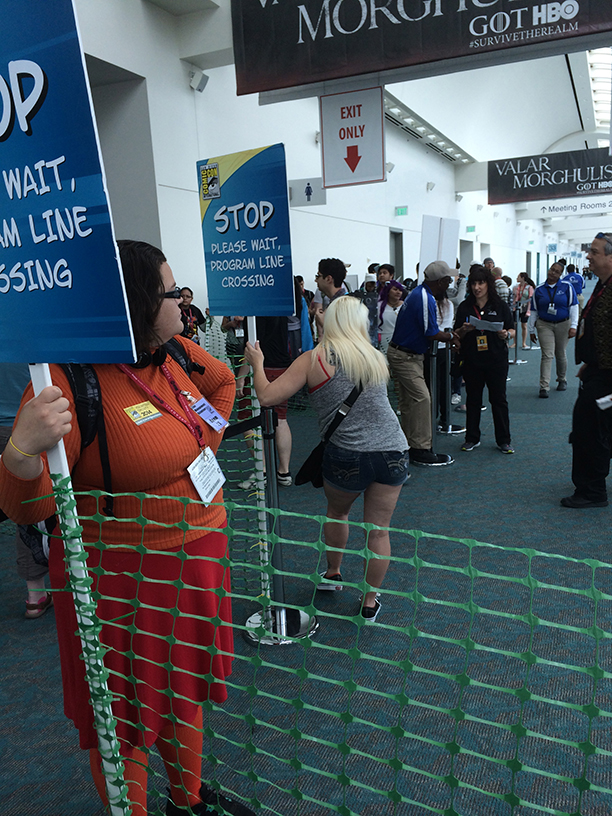 ---
Will Eisner, Teacher and Mentor

Missed the first ten minutes of this, but what I heard of it was great – lots of anecdotes and insights, expertly moderated by Paul Levitz. Â The program's panel description gives you a good idea of what to expect and (in this case) what the panelists delivered:
For a magic moment, New York City's School of Visual Arts had Will Eisner, Harvey Kurtzman, and Art Spiegelman all teaching classes on comics. Hear stories about those classes from students Joe Quesada (Marvel Entertainment), Drew Friedman (Heroes of the Comics), Batton Lash (Supernatural Law), Mike Carlin (DC Entertainment), and a surprise guest. Plus a not-to-be missed discussion about Will Eisner's other educational efforts. Moderated by Paul Levitz, who is writing Will Eisner: Champion of the Graphic Novel for release next year by Abrams ComicArts.
Drew Friedman observed that there should be a book about teaching in that period — when Will Eisner, Harvey Kurtzman, Art Spiegelman were teaching. (I agree!)
Paul Levitz said, "Jack Kirby could start a drawing anywhere. You could say 'Draw Captain America, but begin with his elbow.'" Â Either he or one of the other panelists said it was as if Kirby had the whole thing in his head and could just start anywhere.
Joe Quesada told us "Watching a professional work can be a mind-altering experience." He also confided, "I did not go to SVA to be a cartoonist. Â I went to be an illustrator. Â I wanted to be Norman Rockwell."
The panelists had a lot to say about how what they learned from these great teachers.
Mike Carlin, for example, learned what not to do:Â "The way Harvey [Kurtzman] did it was 16 drawings of the same thing over and over again. That taught me never to work that way, or to encourage anyone else to work that way."
Paul Levitz: Let's talk about Will, and about the business of being an artist.
Drew Friedman: He was very particular about the artist being in charge of his own fate. Â … All three of those guys — — were very particular about the artist being in charge…. Will used to say "Always draw the balloons first." Â I never do that. Â I always draw them last.
Batton Lash: Will didn't like bridges between word balloons. Â And then, in Harvey's class, "You know, you could connect these balloons."
Mike Carlin: Did Will and Harvey ever hang out?
Batton: Once we invited them out, and they came and that was the only time I saw them together — and [they were] bombed.
Mike Carlin recalled these teachers bringing in guest stars, like R. Crumb. And Terry Gilliam.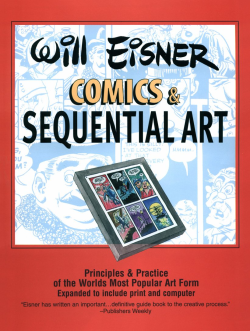 Batton Lash remembered an incident, when one of the guest-speakers in Will Eisner's class said that the comics industry was dying. It was 1973, there was an energy crisis, a paper shortage — if you look at comics from that era, they're printed on cheap tissue paper, etc.  After the guest speaker left, Eisner said, "I've seen the comics industry die 3 times already." And then he launched into a pep talk.  In fact, Lash says, "the last time I saw Will, he was on one of these industry panels, and he said, 'I've seen the industry die 5 times already.'"
Joe Quesada said that he isn't nostalgic for Comic-Cons of yore. Says it's a good time to be in comics. Mike Carlin adds, "20 years ago, this is what we wanted. We wanted our work to be taken seriously. And now it is."
Paul Levitz asks Drew Friedman about his work, his focus on the past — new book is on old cartoonists. Friedman answers: "I just like drawing old Jews." (Befitting the man who wrote Old Jewish Comedians, Friedman is great with the one-liners.)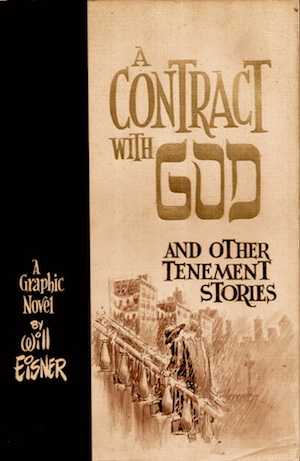 Paul Levitz observed: "He [Will Eisner] was one of a few artists who had a philosophy about what he was doing." And "His art was about storytelling. And whatever the media was to do it, he would do it." In other words, Eisner wouldn't be intimidated by different technologies.
And, here's one final exchange between Mike Carlin and Drew Friedman…
Mike Carlin: Contract with God came out when we were in school there. I remember because he brought them in and sold them to us.

Drew Friedman: He gave me mine.
---
Moving Forward by Looking Back: This Is the Golden Age of Comics Collections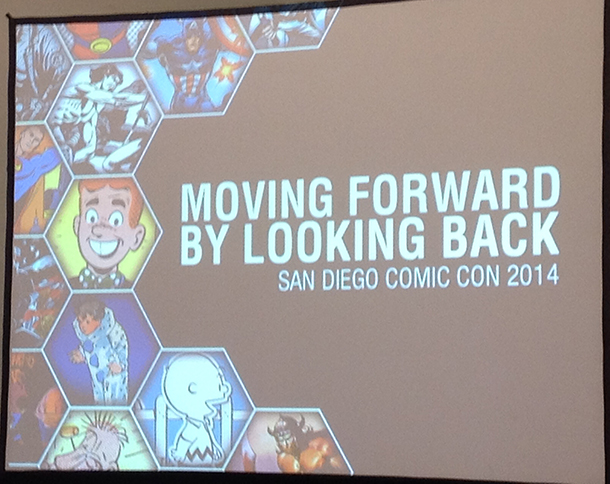 President of IDW Publishing Greg Goldstein organized this panel, featuring Dean Mullaney (representing the IDW imprint Library of American Comics), Scott Dunbier (IDW's senior editor of special projects), and other publishers who are not part of IDW: Eric Reynolds (Fantagraphics, my co-editor on the Barnaby series), Peter Maresca (Sunday Press), Michael Martens (VP of book trade sales at Dark Horse Comics), and Craig Yoe (Yoe Books).  Here is everyone, in the order mentioned above.

After spending 10 minutes introducing people, Greg Goldstein asked the panelists how they got into the reprint business.  People addressed that question, including the benefits of modern technology.  As Dean Mullaney said of using Photoshop (versus how they used to do reprints), "We can do so much more and better work." Comics were poorly printed, the colors were off-register – and now you can fix this.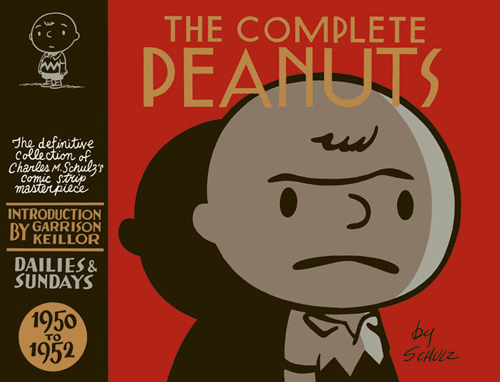 Goldstein noted that Fantagraphics' decision to publish the Complete Peanuts is a lifetime commitment. Eric Reynolds said that "The idea for the Complete Peanuts had been floating around for a while….. We'd done other reprints — Pogo, Prince Valiant…. And Peanuts was always the holy grail." Â This is what got the ball rolling:Â "Gary Groth got to interview Schulz for The Comics Journal. Â So Gary got to go down to Santa Rosa, to interview him. Â After that, they maintained a friendly correspondence. Â And Gary asked him."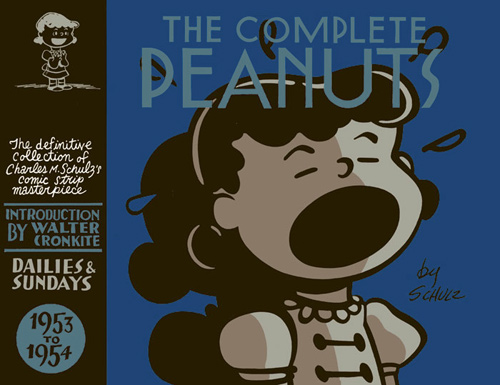 According to Eric, Schulz's sincere reaction was: "Who would want to read that?" And after that, "he was resistant — because he was a very humble guy.  Anyway, Gary could be persuasive and persistent, and after a short time, Schulz gave his blesssing. He said you have to cut through the red tape, but you can do it. Then, however, Schulz died.  Jeannie Schulz stepped in, said "I'll help you.  I'll make this happen." She said "I'll push this through," and the rest is history.
Greg Goldstein asked Michael Martens about "volume fatigue."  Martens said that you do see the sales dropping off as you get into higher numbers of a volume. But he has seen more acceptance of these projects. In terms of the decision to publish a series, he said, "Internally, a lot of our conversations were: 'How do we make people want the book? How do we make them want the object?' Essentially, the book as a fetish object."
Craig Yoe actually doesn't want to clean up the old strips. As he said, "I heard some talk this morning about the old comics were poorly printed and off-register. And… you say that like it's a bad thing? … I like that look."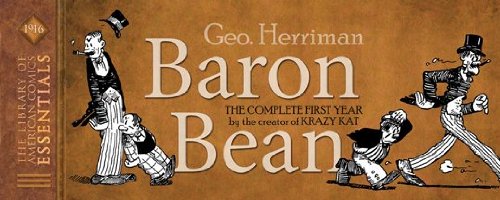 As the discussion unfolded, some of the reprints scrolled by on the PowerPoint, including:
Crockett Johnson's Barnaby Volume One (hurrah!)
Walt Kelly's Pogo
Gustave Verbeek's Upside-Down World
George Herriman's Baron Bean
Mad Archives Vol. 1
E.C. Segar's Popeye
Winsor McCay's Little Nemo: So Many Splendid Sundays!
Eric Reynolds noted that "Reprints are very expensive, and the profit margins are often very small – even more so than the first one… It's all about managing your list."
Michael Martens spoke of wanting to do a reprint of Lassie strips, and proposal getting shut down. Craig Yoe noted, "We all have our Lassies."
Goldstein summed it up nicely when he said, "With these reprints, the goal is not to make a lot of money. The goal is not to lose money."
Great question from audience for Peter Maresca, whose Sunday Press has reprinted Little Nemo in the exact size it was originally printed. Audience member asked: "Where are you supposed to put your books? They don't fit on any bookshelf."
Maresca's answer: "Slide them under the sofa. Bring them out every Sunday, and read them."
---
CBLDF: Dr. Wertham's War on Comics
In a dynamic, well-illustrated presentation, Carol Tilley showed us the most absurd and most damning facts about Fredric Wertham's anti-comics crusade. Specifically, Wertham faked his facts. He falsified his "evidence," and twisted the stories of his subjects. In so doing, he not only made flawed arguments but lacked the professional ethics required of a researcher.
She began with a letter to Dr. Wertham from a child – Lynn Crawford of Atlanta, Georgia. Ms. Crawford wrote, "Those children you spoke of were delinquent before they ever read a comic book. I have 25 friends and we all read the same kinds of comic books, and they won't make us delinquent."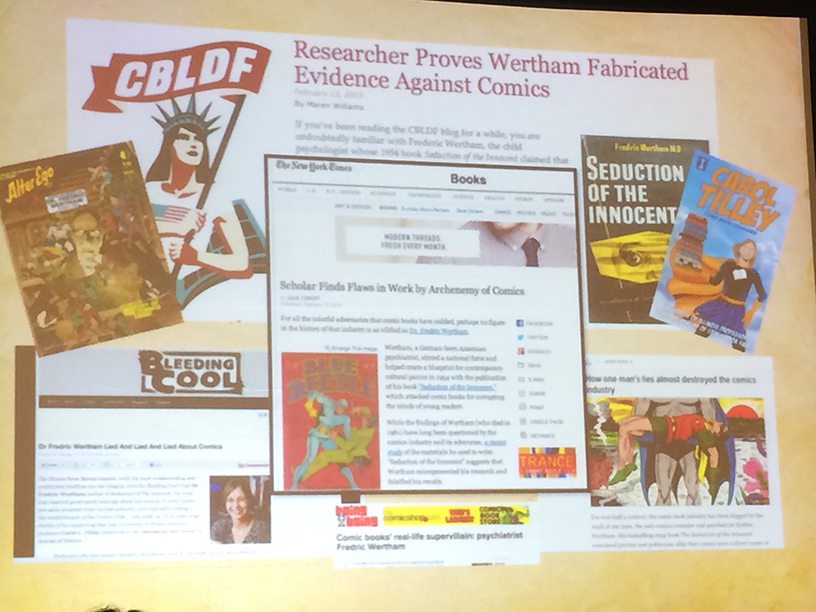 Here are some of the comics Wertham didn't like: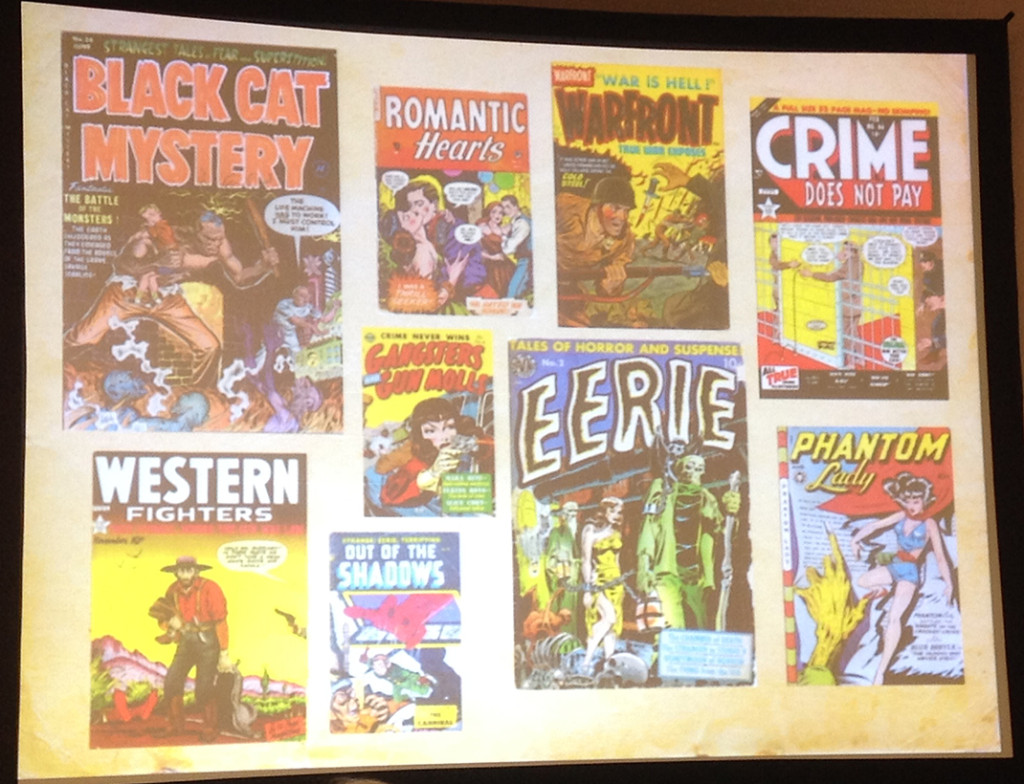 Wertham, Tilley told us, made up and misconstrued some of his evidence against comics. Â He altered kids' words or knitted together their words in different ways. Â He altered key details about the children, too.
Vivian was 13, not 12. She was African-American. Her report card was excellent. We learn that her mother was actually her stepmother, and had revoked Vivian's allowance. In fact, her mother confirmed that Vivian was more enthralled by television. In the slide below, Tilley shows some of the bits that Wertham invented – those parts are in red and struck through.
A few more interesting facts:
Published April 1954, Seduction of the Innocent sold more than 16,000 copies within a few months of its publication.
During the period of Wertham, sales of comic books outstripped slaes of children's books from 5 to 1.
In the 1950s there were more people reading comics than people playing video games today.
The code, however, led to fewer kids reading comics, fewer comics readers. Â It also, of course, made underground comics possible – though, Tilley cautioned, "that's me, trying to find the silver lining."
Speaking of silver linings, Tilley quoted Carl Barks alleging this: "I believe that the infamous book by Dr. Wertham is what saved comics from senseless horror." Tilley doesn't concur, exactly. Nor do I. But it is an interesting (if not entirely persuasive) counter-argument, I suppose.
Anyway, 'twas a panel well-worth attending. If you're looking for a speaker on this subject, invite Professor Tilley!
---
LGBT Comics for Young Readers
"We want to break down that line that says 'gay equals adult.'"
– J.P. [Jade Prince]

The panelists (L to R): P. Kristen Enos (Active Voice, Creatures of Grace), J.P. [Jade Prince] & Dusty Jack (Mahou Shounen Fight!), Grace Ellis (Lumberjanes), Brian Andersen (So Super Duper), Elizabeth Watasin (Charm School), Robert Paul (Little Rainbow Comics), Charles "Zan" Christensen (Northwest Press, The Power Within), Dan Parent (Kevin Keller, Archie Comics).
I attended this panel because as an educator, I want to be able to introduce my Children's Literature students to good LGBT fiction. This panel offered a fantastic resource because, well, to quote from the panel description, "Comics today present an amazing range of stories and characters, including more LGBT stories and characters than ever before. Since comics appeal to young and old alike, how do creators use the medium to present LGBT content and characters for younger audiences? What comics are out there for teens and younger readers? How can parents, librarians, and educators introduce such books to young people?"
J.P. summed up the point of this panel when, addressing the shared subject of writing LGBTQ-friendly comics for young readers she said: "We want to break down that line that says 'gay equals adult.'" Â That's exactly it.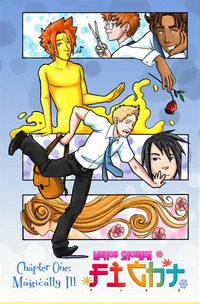 J.P. & Dusty's Mahou Shounen Fight!  Dusty describes this as "doing a version of the magical girl genre (Sailor Moon) but with boys." J.P. adds, that they "Started the comic to play with expectations. As it evolved, so did the characters, and none are 100% percent heteroseuxal." Dusty again: "We wanted to create a story that had a rainbow in terms of representation, in every sense of the word — gender, gender expression, sexuality, race, ethnicity. So young people can see themselves in it, no matter who they are."
Series is on the web, but issues are also available for purchase.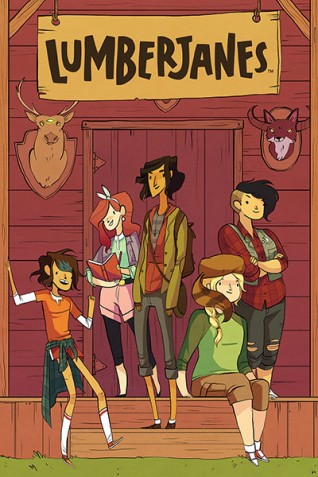 Grace Ellis' Lumberjanes (Boom Comics) is about 5 best-friend female characters, 2 of whom are in a relationship. As she puts it, "It's a story about friends. It's a story about bad-ass girls." In one of the issues, the girls visit the boys camp, the head counselor of which is "a physical manifestation of the patriarchy" – but his point of view is presented as unappealing. The boys at this camp are more into baking cookies and hanging out indoors, and the girls (the Lumberjanes) go out and fight monsters. As Ellis says, "If the Lumberjanes are super bad-ass in a traditionally masculine way, the guys are bad-ass in a traditionally feminine way."  You can buy it from Boom Comics.
Brian Andersen's So Super Duper and Rainbow & Diva.  The premise of Andersen's work is that his protagonists are gay, readers know this, but protagonists do not. Discussing Rainbow & Diva (about a spy duo), he said that instead of super-hetero guy who beats people up, "I wanted a super-flamey gay guy who also beats people up."
Elizabeth Watasin's Charm School is one of the only titles at this panel that I actually knew.  I have the first issue of this.  I wondered if it continued, but was busy & never had a chance to follow up on it. What's it about? Watasin compares Charm School to an Archie comic, explaining that it's "a very fun love triangle set in Little Salem, with vampires and hot rods and malt shops."
Robert Paul's Little Rainbow Comics is about 1st-graders who are more articulate than 1st-graders, but are still children. He invokes Stewie on Family Guy as a point of comparison. Since I'm not much of a Seth McFarland fan, I would invoke Peanuts or Calvin & Hobbes. The comic is on the web and available as a book.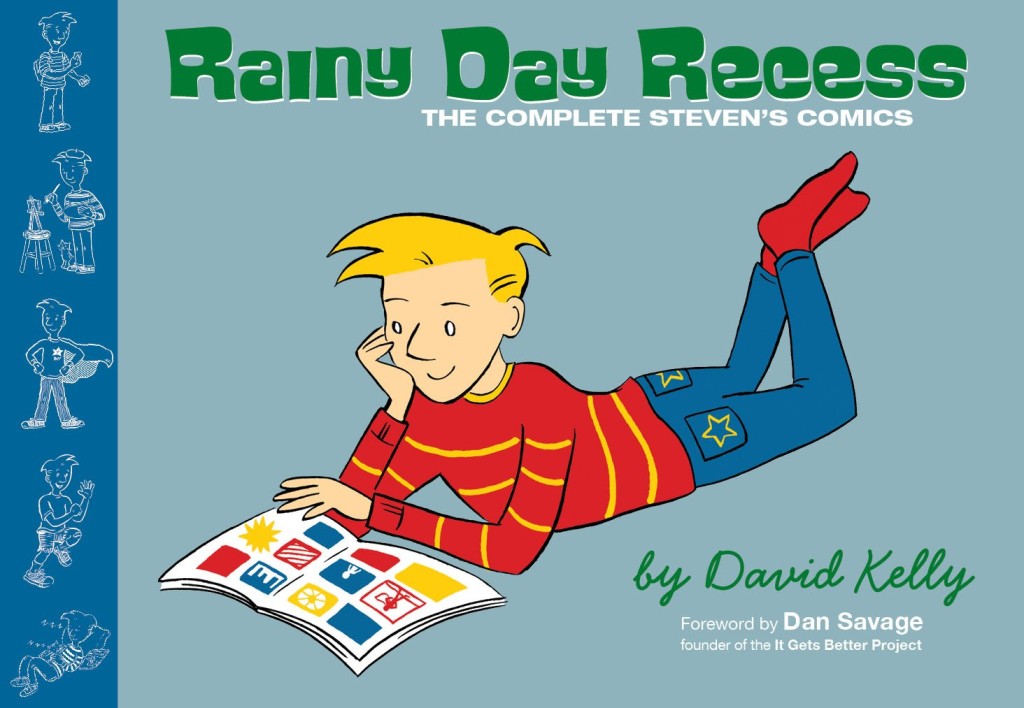 David Kelly's Rainy Day Recess. Kelly himself wasn't on the panel, but Northwest Press publisher Zan Christensen was. I picked up a copy at the Prism Booth. Here's a blurb (on the back cover) from Alison Bechdel: "David Kelly captures the solitude and magic of queer childhood with an eerie realness. The detritus of seventies pop culture that generously litters his panels adds deliciously to the bittersweet mood."  The book collects Kelly's strips from 1995 to 1998.
Zan Christiansen's The Power Within started as a 24-hour comic-book-day comic, back in the fall of 2010 with all the gay suicide attempts, and suicides. As Christensen says, "All we could think about is how do we make kids feel better? How do we help them?" You can get the book here.
Dan Parent's Kevin Keller stories.  Parent, who has has been with Archie comics for 27 years, created Kevin Keller, the first openly gay character in Archie.  Parent talked about George Takei's celebrity cameo — or, really, storyline in one Kevin Keller narrative.  Takei grew up reading Archie comics when he was in an internment camp.
---
Pogo: A Celebration of Walt Kelly's 101st Birthday

Moderator Mark Evanier (Groo the Wanderer) said that they had such a good time celebrating Walt Kelly's 100th birthday last year that they wanted do it again. Indeed, "If they keep letting us do this, we'll do Walt Kelly's 102nd birthday, 103rd birthday, 104th birthday… until he comes back."
Spotting Willie Ito in the audience, Evanier invited him up to join the panel – Ito drew Pogo in Walt's later years when his health was failing. So, above, you see (left to right): Mark Evanier, Carolyn Kelly (co-editor of the Complete Pogo series and Walt's daughter), Leonard Maltin (the film critic), Maggie Thompson (Comics Buyer's Guide), Jeff Smith's empty chair, David Silverman (The Simpsons), and Ito.
Discussing Pogo's influence on him David Silverman said, "I was drawing since I was 4. My father read us Pogo. So, at 5 years old, he's reading me Pogo. And I'm not really understanding a lot of it.  But I really took to the style of it, and the drawing. It made me want to become a cartoonist." If his parents had hoped he wouldn't become a cartoonist, they shouldn't have read him Pogo.
Jeff Smith arrives!

Willie Ito spoke of working on Pogo:
Walt took ill and was unable to complete his commitment. So, Walt figured that Don Morgan is the only one capable of following through. But then Don came to me, and said I just promised my son Ethan we're going to go off to the woods for a vacation, and I can't break his heart. So, can you help me out? So, can you help me out with two weeks of days?
Ito thought he'd have to use a brush, as Walt did – but he didn't have time to practice with a brush. Â So, he used his Pentel pen, instead. Â So, Ito continues, "And I thought I did a passable job. And I guess Don was able to pass it off. But a few years later, I learned that Shelby was really annoyed, and said 'It looks like it was done by some Japanese artist in Japan.' And I said, 'Well, she's half-right.'"
Silverman says he "Learned how to create subtlety of expressions from Kelly."  At one point, Jeff Smith said he loved "the brushwork when Kelly flubs it" – and he mimed a hasty scribble with his hand here – "and still makes it look good."
Smith also recalled the first time he saw Kelly's work: "I encountered Walt Kelly on a playground because some little girl gave me a copy of of [Pogo in] Pandemonium. It was very fantasy-based. When I look back on it, I realize that's why Bone veers off in that direction. Every time I think I'm getting this comic book game down, and then I look at Pogo and start banging my head….'
Silverman said that "Thanks to Walt Kelly, I always thought 'Weehawken' was an exclamation of joy, and not a city in New Jersey… I keep trying to edit the Wikipedia page, and they won't let me…."
Maggie Thompson told the story of Kelly's plans for a sci-fi strip that would be satirical.  But the Korean War broke out, and the syndicate said just keep it funny — no other commentary.  So, as a result, this political commentary comes into the Pogo strips instead.
Near the end of the panel, they invited Eric Reynolds up to join them because he had a dummy of the next Pogo volume.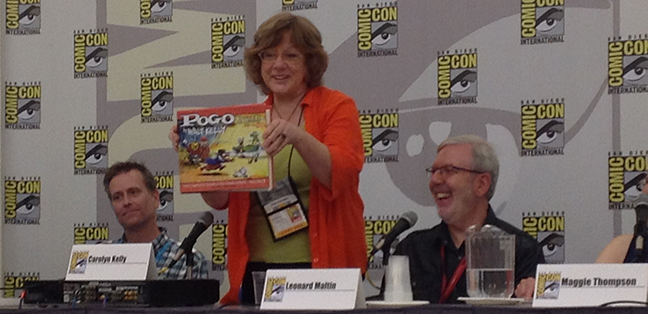 ---
Lou Ferrigno
And, just because, here is Lou Ferrigno, who played the Incredible Hulk on the TV series (1978-1982).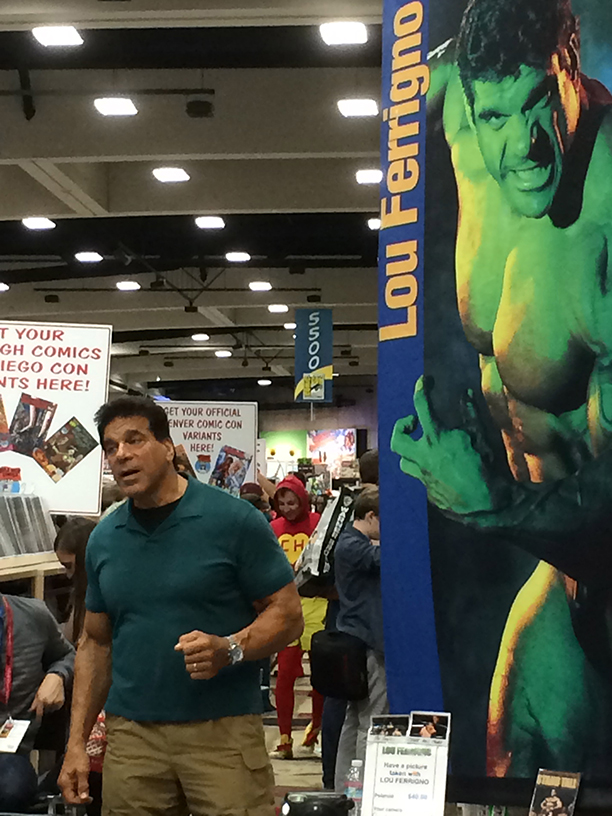 ---
Eisner Awards
Attended my second Eisner Awards because I was again a nominee this year.
At the #Eisners! #SDCC #SDCC2014 @fantagraphics pic.twitter.com/K7zbNwRYlH

– Philip Nel (@philnel) July 26, 2014
And, yes, I also tweeted a little while I was there.
"I write jokes about bears who poop a lot." — @Oatmeal on winning an #Eisner #SDCC #SDCC2014 pic.twitter.com/blhMedzlpy – Philip Nel (@philnel) July 26, 2014
Matthew Inman won "Best Digital Comic" for The Oatmeal.
Yay! @faitherinhicks wins an #Eisner pic.twitter.com/gN9TrCiIia

– Philip Nel (@philnel) July 26, 2014
Faith Erin Hicks won "Best Publication for Kids" for The Adventures of Superhero Girl. She was so moved by having won the award that she teared up a bit as she was thanking people. It was very sweet. I love this book. And, for the record, the other books in this category (well, the ones I know, anyway) are great: Luke Pearson's Hilda and the Bird Parade, and Fanny Britt and Isabelle Arsenault's Jane the Fox and Me.
Congratulations to @DrSheenaHoward for winning the 2014 Eisner Award for Best Scholarly/Academic Book! #BlackComics #SDCC #SDCC2014 – Ebony Elizabeth (@Ebonyteach) July 26, 2014
"Best Scholarly/Academic Work" (the category in which I was nominated and lost last year) went to Sheena C. Howard and Ronald L. Jackson II's Black Comics: Politics of Race and Representation, which – incidentally – is the only one of the nominated books that I actually have a copy of. (Yes, I need to get some of the others, I know….)
And… the category we've all been waiting for… "Best Archival Collection/Project – Comic Strips"… goes to…
Congrats to Dean Mullaney's Tarzan (Russ Manning) #Eisners #SDCC #SDCC2014

– Philip Nel (@philnel) July 26, 2014
Yes, the preceding Tweet confirms that I am now a 2-time #Eisner loser! #SDCC #consistency! #SDCC2014

– Philip Nel (@philnel) July 26, 2014
Ah, well.  To be honest, I had no idea how to even weigh the odds (I mean, apart from the fact that Eric Reynolds and I had a 1 in 6 chance for Barnaby – since there were five other nominees). But, as Charlie Brown says (after yet another catastrophically bad season in little league), "Just wait until next year!" No, no – I'm kidding. Truly, it's nice just to be nominated. Also, I think "two-time Eisner loser" is a funnier accolade. Unless you're Jaime Hernandez, who after I-have-no-idea-how-many-times of being nominated and losing finally won!!! Which is awesome.
"I want to thank the wise guys who broke my record of never winning one of these"–Jaime Hernandez #Eisners #SDCC @fantagraphics – Philip Nel (@philnel) July 26, 2014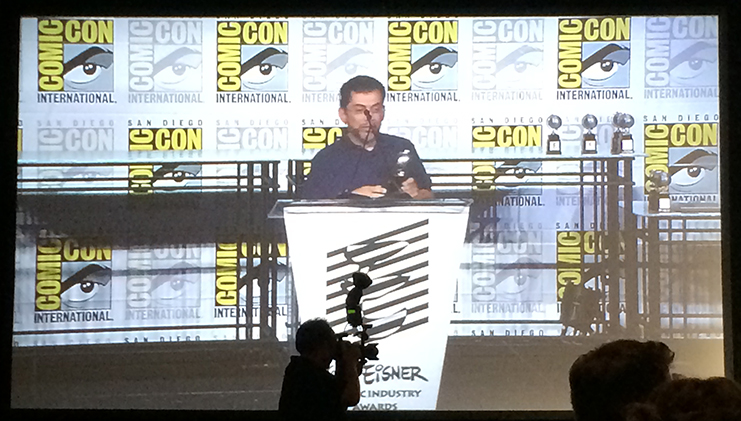 Gilbert Hernandez won tonight, too. Â This is great news!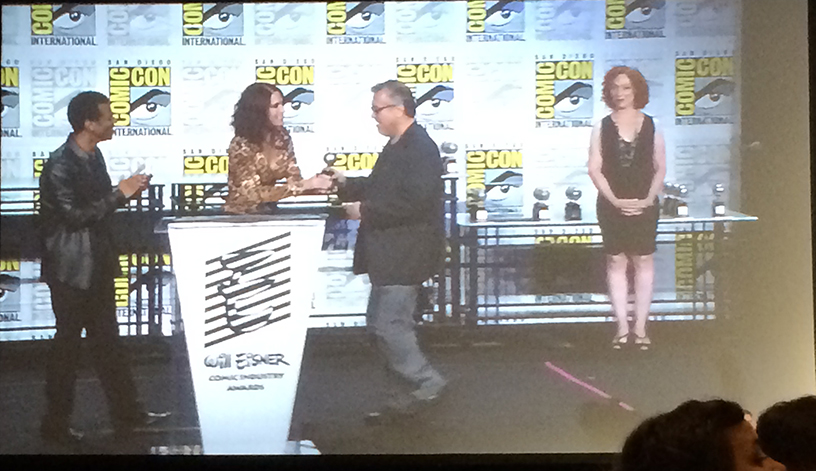 Jeff Smith won his 12th Eisner.  OK, it might not be 12th.  It might be more.  (I'm not sure how many Eisners he's won, but it's an impressive number!)  This year, he won for RASL.  Also, and I don't think this can be said often enough: Jeff Smith is such a nice guy. (His success has not gone to his head!)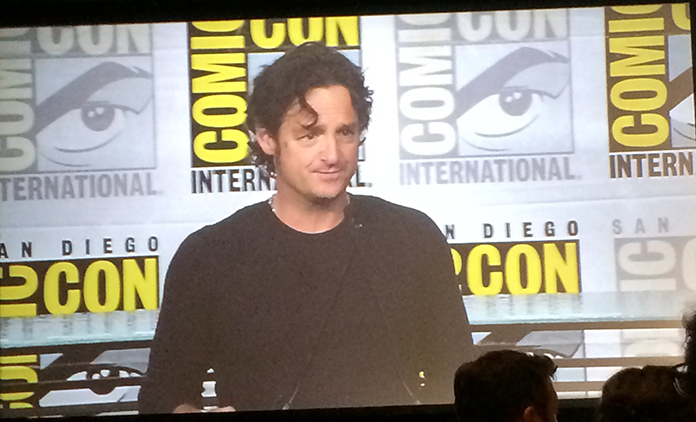 ---
Goodnight, fans everywhere.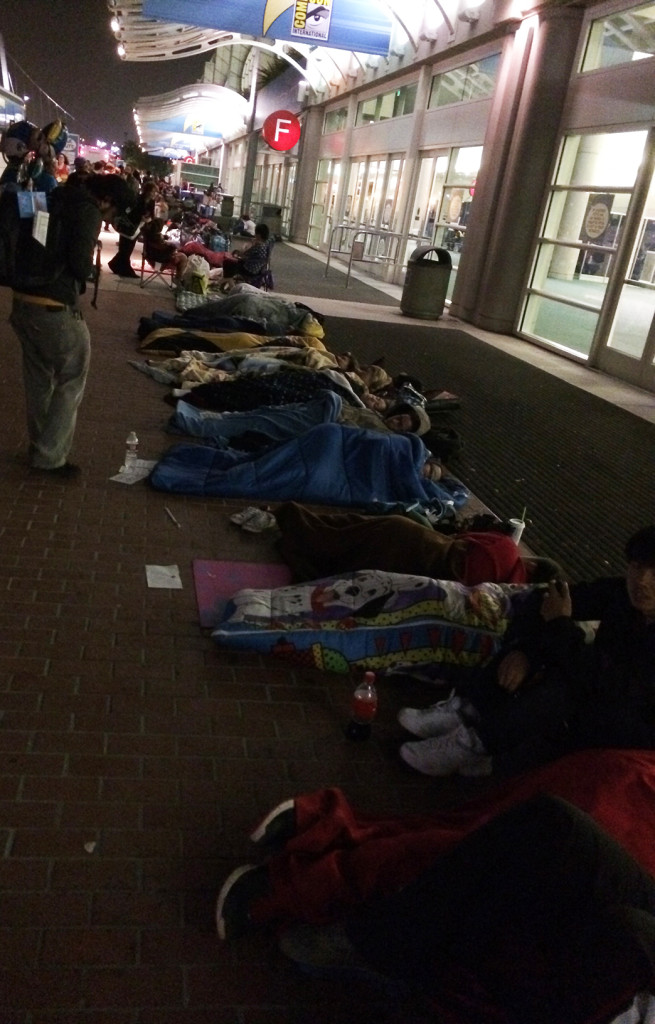 Goodnight, lines. Goodnight, crowds. Â Goodnight, fans sleeping on the sidewalk.
---
Comic-Con 2014:
Comic-Con 2013: