This afternoon, a group of about 30 of us – undergraduate students, graduate students, faculty, community members – voted on our choices for this year's "Mock Caldecott." Since we were guessing at the award results (announce in January), we read picture books by U.S. authors, published in the U.S. in 2016. Or, that's what we intended to do – as you'll see in a moment, we inadvertently admitted a beautiful Swiss-Italian book. Another disclaimer: We did not get our hands on all notable works, and may have missed some important ones. BUT! Here are the books we chose.
The Winner*:
Francesca Sanna's The Journey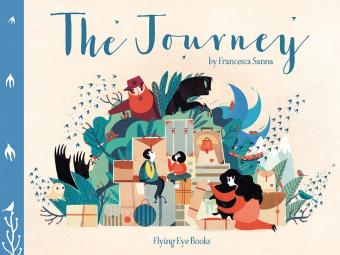 Though a timely story, its stunning realization is what persuaded us. As war arrives, a family loses its father, and must seek a safe harbor. On the page where "The war began," the darkness that (on the previous two-page spread) had represented the sea suddenly overtakes the entire right-hand page, with giant shadowy hands reaching left, destroying buildings. Over a few subsequent two-page spreads, the gradual loss of the family's baggage accrues the weight of a much deeper loss – of home, father, security. With relatively spare text and powerful, vivid art, the book takes us on their journey toward what they hope will be their new home. (Wisely, The Journey ends before the journey is complete.) Narrated from the perspective of one of the two children in the family, the book conveys a complex, emotionally layered story with such economy and subtlety. It's one you'll return to.
And… remember how, above, I said we inadvertently admitted a book not eligible for the Caldecott? According to her website, Sanna grew up in Italy and is based in Zurich, Switzerland. However, including it proved to be a very happy mistake because it's a beautiful, powerful book, and I'm glad to be able to recommend it here.
The Revised Winner:
Sergio Ruzzier's This Is Not a Picture Book!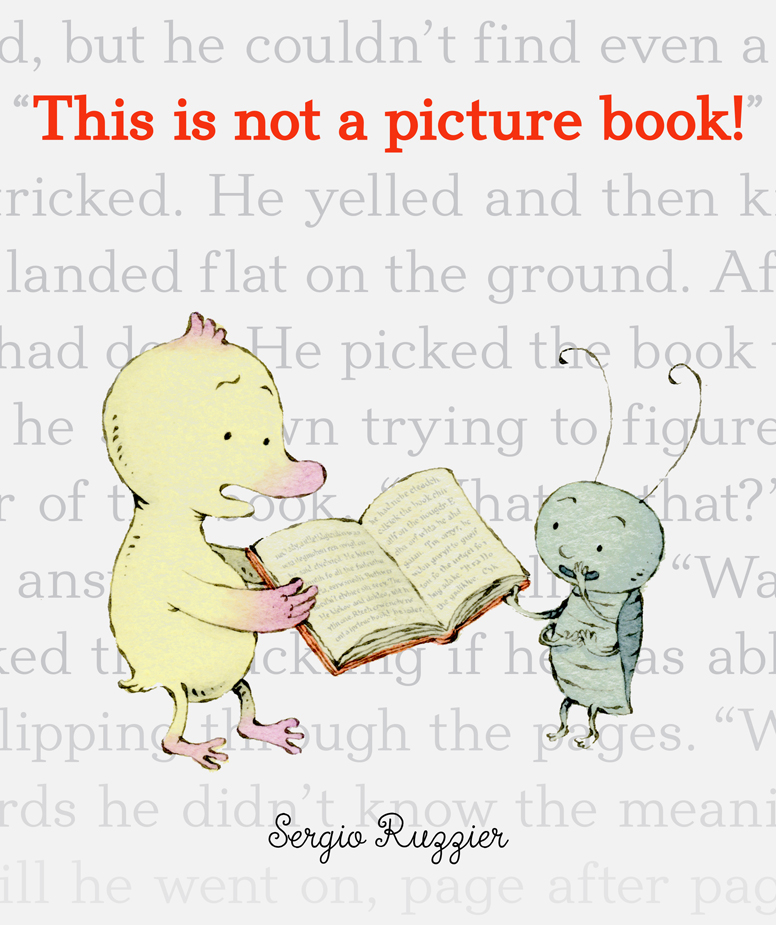 This came in exactly one point behind The Journey, and was originally our first Honor Book. Ruzzier was also born in Italy, but is based in Brooklyn, and thus his book is eligible for the Caldecott. So, This Is Not a Picture Book should be today's winner! It's a clever, engaging book about learning to read. The narrative starts on the only partially decipherable initial endpapers, which garbles most words but leaves a few legible. Against a completely white background, a duckling finds a book, picks it up, opens it, notes that it has no pictures, and speaks the title (for the title page). As soon as the friendly bug prompts duckling to start reading, the blank landscape gains color and sprouts visual metaphors for the duckling's recognition of certain words. For the page indicating "funny" words, smiling bubbles drift by, a long-nosed large-footed fellow naps near a flowerpot, and many whimsical creatures look on. For "sad," duckling and bug walk past smoldering houses and the craters of a recently bombed landscape. By the book's conclusion, the duckling can read – and the final endpapers have transformed into a legible typographic rendition of This Is Not a Picture Book!'s plot.
The Honor Books:
Katrina Goldsaito and Julia Kuo's The Sound of Silence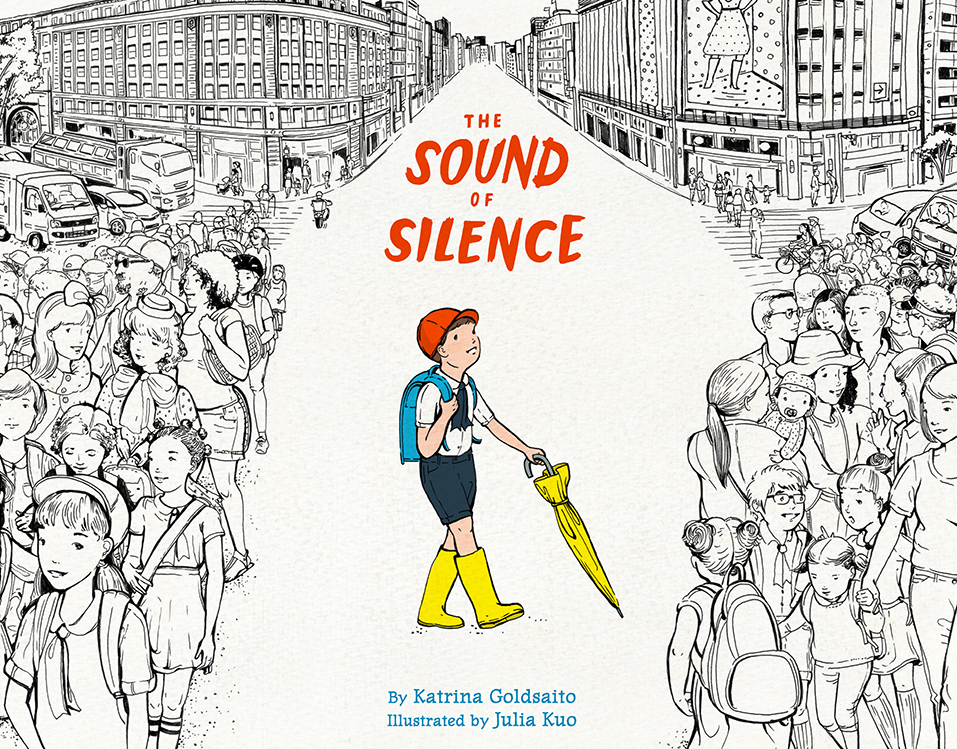 The color! The layout! The design! A journey through Tokyo, as Yoshio seeks silence. With a color palette worthy of Herge, Kuo takes us through the city with the book's protagonist, searching for ma – the silence between sounds. Along the way, Goldsaito presents the noise of the city, which Kuo depicts, along with moments of relative quiet (not noted in the text), until we (via Yoshio) at last experiences that moment of silence.
Carole B. Weatherford and R. Gregory Christie's Freedom in Congo Square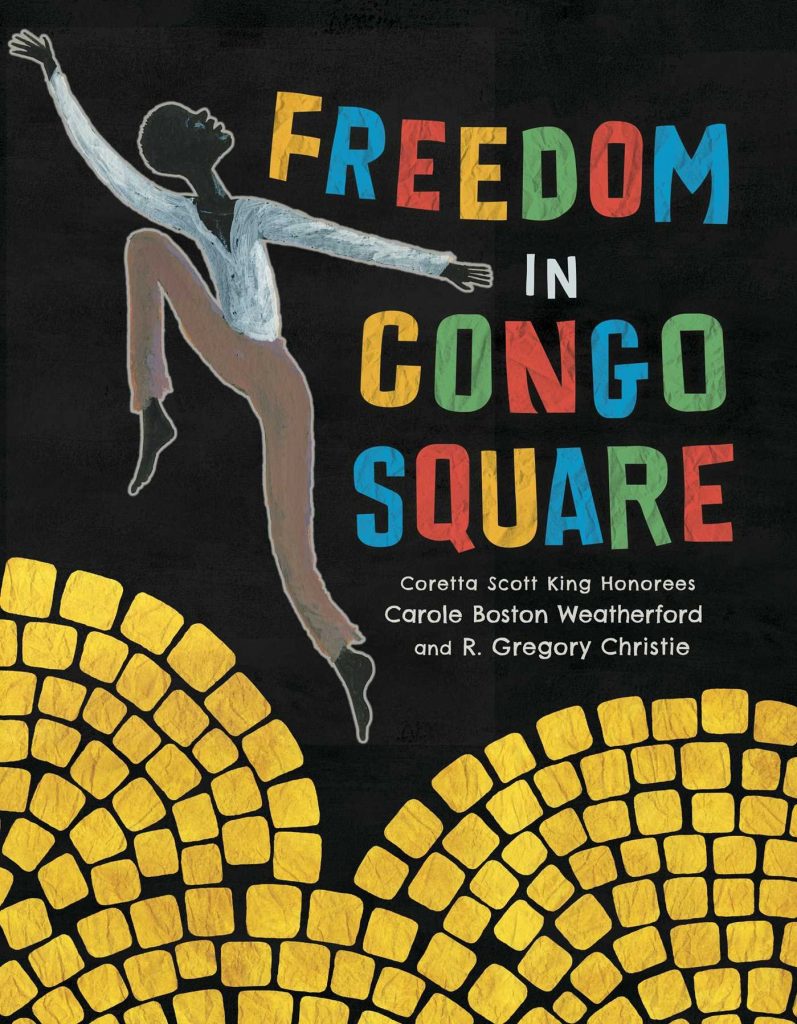 This one wasn't originally one of our Honor books (because we inadvertently gave the prize to a Swiss-Italian book), but it could have been, because it received the next-highest number of votes after The Sound of Silence. Congo Square offers the enslaved respite on a Sunday, but the rest of their lives are devoid of any such comfort. Prior to the Congo Square pages, Weatherford and Christie present the brutality that slaves suffered, rejecting any whiff of the "happy slave" narrative that still appears in children's books.
---
There were many other great books published this year. Here are three more that I think are Caldecott worthy (note: just my opinion, not the opinion of our little informal committee).
A few other great books from 2016:
Matt Phelan's Snow White: A Graphic Novel
Jon Klassen's We Found a Hat
Jory John & Lane Smith's Penguin Problems
Lisa Brown's The Airport Book
And, yes, I'm sure I'm missing a lot of other good books here….
____________
* Actually not eligible to be the winner because the creator is based in Switzerland.
Related links

:
Note

: I failed to compile this list in 2015.