Just back from our Mock Caldecott, held today at the Manhattan [Kansas] Public Library, and again organized by KSU's Children's and Adolescent Literature Community (special thanks to Allison Kuehne and Becca Rowe!). In anticipation of the Caldecott Awards (held in January), we spent a few hours looking at and discussing what may or may not be the best American picture books of year. That is, we try to look at the best, but we can't always get everything we need in time. (For example, omitted this year were Sergio Ruzzier's A Letter for Leo and Mark Newgarden and Megan Montague Cash's Bow-Wow's Nightmare Neighbors – both books that I expect other Mock Caldecott groups, and the Caldecott Committee itself, are looking at.) The process is imperfect, but it's still fun to spend the afternoon looking at picture books, and debating their merits!
The Winner:
Marla Frazee, The Farmer and the Clown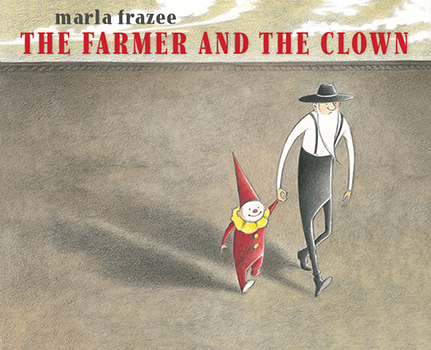 Wordless tale of an unlikely friendship. In well-designed, dynamic layouts, Frazee's book tells the story of a young clown who falls off the train of a traveling circus, and gets adopted by a farmer. The friendship that develops between the unlikely pair touched our group this afternoon, as did the unexpected resolution of the tale. (I don't want to give anything away here….)
The Honor Books:
We had quite a few honor books. Here they are, in the order of how many votes they received.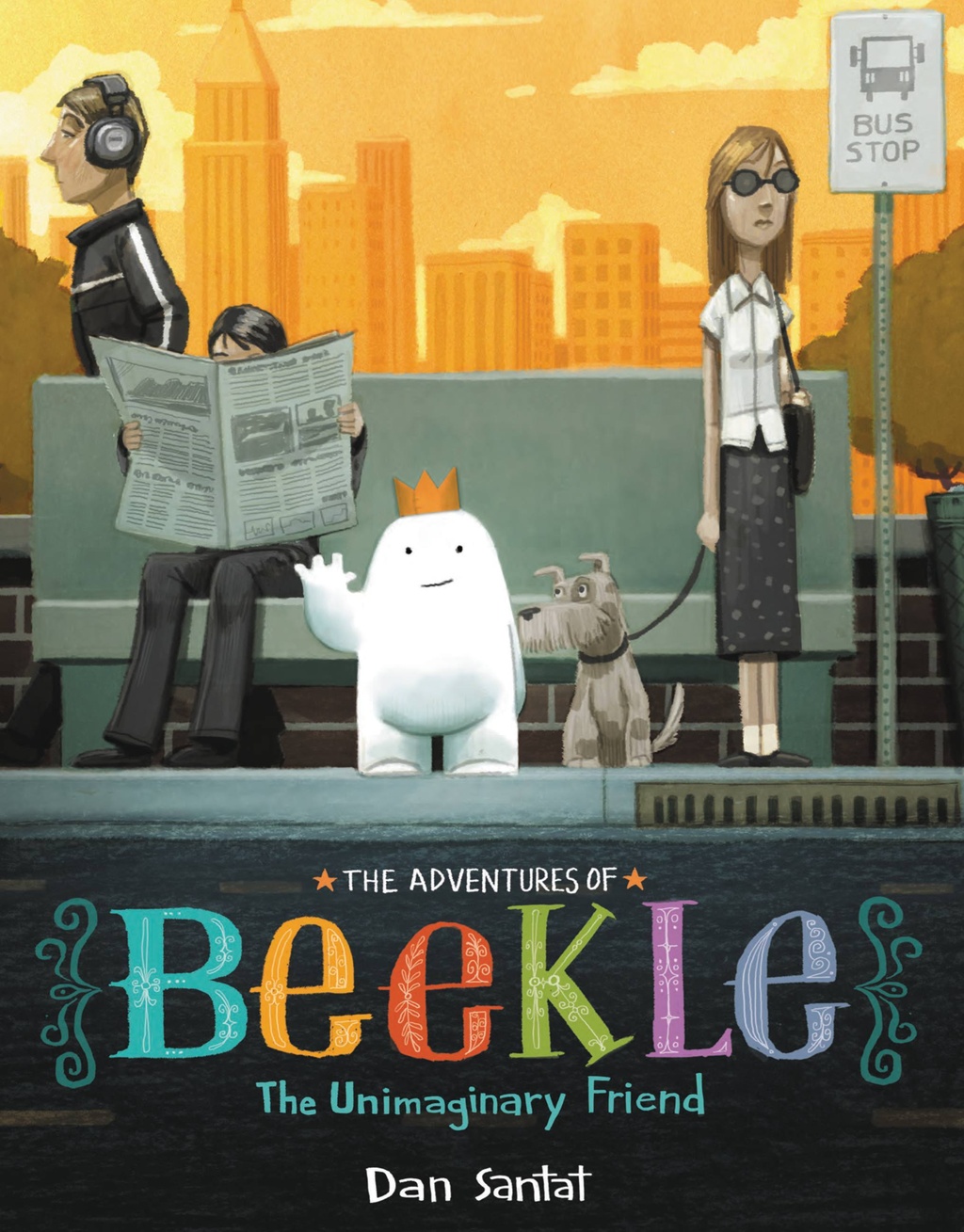 Dan Santat, The Adventures of Beekle: The Unimaginary Friend
Where do imaginary friends come from? And what if some imaginary friends fail to get imagined by children? In answer to both questions, Dan Santat has Beekle – an imaginary friend – set off in search of a young human who will befriend him. A book that bears a bit of influence from Shaun Tan (especially The Lost Thing), The Adventures of Beekle is already in Emily's Library. (Coming later this week: a new installment in my attempt to build for my niece the "ideal" children's library.)
The next two books were tied with the same number of votes each.
In his hyperreal artistic style, Nelson paints an animal story that is at once an adventure of a lost bear trying to get home, and a philosophical meditation on how we find our place in the world. It's a different kind of book for Nelson (I don't think he's done other animal books), and he does it very well. Sustained by its striking artwork and compelling child surrogate (baby bear, of course!), this beautiful book is also already in Emily's Library.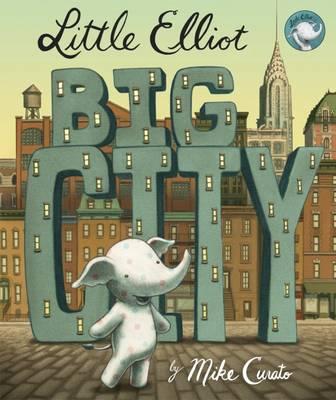 Mike Curato, Little Elliot, Big City
With illustrations that really draw you in, Curato's tale of a small cupcake-loving polka-dotted elephant (Elliot) has heart. I think, too, that its treatment of the central character's height will resonate with younger readers: to be a child is to exist in a world designed for giants, where everything is too large, too long, or out of reach. Curato captures that experience well. It's sweet without being pat – and that's a delicate balance to achieve. It's a future addition to Emily's Library. (I hadn't seen it until today.)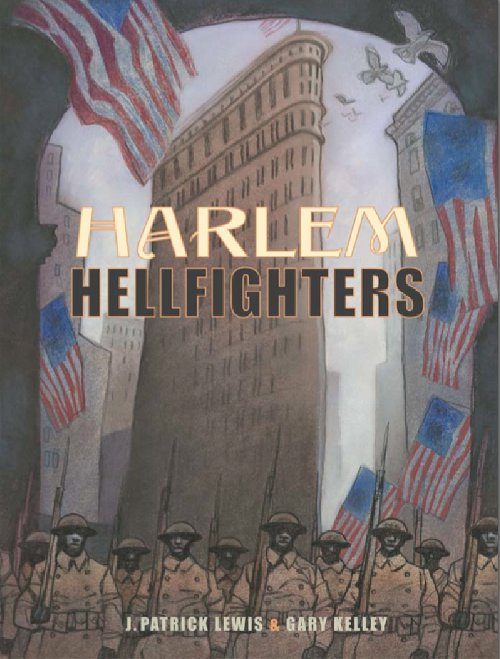 J. Patrick Lewis and Gary Kelley, Harlem Hellfighters
Also a book I encountered for the first time this afternoon, Harlem Hellfighters was my top pick of the 25 we looked at today. In spare, poetic text, and striking images, the book tells the story of the most decorated African American combat unit to serve in the First World War. With a great use of comics layout, and words both suggestive and specific, it does the impossible job of conveying historical detail and nuance all within the confines of a picture book. It shows how the same group of people who were being lynched here in the U.S. were serving abroad with valor and distinction – juxtaposing their European heroism with American lynchings. And, though it has a strong moral message, Lewis and Kelley convey that without moralizing. Probably not a book for the youngest readers, Harlem Hellfighters should be required reading for American children of 7 and up in the Ferguson Era. (I don't know if we have a term for the legal murder of people of color, as practiced in contemporary America – so, I'm using "Ferguson Era" as shorthand.)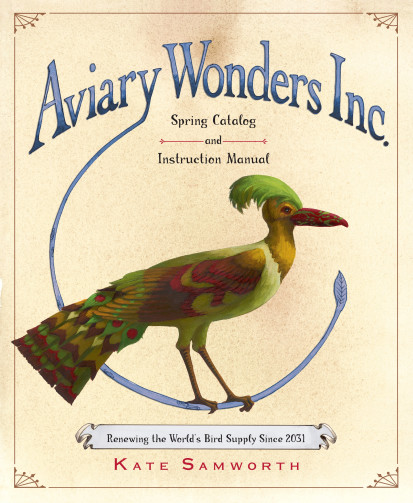 Kate Samworth, Aviary Wonders Inc. Spring Catalog and Instruction Manual
This one – the last of our Honor Books – blew me away, and was also on my short list. I'd read about it before today, but had never actually seen it. In the guise of a catalogue for the (fictional) Aviary Wonders Inc., Samworth teaches us about anatomy, flight, and extinction. With a dark sense of humor and design evocative of both contemporary catalogues and nineteenth-century science, Aviary Wonders Inc. tells the sad story of our loss of biodiversity. In offering instructions for how to make birds, Samworth commemorates those species that humans have destroyed. If this sounds impossible to you, then all I can say is check it out. It sounds impossible to me, too – only because I've read Samworth's book can I report that it's not only possible but a remarkable achievement. One of the year's best picture books.
What are your favorite picture books from 2014? (Though the Caldecott recognizes excellence in American picture books, there's no need to restrict yourself to ones from the U.S.)
Related links: