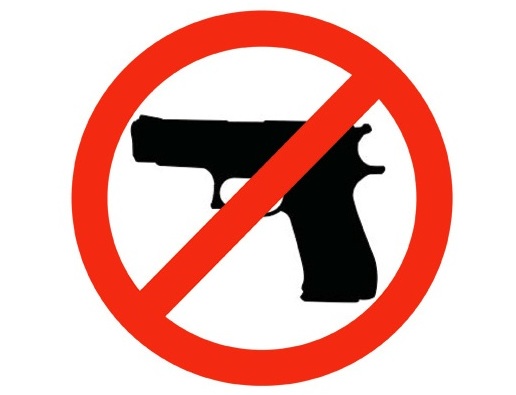 Yesterday, in response to overwhelming support for rolling back Kansas' insane campus carry law, Senator Jacob LaTurner's Kansas Senate Federal and State Affairs Committee decided instead to prevent the full senate from voting on Senate Bill 53 – a bill which would have exempted college campuses from their imminent weaponization. Would the full senate have supported the measure? The committee's decision not to bring the bill before the full senate suggests that it would have had a fighting chance. (If they thought it would fail in the full senate, then sending it there to fail would at least look democratic. So, my reading is that, fearing the possibility of failure, the majority of the committee opted to thwart the will of the people.  Their allegiance is to the gun lobby and not to their constituents.)
There is, however, a Kansas House bill that offers a chance to bring this idea – exempting campuses from firearms – to the House for a vote.  If it passes a House vote, the bill would then get sent to the Senate for a vote.  Thus,… more testimony in Topeka this morning!  I cannot attend today's hearing.  So, I have submitted my testimony in advance.  Here it is.
---
Statement in Support of HB 2074
My name is Philip Nel. I am a University Distinguished Professor of English at Kansas State University (though, of course, I am speaking here as a private citizen). I've happily called Manhattan home for over 16 years, but –Â in response to campus carry –Â I'm not sure how much longer I'll be calling it home. The legislature's decision to force firearms into our classrooms, offices, libraries, laboratories, and student centers has me looking for another job.
My specialty is Children's Literature. There are not a lot of senior positions in my field. So, I cannot predict when my departure may be. I may be here for a while longer.
I first went on the market last year and received the offer of an endowed Chair in Children's Literature at a top university in another country. I very much wanted to accept the offer, but my wife (also an English professor) was understandably unconvinced that there would also be an opportunity there for her. So, for her sake, I reluctantly turned it down.
If campus carry does arrive as planned, I could not turn down such an opportunity again. Perhaps she and I will have to live in separate states or countries until both of us find a way out of Kansas. I don't know. I do know that guns endanger the lives of students, faculty, and staff. I know also that in college classrooms, we discuss difficult, contentious subjects. Armed students make these difficult, necessary conversations impossible to have. Concealed carry turns each student into a potentially armed student –Â and thus into an implied threat to fellow students. Fear inhibits discussion. Campus carry makes it impossible for me to do my job.
So, I'm seeking work elsewhere. Since that may not happen immediately, I am also applying for fellowships out of state (and out of the country). I like my job, and I love my colleagues. However, if the state of Kansas wants to make it impossible for me to do my job, then I'll need to find a way to keep doing my job somewhere else.
The prospect of leaving great friends, colleagues, and students saddens me. The great people I work with are the main reason I've stayed here, despite the legislature's and governor's persistent defunding of public education. I'm more than willing to put up with Kansas' ongoing efforts to kill higher education.
But when Kansas also wants to kill me and my colleagues and my students, then I want out.
So. I urge the legislature to vote yes on House Bill 2074. Thank you.
– Philip Nel, 1 February 2017
---
I would add here that if I am unable to find employment elsewhere, my stance remains unchanged. Â Should students wish to take my classes, they will need to disarm. Â Period. Â I will never teach armed students. Â That is not negotiable.
In fact, the fact that I should even have to make this argument offers some indication of how insane this state and this country have become.
So, dear reader: Is your university in a state or country with (relatively) competent governance? Or is it a private university (and thus not required to weaponize)? Does it seek an expert on children's literature?  Well, seek no further!  Here is my curriculum vitae and a page devoted to my books (with selected reviews of same):
Drop me a line. Â I'd love to hear from you!
And, Kansans: contact every member of the House Federal and State Affairs Committee. Tell them to exempt university campuses and hospitals from firearms.  Do it.  Now.  Silence is complicity.
---
Related writing on this subject (by me, and on this blog unless otherwise indicated):