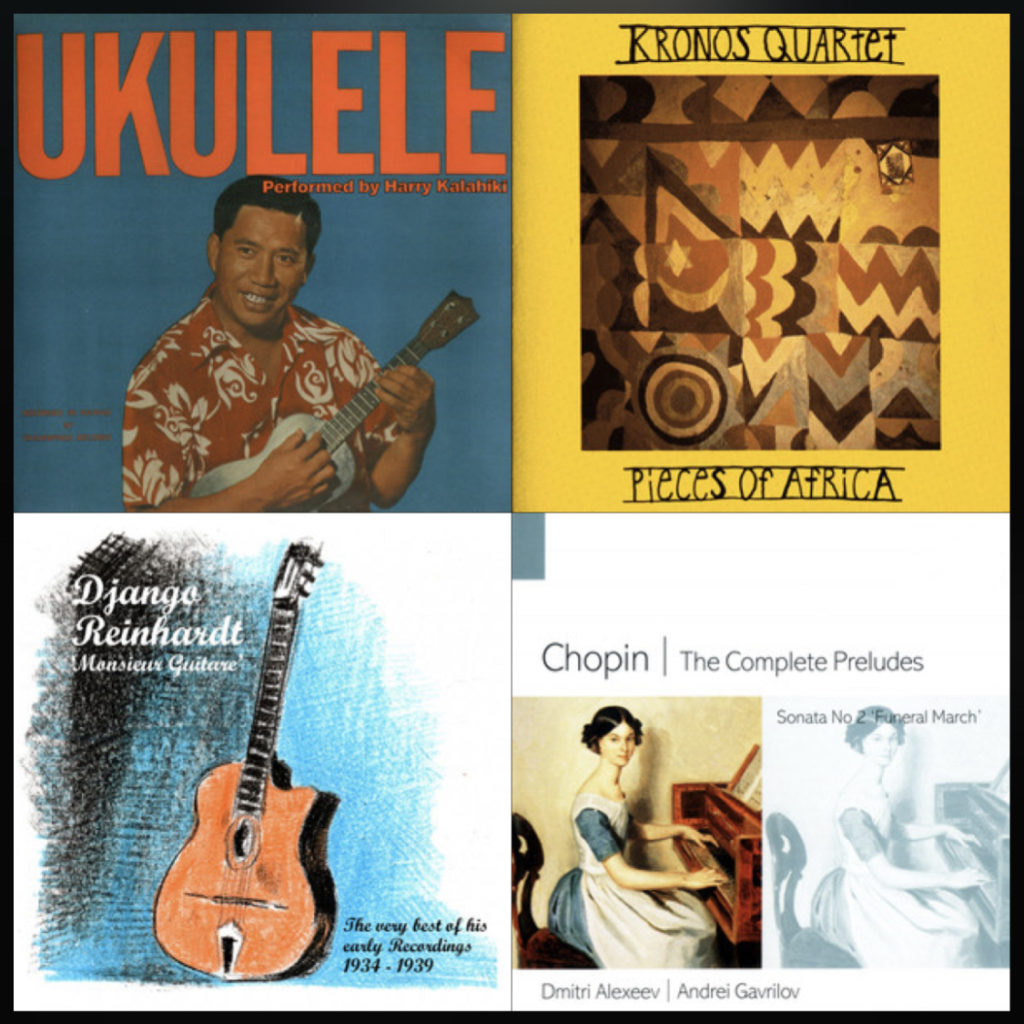 In these unsettling times, I turn to music to help me calm down – especially at day's end, when I need to sleep. While calming melodies might not grant complete tranquility, they do nudge me in that direction. Thinking that others might also appreciate some soothing sounds, here is a playlist – roughly two CDs of music, incidentally – that I've named "Peace Pieces" (after the Bill Evans tune). It's a mix of classical, new age, and jazz.
Looking for other relaxing music? I very much enjoy the late Jóhann Jóhannsson's Orphee (2016). The opening track is #22 in the above playlist.
And there's Moby's Long Ambients 1: Calm. Sleep. (2016), which is also available for free on his website. (Breaking news: while creating that link, I learned that last week Moby released Long Ambients 2 via Calm. Within a month of its Calm release, the new album will become available via Spotify and Apple Music.)
The classic ambient record – my Desert Island Discs ambient record – is Brian Eno's Ambient 1: Music for Airports (1978). It's excellent for relaxing.
If (for variety's sake) you'd like a slightly different version of Eno's album, check out Bang on a Can's 1998 recording. I've listened to Eno's so often that I lately find myself gravitating just as often to the Bang on a Can record.
I find Max Richter's 8.5-hour Sleep (2015) to be a bit uneven. I like some pieces, but others are, frankly, less conducive to sleep. However, From Sleep (a 1-hour version of Sleep) is more likely to invite slumber. Indeed, two tracks included in From Sleep appear in my "Peace Pieces" playlist.
One more (added on Sunday, after this post went live): Winged Victory for the Sullen. Don't let the name throw you off. The music is very grounding and not depressing – or, at least, I don't find it to be. "A Symphony Pathetique" (from their self-titled debut) appears on my "Peace Pieces" playlist. Below are two albums and a couple of singles.
And with those bonus playlists (well, bonus albums, really), I'm concluding my week of posting a playlist each day. Miss any of the week's musical delights? Links to the rest are below. And you can find others via my Spotify account.
---
The full list of the week's mixes/playlists…
---
Final thought. When I began this blog back in 2010, I imagined that one of its primary functions would be sharing mixes. Back then, that proved far too labor-intensive. Indeed, I have since had to take down mp3s that I posted. The Yahoo interface through which they were playable (but not downloadable) has long since been abandoned, leaving the files vulnerable to theft. So, I swiftly complied with copyright holders' requests by taking down not only the files I was asked to remove, but all of them. (I have begun reconstructing those mixes via Spotify: The "meta" mix is now available again. Others will become available when I find time…)
Now, perhaps, the blog is finally realizing its initial mix-sharing aspiration – though, yes, you do need to be on Spotify in order to listen. (Using Spotify is free, but using it without ads requires a subscription.) I hope these mixes have been enjoyable for you!