Welcome to the fifth installment of navel-gazing with aspirations. Â As noted on day one, the attempt here is to make academic work visible. Â Thus: welcome to the day that some call the middle of the week. Â (If one works on weekends, do weeks have middles? Â Do they have beginnings? Â Do they ever end?)
Wednesday, 23 Feb. 2011.
12:00 – 12:15 am. Â Checked Facebook, Twitter, responded to comments on Monday's blog post.
12:45 – 6:35 am. Asleep.
6:40 – 6:50 am. I don't usually record shower time, but it's worth noting that during this morning's shower I wrote (in my head) a few sentences for Julia's and my ChLA talk.
7:05 – 7:15 am. While dressing, gathered books I would need to write those few sentences – and brought them to campus. Â Dressing took slightly longer this morning because I donned a bow tie (in homage to Dr. Seuss), and it takes me longer to tie a bow tie. Â I usually wear the long-style necktie, which I think of as a Windsor because that's the knot I use. Â I have no idea what the long-style tie is called, though. Â Does it have a name, beyond "tie" or "necktie"?
7:15 – 7:25 am. Breakfast. Â Read more of A. J. Jacobs' The Know-It-All, while trying to retain (in my head) the sentences I'd write when I got to campus.
7:42 am. Â Arrived in office.
7:42 – 7:56 am. Â Checked email, FB, and Twitter. Â Thanks to Joseph Thomas' FB post, checked out this Mother Jones chart of income inequality in America. Â This is the kind of thing that Julia and I need to address in our "Radical Children's Literature Now!" talk.
7:56 – 8:50 am.  In writing those sentences for Julia's and my ChLA talk, I ended up writing a paragraph.  It may not be a great paragraph, but it's something! Also realized that I left my English 703 folder at home, which means that the response papers I graded yesterday (with the intent of turning back today) are at home.  Damn.  Answered email from student who reports absence from today's English 703 class.  Coincidentally, student is author of one of the response papers abandoned at home.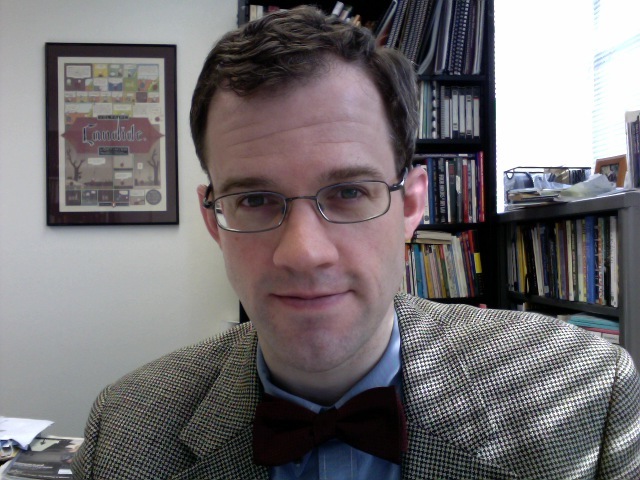 8:50 – 9:30 am. Â Re-reading notes & criticism for English 703.
9:15 am. Â Office hours begin, but today I can only be here for 15 mins. Most students only come by appointment, but – just in case today is atypical, and students do appear – I've left a note on the door. Â I have to step out to go to what I anticipate will be a half-hour…
9:30 – 10:45 am.  Meeting with Rachel Skybetter of Kansas State University's Media Relations, which turned out to be not a half-hour.  That's not a problem, though!  She wanted to speak to Karin and myself about Harry Potter.  We (along with our colleague Naomi Wood) teach the class, and have done some scholarship on Rowling's series.  The occasion for Ms. Skybetter's interview is a piece for Perspectives, a magazine devoted to research at Kansas State University.  Glad to help get the word out on Humanities research & Children's Literature.
10:45 – 11:24 am. Re-reading notes, criticism (Zohar Shavit's "The Ambivalent Status of Texts" from The Poetics of Children's Literature &  Julie Sinn Cassidy's "Transporting Nostalgia: Little Golden Books as Souvenirs of Childhood"), & primary texts (the Little Golden Books Scuffy the Tugboat and The Poky Little Puppy) for English 703.  Brief email response to journalist.
11:30 am – 12:20 pm. Â English 703 (Critical Approaches to Children's Literature).
12:25 – 12:38 pm. Â In hallway of ECS Bldg., spoke with student about paper. Â Spoke with colleague Anne Phillips about summer English 355.
12:38 – 12:56 pm. Â Lunch! Â Also: student came by to take quiz. Â And: mentored colleague.
12:56 – 1:22 pm. Lunch, continued.  Focus on English 355 (next class), brief conversation with student (after quiz).
1:30 – 3:20 pm. Two sections of English 355 (Literature for Children). Â Feeling good about both classes, but especially the first one. Â Really got that gestalt going, where there's a great balance between student discussion and (what I felt was) nifty information.
3:25 – 4:10 pm. Â Yet another student makes up a missed quiz (I seem to spend much of my life proctoring make-ups, don't I?). Â Email re:Â Complete Barnaby. Answered grad. students' questions re: Langston Hughes and Harlem Renaissance Children's Lit. Â (See Kate Capshaw Smith's Children's Literature of the Harlem Renaissance! Â See Michelle Martin's work — has the Bon Bon Buddy essay been published? Â 'Cause it's excellent. Â And, for the picture books side, see of course her great book on African-American Children's Picture books.) Â Via email, read research proposal accompanying a request to write a letter of reference on behalf of the applicant (who I met at a conference a year or two ago). Â I enjoyed the proposal, remembered our conversation, & wrote back agreeing to write letter (due April 1st).
4:10 – 4:20 pm. Â Checked Twitter. Â Am trying to stay off of Facebook because of so many postings regarding the news. Â Too overwhelming, too depressing. Â On the optimistic side, I hope Americans continue to rally behind their public institutions and the workers who staff them. Â And I don't understand the movement to transform the U.S. into a third-world country (expanding the gap between rich and poor, squeezing out the middle class, defunding education, etc.). Â And I would like to see our president say more about the role that a progressive income tax plays in sustaining a stable, prosperous society.
4:20 – 4:40 pm. Beware The Giant Zilg! Over at Letters of Note today, you can see a page from Tim Burton's rejected picture book, and the rejection letter.  The book is quite Seussian.  Complete Barnaby correspondence.  I think I'm gonna have to start working on this introduction sooner than I'd planned — which, frankly, is fine.  Ideas for it have been rumbling around in the back of my head, and starting it will help me decide on which ephemera to seek (one reason that I need to start writing the intro).
4:40 – 4:55 pm. Â Responded to personal emails via FB (hmmm… guess I can't stay away from it as much as I'd like).
4:55 – 5:05 pm. Â Spoke with a couple of colleagues. Â Also checked (postal) mail, discovered two beautiful antiquarian catalogues. Â I, alas, don't have the capital for such items. Â A common question I get asked is "How much is this Dr. Seuss book worth?" or "What is this Crockett Johnson drawing worth?" Â I have no idea. Â I mean, I wish I did! Â But… those items tend to exceed my budget. Â That said, if these catalogues list any rare children's books that ought to be in our library's Special Collections, I'll pass along the info. – and, dear reader, it is for this latter reason that I am on both booksellers' mailing lists.
5:05 – 5:40 pm. Â Read applications to graduate program – this is part of my job as a member of the Graduate Advisory Committee (GAC). Â We have a meeting tomorrow.
5:40 – 5:55 pm. Â Talked with colleagues about higher education, & investment in higher education.
5:55 – 6:10 pm. Â Put away some of the books I took to class today, packed the ones that needed to come home. Â Made sure I brought the grading that needed to come home, too.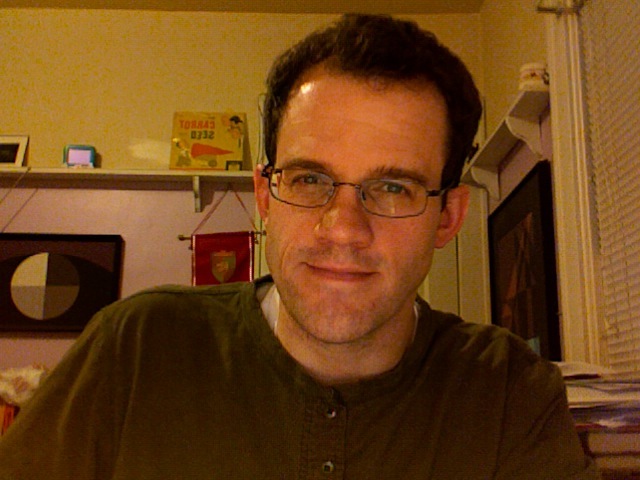 6:20 – 6:45 pm.  Home.  Packages!  All books I'd ordered.  Two are gifts.  The rest are not.  Sturrock's Dahl bio. has inspired me to read more of his work (also will be writing about his work for a paper at IRSCL in July) – so, a few are Dahl books (including a 2006 reprint of his first, The Gremlins).  Also changed from professor outfit into off-duty clothes.
6:45 – 7:45 pm. Read more of Alan Bradley's The Sweetness at the Bottom of the Pie (we're into Chapter 4 now) to Karin, during dinner prep.  Then, dinner with Tuesday's Daily Show (Anderson Cooper).
7:45 – 7:50 pm. Â Noticed I was coughing & so made a cup of "throat soother" tea. Â I suspect the throat is tired from teaching. Â A few years ago, when I lost my voice (due to illness), I drank several cups of this a day. Â Teaching without a voice was an interesting experience… that I hope not to repeat.
7:50 – 8:10 pm. Â Answering email. Â A student for whom I've agreed to write a letter has sent me necessary material. Â This one is due March 15th. Â Throat-soother tea definitely doing the trick.
8:10 – 8:55 pm. Â Errand. Â Needed some items for my Friday English 355 (Lit for Children) classes. Â Will try to remember (on Friday) to tell you precisely what. Â (It's a surprise!)
8:55 – 9:20 pm. Â Responded to comments on Facebook. Â (All blog-related, but I'm not counting this as "work.")
9:20 – 9:30 pm. Â Worked on English Dept. newsletter, Reading Matters. Â If any of my colleagues are reading this, deadline for submissions is tomorrow at 5. Â Drop me a line!
9:30 – 9:45 pm. Â Weather Channel. Â 2-4 inches of snow expected tomorrow. Â Bleah. Â On the other hand, could be worse.
9:45 – 9:50 pm. Â Responded to email from a different student for whom I already submitted letter of recommendation. Â Evidently, one school to which I submitted it also requires me to fill out a separate form. Â Did I fail to fill out form provided? Â Or did student not supply me with form? Â Doesn't matter. Â I'll do it. Â Ah, but I see that before I fill out form, the student needs to sign and check "waive rights" or "do not waive rights" — have informed student of this fact.
9:55 – 10:40 pm. Listened to KEXP's song of the day from Feb. 17th (DeVotchKa), 18th (Joshua Morrison), 21st (Aurelio), 22nd (Made in Heights), 23rd (Drive-By Truckers).  Favorites of the group: Made in Heights' "All the Places," & Drive-By Truckers' "Everybody Needs Love." Checked Twitter feed.  Made labels for new midtempo mixes – oddly, I seem to have completed two simultaneously.  One is happier, the other more melancholic.  Also discovered that back on Nov. 25th (Thanksgiving?), I began making notes for the intro to Complete Barnaby Vol. 1.  There only a handful of sentences, and some fragments cut from the biography, but… it's better than a blank page.
10:45 pm. It does not appear that I'll be getting more work done this evening.  I had planned to write more, but I met my paragraph-a-day quota for "Radical Children's Lit Now!"  As long as I stick to that, the paragraphs will keep accruing.  So… the day's tally is 11 hours.  I counted lunch among my work hours today because I worked through it.  2 more days, and then I leave the Panopticon.  It's been an interesting experiment – I'll do a final blog post reflecting on the experience.
11:45 pm. Â Bed (estimated).
The rest of this series: Saturday, Sunday, Monday, Tuesday, Thursday, Friday, & What Do Professors Do All Week? (the final post).
More posts on academia from Nine Kinds of Pie (this blog):