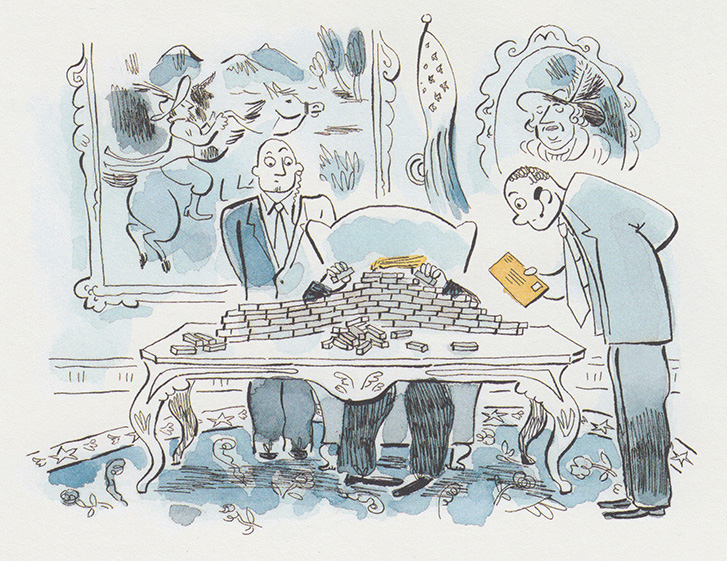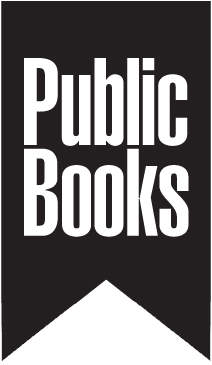 Over on Public Books today, my essay "Trump is a liar. Tell children the truth" recommends some good books for educating young people about "President" Trump, and brings in a few examples of the type of books that ought to be avoided – indeed, that a conscientious publisher would have never published in the first place. (Also: given the pace of news these days, I should add that I turned in the piece back in August….)
I had more to say than Public Books could use. Here are the most important bits that got cut, woven together with a few additional reflections.
"Rich Rump": Trump's first appearance in a children's book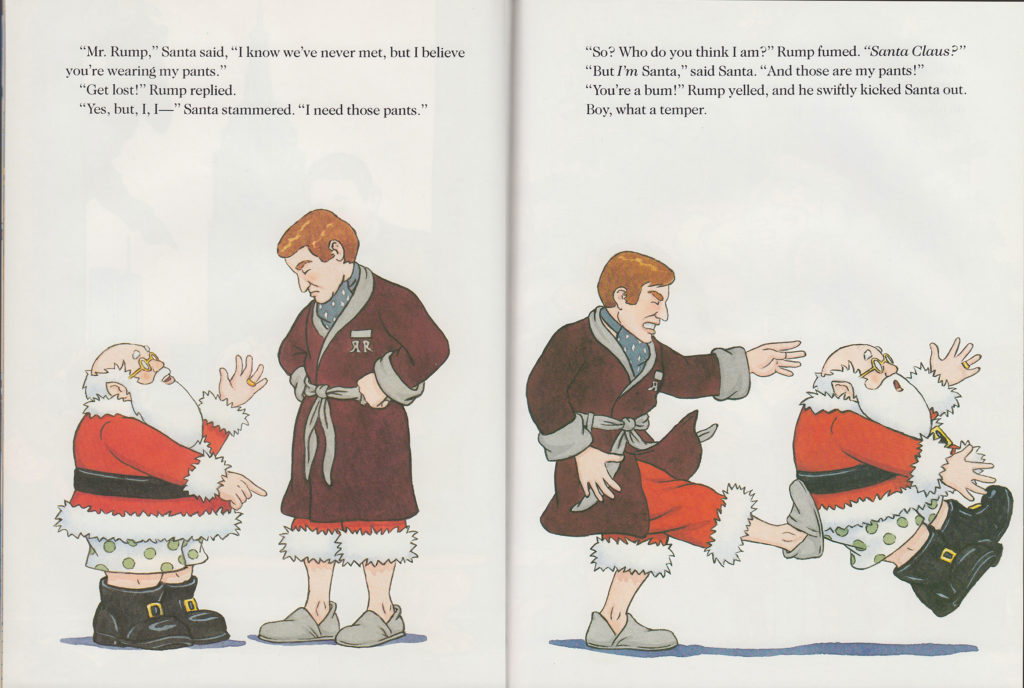 Public Books didn't publish the image (above) from Arthur Yorinks and Richard Egielski's Christmas in July (1991) – a whimsical picture book featuring Rich Rump, a thinly disguised version of Donald Trump. As I say in the essay, the earliest children's books in which he appears "depicted the basic truths of the man: selfish, vain, heartless, dishonest." After he became "President," children's literature strove for a more "balanced" approach. However, the "both sides" approach to representing Trump – in children's books or any media – is a very dangerous lie.
Destroying the boundary between truth and falsehood disorients us
It's become something of a cliché to quote Hannah Arendt, but we should keep quoting her until more people heed her warnings. So: "The result of a consistent and total substitution of lies for factual truth is not that the lie will now be accepted as truth and truth be defamed as a lie, but that the sense by which we take our bearings in the real world–and the category of truth versus falsehood is among the mental means to this end–is being destroyed."[1]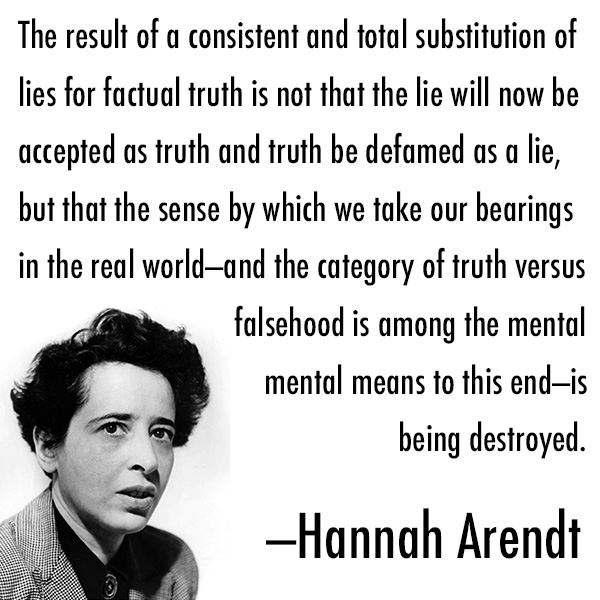 This quotation comes up a lot these days. But I also think not enough people are paying attention to this fact. Because Trump's prolific lies damage the psyche – both individually and collectively.
Every 36 hours, Trump lies more than Obama did in eight years
As of August 12, 2019, Trump had made over 12,000 false and misleading claims during his presidency, averaging over thirteen lies per day. In contrast, Barack Obama made eighteen false or misleading statements during his eight-year presidency. Every 36 hours, Trump lies more than Obama did in eight years.[2]
Trump "children's books" for adults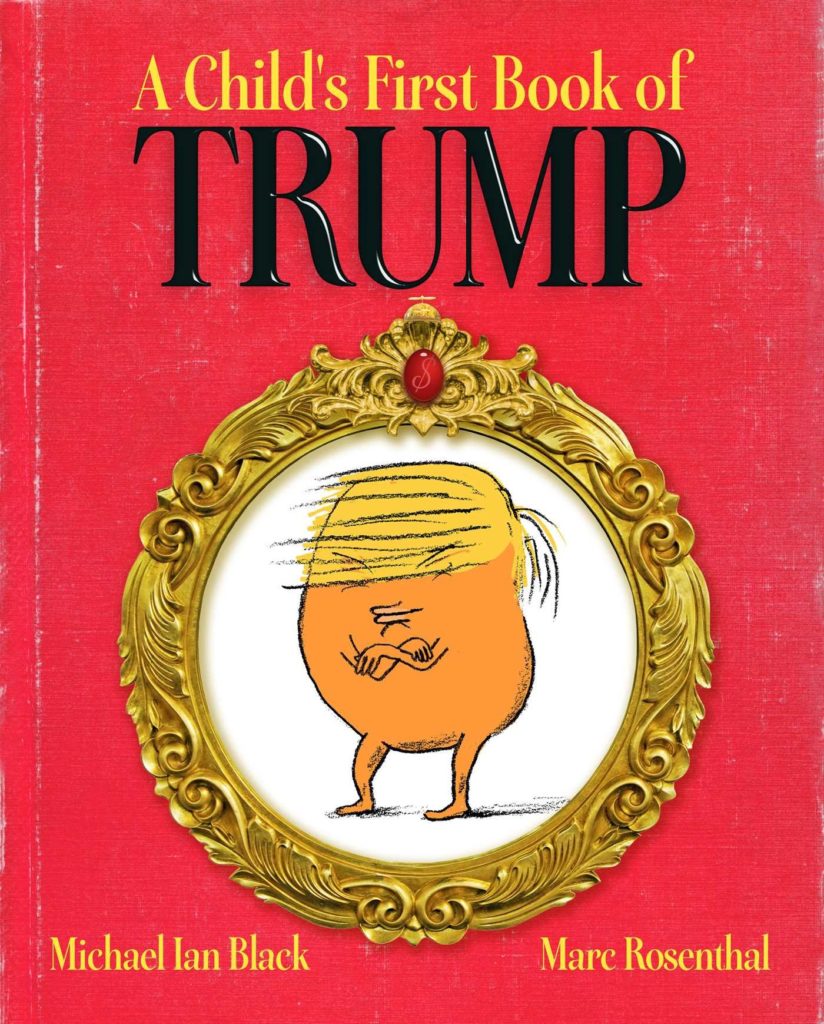 There are some fun satirical works in the guise of children's books – one of which, Michael Ian Black and Marc Rosenthal's A Child's First Book of Trump (2106), also works as a story for children. Black's ersatz Seussian verse and Rosenthal's sketches represent Trump as part unreformed Grinch and part Sylvester McMonkey McBean (the salesman who profits from the Sneetches' prejudice). As in all allegorical children's picture books about Trump, he is a negative example.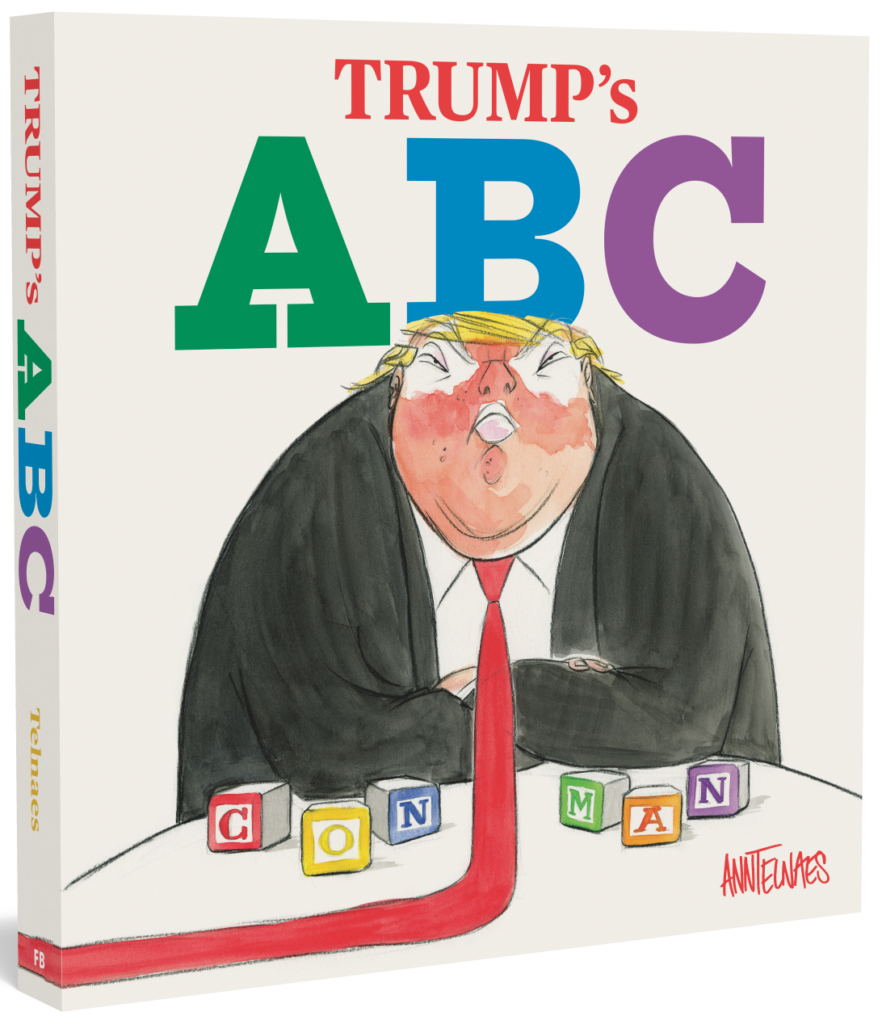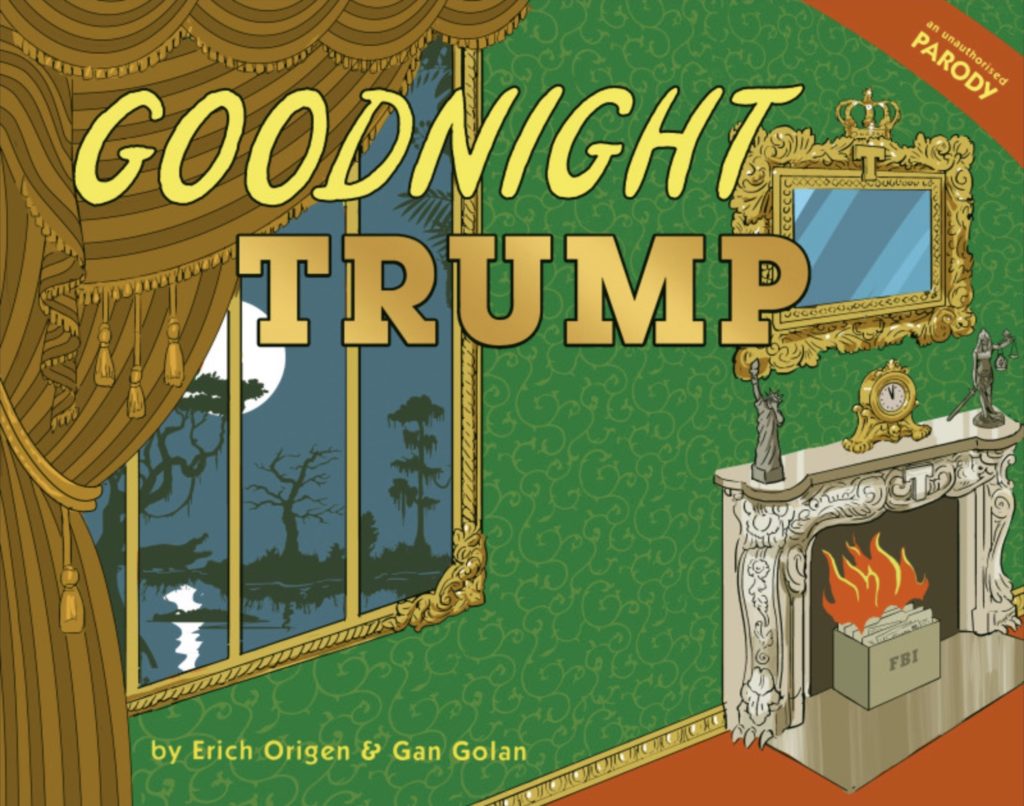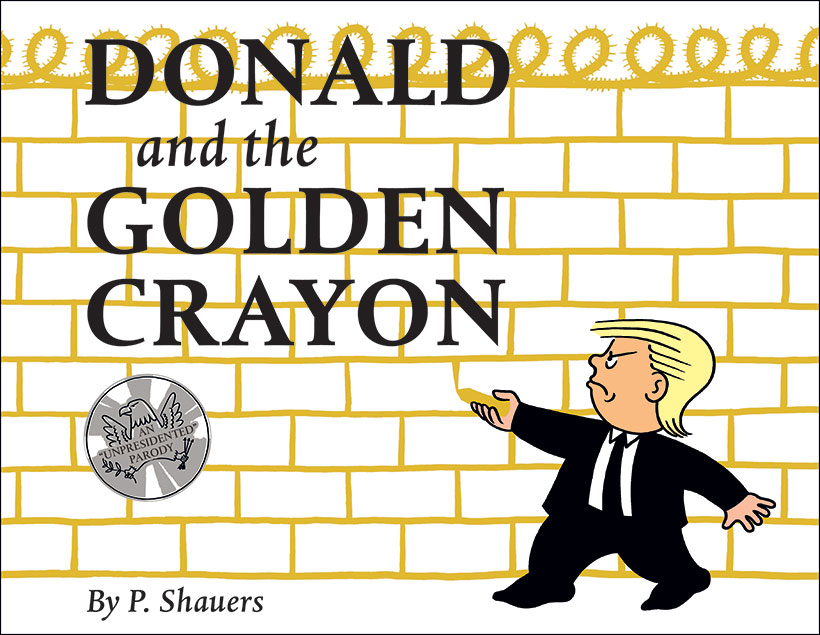 Since they are adult satires delivered via the medium of the picture book, too much of the humor in Ann Telnaes' Trump's ABC, Erich Origen and Gan Golan's Goodnight Trump, P. Shauers' Donald and the Golden Crayon (all 2018) and Faye Kanouse and Amy Zhing's new If You Give a Pig the White House (2019) may go over the heads of children under ten, but all remind us that the humor in allegorical Trump picture books is a vital part of their truth-telling. And anyone over that age – such as most people reading this post, I imagine – might find the books' dark humor restorative. (If you want recommendations, my favorite three of these picturebooks-for-adults are Trump's ABC, Donald and the Golden Crayon, and Goodnight Trump.)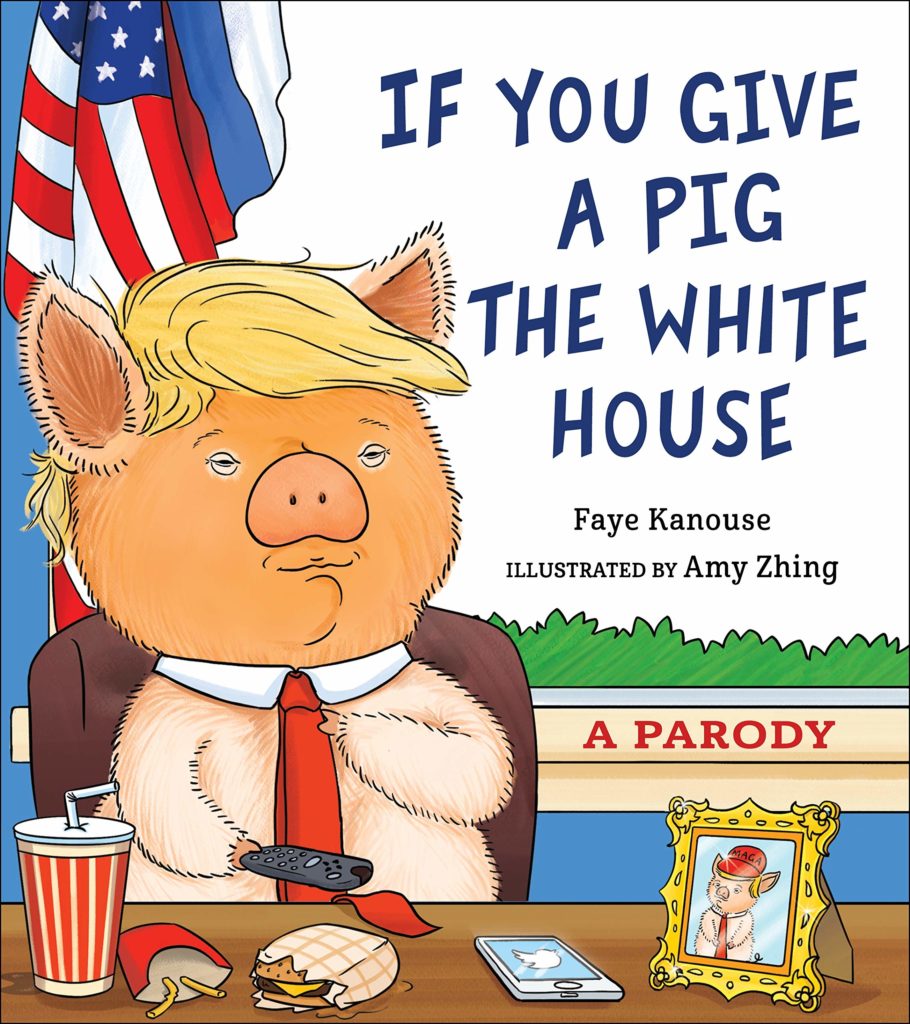 Slice through the fog of lies
One of the surprises of writing this piece was that the work actually proved restorative and clarifying. Facing the prospect of writing this (for the Children's Literature Association Conference, in June), I dreaded reading lots of children's books about the evil orange bloviator. But reading them – all of the good ones, but especially Martha Brockenbrough's Unpresidented – helped me awaken from the nightmare in which we are living. It helped me slice through the fog of lies. It reminded me once again that this is not normal.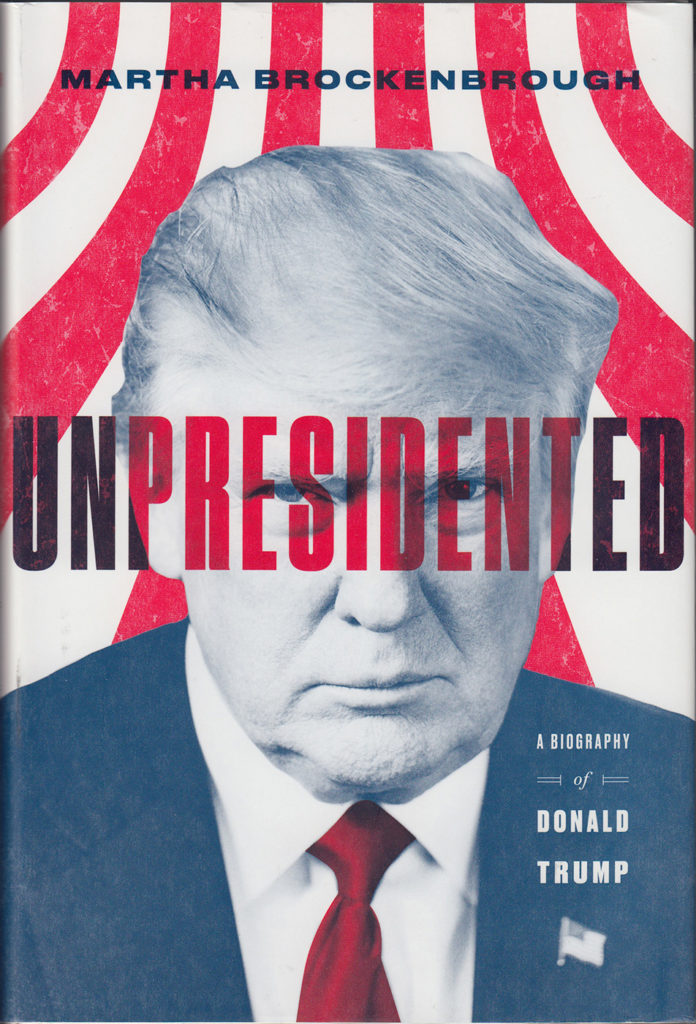 This is not normal
To any who may find my truth-telling advice too partisan, I would cite historian Dave Renton's point that "one cannot be balanced when writing about fascism, there is nothing positive to be said of it."[3] And yes, Trump lacks sufficient belief in the state to be a fascist in the traditional sense; he is more an authoritarian kleptocrat who uses fascist tactics. But my point is this: if identifying evil as evil is now a partisan behavior, then children's books and publishers must take a side.
This position challenges the "marketplace of ideas" approach we learn in school – the liberal idea that, to quote Mark Bray, "the key to combatting 'extremism' is to trust in the allegedly meritocratic essence of the public sphere: If all are allowed their say, then the good ideas will float to the top while the bad sink to the bottom, like live-action Reddit."[4] But, historically, the public sphere has not triumphed over totalitarian movements. And some topics – such as people's humanity – should not be subject to debate.
That our shared humanity is now subject to debate shows how Trump's poisonous ideas have become normalized. Remember when, in the early days of the regime, people used to say "This is not normal"? Even as Trump's behavior grows stranger and more dangerous, we hear this far less often.
Only the truth can liberate the lie-entangled mind
Motivating this essay – though absent even from its draft versions – is postwar Germany's need to reeducate children raised under the lies of the Third Reich. For the past few years, America's children have been growing up in a country whose leader is a kleptocratic white-supremacist sociopath – a man who not only brags about sexual assault, but who appointed sexual-assault-hobbyist "Blackout Brett" Kavanaugh to the Supreme Court. They've been living in a world where this sort of behavior gets normalized – where a pathological liar's lies get treated as if, perhaps this time, they may have some truth value, and so on tonight's program, we invite an expert and a con artist to debate the cloak of lies in which the Trump administration has swathed the day's cruelty.
Enough! Trump is and has always been a liar. Draw on this irrefutable basic fact of the man's character when you report on, write children's books about, or say anything at all about Trump. Call out his lies. Tell the truth. As Michael Chabon recently wrote in a different context, "Truth lives. It can be found. And there is no encounter more powerful than the encounter between the slashing, momentary blade of truth and a lie-entangled mind."[5]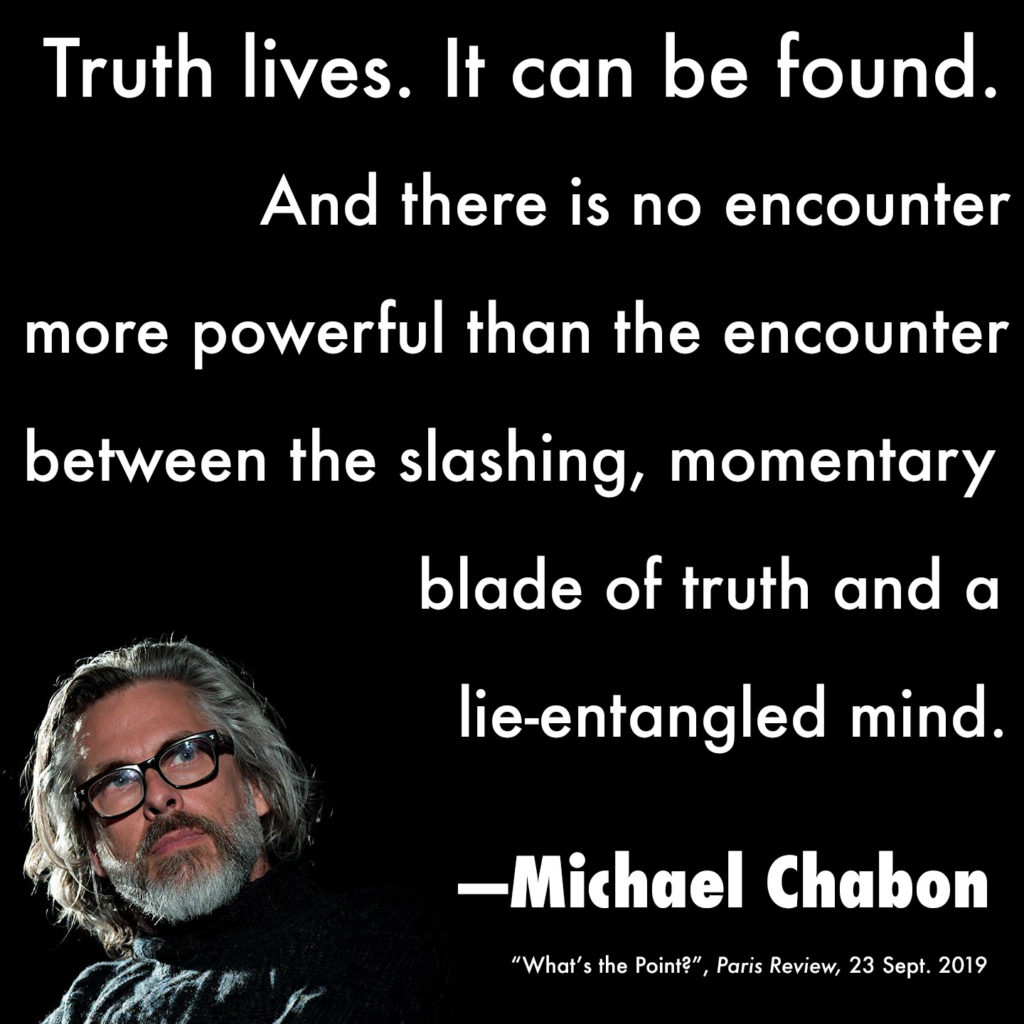 In sum: Children's books can be that blade of truth.

---
Thanks…
For the Public Books article, thanks to Nina Christensen for introducing me to Dumme Donald bygger en mur i børnehaven (Stupid Donald Builds a Wall in Nursery School), and for translating the title. Thanks to Elina Druker for translating the book's original Swedish title. Thanks to Jules Danielson for introducing me to The Wall and to both Jules and Betsy Bird for confirming that Christmas in July is the first children's book to feature Mr. Trump.
---
Related posts:
---
[1] Hannah Arendt, "Truth and Politics," Between Past and Future (London: Penguin Books, 1993), 252-3.
[2] Glenn Kessler, Salvador Rizzo, and Meg Kelly, "President Trump has made 12,019 false or misleading claims over 928 days," Washington Post , 12 Aug. 2019.
[3] Dave Renton, Fascism: Theory and Practice (Pluto Press, 1999), 18.
[4] Mark Bray, ANTIFA: The Anti-Fascist Handbook (Melville House, 2017), 146.
[5] Michael Chabon, "What's the Point?" The Paris Review, 23 Sept. 2019.