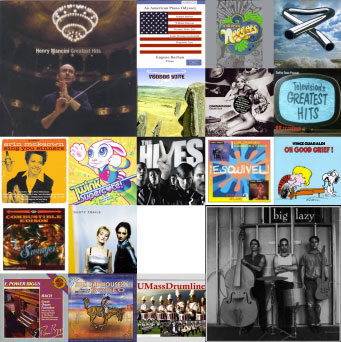 Last year, Nine Kinds of Pie presented seven Halloween mixes. Â This year, it'll be just one new Halloween mix. Â (Feel free to check out the old ones, though. Â They're still up on the blog!) Â The theme this year is all instrumental. Â Henry Mancini, Combustible Edison, Big Lazy, and others present some (mostly) spooky tunes without words. Â Enjoy!
1)     The Twilight Zone  Marius Constant (1960)      0:57
"You're traveling through another dimension, a dimension not only of sight and sound but of mind; a journey into a wondrous land whose boundaries are that of imagination. That's the signpost up ahead – your next stop, the Twilight Zone"
The theme to the classic television program, The Twilight Zone (1959-1964). Though this is the familiar theme, it wasn't used on the first season (1959-1960) — that year used a theme by Bernard Herrmann (best-known for his Alfred Hitchcock scores). Â Below, the opening for the 1963 season:

And here is the original opening, with the Herrmann theme:

2)     Spellbound  Esquivel (1958)      3:31
From Esquivel's Exploring New Sounds in Stereo.  The tune itself (by Miklós Rózsa) is the theme to Hitchcock's 1945 film, which included a dream sequence designed by Salvador Dalí:

3)     Carnival of Souls  Combustible Edison (1994)      3:13
From the group's I, Swinger.
4)     Chant of the Moon  Voodoo Suite (2006)      2:32
Music from Voodoo Suite.
5)     Experiment in Terror  Henry Mancini (1962)      2:20
Mancini's theme for the film of the same name (directed by Blake Edwards).
6)     Spy in the Lounge  Dusty Trails (2000)      3:40
Luscious Jackson's Vivian Trimble + the Breeders' Josephine Wiggs = Dusty Trails, who put out just one LP. Â It's a fine record, reminiscent of a particularly good soundtrack. Â Bonus: one of the songs includes vocals by Emmylou Harris.
7)     Creepy Street  Walter Murphy (1974)      1:34
Best known for his disco hit, "A Fifth of Beethoven" (1976), Walter Murphy composed a lot of film library music, including this track, which appears on Cinemaphonic: Electro Soul (a collection of such music by Murphy and others).
8)     Enter Sandman  Twink (2004)      3:22
This is the only cover of Metallica that uses a toy piano — or, at the very least, it's the only such cover I've ever heard. Â It appears on Twink's Supercute!
9)     Psycko (Themes from Psycho and Vertigo)  Laika & The Cosmonauts (1994)            2:24
The themes to two Hitchcock films, done up, surf-style.
10)  A Shot in the Dark  Henry Mancini (1964)      2:35
Mancini's theme for the Blake Edwards film.
11)  Perry Mason Theme  Jon Rauhouse (2003)      2:19
Rauhouse's recording of the theme for Perry Mason.  It appears on Steel Guitar Rodeo.
12)  Crooked  Big Lazy (1999)      3:17
Appears on the group's first full-length LP, Big Lazy.
13)  J.S. Bach's Fugue, "The Little, " BWV 578 (G Minor)  E. Power Biggs (1960)            4:05
From the compilation Bach: Great Organ Favorites.
14)  A Stroll Through Hive Manor Corridors  The Hives (2007)      2:39
From the Hives' Black and White Album, which featured the single "Tick Tick Boom."
15)  Tubular Bells  Mike Oldfield (1973)      3:17
I'm sharing the abbreviated version used in The Exorcist, but you might want to check out the full version of "Tubular Bells, Part I."  This blog limits the file size to 20MB, and the full 25:33 track is 37MB.  So, I'm unable to share the longer version here — even though that's the version I've used on the iTunes version of this mix.  On the original recording, Oldfield played all of the instruments himself.  Below, a trio of videos in which he (on bass guitar, initially) performs it live with Steve Hillage, Pierre Moerlen, Mick Taylor, and others.



16)  Paranoid Android  UMASS Front Percussion Ensemble (2004)      5:02
The UMass Front Percussion Ensemble cover Radiohead.
17)  Devil's Waltz  Erin McKeown (2006)      2:40
A bonus track from McKeown's Sing You Sinners.
18)  Great Pumpkin Waltz  Vince Guaraldi (1968)      3:36
After the dissonant conclusion of the previous track, here's something a bit more gentle — music for It's the Great Pumpkin, Charlie Brown! Â This recording appears on Guaraldi's Oh Good Grief!
19)  Graceful Ghost Rag  Eugene Barban (1997)      4:31
Composed by William Bolcolm, this rendition appears on Barban's An American Piano Odyssey.
Last year's Halloween mixes (all seven of them!):