I recently finished writing my notes and afterword for Crockett Johnson's Barnaby, Volume Five: 1950-1952 (Fantagraphics, forthcoming 2023). When I opened up the "Afterword" document, I found a two-paragraph fragment chronicling a holiday that Crockett Johnson (whose friends called him by his given name, Dave) and Ruth Krauss took in 1950 or 1951. A decade ago I'd cut this from the biography and had thought I might be able to fit it into the afterword for volume five. It didn't fit there, but it did remind me of this: though Crockett Johnson was filmed at least three times, there is no known footage of him.
Lost Footage #1: Nova Scotia, 1950 or 1951
Here's the two-paragraph fragment:
Back in Connecticut and unaware that they were under FBI investigation, Dave and Ruth drove off for a brief summer holiday with their friends Marian and Gene Searchinger, a filmmaker who was then working on NBC's Today show. Each couple in their own car, they traveled up to Nova Scotia. Planning to park the cars on the ferry, they were surprised to learn that one needed to reserve spaces well in advance. Between two pillars, there was one very small space left on the boat, just large enough for Dave's little Austin Tudor sedan. They left the Searchingers' car on the mainland, and the four of them toured Nova Scotia in Dave's small car.

They didn't mind the close quarters, but getting a decent cup of coffee was a challenge. Since all four travelers required regular doses of caffeine, they developed a system. When they came upon a promising restaurant or cafe, one member of the group would enter, and order a cup. He or she would then signal to the others whether they should come in or not. The signal was a fist with one finger, two fingers, or three fingers extended – depending on the quality of the coffee. After the trip, Dave gave Gene a gift commemorating their Nova Scotia holiday. On a piece of wood, Dave painted a hand rising out of an ocean of coffee: only one finger was sticking up.
Missing from that fragment is the fact that, during the trip, Gene also filmed Dave. Several of Nova Scotia's rivers experience the tidal bore: when the tide comes in, outflowing rivers begin flowing upstream. As Gene told me, "the tide comes in and it goes racing up to its peak some place, and then it all goes down… – so fast that you can't even keep up with it." Gene filmed the bore in action with "Dave sitting in his baby Austin, parallel to it, looking over his shoulder to see if he could keep up with it."
At the time (2002), I asked Gene about the footage. He didn't have it, and said "I'm not even sure that the spot got on the air." Is this 70-year-old footage somewhere in NBC's archives? If anyone knows where it is, please drop me a line.
Lost Footage #2: Weston Woods, Connecticut, early 1970s
When I interviewed Morton Schindel in 2001 at his Weston Woods Studios, he told me about his Talent on Tape interviews with creators of children's books. As Morton explained,
What I would do is conduct an interview with them and then I would sit down and try to edit it into something that makes sense. And what took maybe two hours would maybe get edited down to 10 or 15 minutes sometimes. I distinctly remember working on the one that I did with Ruth and Dave. And I was interviewing them together. And it says something about their reluctance to express themselves orally because I had this hour or so of tape – could have been less because maybe they were not as crazy about expressing themselves verbally – and when I was all through editing it, I had a piece of tape that was about two inches long. There was just nothing. It was all kind of – I can't say it was gibberish – but it was more sounds than it was continuity of words. I think that that's – it says something about how they communicated.
Then Morton addressed other subjects for a while. Later in our conversation, I returned him to the subject of the tape. Ever hopeful, I asked, "I don't suppose you have that tape, do you?" He replied, "No. Literally, it was nothing. If I had it, it would have been an impression, but there wouldn't have been any information."
I thought, "Well, if you had it, it would be the only footage of the two of them." But I didn't say that. I merely said, "Right. Having only seen photographs of them myself, anything like that is quite tantalizing." And then the conversation moved on.
Lost Footage #3: New York, February 1942
The Artists Against the Axis exhibit – organized by the American Society of Magazine Cartoonists' Committee on War Cartoons – made its debut at the Art Students League in New York, in February 1942. It featured the work of some of the best cartoonists working in the U.S.: Charles Addams, Peter Arno, William Gropper, John Groth, Syd Hoff, Garret Price, Gardner Rea, Ad Reinhardt, Carl Rose, Saul Steinberg, Arthur Szyk, Barney Tobey, and Crockett Johnson.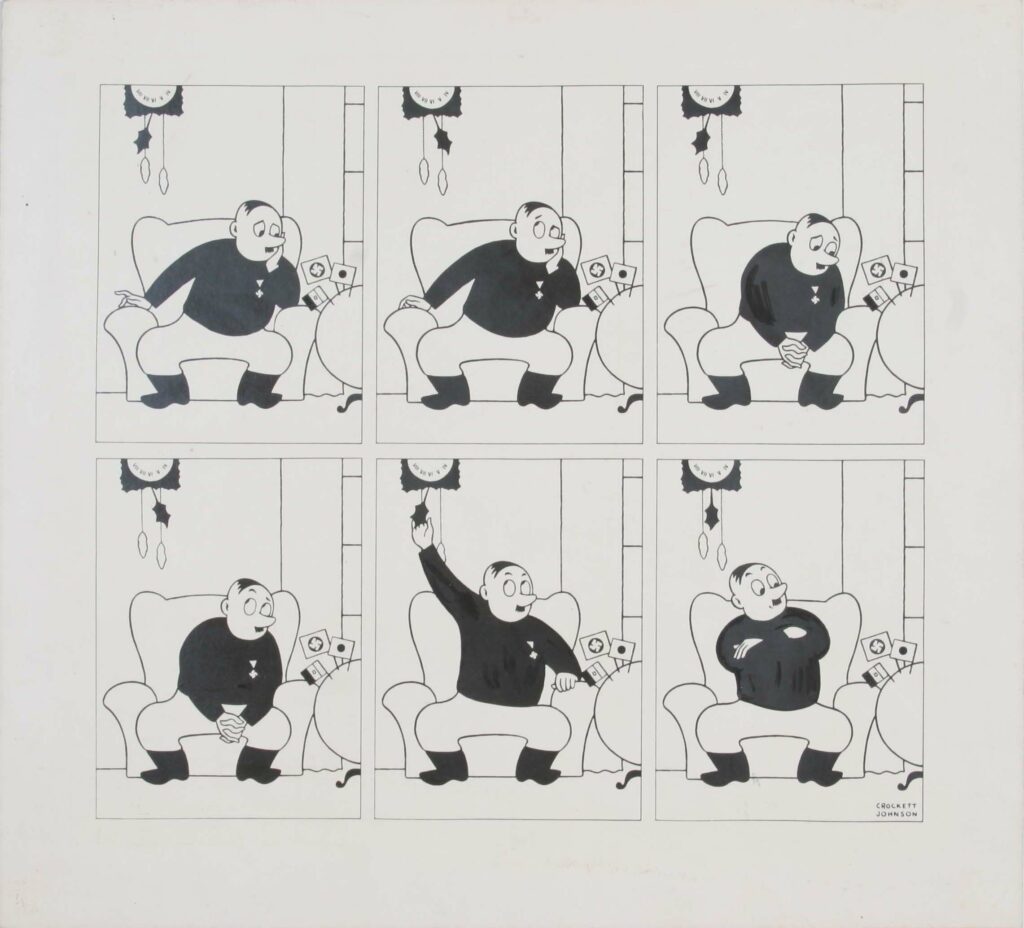 In 2005, at the Museum of Comic and Cartoon Art, curator Sandy Schechter kindly gave me and my mother a tour of her exhibit about the 1942 exhibit. There I learned that Gregory D'Alessio (the Chairman of the Committee on War Cartoons) and Hilda Terry made a 22-minute silent film that includes footage from the 1942 opening of the exhibit. Thanks to Sandy and Hilda, I have a copy of the film. At three and a half minutes in, for just a few seconds, we see a man observing the artwork being hung. This man is of Crockett Johnson's height and bearing, smokes a cigarette (as Johnson did), and stands much as Johnson would do less than two years later, at the opening of his Barnaby exhibit at the Norylst Gallery in November 1943. I do not know if it is Johnson.  But it might be. If it is, it's the sole extant footage of Crockett Johnson.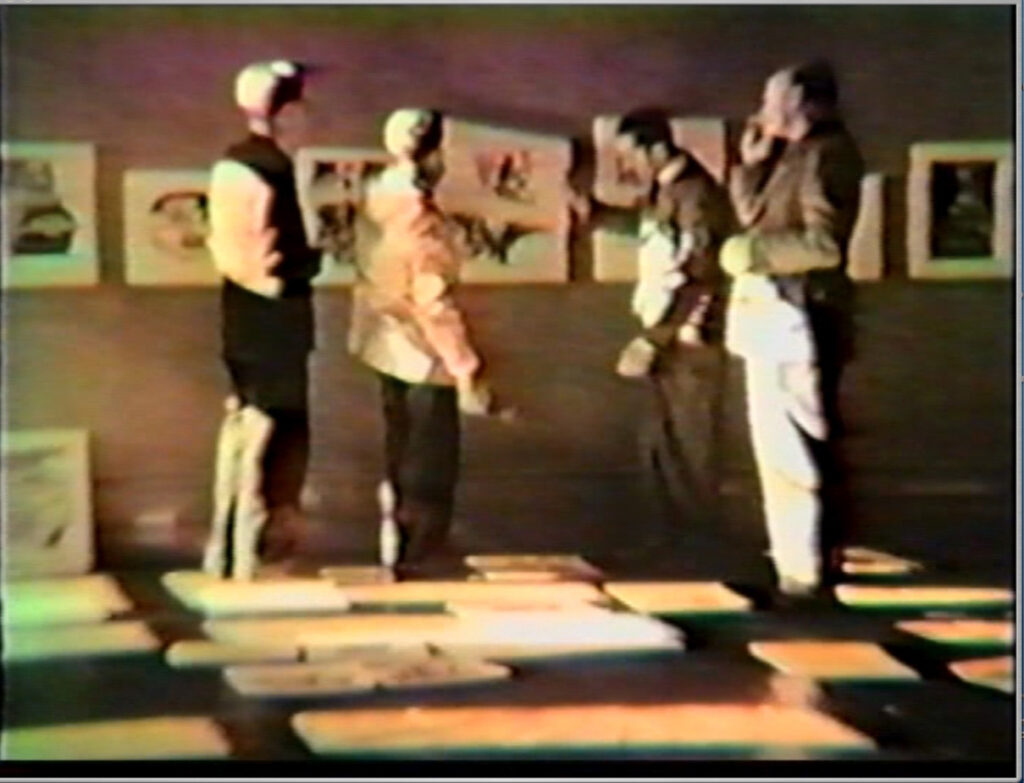 Above is a still from that video. It – and this post – is my gift for you today, what would have been Crockett Johnson's 115th birthday.
It's curious that there's no film footage of a person whose life spanned nearly three fourths (1906-1975) of the twentieth century and who achieved some measure of fame. Though Johnson also appeared on the radio, I have found no surviving audio, either. Perhaps, one day, some audio or video will turn up?
That said, much as I'd love to hear audio and see moving images (or more still images), I'm also well aware of the tension between these recordings' promise of greater access to a moment and the reality that, like any document that reaches us across the years, these too would arrive shorn of their original context – time-travelers stumbling dazedly into a present that does not quite know how to greet them. Like any archival materials, video, audio, and photos can only glance towards the past.
Still, though. That glance feels important, somehow. Is it?
My thanks to
Sandy Schechter, the late Hilda Terry (1914-2006), the late Morton Schindel (1918-2016), and the late Gene Searchinger (1922-2009??). I remember learning of Gene's passing some years ago, but cannot confirm his dates.
Sources
Cartoons Against the Axis: World War Two Bonds Cartoons from the Terry-D'Alessio Collection. Exhibit curated by Sandy Schechter. Museum of Comic and Cartoon Art. 8 Oct 2005-6 Feb. 2006.
Cartoons Against the Axis. 22-minute film. Directed by Gregory D'Alessio and Hilda Terry. n.d.
Nel, Philip. Interview with Morton Schindel. Conducted at Weston Woods. 26 June 2001.
—–. Interview with Gene Searchinger. Conducted via telephone. 22 June 2002.
---
Crockett Johnson birthday posts from previous years
Barnaby Vol. 4 is here! (20 Oct 2020). Barnaby, Volume Four: 1948-1949 was published in 2020.
Barnaby, Vol. 4: 1948-1949 (20 Oct. 2019). More on this book.
Harold and the Deluxe Edition (20 Oct. 2018). In the second of two birthday posts from 2018, an announcement! Harold's Imagination, a collection featuring three Harold stories, plus an illustrated Afterword by Yours Truly… featuring a photograph of Johnson's nephew Harold!
Donald and the Golden Crayon (20 Oct. 2018). In the first of two birthday posts from 2018, an interview with the author and publisher of Donald and the Golden Crayon – the first book-length political satire inspired by a Crockett Johnson book.
Crockett Johnson Tells the Story of Money (20 Oct. 2017). A look at the very first children's book that Johnson illustrated – Constance Foster's This Rich World: The Story of Money (1943).
How to Read Harold (20 Oct. 2016). A short excerpt from a book I'm working on – How to Read Harold: A Purple Crayon, Crockett Johnson and the Making of a Children's Classic.
Harold is 60. So is his purple crayon (20 Oct. 2015). On the occasion of Johnson's 109th birthday, tributes to Harold from Lane Smith, Bob Staake, and others.
Harold Around the World (20 Oct. 2014). Harold and the Purple Crayon has been published in many languages. Here are some of the covers.
Happy 107th Birthday, Crockett Johnson! (20 Oct. 2013). A photograph of Johnson laughing, plus news of contemporary Johnson exhibit and talk.
Crockett Johnson in New York: A Walking Tour, in Honor of His 106th Birthday (20 Oct. 2012). The childhood homes of Crockett Johnson.
A Title Is to Read (20 Oct. 2011). Announcing the title of my biography of Crockett Johnson and Ruth Krauss.
Happy Birthday, Crockett Johnson! (20 Oct. 2010). Newspaper ad for Johnson's Barnaby and Mr. O'Malley (1944).